It is a long time since we have annouced for the first time, that we are working on integration of Aramex. After a months of negotiating of the best shipping rates, we can finally announce, that Aramex is officialy available! 🙂
What Is Aramex?
Aramex is an international delivery service from Dubai, United Arab Emirates. They are available to ship your packages worldwide with one of the best shipping rates, expecially for Middle East region.
Of course, Aramex is not located in all countries, probably most people in Europe have not ever heard about Aramex yet. But in those countries where they are not officialy located, Aramex cooperate with their partners. In Europe, it's for example well known delivery service DPD.
Delivery Duty Paid Function
For United Arab Emirates and Saudi Arabia, we support DDP (delivery duty paid) function. That means that you will be not charged for any import tax after the shipment is delivered. This is a very cool feature which we would like to offer also for another countries and shipping method in the future.
Shipping Costs Of Aramex
If we compare shipping costs of Aramex, it's pricing is especially for Middle East region the cheapest shipping method available.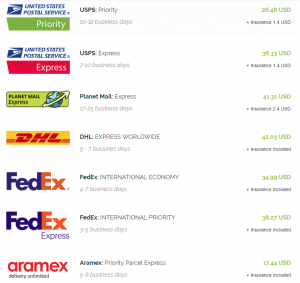 So feel free to start shipping your packages via Aramex from your Planet Express US address! 🙂