30. října se v Howard Gilman opeře (New York) konala další konference Applu – tentokrát se však nevěnovala hlavnímu prodejnímu artiklu Applu, tedy iPhonu (shrnutí zářijové konference si můžete přečíst v našem článku), ale očekávalo se představení nových iPadů. Na veřejnost však prosakovaly také informace, že by Apple mohl představit novou verzi notebooku. Moc lidí nevědělo, zda bude představena nová řada MacBook, či bude vylepšený stařičký MacBook Air, avšak na tuto otázku již známe odpověď. A jako bonus, představil Apple také novou verzi Mac mini.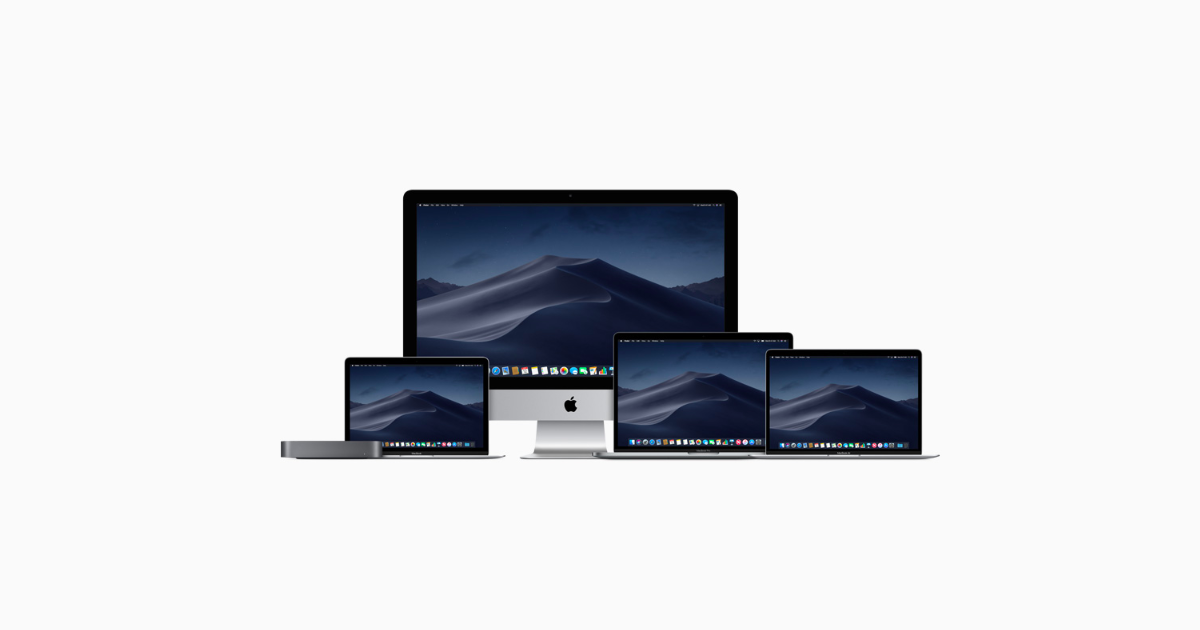 MacBook Air – Kompletní redesign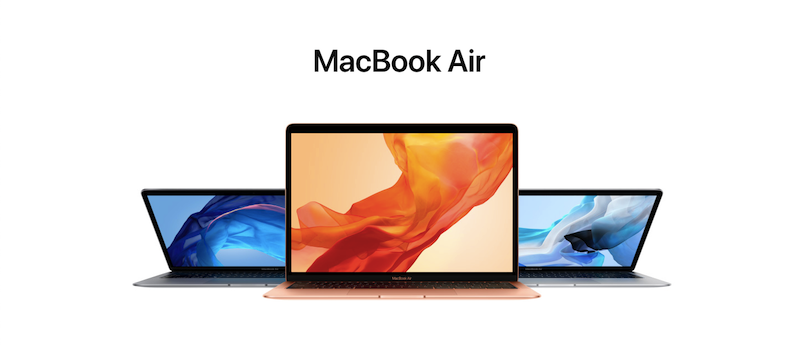 Vetšina uživatelů kultovního MacBook Air si většinou stěžovala na jednu zásadní věc a tou je displej. Staré verze totiž neměly ani full HD rozlišení a displeji nepřidával ani široký rámeček. Apple vyslyšel volání svých zákazníků (což přiznejme si, často nedělá) a redesignoval celý displej – ten má konečně Retinu, která dosahuje rozlišení 2560×1600 px a mnohem užší rámečky.
Noví majitelé MacBook Airu už také nebudou muset vyplňovat hesla, jelikož je na klávesnici umístěna čtečka otisků prstů – Touch ID. Pomocí tohoto senzoru se lze identifikovat také při Apple Pay platbách, které by měly být v ČR dostupné během příštího roku. V současné době se hodně řeší také bezpečnost, která je jedním ze základních pilířů Applu. Proto nový MacBook Air obsahuje také T2 čip, díky kterému jsou všechna data na SSD automaticky šifrována, a jednotlivé komponenty jsou také řízeny právě tímto čipem. Uvidíme, zda se Applu podařilo vyřešit problémy, které způsoboval právě tento čip.
Co možná nepotěší všechny uživatele, je nový typ klávesnice – často kritizovaná "motýlková klávesnice", která schytala velkou kritiku během roku 2016. Pokud se totiž pod klávesy dostalo nějaké smítko, klávesy vypovídaly službu a zasekávaly se. Na MBA najdete její nejnovější generaci, doufejme tedy, že bude spolehlivá.
Kdo někdy pracoval s TrackPadem (ať už na MBA nebo MBP) ví, že se jedná o velice efektivní nástroj. Apple si toho je vědom, a proto má nový MacBook Air o 20 % větší TrackPad, nově také s funkcí ForceTouch.
Upraveny byly i reproduktory, které by měly být o 25 % hlasitější. Narozdíl od předchozí generace MBA, nejsou uloženy pod klávesnicí, ale jejích bocích.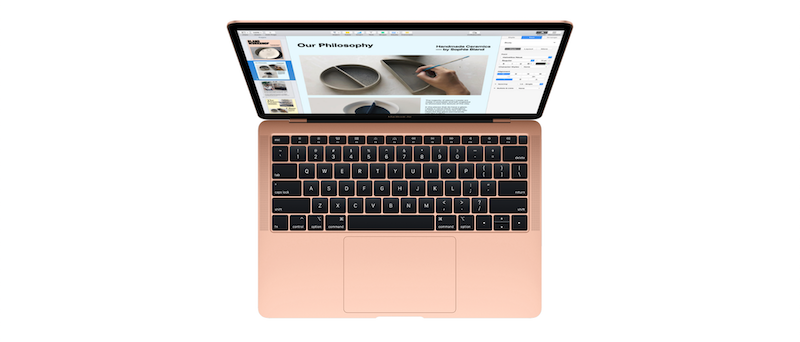 Co se týče portů, nová verze prošla poněkud drastickou odtučňovací kůrou, najdete zde pouze 2 USB-C konektory a 3,5 mm jack. Nic víc, žádnou čtečku paměťových karet, USB 3.0, nebo MacSafe. Veškeré periferie tak bude nutné připojit právě přes Thunderbolt 3 (USB-C).
Je potřeba také ocenit to, že je nový MacBook Air tenčí než jeho předchůdce (o cca 0,14 cm), lehčí o zhruba 100 g a zabírá o cca 17 % méně místa, Rozměrově je tedy stejný jako MacBook Pro. Přesto byla zachována výborná výdrž baterie přesahující 12 hodin. MBA je tak ideální na dlouhé pracovní dny bez nabíječky. Uvidíme však, co řeknou první testy.
Za zmínku jistě stojí také to, že šasy nového Airu bylo vyrobeno ze 100% recyklovaného hliníku. Apple tak jasně ukazuje, že to s ekologií a redukování úhlíkové stopy myslí vážně. Výroba nového MBA by totiž měla produkovat o 47 % méně emisí než u předchozí generace. Vybírat můžete ze 3 barev – Space Gray, Gold a Silver. Bohužel, vypadá to, že se u Apple trochu vytrácí čistota a jednoduchost: Apple totiž využívá hned 3 druhy zlaté (jednu u starších iPhonů typu 6s, 7…, další u iPhone Xs a nyní i u MBA). Bude tak pravděpodobně těžké všechna zařízení sladit a v barvách je tak lidově řečeno guláš.
Mac mini – uspokojí i náročné uživatele

Vylepšení se po 4 letech dostal také stolní počítač Mac mini. Nenechte se zmást vzhledem, v plné konfiguraci může mít tato "krabička" až 64 GB RAM, 2 TB SSD, 10GB Ethernet a 6jádrový procesor Intel i7 s Turbo Boostem až na 4,6 GHz. Avšak, Apple si za tyto parametry nechá pořádně zaplatit – až 132 tisíc Kč.
Hlavní změny se u Mac mini dočkaly vnitřní komponenty. Ty je však při plném výkonu, který má být až 5x vyšší, potřeba uchladit. Chlazení je tak nyní až 2x efektivnější. Stejně jako u nového MBA, i Mac mini nyní disponuje čipem T2.

Mezi porty stále najdeme 2x USB 3.0, dále také 3 USB-C, Ethernet, HDMI 2.0 a 3.5 mm jack. Pokud patříte mezi náročné uživatele a jedna obrazovka vám nestačí, potěšíme vás – Mac mini utáhne hned tři 4K monitory (2 připojené přes Thunderbolt 3 (USB-C) a třetí přes HDMI 2.0.
Mac mini je tedy vhodný spíše pro náročnější uživatele, kteří stříhají videa, programují či tvoří grafiku, a potřebují dostatečný výkon. Případně také pro firmy, z Keynote jsme se dozvěděli, že vzájemně propojené Mac mini, které v podstatě fungují jako vypočetní středísko/servery, využívá např. Shopify nebo CandyCrush.
iPad Pro – nadupaná bestie s inspirací u iPhone 5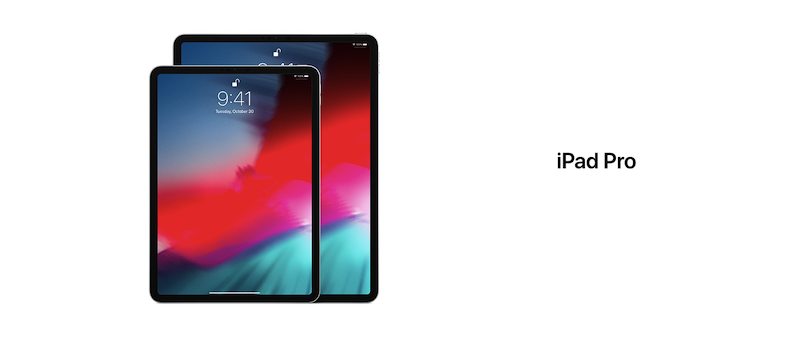 Nový iPad Pro byl pro většinu pravděpodobně největším překvapením. Dlouho se spekulovalo, zda bude mít nová verze notch podobně jako mají iPhony X, XS a XR. Nakonec, ačkoliv byl displej redesignován, notch chybí. Nechybí však Face ID (naopak Touch ID už iPad Pro nenabízí), pomocí kterého lze iPad odemykat.
Hlavní změnou je oproti předchozí generaci zejména vzhled a displej. Není sice OLED, avšak jedná se o Liquid Retina displej (tedy displej stejný, jako je v iPhone XR). To však dle dosavadních prvních dojmů nevadí. Používání nového iPadu bude připomínat ovládání iPhone X (Xs, Xr), vzhledem k tomu, že bylo odstraněno Touch ID a ovládání tak bude možné pouze prostřednictvím gest.
O dodání maximálního možného výkonu (iPad Pro je totiž určen pro profesionály) se stará A12X Bionic, tedy ten stejný čip, jako je v nově představených iPhonech Xs, Xs Max a XR. Díky velkému výkonu jsou tak náročné aplikace (např. pro rozšířenou realitu) schopny zcela nových možností.

Pravděpodobně jednou z nejdiskutovanějších novinek je "tužka" Apple Pencil. Díky zabudovaným magnetům a sploštění jedné strany se "magicky" přilne k jedné ze 4 stran iPadu a začne se bezdrátově nabíjet. Tužka také dokáže rozlišit poklepání, tzn. např. pokud na ni 2x klepnete, můžete si změnit nástroj (např. ze zvýrazňovače na gumu) v grafickém programu. Dá se očekávat, že vývojáři budou hledat další možnosti, jak tuto funkci využít.
Pro mnohé bylo překvapením, že Apple odstranil Lightning konektor a nahradil jej USB-C. Odstraněn byl také 3.5 mm jack – Apple tak chce pravděpodobně úplně odstranit USB 3.0, 3.5 mm jack a další zastaralé porty a sjednotit je do USB-C, případně donutit zákazníky k tomu, aby si kupovali AirPods.
U USB-C ještě chvíli zůstaneme, iPad Pro totiž pomocí USB-C dokáže dobíjet váš iPhone, což u předchozích generací nebylo možné. Těžko říct, jak moc bude tato možnost praktická, ale v případě nouze, proč ne.
Cena až na prvním místě
Apple je známý tím, že si za svoje produkty nechá dobře zaplatit – ber, nebo nech být v tomto případě platí dvojnásob. Pro lepší přehled uvádíme ceny jednotlivých zařízení v tabulce.
| | USA | Česká Republika | Austrálie | Japonsko |
| --- | --- | --- | --- | --- |
| | | | | |
| MacBook Air (základní konfigurace) | $1199 | 35 990 Kč | A$1,849 | ¥134,800 |
| MacBook Air (plná konfigurace) | $2599 | 78 390 Kč | A$3,969 | ¥288,800 |
| Mac mini (základní konfigurace) | $799 | 23 990 Kč | A$1,249 | ¥89,800 |
| Mac mini (plná konfigurace) | $4199 | 132 190 Kč | A$6,659 | ¥463,800 |
| iPad Pro 11″ (základní konfigurace) | $799 | 22 990 Kč | A$1,229 | ¥89,800 |
| iPad Pro 11″ (plná konfigurace) | $1699 | 49 990 Kč | A$2,569 | ¥189,800 |
| iPad Pro 12,9″ (základní konfigurace) | $999 | 28 990 Kč | A$1,229 | ¥111,800 |
| iPad Pro 12,9″ (plná konfigurace) | $1899 | 55 990 Kč | A$2,869 | ¥211,800 |
Pozn.: Ceny byly převzaty z oficiálního Apple store.