Jak jsme slíbili, tak plníme. V druhém článku série Pojďme sbírat vám prozradíme pár tipů a triků, jak sbírat poštovní známky – a jak získat exkluzivní kousky přímo z USA. Pokud máte ale raději pivo, energy drinky nebo slazené nápoje v plechovce, přečtěte si první článek série zaměřený na sbírání hliníkových plechovek.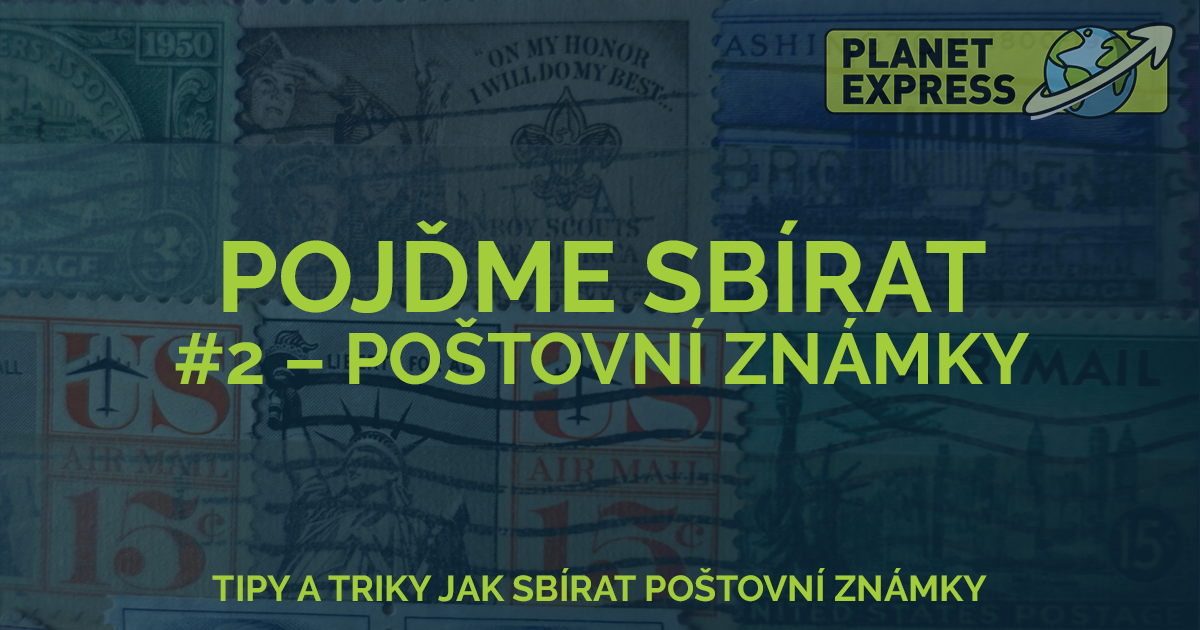 Pár zajímavostí z historie
Vůbec první poštovní známky se objevily již v roce 1840, kdy je téhož května zavedla Britská pošta – to je více než 178 let! Jednalo se o tzv. Blue Penny Stamp, hodnota jedné této známky se odhaduje na $4 miliony dolarů (v přepočtu asi 90 milionů Kč). Prohlédněte si seznam dalších hodnotných poštovních známek, avšak pozor – dost možná se vám protočí panenky!
Pro běžného smrtelníka je téměř nemožné se k takovýmto známkám dostat. Avšak možná budete mít štěstí, třeba někde na půdě najdete krabici, která bude plná hodnotných poštovních známek. My bychom se s vámi rádi podělili o pár typů, jak sbírat poštovní známky a také jak získat např. ty ze Severní Ameriky, přesněji řečeno z USA, i pokud majitel známek nebo prodejce nenabízí poštovné do celého světa.
Pro zajímavost: Obor zabývající se poštovními známkami a kolky se nazývá filatelie.
Jak na sběr poštovních známek?
Tip 1: Kupte si známky na poště nebo online
Myslíte-li to se sbíráním známek opravdu vážně, není snazší způsob než začít známky kupovat. Známky lze koupit jak na poštách, tak online – záleží pouze na vás, zda se chcete zaměřit na známky z konkrétní země, konkrétní barvy atp. Samozřejmě existují různé katalogy poštovních známek, jedním z nich je např. FreeStampCatalogue.
Doporučit můžeme online obchody jako The Philately nebo Postbleeld.
Tip 2: Požádejte místní podniky, aby pro vás známky sbíraly
I v dnešní, elektronické době dostává mnoho firem dopisy a korespondenci v papírové podobě – a to i ze zahraničí. Můžete tak požádat sekretářku (nebo kohokoliv jiného, kdo má poštu na starost), aby vám prázdné obálky s nalepenými známkami schovávala. Dost možná tak získáte známky, které ve vaší kolekci zatím chybí.
Tip 3: Prohlížejte aukční stránky
Podobně jako o sbírání plechovek i u sbírání známek doporučujeme vyhledávat aukce a aukční stránky jako je například eBay. Mnoho sběratelů prodává svoje sbírky online, takže můžete za poměrně dobrou cenu získat plno známek do své sbírky.
Tip 4: Vymeňujte známky s ostatními
U sbírání čehokoliv obecně platí, že můžete dosáhnout win-win situace, tedy zbavíte se přebytečných známek (kterých máte více) a získáte ty, jež vám ve vaší sbírce ještě chybí. Doporučit můžeme stránky jako TradeOnlyStamps nebo skupiny na Facebooku zabývající se sbíráním známek.
Tip 6: Choďte na výstavy, burzy a další setkání sběratelů známek
Sbírání známek je koníček jako každý jiný, je tedy jasné, že se jeho příznivci občas někde setkají, nebo uspořádají výstavu či burzu. Tato setkání jsou skvělou příležitostí pro navázání kontaktu a uzavření nějaké dohody. Tak například v Praze se nedávno konala Praga 2018.
Prodejce nedoručuje do vaší země?
Občas se můžete setkat s obchody a prodejci, kteří nenabízí mezinárodní dopravu – trochu paradox při sbírání známek že? Nevěšte však hlavu. Přesně od toho tu je naše služba. Pomůžeme vám dostat vytoužené známky z USA kamkoliv na světě. Stačí se zaregistrovat, získáte americkou adresu a můžete začít s přeposíláním známek.
Extra tipy na zdroje ke sbírání poštovních známek
Pár rad jsme vám již předali, ale máme pro pár tipů na skvělé zdroje – na následujícím YouTube kanále se dozvíte další podrobnosti o sbírání známek – například to, jak třídit svoji sbírku, jak zjistit, jakou má hodnotu, jak odlepit známky od dopisu, aby se nepoškodila atp. 2 Clicks Stamps můžete naopak využít jako jakýsi rozcestník pro vaši sběratelskou vášeň.
Příště se po krátké pauze vrátíme opět k alkoholu, zaměříme se totiž na pití filmových gentelmanů a lidí žijících na vysoké noze. Uhodli jste, o jakém druhu alkoholu je řeč?