V rámci našeho seriálu Pojďme sbírat jsme se již věnovali plechovkám , poštovním známkám a lahvím whisky. Dnes se zaměříme na SPZ, tedy státní poznávací značky – zejména ty z USA. Vzhledem k tomu, že USA mají 50 států, lze si zajistit opravdu bohatou kolekci. Vždy jsem obdivoval hospody, bary a restaurace vyzdobené poznávacími značkami (a nejen těmi americkými). ŘÍkal jsem si: "Jak dlouho ty značky asi sbírali než to tu celé vyzdobili?" Jak se dnes dozvíte, nemusí to být tak velký oříšek, jak se na první pohled může zdát.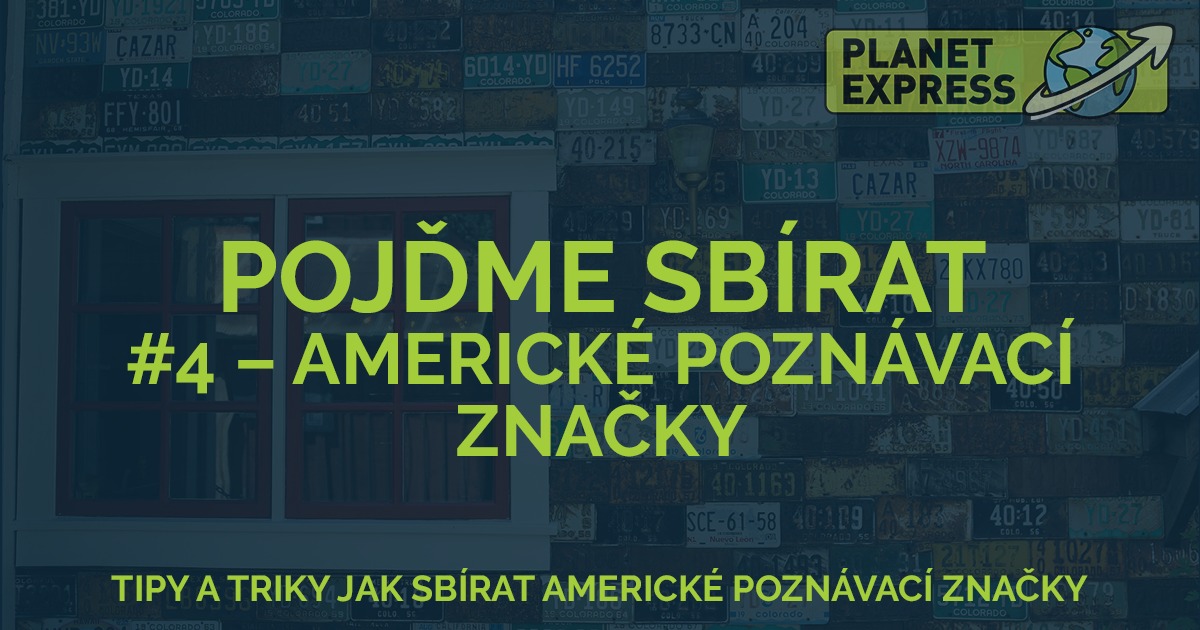 Jaké značky sbírat?
Sbírání poznávacích značek je mnohem populárnější v USA a Kanadě, než je tomu v Evropě. I zde se však najde mnoho nadšenců, kteří značky sbírají. Náš článek bude sice zaměřen spíše na americké poznávací značky, ale máme pro vás pár tipů, jaké další sbírat:
Značky všech států světa
Značky všech států podle kontinentu
Značky podle data (vašeho narození, vydání atp.)
Značky všech bývalých zemí
Značky všech francouzských provincií
Značky, kde bude vždy konkrétní číslice/písmeno
Značky států, které jste navštívili
…
Ve výčtu by se dalo pokračovat. Jaké značky budete chtít sbírat závisí pouze na vaší fantazii, chuti a časových možnostech. Vůbec nejstarší poznávací značky se začaly vyrábět na počátku 20. století. V dnešní době není až takový problém většinu značek sehnat (pokud tedy nehledáte opravdové rarity). Hodnota většiny značek však poté není tak vysoká.
Podle ALPCA (Asociace sběratelů poznávacích značek) se vyplatí sbírat značky vyrobené před rokem 1969, protože mají z dlouhodobého hlediska větší potenciál pro zhodnocení, a také speciální značky – policie, handikepovaných osob, politiků atp.
Americké poznávací značky
Americké státní poznávací značky se od těch českých liší – a to hlavně designem. Vzhledem k tomu, že je v USA 50 různých států a každá značka vypadá jinak, dá se říci, že Americké značky patří k nejrozmanitějším na světě – můžete najít značky pouze s textem, ale také s obrázky. Platí, že ceny poznávacích značek států s menší zalidněností (Aljaška, Severní Dakota… ) – jsou dražší.
Značka každého státu nese kromě zásadní informace o registraci vozidla, také skrytý význam. Nejlépe je to vidět u obrázkových značek. Například pomeranče na značce Floridy značí dávají jasně najevo, že se jedná o oblast populární pro jejich pěstování, ve státě Arizona se nachází Grand Canyon, což je vidět i na značce Arizony atd.
Kde značky získat?
Pravděpodobně nejsnázší cestou je značky koupit. Na eBay mají dokonce zvláštní kategorii pro poznávací značky z USA, Německa, Kanady a dalších států. Kupovat lze dokonce celé kolekce od dalších sběratelů. Pokud vám eBay nestačí, můžete vstoupit do klubu sběračů automobilových značek Automobile License Plate Collectors Association, navštěvovat srazy sběratelů značek a zančky vyměňovat. Štěstí můžete mít také na skládkách (s automobily), kde lze občas nějaké značky najít. Další výborným způsobem, jak získat značky, je napsat na Department of Motor Vehicles (DMV) napříč USA, tedy oddělení motorových vozidel. Značky si poté můžete nechat poslat například na Planet Express adresu, odkud vám je přepošleme kamkoliv na světě.
Užitečné odkazy pro sběratele značek
Asociace sběratelů poznávacích značek
Světová organizace sběratelů značek
Stránka obsahující více než 100 tisíc fotografií značek ze všech zemí světa
Facebook skupina sběratelů značek
Shrnutí
Doufáme, že využijete naše tipy pro sbírání poznávacích značek a budeme velmi potěšeni, když přijmete naši pozvánku na další článek. Potěšíme totiž všechny hudební fanoušky – popularita sbírání vinylů a "elpíček" roste každým dnem.