Kryptoměny v čele s Bitcoinem začínají být čím dál tím populárnější i mezi širší veřejností. Už se nejedná pouze o záležitost geeků a úzkých komunit. Na této stránce vám zodpovíme nejčastěji kladené otázky ohledně Bitcoinů a jejich využití při přeposílání zásilek přes Planet Express z USA až k vám domů.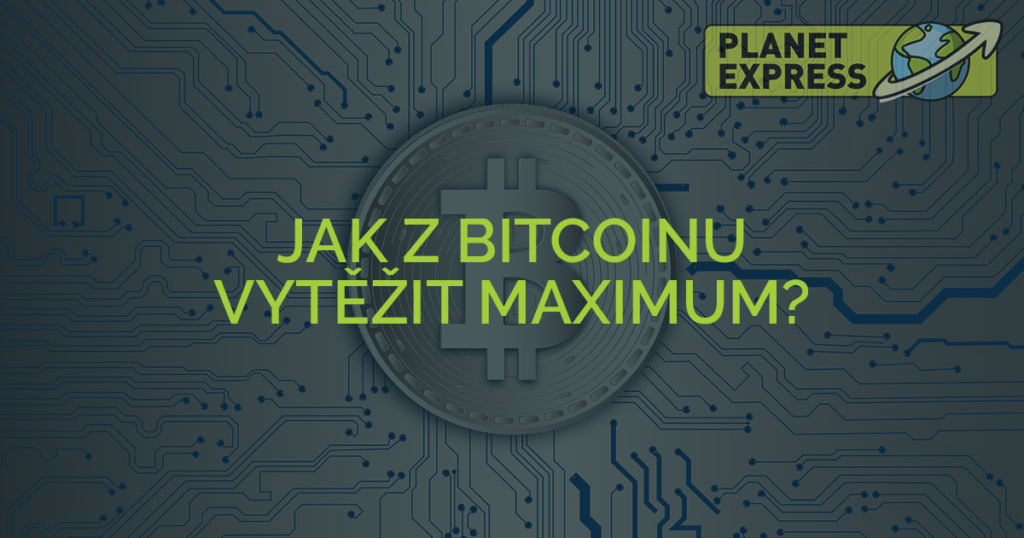 Co všechno si za Bitcoiny koupím?
Škála online obchodů přijímajících Bitcoin se rok od roku rozšiřuje. V podstatě v každé produktové kategorii se již dá najít obchod, kde pomocí Bitcoinů můžete zaplatit za váš nákup. Z velkých hráčů můžeme zmínit např.: Microsoft, Overstock nebo NewEgg. I přesto však velmi pravděpodobně budou chybět vaši oblíbení online prodejci.
Nutno podotknout, že akceptování platební metody Bitcoin není ani v oblasti přeposílání zásilek úplně běžnou praxí. Podívejte se na následující srovnání (z 02/09/2019):

Existuje však možnost, jak nakoupit ve vašem oblíbeném online obchodě, i pokud nepřijímá Bitcoin…
Jak si pomocí Bitcoinu koupit (téměř) cokoliv?
Jakmile budete mít nachystán dostatečný obnos kryptoměn, můžete se pustit do nakupování. Při nákupu z USA můžete využít služby asistovaný nákup.
Co to je Asistovaný nákup?
Služba asistovaný nákup funguje tak, že nám do systému zadáte, co, v jaké variantě, počtu a odkud chcete koupit. Dále přidáte dostatečnou zálohu, resp. kredit na váš Planet Express účet. Výhodou je právě to, že tento kredit můžete přidat pomocí Bitcoinu. Naši specialisté nákupu však objednají zboží v USD. Prakticky to znamená, že jsme tímto způsobem schopni objednat vám téměř cokoliv.
Jak objednat Asistovaný nákup?
Máte-li vytvořen Planet Express účet (pokud ne, podívejte se na návod Jak jej založit), přihlaste se a přejděte do záložky Asistovaný nákup (Shop For Me) v menu.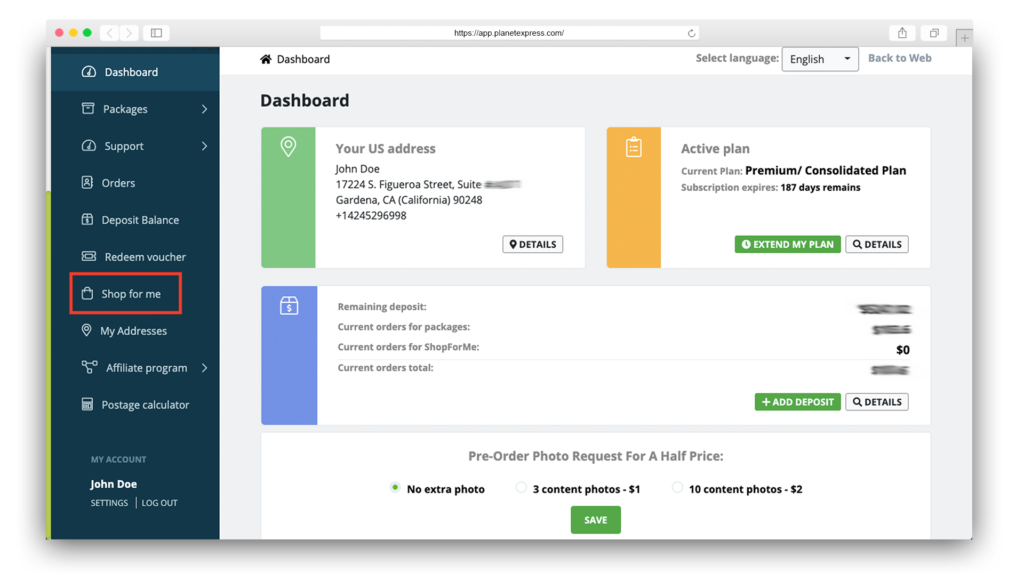 Zde kliknete na tlačítko NOVÝ NÁKUP (NEW PURCHASE).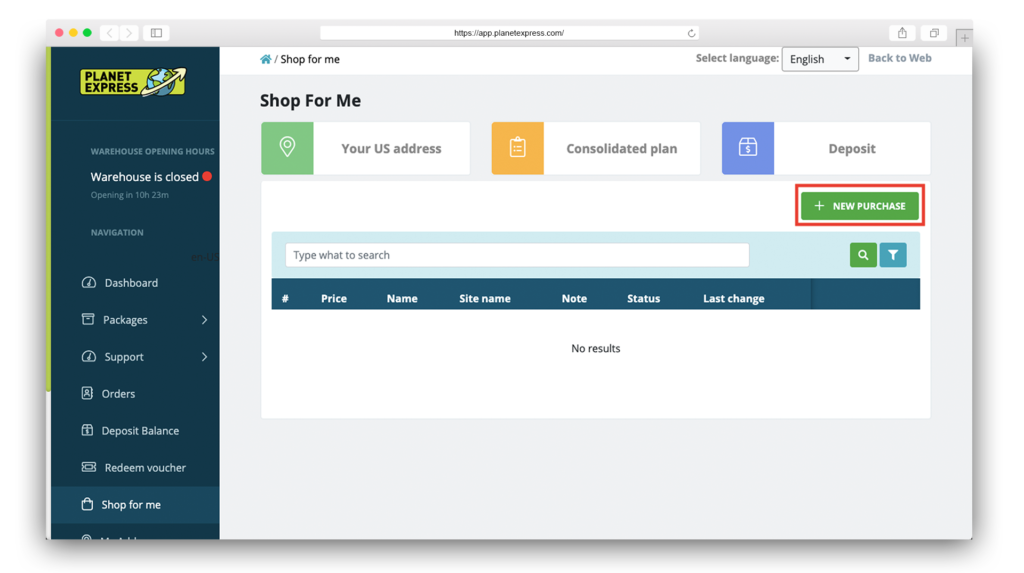 Do tzv. nákupního seznamu můžete přidat libovolné množství položek. My jsme pro ilustraci přidali pouze jednu. Má-li zboží více variant, buďte specifičtí: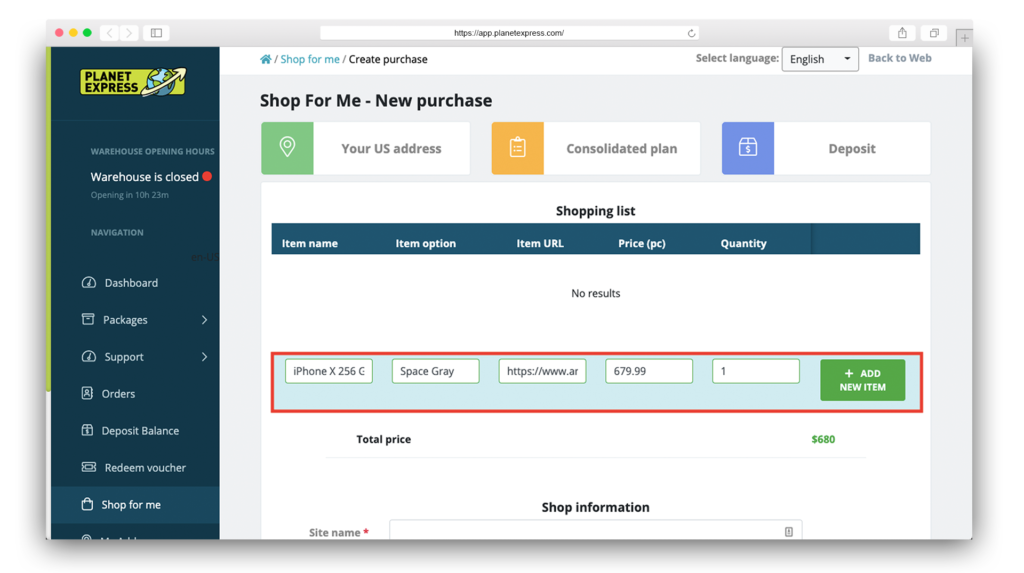 Přidání potvrdíte tlačítkem PŘIDAT PRODUKT (ADD NEW ITEM).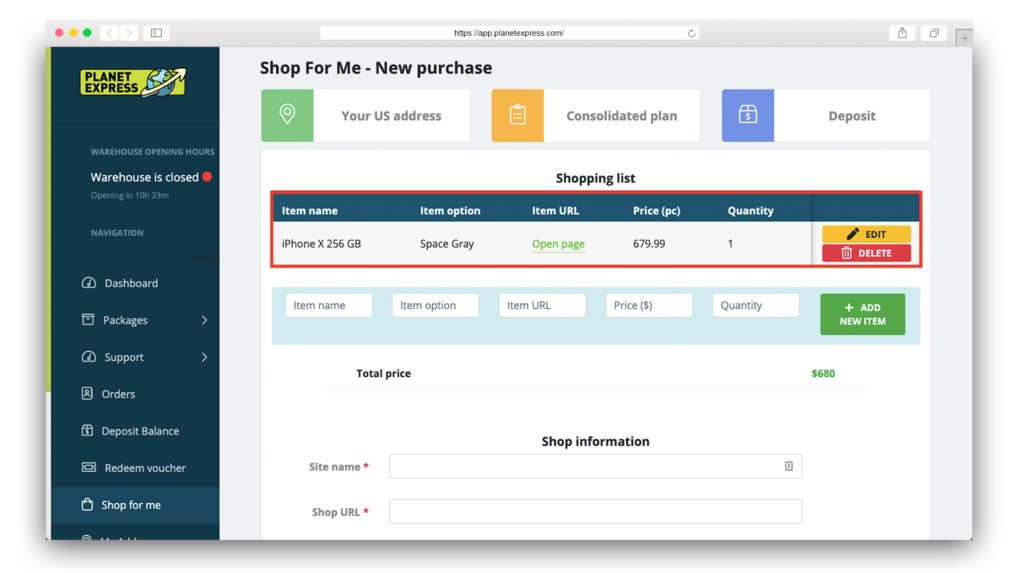 V závěrečné fázi je potřeba zadat název a odkaz obchodu, cenu za poštovné a částku daně z prodeje (lze vypočítat jako cena produktu bez daně × sazba daně), která je vybírána na území státu Kalifornie. Objednávku potvrdíte tlačítkem DOKONČIT OBJEDNÁVKU (FINISH ORDER).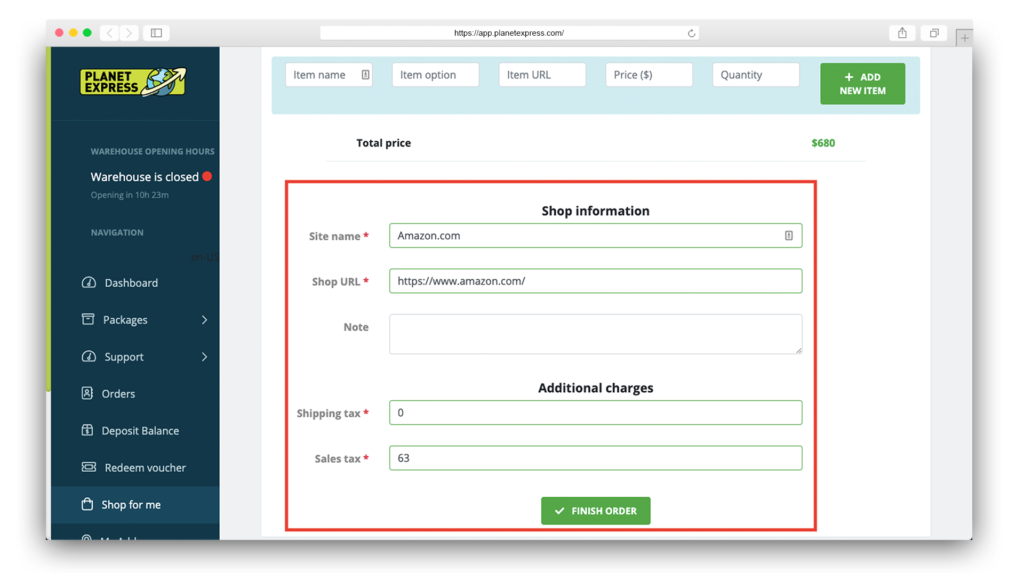 Ujistěte se, že do vašeho účtu přidáte dostatečný kredit, abychom zboží mohli objednat. Tento kredit přidejte právě pomocí platební metody Bitcoin.
Kolik přesně máte přidat se dozvíte, když kliknete na tlačítko UPRAVIT (EDIT):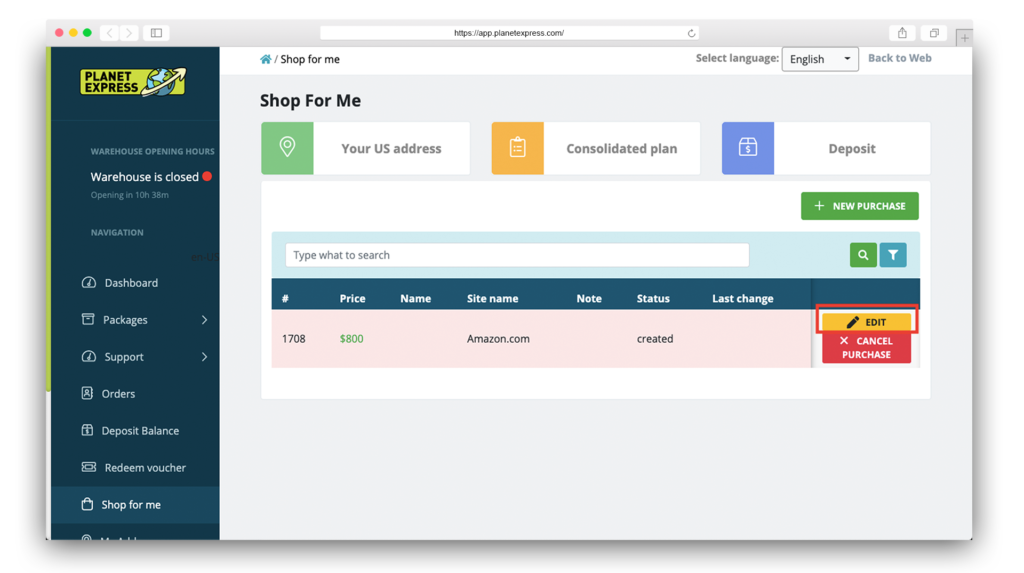 A podíváte se na rozepsání ceny: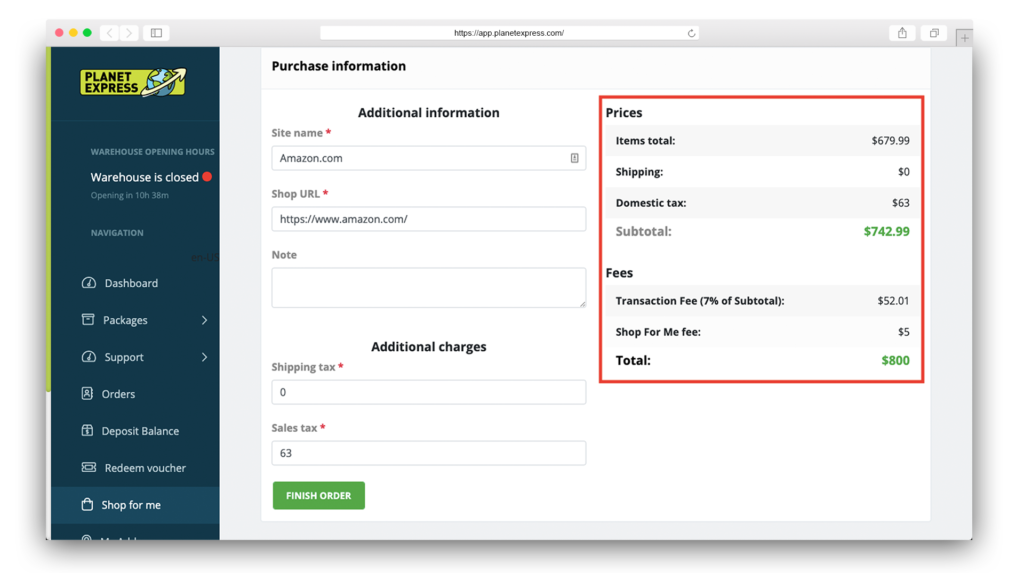 Doba zpracování vaší objednávky Asistovaného nákupu bývá zpravidla 3 pracovní dny. Dalších několik pracovních dní (v závislosti na zvolené doručovací metodě) trvá doručení vaší zásilky do našeho skladu. Jakmile váš balík přijmeme, budete informování emailem. Následně vám můžeme balík přeposlat až k vám domů.
Jak přidat zálohu pomocí Bitcoinu?
Přejděte do záložky Objednávky (Orders) a klikněte na tlačítko PŘIDAT KREDIT (ADD DEPOSIT).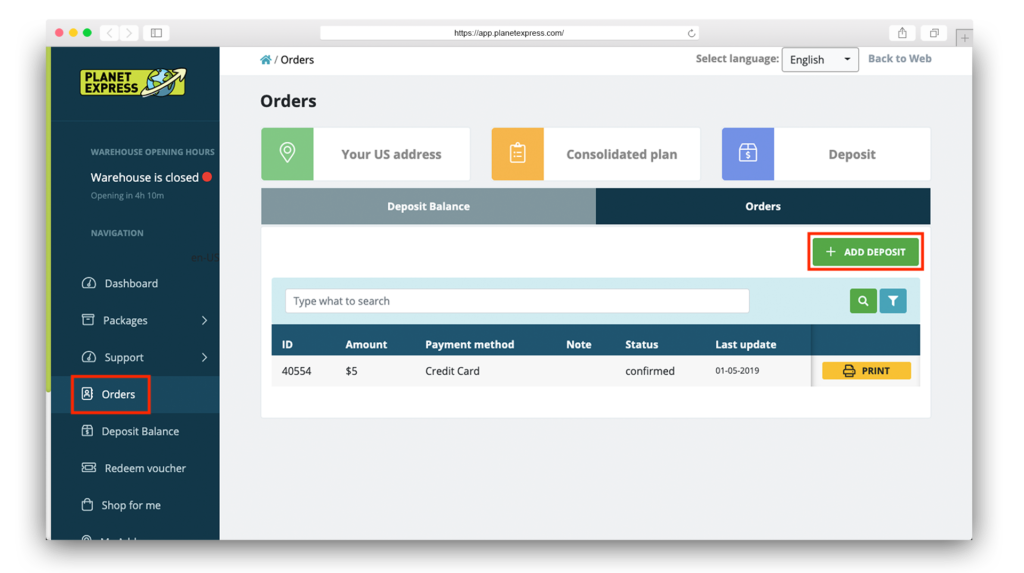 Z dostupných platebních metod zvolte bitpay. Zadejte částku, jakou chcete přidat.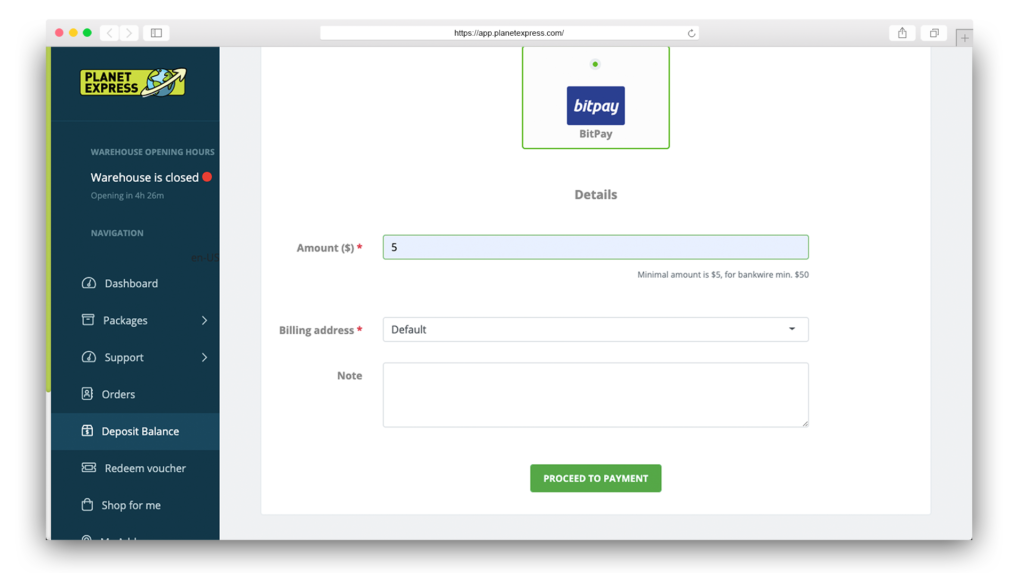 Nyní se můžete přihlásit do svého BitPay ID, pokud jej nemáte, pokračujte jako host (Continue as Guest).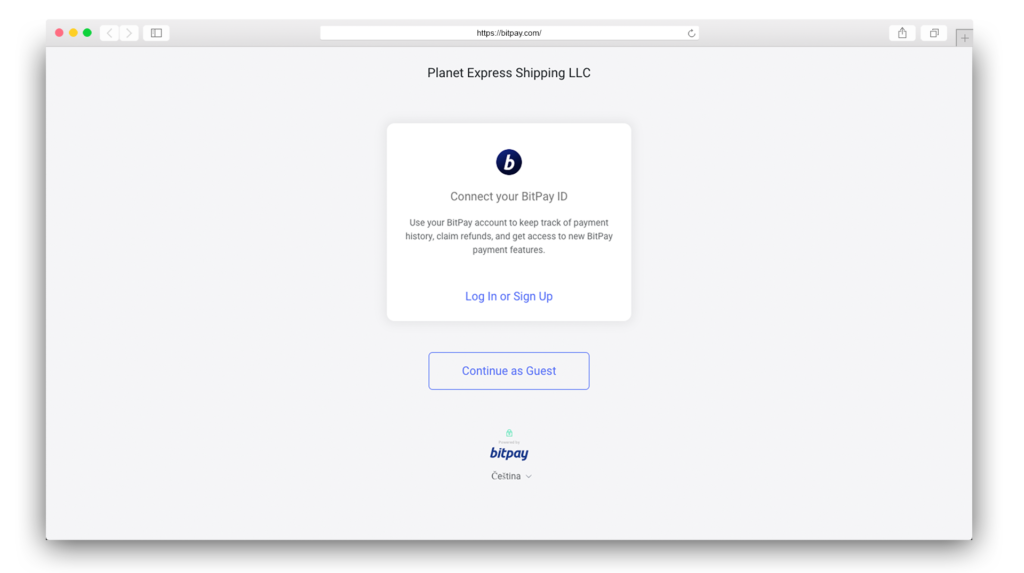 Vyberte platbu Bitcoin nebo Bitcoin Cash.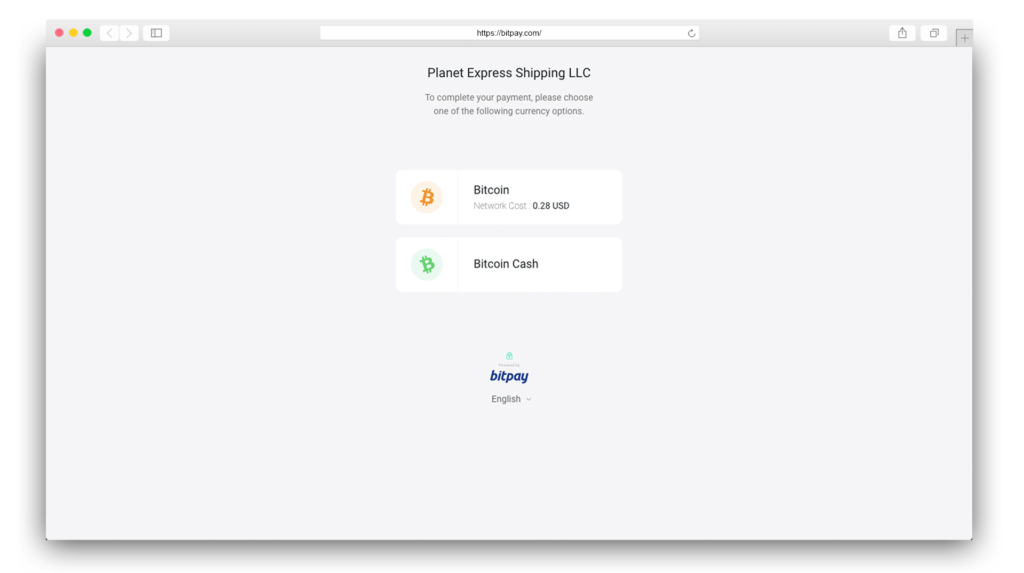 Naskenujte QR kód pomocí vašeho mobilního zařízení, případně zaplaťte pomocí vaší Peněženky a dokončete platbu.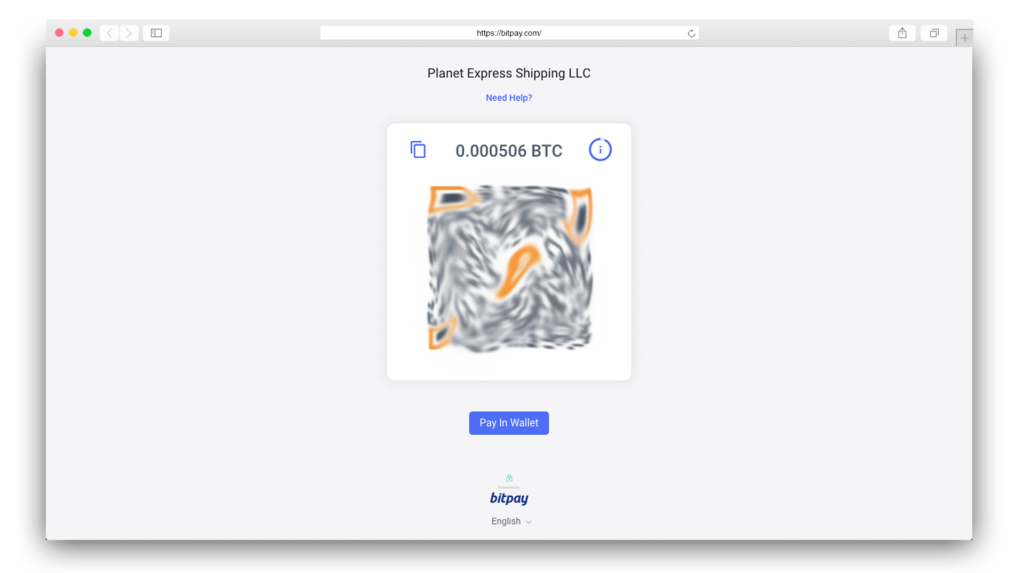 Záloha bude přidána do vašeho Planet Express účtu.
Musím mít pouze Bitcoiny? Co takhle Altcoiny?
Nemusíte! Na dnešní době je krásné to, kolik možností a příležitostí se nám dennodenně naskytuje. Proto, pokud vlastníte jakoukoliv alternativní kryptoměnu (např. Litecoin, Ethereum, Zcash, Ripple…), můžete využít směnáren pro kryptoměny. Jednoduše si směníte např. Ethereum za Bitcoin. Princip je podobný, jako kdybyste šli do směnárny vyměnit CZK ze EUR, USD a jiné měny.
Online směnáren pro kryptoměny existují stovky, níže uvádíme výběr 3 populárních směnáren: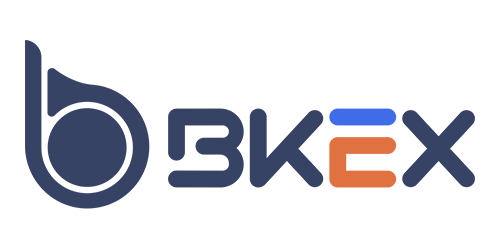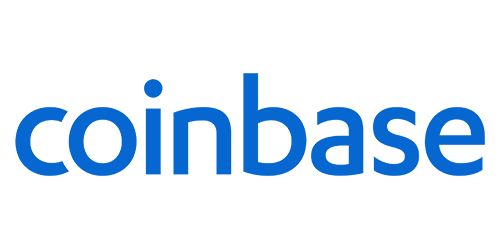 Jakou online směnárnu si vyberete je čistě na vás. Cílem je, abyste si směnili dostateční obnos altcoinů na Bitcoiny, kterými pak zaplatíte za naše služby či produkt, která přes nás budete chtít objednat.
Máte dotazy?