Děti na většině částech světa si užívají prázdniny – období klidu od školních povinností, období zábavy a bezstarostného života. Avšak školní lavice se zanedlouho opět zaplní, blíží se totiž nový školní rok. Při této příležitosti jsme si pro vás nachystali seznam těch online obchodů s těmi nejlepšími nabídkami. Můžete své ratolesti vybavit potřebnými pomůckami, novým oblečením, nebo je obdarovat jen tak, třeba proto, že je máte rádi. Obecně platí, že většina velkých eshopů dělá akce typu Back to School. My jsme pro vás vybrali několik z nich.
Ačkoliv už to začíná být pomalu klíše – ani v tomto přehledu Amazon nesmí chybět. Jednak díky tomu, že ceny jsou zde velmi nízké, a také si můžete vybrat z mnoha produktů – od školních potřeb, přes batohy po oblečení a elektroniku.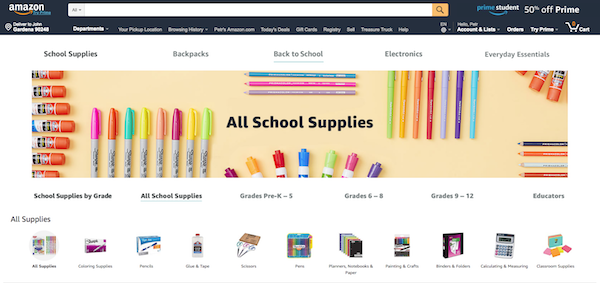 Na eBags najdete pravděpodobně největší výběr školních batohů a aktovek vůbec. Během objednávky nezapomeňte využít kód "SCHOOL", díky kterému získáte slevu 20 %.
Čtete-li pravidelně náš blog, obchod Finish Line vám bude povědomí. Odkazovali jsme se na něj v článku o teniskách.
Pokud vás zajímá hlavně cena, doporučujeme vám navštívit Forever 21, tento obchod už jsme vám jednou doporučovali v článku – 10+1 Best Websites For Buying Fashion From. Ceny oblečení začínají na $5 a při nákupu nad $50 získáte poštovné po USA zdarma.

Online obchod Jet se oproti ostatním v našem seznamu vymyká především kategorizací produktů. Vedle běžných kategorií jako batohy, školní potřeby nebo oblečení, zde můžete vybírat zboží podle třídy, do které vaše dítě chodí. Na poštovné zdarma dosáhnete při nákupu nad $35.
Kohl's rozdělil produkty své Back to School kampaně do 3 hlavních kategorií – batohy, školní uniformy (trochu formálnější oblečení, žádné hábity jako v Harry Potterovi zde nenajdete) a také obuv. Chcete-li své děti potěšit spíše hračkami – najdete Kohl's mezi tipy na obchody, kde koupit hračky.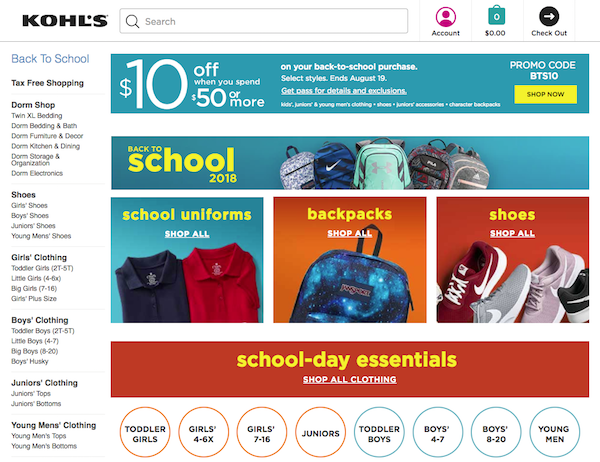 Potrpíte-li si spíše na zboží vyšší kvality, doporučujeme Nordstrom. Najdete zde zboží od různých značek, jako je například Nike, Vans, PUMA, The Levi's a další. Vybírat můžete z batohů, obuvi a oblečení.
Na Staples najdete školní pomůcky typu psací potřeby, batohy, kalkulačky, lepidla… zkrátka vše, co patří do školní aktovky. Slevy dosahují 20 %.
Extra akce na elektroniku
Zajímavé akce si pro své zákazníky připravily také technologičtí giganti. HP, Microsoft, Samsung nebo Dell.

Pokud vás zajímají pouze produkty od Apple, na Bestbuy najdete slevy v řádech několika desítek dolarů na vybrané Apple produkty.
Chcete-li však vyždímat z Back To School opravdu maximum, na oficiálních stránkách Apple běží také akce – ke každému zakoupenému Macu nebo iPadu získáte pár sluchátek od Beats.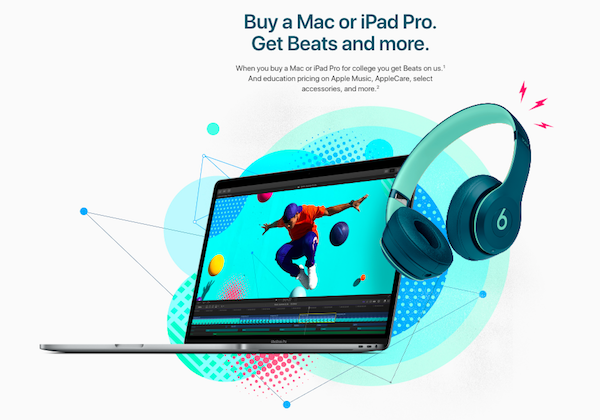 Nemáte Americkou adresu?
Pokud nemáte americkou adresu, a i přesto byste si rádi objednali nějaké zboží přímo z USA, můžete získat adresu zdarma právě u nás. Budete si tak moci přeposlat zboží ze Spojených států kamkoliv na světě.
Funguje to velmi jednoduše:
Nejprve se zaregistrujete a zaplatíte $5 zálohu jako prevenci proti podvodům.
Novou adresu vyplníte při objednávce místo vaší běžné adresy.
Na vaši americkou adresu (do našeho skladu) vám bude doručen balík, který si přepošlete k vám domů.
Cenu za poštovné si můžete spočítat pomocí naší poštovní kalkulačky.