How it works?
Many US retailers do not offer international shipping and that's when Planet Express is the solution. Purchase from any online retailers and have the packages shipped to your Planet Express address. We'll consolidate your packages and ship them to you using huge discount from our carriers.
Create account
Register for free, add $5 to activate your account. The $5 will be used toward shipping credit.
Get shipping address
You will have reserved space in our warehouse and your own US mailing address
Shop in the US
Shop online in the US and send packages to our warehouse address.
Receive packages
Our warehouse will receive your packages. We can consolidate packages, take photos of item, provide any additional service request and ship the packages to you world wide.
Shipping cost calculator
Shipping rates
Fetching rates for your package
Benefits of Planet Express
Planet Express is designed to provide customers maximum savings by using Consolidation Plan. We are not only cool, but very straightforward. NO HIDDEN OR EXCESSIVE FEES, NO MARK UP ON POSTAGE (THE DISCOUNT POSTAGE WE RECEIVE FROM CARRIERS, WE PASS IT DIRECTLY TO OUR CUSTOMERS), WE ONLY CHARGE FOR OUR LABOR AND SERVICE.
NO HIDDEN FEES. We do not offer free consolidation, special requests or other services and hide these fee by marking up the shipping postage.
CUSTOMERS FRIENDLY. We never ignore our customers if there's a problem with their packages. We do our best to resolve it.
FLAT FEE CONSOLIDATION. As long as your packages fit in our biggest box size available, it's a $5 fee.
FREE PHOTOS OF received packages and its shipping label. Consolidated packages and its contents photos
Consolidation
Do you have more than 1 package? Save money on shipping and use the consolidation service – all your small packages will be combined  into one for a flat fee of $5.
We always use smallest box possible to ensure there is no empty space in the consolidate package which means savings on postage for you.
Photos of consolidation are provided for free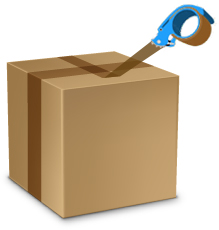 Special Requests
Do you need something extra? We are ready to handle your special requests.
You can ask Planet Express to re-pack package your package to fit in certain carrier's dimension limit, split packages into multiple smaller packages, help with custom declarations, assist with the purchase and much more.
Do you need to write us some detailed instructions?  No problem, just use the Special Request.

Photos of your items
Want to make sure retailers didn't forget to include everything from your order? Place a photo request, we will help you to check your goods.
Did you know you can pre-select the option to have your items photographed?