V průběhu několika uplynulých měsíců jsme měli možnost sledovat desítky úniků informací o nových iPhonech a Apple Watch, které měl Apple představit na letošní konferenci 12.9.2018 přímo z Divadla Steva Jobse. Mnoho z nás s očekáváním sledovalo, zda se dočkáme překvapení… Avšak, žádné větší překvapení se nekonalo. Většina "uniknutých" informací byla pravdivá a z mého pohledu se jednalo o zatím jedno z méně povedených představení produktů vůbec.
Apple Watch Series 4
O Apple Watch 4 se toho narozdíl od očekávaných iPhonů vědělo jen velmi málo. Pár dní před představením však unikly fotky a bylo jasné, že hodinky prošly redesignem. Nutno dodat, že velmi povedeným. Apple Watch jsou nově zaoblenější, tenčí a displej je roztažen více do krajů (Apple deklaruje, že je až o 30 % větší než u předchozí série).

Hlavními novinkami u Apple Watch Series 4 je haptická odezva, takže při točení kolečkem budete mít pocit jako u mechanických hodinek. Stisk bočního tlačítka bude evokovat stisk podobný tomu z iPhone 7 a novějších. Díky novému procesoru S4 jsou Apple Watch 4 2x rychlejší než Apple Watch 3.
Designéři si dali záležet také na vylepšení reproduktoru a mikrofonu (ten je nyní umístěn na opačné straně hodinek kvůli redukci šumu). Reproduktor je o 50 % hlasitější než u předchozí generace. Zadní strana hodinek se také dočkala vylepšení. Zadní stavba je nyní z keramiky a safírového skla, což umožňuje pravděpodobně největší novinku a "revoluci". Apple Watch 4 vám totiž nyní udělají elektrokardiogram (EKG) v reálném čase (Apple Watch 4 jsou tak vůbec prvním zařízením určeným pro spotřebitele, které to dokáže). Z měření automaticky vytvoří PDF výstup, který můžete sdílet například se svým doktorem.
Hodinky umí nově pomocí vylepšených gyroskopů a algoritmů detekovat pád. Pokud se vám tedy stane, že spadnete a nebudete se déle než minutu hýbat, odešle se automatická zpráva vašemu krizovému kontaktu. V opačném případě se žádost o pomoc automaticky vypne.
Od 14. září lze Apple Watch 4 předobjednat, objednávky budou rozesílány od 21. září. V pondělí 17. září bude možné upgradovat na nový Watch OS 5. Zaujaly vás nové Apple Watch? Připravte si minimálně 11 290 Kč (GPS verze). Cena za GPS + Cellular verzi byla v USA stanovena na $499. V ČR se dá cena očekávat vyšší.
iPhone Xs & iPhone Xs Max – prvotřídní mašina do vaší kapsy
Před představením nových modelů iPhonů jsme měli možnost slyšet, že nové modely vycházejí vůbec z nejoblíbenějšího smartphonu vůbec s 98% spokojeností majitelů iPhone X. Nebudeme se pouštět do velkých detailů (jsme si jisti, že za pár dní bude online mnoho benchmarků a rychlostní srovnání s dalšími smartphony), proto jen k nejdůležitějším bodům.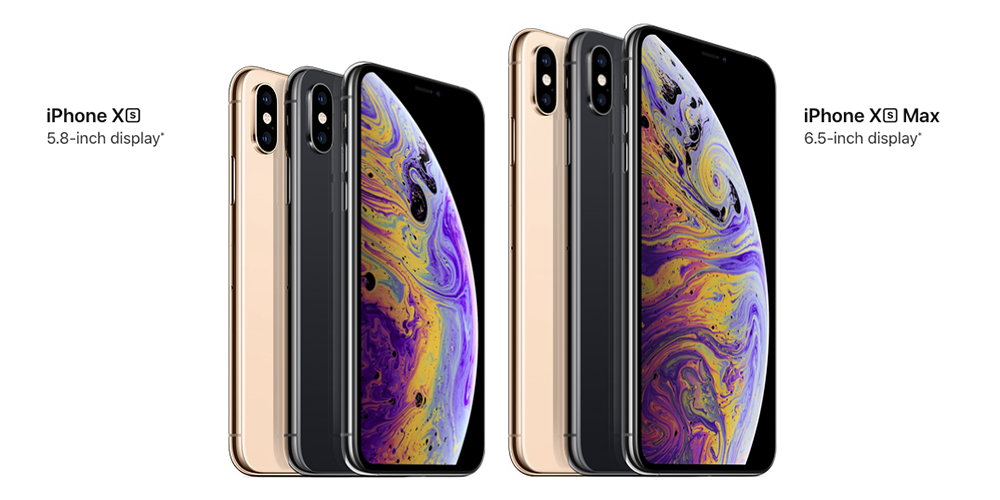 Oba výše zobrazené modely jsou parametrově v podstatě identické (liší se logicky v rozlišení displeje, kapacitě baterie, celkových rozměrech atp.). Apple tvrdí, že tyto iPhony mají vůbec nejodolnější skla (jsme zvědavi na první crash testy). Rozhodně jedním z největších vylepšení je přechod z čipu A11 na A12 Bionic. Jeho parametry můžete vidět níže. Odemykání pomocí Face ID by mělo být nyní rychlejší, stejně jako používání celého telefonu.

OLED displeje mají mít nejvěrnější podání barev, nově byly pojmenovány jako Super Retina. Obrovský posun by měly přinést nové Smart HDR fotografie. Díky nim jsou lépe vykreslovány detaily světlých i tmavých ploch. Bude zajímavé sledovat, jak si fotoaparáty nových modelů povedou.
Samozřejmostí je bezdrátové nabíjení, a zhruba 11hodinová výdrž baterie. Novinkami jsou však nové stereo reproduktory přinášející zcela jedinečný zážitek při sledování videa a také možnost dual SIM (1 fyzická SIM + eSIM). V ČR operátoři ještě nepodporují eSIM, takže tato novinka nás prozatím nijak extra neovlivní.
Za nové modely si ale připlatíme, iPhone Xs startuje na 29 990 Kč (64 GB verze), 34 490 Kč (256 GB) a 40 490 Kč (512 GB). iPhone Xs Max startuje na 32 990 Kč za 64 GB verzi, 37 490 Kč (256 GB) a neuvěřitelných 43 490 Kč za 512 GB verzi.
iPhone Xr – iPhone určený pro masy
Velmi očekávaným modelem byla "dostupnější" verze iPhone Xr, který se má stát nástupcem oblíbeného iPhone SE. iPhone Xr zaujme především 6 barevnými provedeními – červenou, žlutou, bílou, perleťovou, černou a modrou, tolik barev u Apple nebývá úplně zvykem. iPhone Xr si také bere to nejlepší z iPhone Xs, tedy čip Bionic A12 s Neural Engine, 12 Mpix kameru, 7 Mpix přední kameru a technologii Face ID.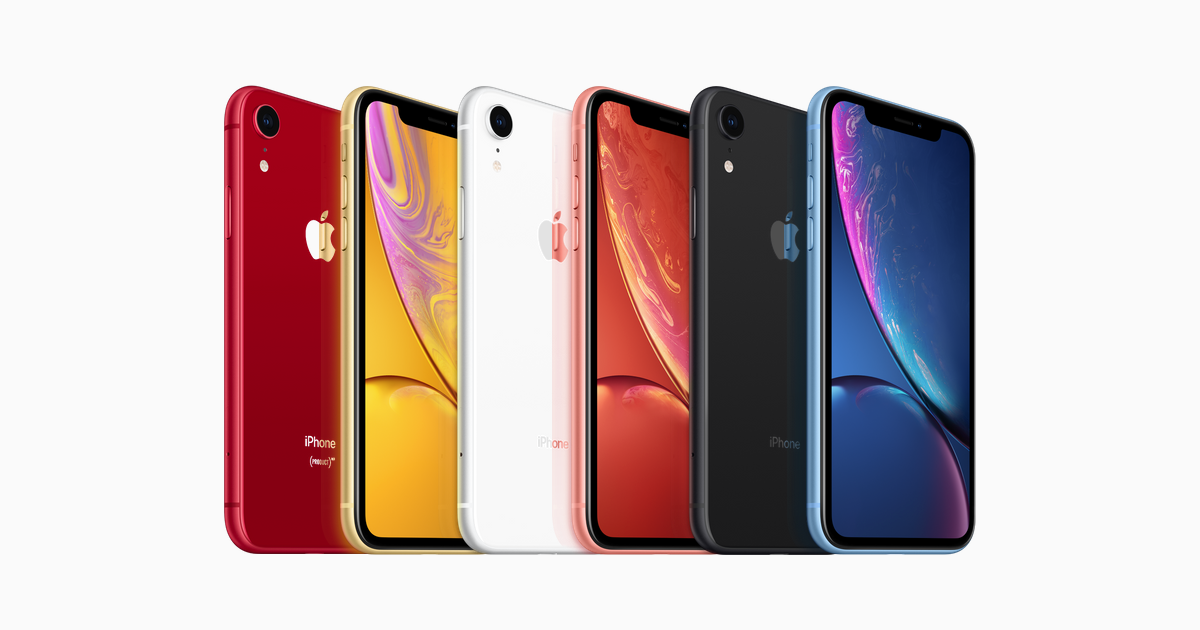 Narozdíl od OLED displeje, který najdeme v iPhone X, Xs a Xs Max, iPhone Xr disponuje "pouze" 6.1″ LCD displejem. Také kvůli LCD jsou trochu širší okraje a displej nepůsobí tak "nekonečně". Apple tyto displeje pojmenoval Liquid Retina (asi proto, že to jednoduše zní lépe, než LCD Retina). Jistě potěší nová funkce Haptic touch nahrazující 3D touch, Face ID a o hodinu a půl vyšší výdrž baterie než má iPhone 8 Plus, zhruba tedy 12 hodin v závislosti na činnostech. Milovníci bezdrátového nabíjení si přijdou na své i zde, iPhone Xr totiž také podporuje bezdrátové nabíjení stejně jako Xs.

Ceny začínají na 22 490 Kč (64 GB), 23 990 Kč (128 GB) a za 256 GB verzi zaplatíte 26 990 Kč. Nové modely budou dostupné v různých zemích v různou dobu. Pro přehlednost přidáváme seznamy níže. Doporučujeme vám navštívit také oficiální stránky, kde si lze snadno srovnat různé modely.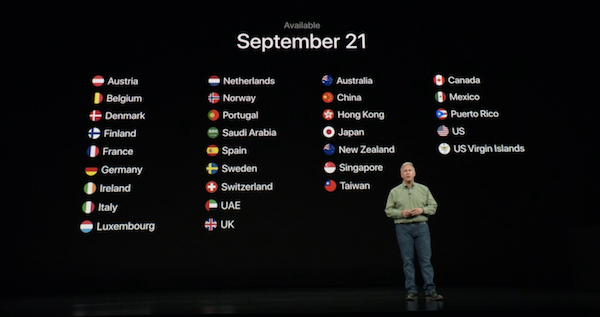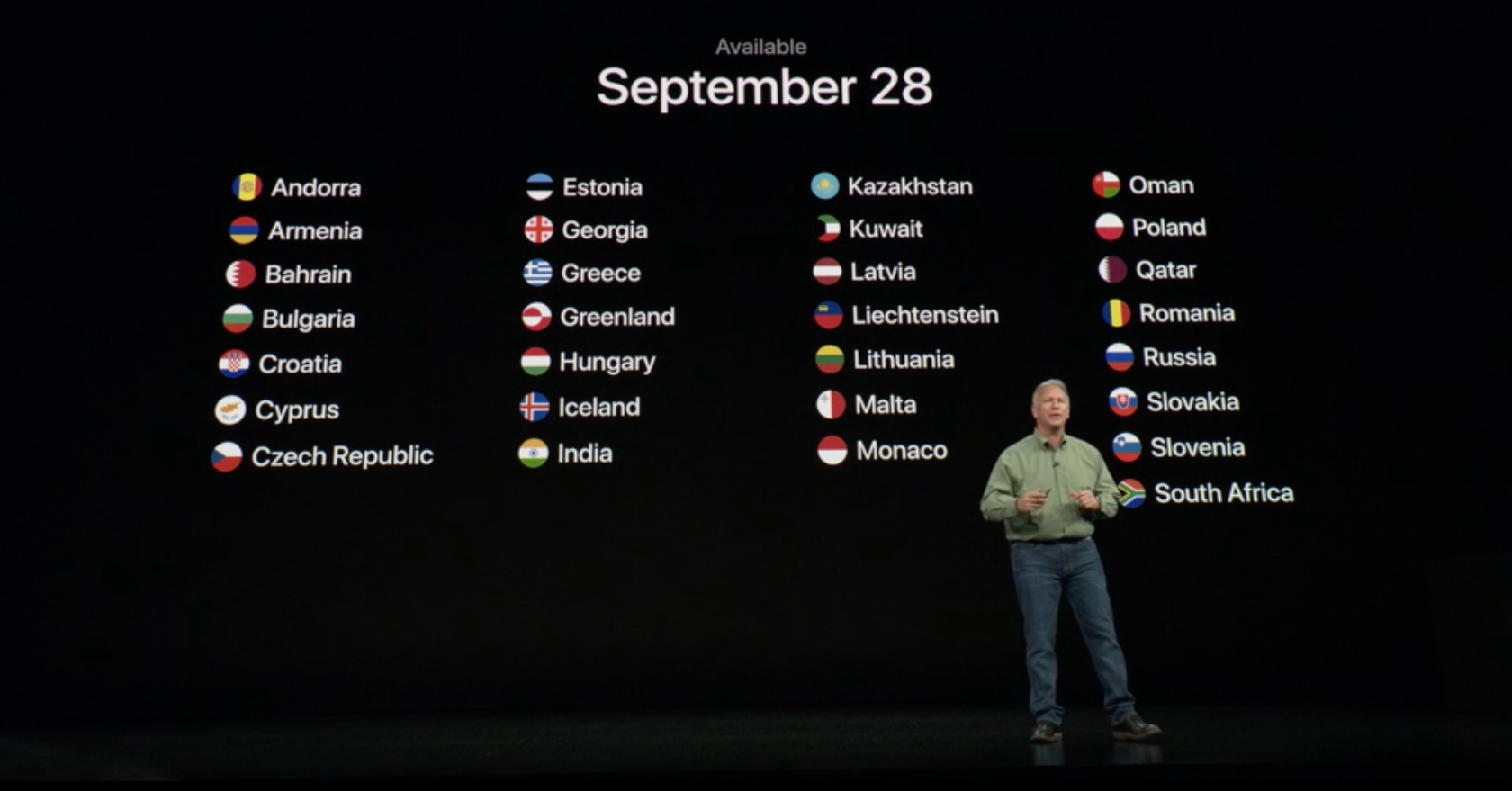 Jak se letošní Apple Keynote líbila vám? A co říkáte na nové modely? Upgradujete svůj současný telefon? Pro ty z vás, kteří máte hluboko do kapsy máme dobrou zprávu. Apple totiž rozjel novou kampaň, kdy odkoupí váš starý model. Činí tak v rámci společensky odpovědných aktivit. Například za funkční iPhone 6s dostanete okolo $100. Více se dozvíte na oficiálních stránkách.