Dnes pokračujeme v naší minisérii, jak objednat zboží luxusních značek přímo z USA. Už jsme vás provedli nákupem na Hermés, či MichaelKors.com. Dnes se od mladé značky vrátíme opět k tradičnější – Neiman Marcus byla založena před více než 110 lety již v roce 1907. Vás však jistě zajímá, jak produkty této značky dostat do ČR? Přesně na tuto otázku dnes dostanete odpověď.

Pro upřesnění je potřeba uvést, že na eshopu neimanmarcus.com naleznete kromě Neiman Marcus výrobků také zboží dalších několika desítek výrobců (Prada, Carolina Herrera...) a designérů (Brunello Cucinelli, Cosabella...). Výběr je opravdu široký, takže pokud máte problémy se sebeovládáním při nakupování, doporučujeme si předem stanovit nějaký limit.
1. Založte si americkou adresu u Planet Express
Některé produkty v obchodě Neiman Marcus jsou zasílány celosvětově, některé (pravděpodobně většina) z nich však ne. Objeví se vám totiž následující hláška.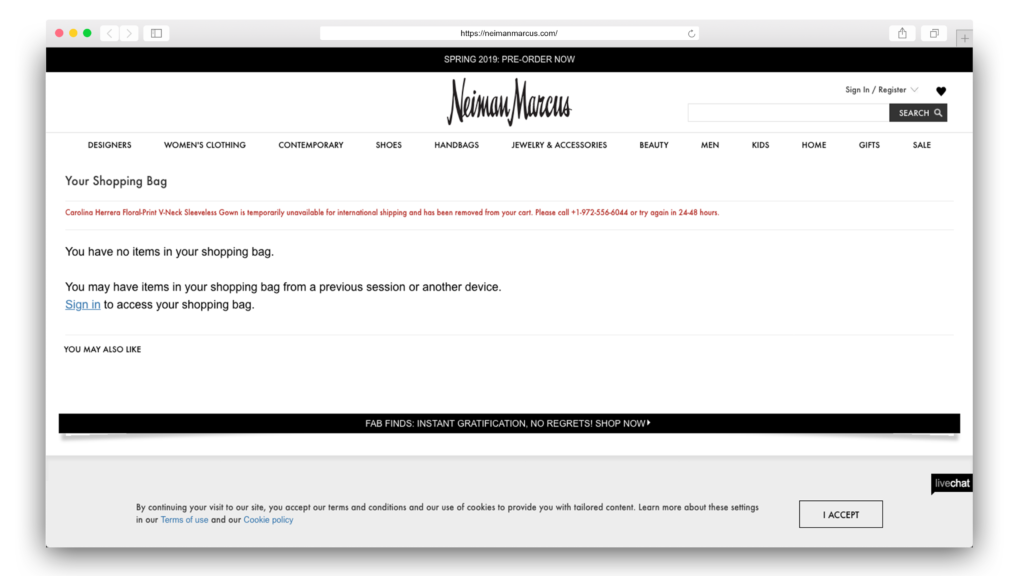 Proto je potřeba si založit americkou adresu, na kterou si zboží necháte zaslat, a my vám jej následně pošleme až k vám domů. 
Pro založení adresy jsme natočili i instruktážní video.
Založení adresy se dá shrnout ve 3 snadných krocích.
Zaregistrujte se na naší registrační stránce. Nejprve stačí vyplnit jméno, přijímení, zemi, váš email a heslo.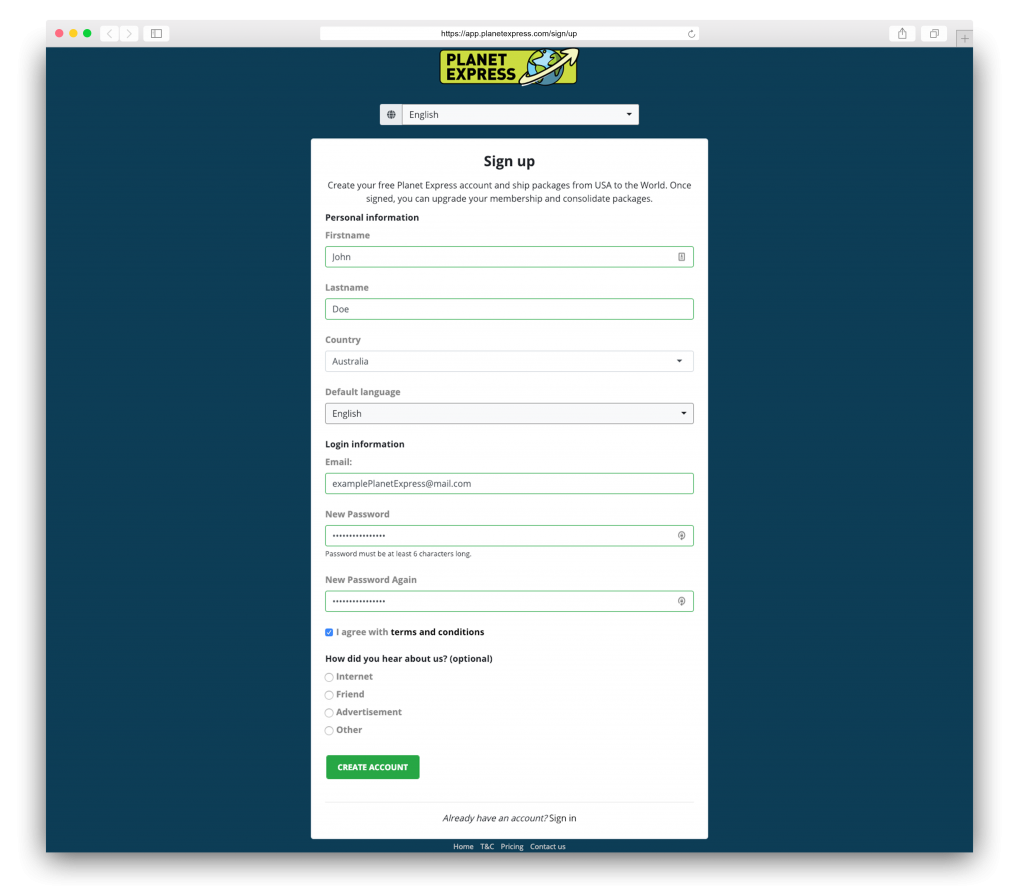 Nastavení doručovací adresy
Vyplňte vaši doručovací adresu (tedy tu, kde bydlíte, nebo kam chcete balík poslat). Tuto adresu můžete kdykoliv upravit, případně můžete přidat adres více, pokud budete z USA chtít poslat něco vašim známým. Důležité je také potvrdit Form 1583.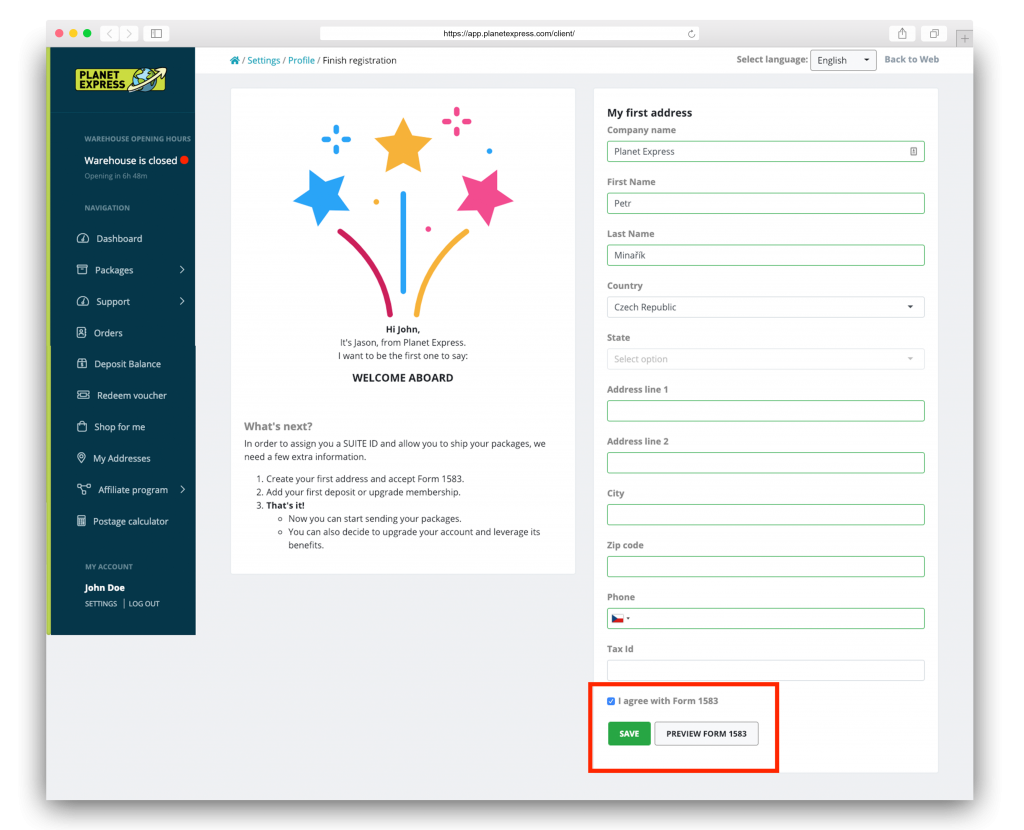 Přidání zálohy a aktivace účtu
Přidejte $5 zálohu (tuto zálohu vám načteme jako kredit, takže o peníze nepřijdete). Po úspěšném přidání vám bude aktivována adresa a dostanete speciální identifikační číslo ve tvaru A1234. Tuto adresu následně vyplníte při nákupu v amerických obchodech typu Michael Kors, Hermés, Amazon a stovkách dalších...
Jméno Příjmení
17224 S. Figueroa Street, Suite #A1234
Gardena, CA (California) 90248
+14245296998
Pokud se vám povedlo aktivovat účet, nástěnka v zákaznické administraci bude vypadat následovně: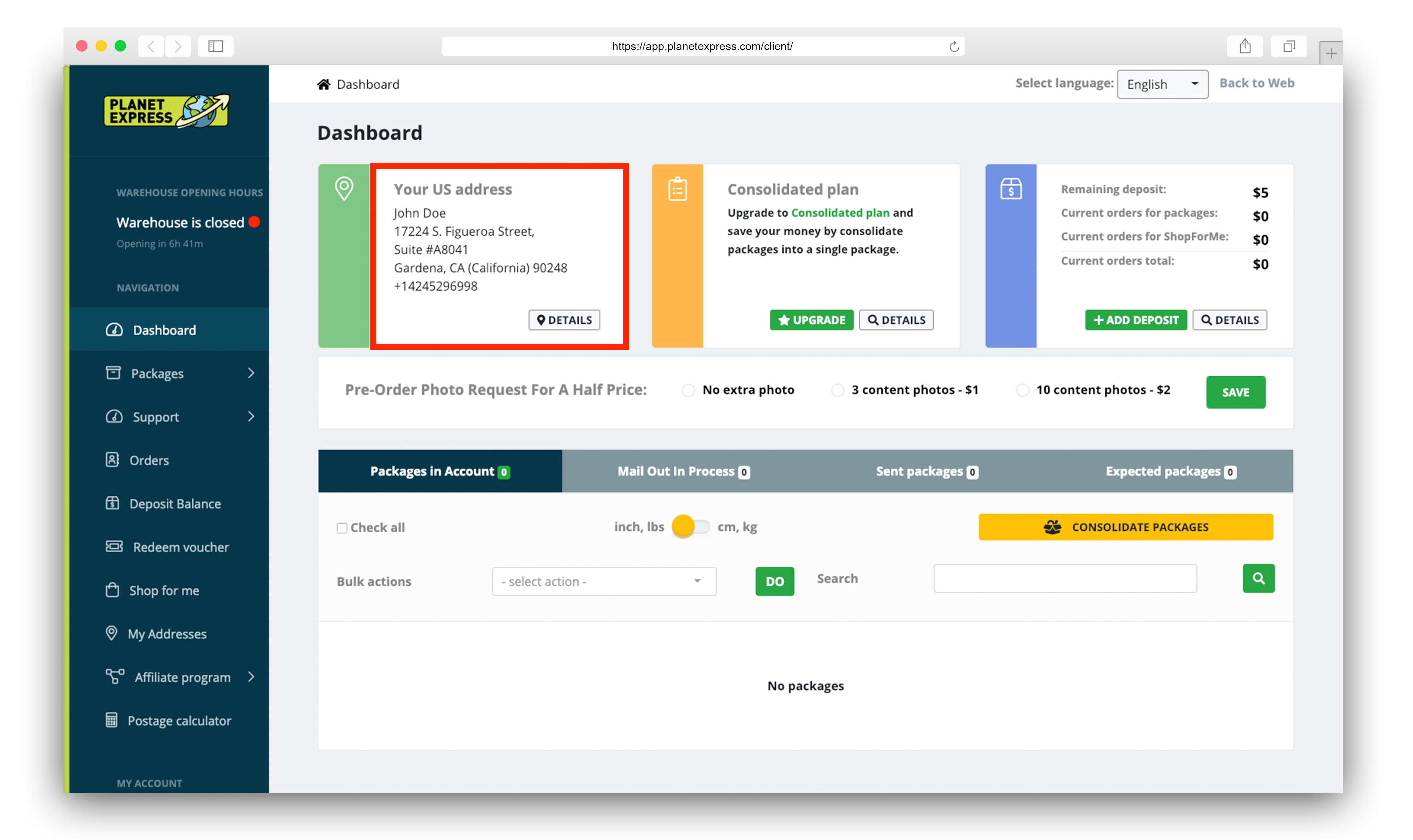 V případě jakýchkoliv problémů během registrace se na nás neváhejte obrátit.
2. Jak objednat šaty z Neiman Marcus?
Pojďme si ukázat, jak objednat například šaty. Znáte to, chcete být originální, takže si dáte práci a najdete si opravdu jedinečný kousek. Jako například tyto šaty od Oscara de la Renta.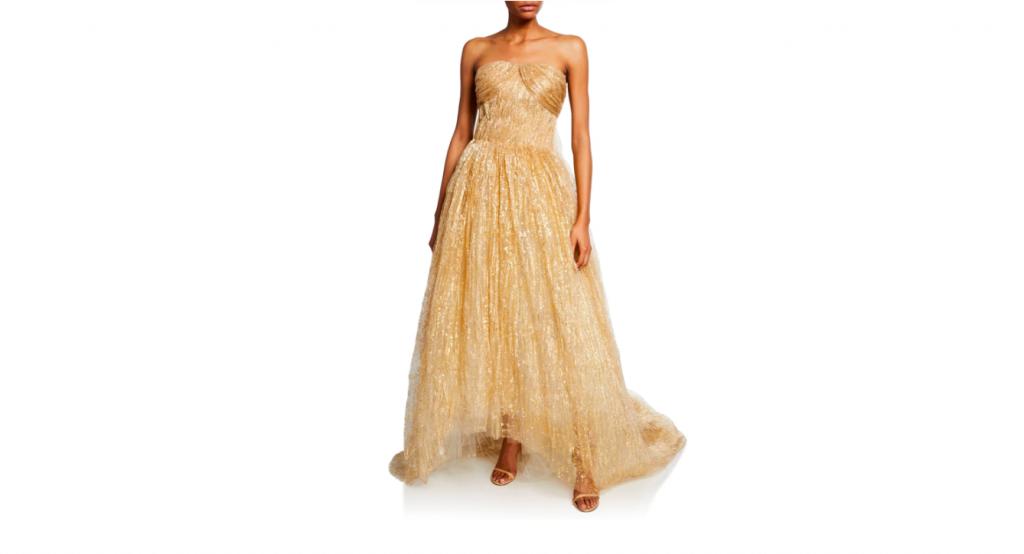 Mimochodem, tipnete si, kolik stojí šaty na obrázku? Správnou odpověď se dozvíte z obrázků níže. Při výběru šatů doporučujeme věnovat zvýšenou pozornost výběru velikosti. Na Neiman Marcus mají naštěstí podrobnou tabulku velikostí, takže s výběrem by neměl být problém.
Zboží do košíku přidáte kliknutím na tlačítko ADD TO SHOPPING BAG.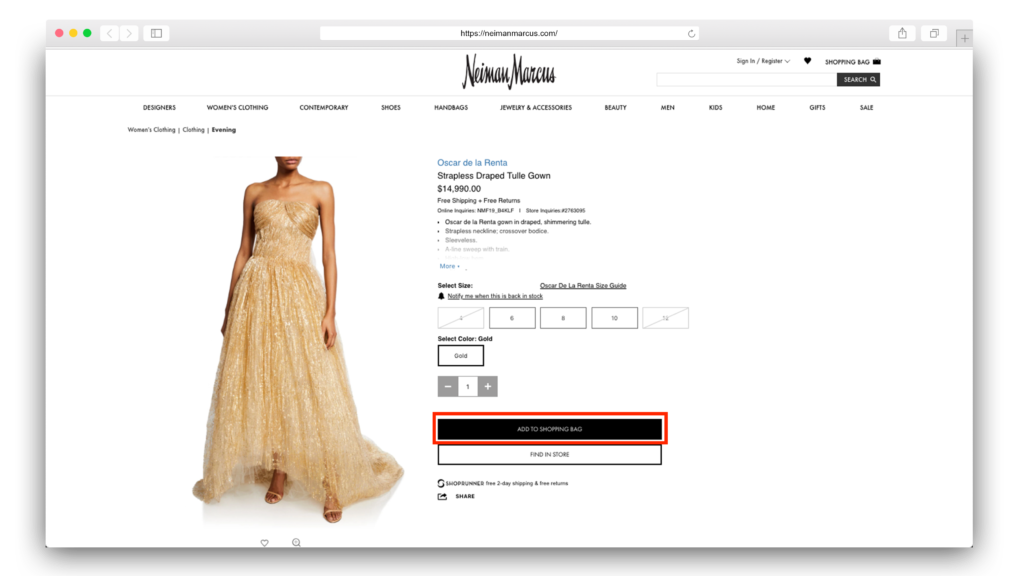 Vpravo nahoře se poté objeví položky, které máte v košíku. Pro dokončení objednávky klikněte na CHECKOUT.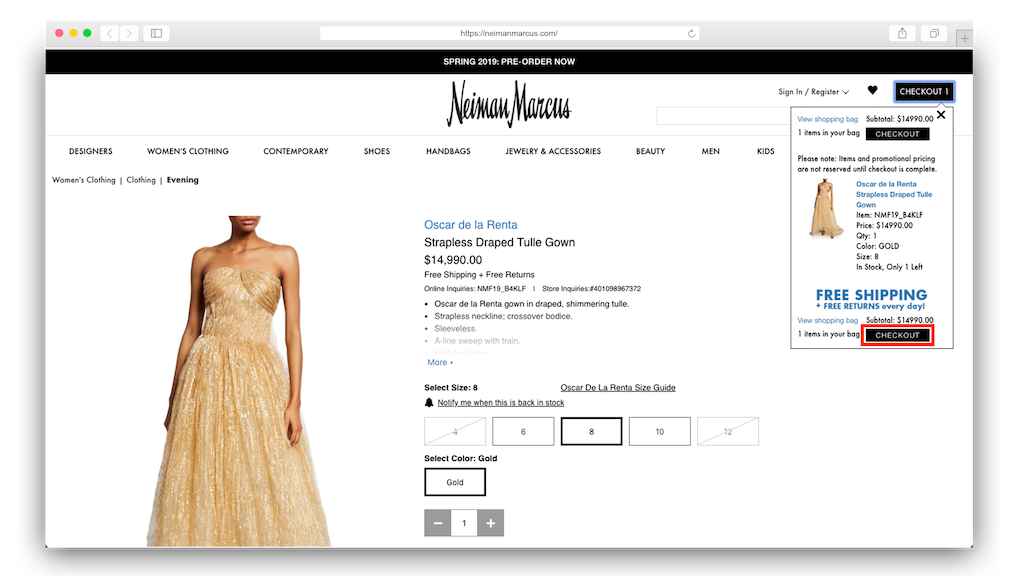 Budete přesměrování na shrnutí objednávky. Můžete přihlášit k vašemu Neiman Marcus účtu, nebo nakupovat jako host. Pro ilustraci nakoupíme jako host, proto klikneme na GUEST CHECKOUT.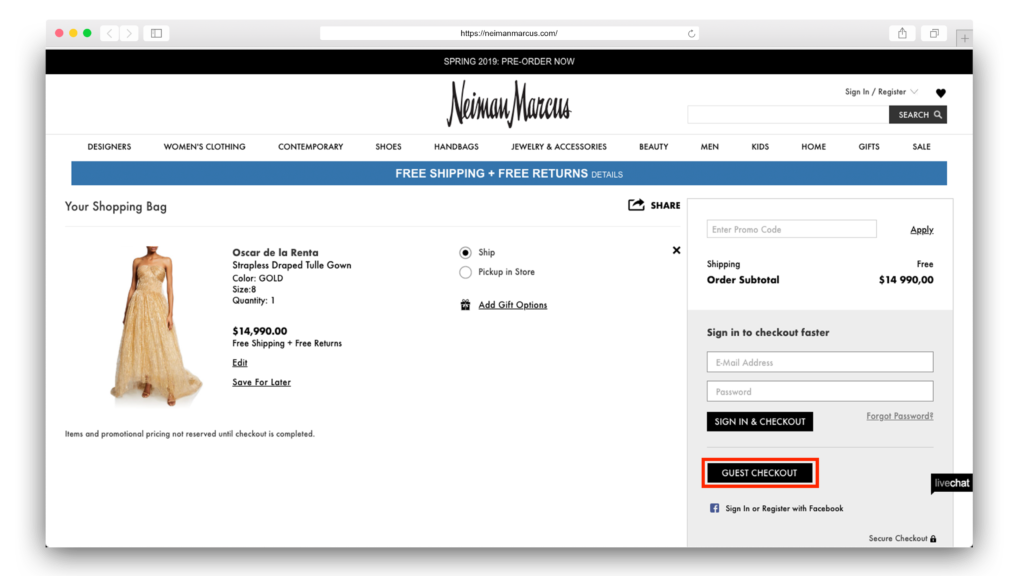 Dostanete se k vyplnění doručovací adresy. Tohle je jeden z nejdůležitějších kroků. Nevyplňujte vaši domovskou adresu, ale adresu, kterou jste dostali od nás. Mějte na paměti, že je potřeba uvést zejména vaše identifikační číslo. Tak budeme vědět, ke kterému účtu balík přiřadit.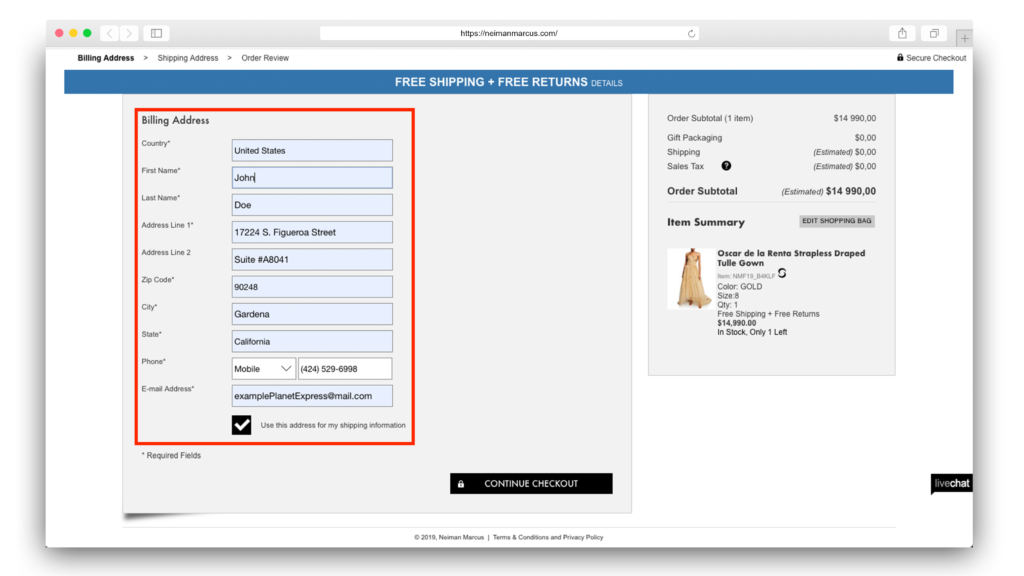 Posledním krokem objednávky je její platba a zvolení doručovací metody. Platebních metod je na webu Neiman Marcus spusta. Platit se zde dá kreditní kartou nebo přes PayPal, Po vyplnění potřebných údajů povrdíte objednávku kliknutím na tlačítko PLACE ORDER.
Objednávka byla přijata a nyní stačí vyčkat, než budou šaty doručeny do našeho skladu v Kalifornii.
3. Přijali jsme vaše šaty, co teď?
Po přijetí vašeho balíku vám zašleme email s upozorněním. Jakmile je balík v našem skladu, můžeme přistoupit k poslednímu kroku – přeposlání balíku do ČR. Nejprve vyplníte celní deklaraci, kde popíšete, o jaké zboží se jedná (pokud si nebudete vědět rady, podívejte se na video níže).
Následně už stačí vybrat si adresu pro doručení a doručovací metodu. Pokud posíláte hodnotnější věci (jako např. šaty výše), využijte přepravních metod od DHL či FedEx. Nabízí totiž podrobnější přehled při sledování balíku.
Nyní už stačí jen vyčkat pár dní, než bude balík doručen k vám domů. Nakonec to bylo celkem jednoduché, co říkáte? Dejte nám do komentářů vědět, jestli byste si koupili tak drahé šaty, nebo je to podle vás zbytečné plýtvání penězi.