Proč je konsolidace tak výhodná? Proč raději neposlat každý balík zvlášť?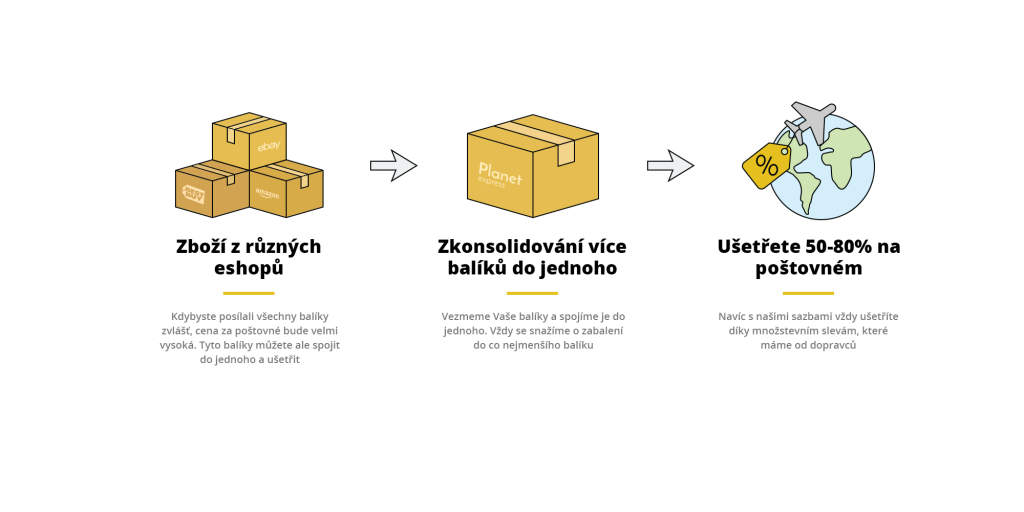 Konsolidace je výborný způsob, jak dosáhnout nižších cen poštovného. Můžete ušetřit 50% až 90% na poštovném jen díky konsolidaci. Jak je to možné? Každý balík obsahuje mnoho balícího materiálu a volného místa. Díky tomu je balík zbytečně velký a tím pádem je i cena poštovného vyšší.
Planet Express Vám dovoluje nechat si poslat více balíků se skladováním zdarma až po dobu 30ti dnů. Jakmile máte všechny balíky u nás na skladu, spojíme Vám všechny balíky do jednoho.
Díky tomu místo placení $100 za každý balík (např. když máte 5 zásilek) zaplatíte pouze $140 za poslání jednoho většího balíku. To je obrovský rozdíl! Navíc díky tomu, že posíláme mnoho balíků, máme množstevní slevy na poštovném. Takže nejenže šetříte spojením balíků, navíc ušetříte ještě díky slevám na poštovném, které má automaticky každý klient.
Cena
Poplatek za konsolidaci je $5 + $2 za každý balík. Pokud tedy máte 3 balíky, finální cena za konsolidaci bude $5 + $6 = $11. Tento poplatek je účtován na pokrytí nákladů spojených s personálem a na balící materiál.
Mimo ušetření na poštovném Vám konsolidace také nabídne následující:
odstranění nepotřebného balícího materiálu
kvalitní zabalení Vašeho zboží
zkontrolování obsahu balíku (jestli není něco rozbité)
poskytnutí fotek obsahu balíku
volitelná možnost přidání např. extra bublinkové fólie, bezpečnostní pásky apod.
Jak to funguje
jděte do svého účtu
zvolte balíky, které chcete spojit
jakmile je konsolidace dokončená, obdržíte informační email
Koukněte na fotku níže, kde můžete vidět balík před a po konsolidování. Cena zaslání všech balíků by byla $147, díky konsolidaci to bylo pouze $72, což je více jak 50% úspora!