Od těch nejlepších ciderů z USA, o kterých jsme psali minule, se dnes přesuneme k alkoholickým koktejlům. Možná je ve vaší oblasti bar, kde níže uvedené koktejly připravují. Pokud ne, nevěšte hlavu, většinu z nich si můžete připravit i doma, nebojíte-li se vyzkoušet a ochutnat něco nového.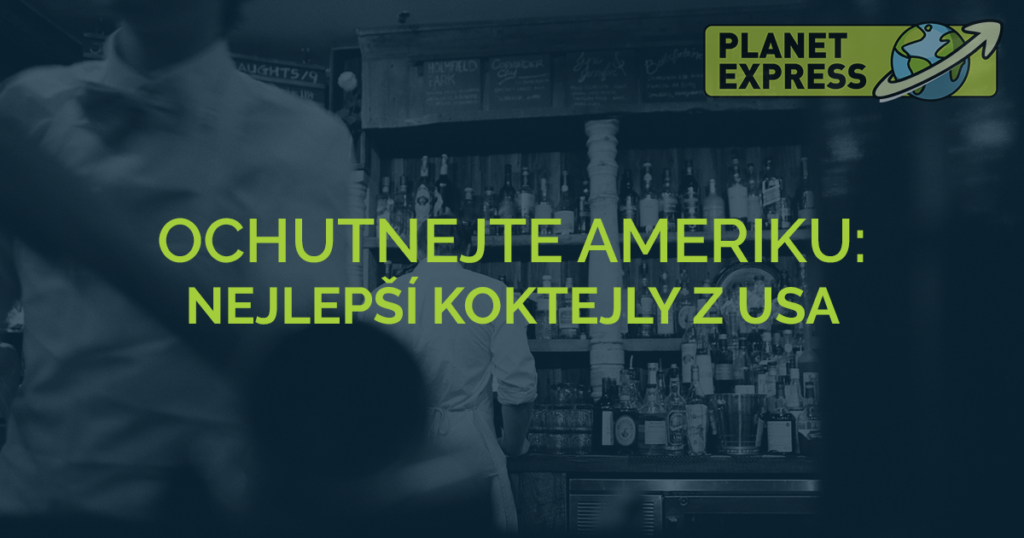 Ačkoliv se dá očekávat, že koktejl připravený profesionálem (viz videa pod každým koktejlem) bude přece jen chutnat o něco lépe, není nad to si vyzkoušet umíchat koktejly doma. Budou vám k tomu stačit různé druhy sklenic, ingredience a trocha trpělivosti.
Koktejly s hvězdičkou jsou na seznamu koktejlů, které se míchají na Mezinárodním mistrovství míchání koktejlů.
Flaming Moe
Startujeme hned zostra… Tedy, spíše filmově. Kdo by neznal rodinku Simpsonových? V 10. díle 3. série zde Homer náhodou vymyslel koktejl, o kterém se svěřil Očkovi. Bohužel pro Homera, Očko si koktejl následně přivlastnil. Z původního "Flaming Homera" se tedy stal Flaming Moe. Asi netřeba dodávat, že koktejl byl velice populární a Očko díky němu získal spoustu nových zákazníků.
Ingredience
Fish House Punch
Koktejl původem z Philadelphie Fish House Punch byl poprvé umíchán údajně již v roce 1732 v rybářském klubu (odtud "fish house"). Jedná se o silný koktejl založený na rumu a koňaku. Je poměrně jednoduchý na přípravu. Stačí zamíchat všechny ingredience a nalít je do sklenice. No dobře, takhle jednoduché to zase není (viz video níže), ale pokud si jej budete chtít vyzkoušet doma, ujistěte se, že máte následující ingredience.
Ingredience
Gin Rickey
Autorem Rickey koktejlu (bez ginu) byl barista George Williamson z Washingtonu D.C. O zhruba deset let později, kdy byl koktejl umíchán s ginem (Rickey lze umíchat také s bourbonem), se z něj stala světová senzace. Koktejl Rickey existuje v různých variacích (např. The Sheeney Rickey, The Johny Rickey) a je velmi podobný populárnímu Mojitu.
Ingredience
Zjistěte, jak zaslat alkohol z USA až k vám domů.
Manhattan*
Dokážete si představit američtější název koktejlu, než je právě Manhattan? Nás napadá ještě Brooklyn koktejl, případně Nutcracker (viz níže), ale Manhattan odkazující na místo, kde vznikl (Manhattan, New York, 70. léta 19. stol.), to je teprve ta pravá Amerika. Základ Manhattanu tvoří neméně americký alkoholický nápoj – žitná whiskey. Ta je doplněná o sladký vermut a angosturu.
Ingredience
Mint Julep*
První zmínky o koktejlu Mint Julep se datují k přelomu 18. a 19. století. Avšak pro zajímavost, samotné slovo "julep" bylo používáno o mnohá staletí dříve (již v 6. století). Znamenalo "medicína". Koktejl si prošel za svoji historii mnoha změnami v přípravě. Měnil se zejména základ koktejlu (ne vždy se míchal z bourbonu, lidé vyzkoušeli také whiskey, brandy, koňak, dokonce i rum). Největší popularitu si však zdá se získal právě bourbon.
Ingredience
Nutcracker
Americký Nutcracker (v doslovném překladu "louskáček") se od ostatních koktejlů v našem přehledu trošku liší. Nejedná se o koktejl, který byste si standardně objednali v baru (ačkoliv se dají najít bary, kde si Nutcracker můžete vyzkoušet). Existuje na něj spousta variací, kdy se koktejl mění v podstatě od základu (využívají se jiné ovocné šťávy i jiné druhy alkoholu). Uvážíme-li historii tohoto koktejlu, není se čemu divit. Údajně jej totiž míchaly komunity černochů a hispánců v New Yorku, a prodejem svých Nutcrackerů si přivydělávaly na živobytí.
Ingredience (jedna z mnoha verzí)
Old Fashioned*
Jestli existuje koktejl, který má nespočet verzí, tak je to právě Old Fashioned. Za celou jeho historii, vyšlo hned několik knih s různými recepturami. Zajímavá je však historka, jak vznikla jedna z prvních verzí. Jeden z hostů prý nebyl spokojen s chutí servírovaného bourbonu, proto místní barman James E. Pepper bourbon vylepšil. Přidal do něj cukr, kapku bitter a led. Nevědomky tak položil základy klasiky Old Fashioned.
Důležitost koktejlu se nedá upřít, objevil se například v seriálech Šílenci z Manhattanu (Mad Men), M*A*S*H, Chirurgové (Grey's Anatomy) či ve filmu Bláznivá, zatracená láska (Crazy, Stupid, Love).
Ingredience (moderní verze)
Pisco Punch
Pisco Punch byl vymyšlen a zpopularizován Duncanem Nicol na konci 19. století v San Franciscu. Koktejl získal název po jedné ze základních složek – Pisco. Pisco je brandy vyrobená z aromatických vinných hroznů vypěstovaných v Peru. Brandy je následně doplněna o citronovou a ananasovou šťávu, gumový sirup, případně cukr. Pisco Punch se díky své chuti hodí do horkých letních měsíců, kdy člověka skvěle osvěží.
Ingredience
Sazerac*
Hořkosladký koktejl Sazerac s počátky v 60. letech 19. století má dle legendy své kořeny v medicíně. Respektive, lékárník Antoine Peychaud si vymyslel vlastní "lék" do nepohody. Jeho "lék" následně převzal S. Taylor, který koktejl vylepšil koňakem Sazerac de Forge et Fils. Tento koňak byl však poměrně drahý a koktejl tak byl nedostupný, proto se později začala používat žitná whiskey a bourbon. Poslední větší změnou bylo v roce 1858 přidání absintu. Ačkoliv později vznikla spousta variací, základní složení zůstalo téměř nezměněno.
Ingredience
Vybrali jste si z našeho výběru koktejl, který byste rádi vyzkoušeli? Skvělé. Nyní už stačí jen nakoupit suroviny a koktejl si umíchat!