Last time we talked about the best ciders from the US. Today's topic is similar. We are going to present you selected American cocktails that are known around the world. Maybe there is a bar in your area where they prepare the below-listed cocktails. If not, don't worry. You can still try to mix them at home!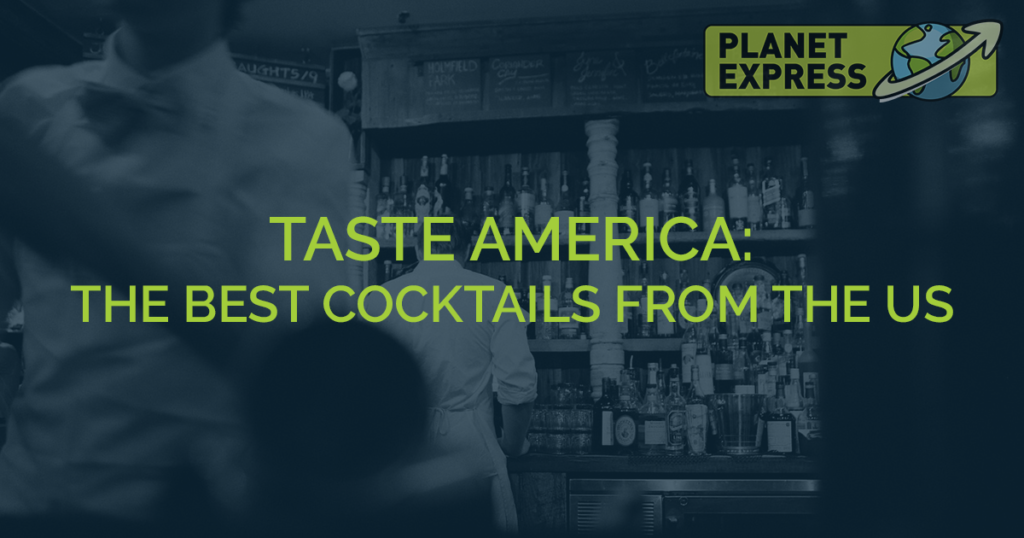 Cocktails prepared by professionals will probably taste better then if we prepare them at home. However, why not to try it at least? You'll only need a few types of glasses, some ingredients, and a little patience.
Cocktails marked with the * symbol are on the list of International Bartenders Association (IBA).
Flaming Moe
Let's start with a cocktail from a very famous film series. Who wouldn't know the Simpson family? In the 10th part of the 3rd series, Homer accidentally invented a cocktail that he called Flaming Homer. He shared the recipe with his friend Moe. He started to sell the drink in his bar and called the drink as Flaming Moe. Everybody (except Moe) thought that Moe is the author of that drink but they were wrong. The cocktail was very popular and thanks to it, Moe gained a lot of new customers…
Ingredients
Fish House Punch
A cocktail, Fish House Punch, originally from the Philadelphia was first blended allegedly as early as 1732 at a fishing club (hence the "fish house" name). It is a strong cocktail based on rum and cognac. It is quite simple to prepare. Just mix all the ingredients and pour them into a glass. Well, it's not that simple (see the video below), but if you want to try it at home, make sure you have the following ingredients.
Ingredients
Gin Rickey
The Rickey cocktail (without gin) was created by barista George Williamson from Washington D.C. About ten years later, when the cocktail was mixed with gin (Rickey can also be mixed with bourbon), it became a world sensation. The Rickey cocktail exists in different variations (The Sheeney Rickey, The Johnny Rickey, etc.) and is very similar to the popular Mojito.
Ingredients
Find out how to ship alcohol from the US to your home.
Manhattan*
Can you imagine a cocktail with a name more American than Manhattan? "The Brooklyn" cocktail or Nutcracker (see below), comes to mind, but Manhattan, referring to the place where it was originated (Manhattan, New York, 1970s), is the "right" America. The basis of Manhattan is no less American alcoholic beverage – rye whiskey. It is complemented by sweet vermouth and angostura.
Ingredients
Mint Julep*
The first mentions of the Mint Julep cocktail date back to the turn of the 18th and 19th centuries. However, interestingly, the very word "julep" was used many centuries earlier. It meant "medicine". The cocktail has undergone many changes in its history. Especially the basis of the cocktail changed (it was not always mixed from bourbon, people also tried a whiskey, brandy, cognac, even rum). But it seems that bourbon has gained the greatest popularity.
Ingredients
Nutcracker
The American Nutcracker is slightly different from other cocktails in our article. It is not a cocktail that you would normally order at a bar (although you can find bars where you can try Nutcracker). There are many variations on it. The cocktail changes using other fruit juices and other types of alcohol. Considering the history of this cocktail, there is no wonder. Reportedly, it was mixed by black and Hispanic communities in New York which made their living by selling their Nutcrackers.
Ingredients (one of many versions)
Old Fashioned*
If there's a cocktail that has countless versions, it's Old Fashioned. Throughout its history, several books with various recipes have been published. But the interesting story is how this cocktail was created. One of the guests was not satisfied with the taste of the served bourbon in one bar, so local bartender named James E. Pepper improved the bourbon. He added sugar, a drop of bitter, and ice. He unknowingly laid the foundations of the classic Old Fashioned cocktail.
The importance of the Old Fashioned can not be denied. It appeared in the television series Mad Men, M*A*S*H, Grey's Anatomy or in a movie Crazy, Stupid, Love.
Ingredients (modern version)
Pisco Punch
Pisco Punch was invented and popularized by Duncan Nicol in San Francisco at the end of the 19th century. The cocktail was named after one of the basic ingredients – Pisco. Pisco is a brandy made from aromatic grapes grown in Peru. Brandy is then complemented with lemon and pineapple juice, rubber syrup and sugar eventually. Thanks to its taste, Pisco Punch fits into the hot summer months, when you can refresh yourself.
Ingredients
Sazerac*
The bittersweet Sazerac cocktail dating back to the 1860s has its roots in medicine, according to one legend. To be more precise, pharmacist Antoine Peychaud invented his own "cure" for the discomfort. His "cure" was subsequently taken over by S. Taylor, who improved the cocktail with Sazerac de Forge et Fils cognac. However, this cognac was quite expensive and the cocktail was inaccessible for the lower class. So the cognac was later replaced by rye whiskey and bourbon. The last major change came in 1858 with the addition of absinthe. Although many variations were made later, the basic composition remained almost unchanged.
Ingredients
Have you chosen a cocktail from our selection that you would like to try? Great. All you need to do is buy the ingredients and mix the cocktail!