V Americe koupíte kvalitní víno i pivo, cidery, a další alkoholické nápoje. Místní bary běžně nabízí skvělé koktejly, které si můžete umíchat i doma. Ale věděli jste, že pár producentů alkoholu zašlo až příliš daleko? Představíme vám totiž několik nápojů, jejichž prodej byl kvůli zdravotním rizikům zakázán, a také pár "koktejlů" jen pro otrlé.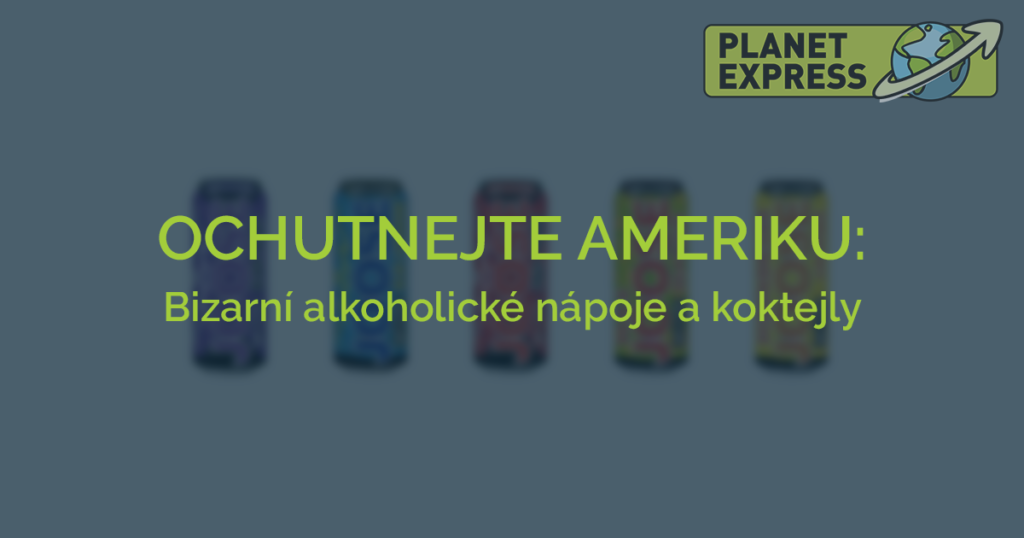 Kofein + alkohol = recept na katastrofu
"Caffeinated alcoholic drinks", česky řečeno alkoholické nápoje s kofeinem, se začaly masověji vyrábět zhruba kolem roku 2005. Hned v následujících letech získávaly stále větší a větší oblibu, a to především u studentů univerzit.
Pokud máte rádi energetické nápoje nebo sledujete zprávy ze zahraničí, možná jste již něco zaslechli o kauze z USA. Kolem roku 2009 upozornil Úřad pro kontrolu potravin a léčiv (FDA) 30 výrobců těchto nápojů, aby si nechali udělat studie. Tyto studie měly zjistit, jaký efekt na zdraví lidí mají jejich výrobky.
Situace eskalovala již v roce 2010, kdy FDA oznámil sedmi těmto výrobcům, že jejich výrobky představují zásadní zdravotní problém pro konzumenty, a nesmí zůstat na trhu v daném složení. Hlavním problémem byl zejména kofein, jehož efekt mělo být údajné "zamaskování" reálné opilosti. Jinými slovy, když jste pili tyto nápoje, nepřipadali jste si opilí, avšak hladina alkoholu v krvi nebezpečně rostla. V několika případech měla konzumace fatální následky končící smrtí mladých lidí.
Nechceme vás v tomto článku strašit. Naopak, chceme poodhalit několik zajímavostí. Paradoxně, jakmile se o zákazu další výroby těchto nápojů doslechla veřejnost, vzala obchody útokem. Například populární Four Loko (viz níže) trhal rekordy a zásoby v obchodech byly rychle vyprodány.
Jaké z těchto nápojů tedy považujeme za "Best of"?
Four Loko
Název drinku Four Loko vznikl po 4 základních ingrediencí (kofein, alkohol, guarana, taurin). Původně "energy drink" obsahoval 12 % alkoholu a byl dostupný v 8 příchutích. Drink vymysleli 3 studenti (Chris Hunter, Jason Freeman a Jeff Wright). Ti si totiž všimli, že spousta jejich vrstevníků v barech míchá dohromady alkohol a kofein. Inspirovali se, a vznikl dnes již kultovní Four Loko.
V současné době je Four Loko stále dostupný, avšak v upravené variantě, která je v přiměřené konzumaci zdravotně nezávadná, a pokud drinku náhodou vypijete více, pravděpodobně vám bude jen špatně a hlava vám také nepoděkuje. Four Loko můžete objednat například na Drizly.com.
Drink Joose
"Joose" také patří mezi drinky, okolo kterých se točila spousta kontroverze. Podobně jako Four Loko přišli výrobci s novou, upravenou recepturou (bez kofeinu). Na některých místech v USA si Drink Joose stále můžete objednat ve více než 20 různých příchutích. Obsah alkoholu činí 9.9 %, 12 % resp. 14 % v závislosti na příchuti.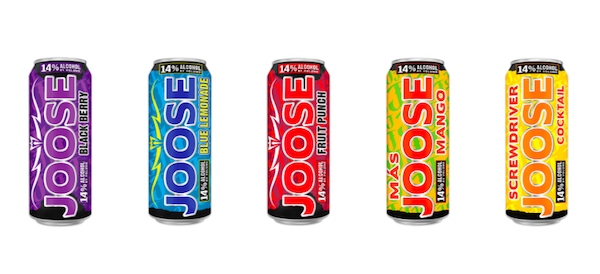 Sparks
Sparks byl vůbec prvním energetickým nápojem, který obsahoval alkohol. Na trh byl uveden již v roce 2002. Výstižný byl především design plechovky, který připomínal baterii. Byl tak jasně signalizován účel nápoje – rychlé doplnění energie. Současná verze jak nápoje, tak i plechovky je upravena a Sparks je dostupný v několika příchutích.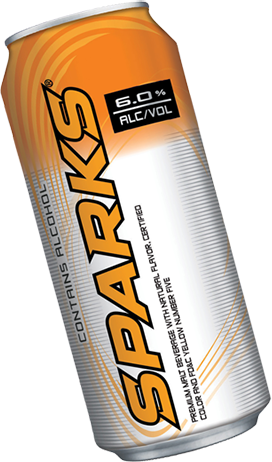 Tilt
"Velkou čtyřku" uzavírá nápoj Tilt. Původně obsahoval kofein, guaranu, ženšen a samozřejmě alkohol. Tato receptura však musela být také změněna. V současné době nabízí Tilt nejširší škálu obsahu alkoholu (6.6 %, 8 %, 10 %, 11 % a 12 %). S trochou nadsázky řečeno si tak můžete dávkovat alkohol, podle vaší úrovně zdatnosti v pití. Vybírat můžete z několika příchutí (jahoda, pomeranč, grep, limetka, tropické ovoce).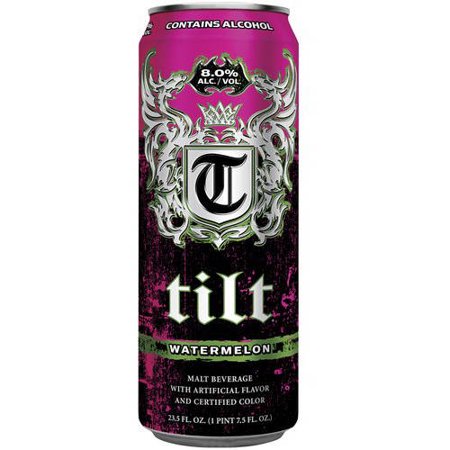 Samozřejmě, na trhu existovala spousta podobných nápojů. Výše 4 uvedené považujeme za nejznámější, také vzhledem k tomu, že jsou na trhu stále dostupné (ačkoliv v pozměněném složení).
Pro objednání výše uvedených nápojů z USA můžete využít naši americkou adresu, na kterou si zboží necháte poslat. Následně vám jej přepošleme za velmi atraktivní ceny.
Koktejly jen pro otrlé
Dnešní jízdu alkoholovými bizáry ještě nekončíme. Níže uvádíme "koktejly" pro ty nejotrlejší z vás. Pokud jste spíše příznivci tradičnějších koktejlů, přečtěte si článek o tradičních Amerických koktejlech.
Smoker's Cough
Asi jste již někdy slyšeli kuřáka zakašlat nebo si vybavíte, jak vypadají kuřákova plíce. A teď si představte, že právě tohle někoho inspirovalo k umíchání Smoker's Cough koktejlu. Přidejte do Jägermeisteru majonézu. Ano, správně, majonézu! Výsledek má připomínat právě kuřákova plíce.
Baby Mice Wine
Jste-li vegetariáni, popřípadě vegani, tento odstavec pro jistotu přeskočte. Koktejl, resp. víno Baby Mice Wine se totiž vyrábí poměrně brutálním způsobem. Myší mláďata jsou po narození naložena do rýžového vína, kde fermentují po dobu 12 až 14 měsíců. Původem pochází tento recept pravděpodobně z Korei, nebo Číny a je to něco, co bychom v životě asi nezkusili.
Prairie Chicken
Vložte do ginu čerstvý žloutek, osolte a opepřete… Ne, takto opravdu nezačíná recept na koláč ale na koktejl, který sice nevypadá tak nechutně jako Smoker's Cough, ale že by se nám po něm sbíhaly sliny, to se říct nedá. Z našeho výběru se však jedná o koktejl, který bychom si vybrali, pokud by nás někdo nutil ochutnat alespoň jeden z nich.
Eggermeister
U vajíček ještě chvíli zůstaneme. Jak už název napomíná, tento koktejl je složen z vejce a Jägermeisteru. Jednoduše naložte uvařená vejce do nálevu dle vlastního receptu, nechte pár dní uležet, a pak vejce vložte do sklenice s Jägermeisterem. Pochoutka? Jak pro koho! Pro pána na videu níže asi moc ne.
Beer & Milk (Horse Jizz)
Ano, obzvláště pro nás Čechy je pomyšlení na kombinaci mléka a piva obzvláště bolestná. A co teprve, až vidíte, jak celá kombinace vypadá? Jak vůbec mohlo někoho napadnout přimíchat do piva mléko? Při zvážení druhého, méně používaného názvu, považujeme tuto kombinaci za extrémně nechutnou.
Na videu níže se jedná spíše o variantu mléka s pivem. Opačná kombinace (více piva a méně mléka) nám přijde mnohem zajímavější už jen kvůli tomu, jak vypadá.
Našli byste v sobě odvahu ochutnat některý z těchto koktejlů? Pokud ano, dejte nám vědět v komentářích na našem Facebooku.