Čas od času se stane, že potřebujete vrátit balík např. Amazonu, nebo do jiného online obchodu. Důvody mohou být různé. V následujících řádcích vám vysvětlíme, jak balík vrátit prostřednictvím našeho rozhraní. V rámci našich služeb totiž nabízíme i možnost balík vrátit.
Chci vrátit balík, jak na to?
Nejprve je potřeba zodpovědět si na základní otázku, a to zda máte balík stále u nás ve skladu [1], nebo u vás doma [2]?
[1] Balík mám ve skladu Planet Express
Přihlašte se do vašeho zákaznického účtu a najděte balík, který chcete vrátit. Klikněte na SPECIÁLNÍ POŽADAVEK (videonávod, jak jej podat můžete zhlédnout zde).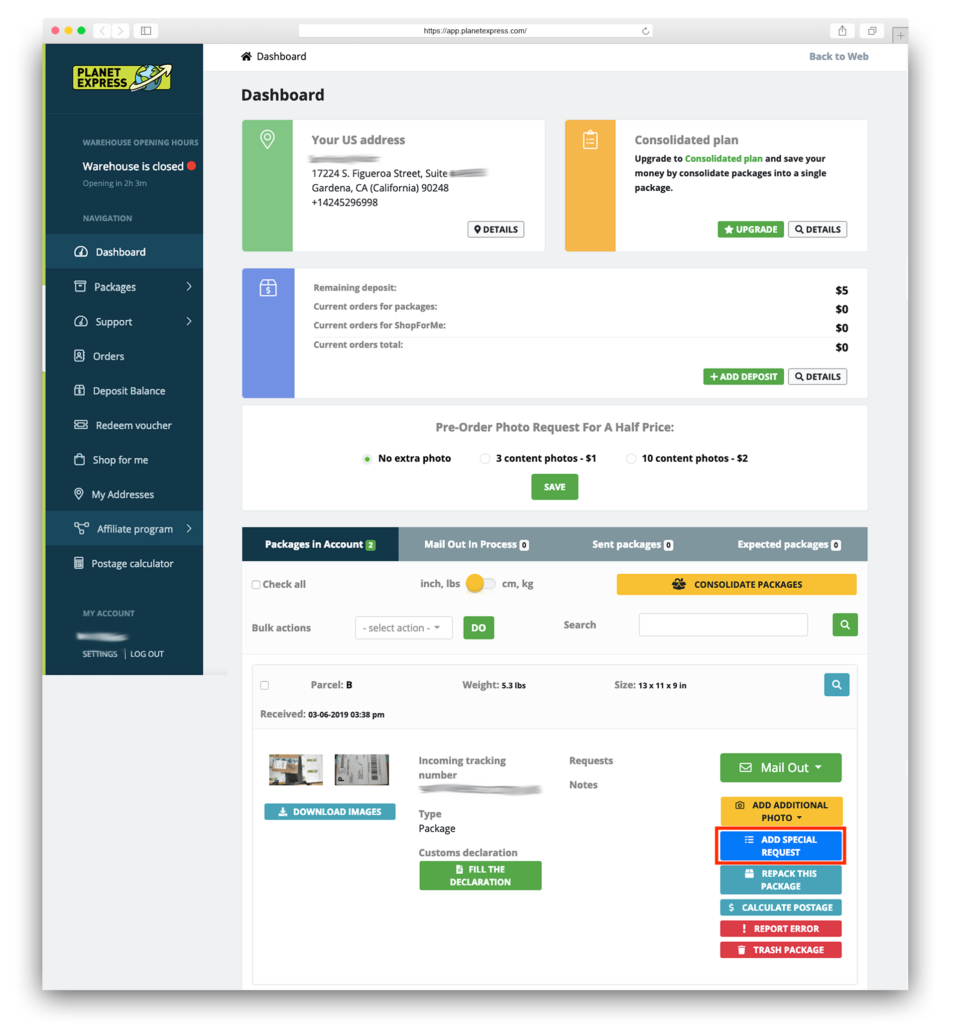 K požadavku přidejte přílohu ve formátu .pdf. Touto přílohou bude return label (tedy štítek pro vrácení). Do popisu speciálního požadavku stačí napsat "Prosím, zašlete balík zpět prodejci na adresu, která je na štítku." Speciální požadavek můžete podat také jako prioritní, to znamená, že jej vyřídíme mezi prvními.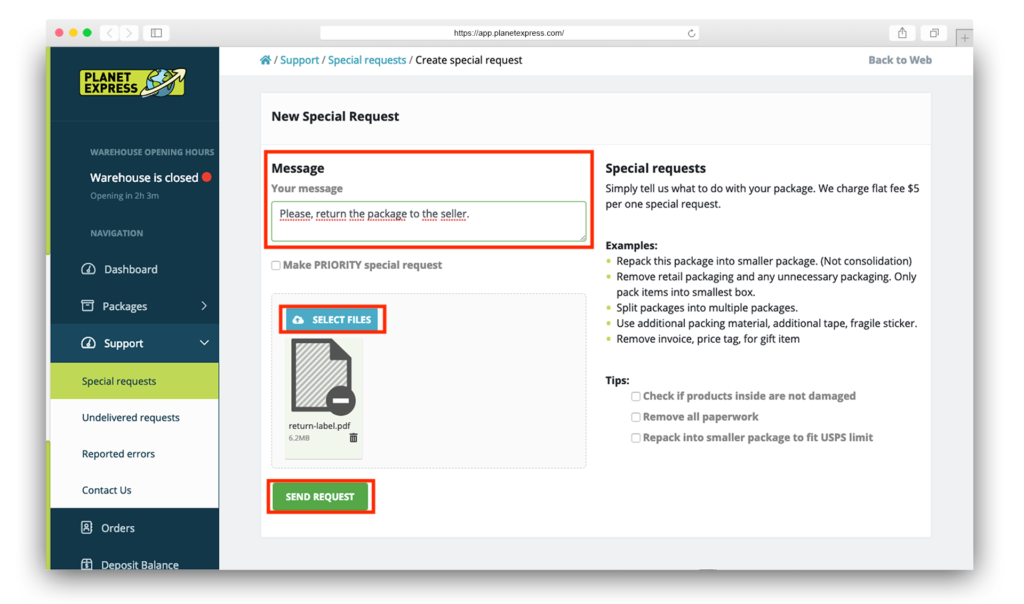 Někteří prodejci však tyto štítky neposkytují, proto od vás budeme potřebovat instrukce, na kterou adresu balík zaslat. Zde je poté jednodušší postupovat jako při běžném odeslání balíku. Pouze si ve vašem účtu přidáte novou adresu (adresa prodejce pro vrácení balíků) a podáte žádost pro odeslání. Zobrazí se vám kalkulace ceny za poštovné. Abychom však balík mohli odeslat, musíte mít dostatečný kredit na vašem Planet Express účtu.
VIDEONÁVOD: Jak přidat kredit na váš účet.
Mějte na paměti, že poštovné z našeho skladu na adresu prodejce může být zpoplatněno (někteří prodejci nabízí předplacené štítky, takže vrácení balíčku vás kromě manipulačního poplatku [$2] a speciálního požadavku [$5] vyjde na $7). 
[2] Balíček mám doma
Pokud už bylo zboží doručeno až k vám domů, je nutné, abyste balík zaslali přímo na adresu prodejce podle pokynů na jeho webových stránkách. Doporučujeme zvolit dopravce, který je ve vaší zemi zaveden a přepravuje balíky do zahraničí. Využijte referencí místní komunity a online recenze.
Balík můžete zaslat i na naši adresu a my se o vrácení postaráme (tato varianta je vhodná pouze v případě, že se vám nepodaří najít dopravce, který by doručoval na adresu obchodu). Váš balíček potřebujete dostat do našeho skladu – na vaši americkou adresu. Jakmile k nám balík dorazí (případně čeká-li zde na vrácení), zašleme vám email. Následně už stačí postupovat stejně, jako u bodu [1].
V případě, že vám není cokoliv jasné, obraťte se na nás na adrese [email protected].