Do you want to make some extra money with us? Join our affiliate program!
Who Is Our Affiliate Program For?
The affiliate is suitable especially for bloggers and social media influencers. But, even if you don't have a large followers base, you can invite your family, friends, neighbors and even strangers!
With our direct commission affiliate, you can earn $5 for every invited user that sends a package with us. Remember there is no limit on how much you can earn! Our best affiliates earn more than $500 per month!
How Does Our Affiliate Program Work?
Sign up with Planet Express.
Go to the affiliate program tab (see the picture below) in the administration and copy your unique link.
Share the link and start earning money.
The more users you invite, the more you earn!
There is a $5 minimum payout. All payouts are done through PayPal.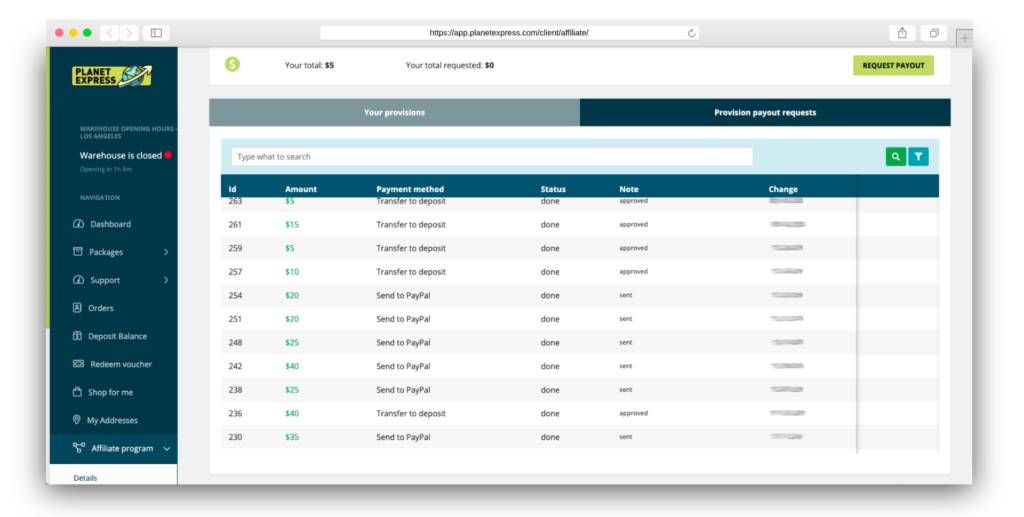 Why Choose Planet Express Affiliate?
It is so easy to recommend Planet Express. Especially thanks to Planet Express's reputation and reviews. As you can see in the table below, we have one of the highest ratings on Trustpilot among our competitors. So you can be sure you recommend a service that is worth it. 
Company
Trustpilot Rating*
Provision
Planet Express
4,5
$5
Fishisfast
4,3
1% from the order
Stackry
3,7
$10
USA2Me
2,8
$10
USGoBuy
2,7
10% from the order
Opas
n/a
5% from each member + 1% of every shipment from their friend
*Updated on 16.1.2020.  
---
How Can You Promote Your Affiliate?
There are several ways how you can promote your online affiliate business. Thanks to the internet and social media it has never been easier! And if you have some followers already, you hit the jackpot. 
From the experiences of our affiliates, the affiliate works well for those that create high-quality content. Here are a few examples:
Beauty influencers can review US products or provide tips and tricks on how to get them from the US. For example, Boxycharm subscription boxes are not available outside of the US so you can explain how to get them in your country. Glossier products becoming more and more popular but are available for the US only.
Blogs about online shopping can recommend different types of goods and the solution (package forwarding) on how to get them. Importers.jp is an excellent example.
So called 'Digital Nomads' blogs also can take advantage of sharing a review and their affiliate link. Check this one: Howitravel.co.
Share Your Affiliate Link Through Your Website and Social Media
If you decide to develop your affiliate outside of the circle of your family and friends, you can take advantage of your website (if you own one) and affiliate marketing groups on Facebook, Quora, Reddit, and similar websites. However, make sure you don't violate the terms & condition of the platform. 
Download the banners in different formats that you can use for acquiring new potential affiliates.
Think in the long term. Build your affiliate business patiently, it is going to pay off in the long run. 
Invite your Family and Friends
"But what am I suppose to tell them?" We got your back! Here are a few examples of how you can invite people to get the provision:
Facebook Message
Who We Are and What We Do?
We are Planet Express – a package forwarding service founded in 2017. The package forwarding works in 3 simple steps:
1. You get a free US address from us so you can order the goods from US stores that don't provide international shipping. 
2. Once we receive your order in our warehouse, you will get a notification email.
3. You select the shipping method and we will forward your package to your country.
Do you have any questions about package forwarding or the affiliate program? Contact us.
Create New Account with Planet Express and click on Affiliate in the left menu to get started!
Do you want to work with us more closely? Is there something you can do in your country to further promote Planet Express? Localized marketing, offering new payment method or offering additional support please contact us.