1. Go to your account Dashboard > the Shop For Me tab > New Purchase.
2. Please make sure you select the warehouse you want us to place the order at. Under Select warehouse, use the drop-down menu to select the warehouse
3. Go to the Shopping list section and fill in the requested information. You will need the Item name, Item description, Item web link, Price, and Quantity. Once you fill out those fields, please click on +ADD NEW ITEM.
4. At the Shop information, you can add the retailer's name. In the notes section, you can add any additional information we may need. Such as a discount code or any specifications you want us to know about the order.
5. Additional charges: Shipping from shop, is how much the retailer charges to ship the order to our location. The sales tax charge is calculated automatically based on the warehouse you have selected. Once we make the purchase and they do have a different sales tax charge then we will edit the request and you will have to confirm the changes on your end.
6. Click on FINISH ORDER, then add the deposit to cover the cost and we will be able to fulfill the order.
We charge $5 and then 7% on the whole order for processing the Shop For Me requests.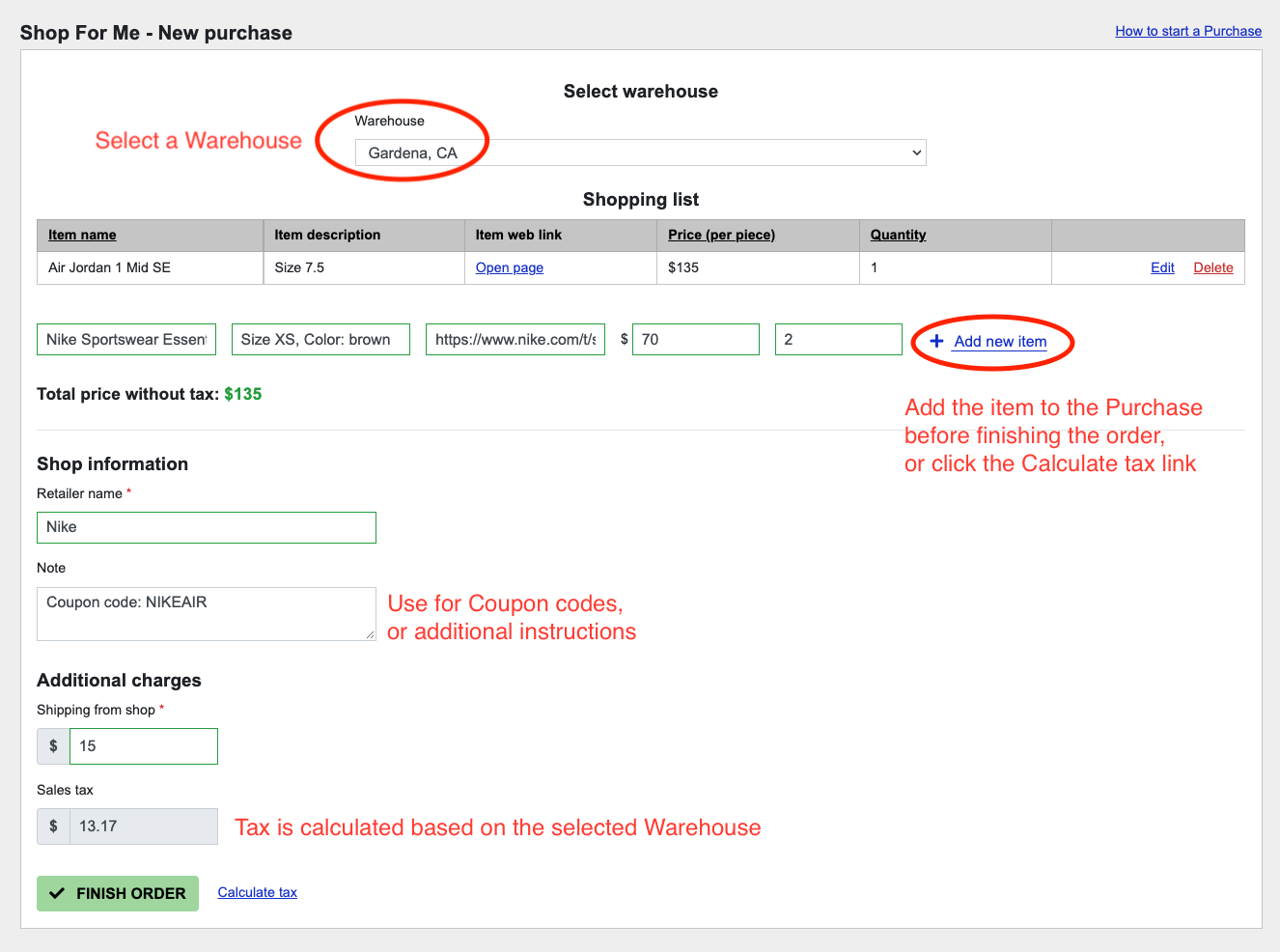 Once the request is ordered the status will change to saying "Awaiting Packages". If you need any updates please feel free to contact us and provide your SFM number and let us know which warehouse you placed the request at.
If the order was already placed and you want to cancel or return items, please contact us as soon as possible so we can initiate it with the store if possible. Cancellations and Returns will be subject to a $7 return fee and any fees charged by the retailer for the return/cancellation. The $5 and 7% processing fee is non-refundable.