V rámci možných aktivit prováděných s balíkem nabízíme možnost zadat tzv. Speciální, Repack a Photo požadavky. Na následujících řádcích vám vysvětlíme, k čemu jsou jednotlivé požadavky užitečné a jak je podat.
Co je to Special Request?
Special Request znamená speciální požadavek. Může jim být téměř cokoliv, tedy veškeré požadavky vztahující se k práci s balíkem. Můžeme pro vás například zkontrolovat obsah balíku, vrátit balík prodejci, naskenovat dokumenty uvnitř, nebo balík rozdělit do více balíků tak, aby splňoval např. požadavky na USPS/Planet Mail limity.
Co je to Repack Request?
Repack Request je požadavek na přebalení balíku do nejmenšího možného rozměru. Někteří prodejci totiž balí zboží do zbytečně vysokých krabic, což prodražuje náklady na poštovné. V rámci možností se tedy můžeme pokusit balík přebalit tak, aby splňoval limity pro USPS a Planet Mail metody.
Co je to Photo Request?
Zjednodušeně žádost o více fotografií balíku. Standardně nabízíme 2 fotografie balíku zdarma (balík + štítek). Můžeme pro vás však udělat fotografií více, včetně obsahu balíku. Při nákupu například obuvi si tak budete jisti, že nekupujete 2 boty levé.
Jak podat nový požadavek?
Přejděte do zákaznické administrace a najděte balík, pro který chcete podat jeden z požadavků. Na základě konkrétního požadavku klikněte na tlačítko a vyberte konkrétní možnost.
U speciálních požadavků se snažte být co nejpřesnější, abychom předešli případnému nedorozumění.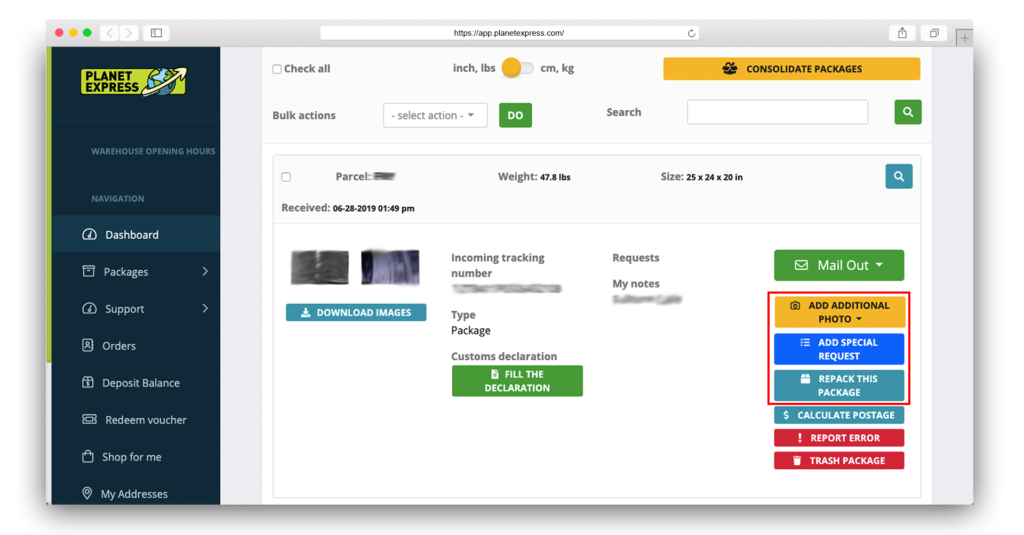 Výše sepsaný postup shrnujeme také v našem videonávodu: