As part of services, we offer the option to enter Special, Repack or Photo requests. On the following lines, we will explain to you what each request is useful for and how to submit it.
What is a Special Request?
Special Request can be almost anything that is related to actions with a package. For example, we may check the package content for you, return the package to the seller, scan the documents inside, or divide the package into multiple packages to meet, for example, USPS/Planet Mail size & weight restrictions.
What is a Repack Request?
If you place the Repack Request we will repack the package into the smallest possible size. In fact, some sellers pack goods in unnecessarily huge boxes, making shipping costs more expensive. As an option, we can try to repackage the package to meet USPS and Planet Mail methods.
What is a Photo Request?
It is simply a request for more photos of the package. By default, we offer 2 free photos of the package (package + shipping label). However, we can take more pictures for you, including the content of the package. When you buy shoes, for example, you'll be sure you don't buy 2 left shoes.
How to Place a New Request?
Go to customer administration and find the package for which you want to submit one of the requests. Click on a specific request and select a specific option.
If you place a special request, try to be as precise as possible to avoid any misunderstanding.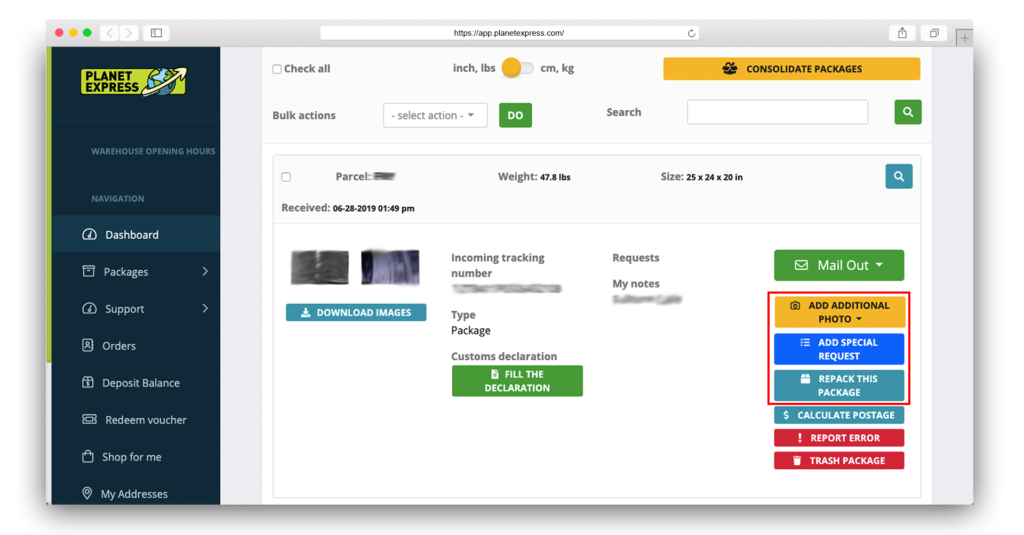 Feel free to watch our video tutorial below: