Bitcoin and the other cryptocurrencies are trendy for the last few years. That is the reason why also Planet Express accepts bitcoin as a payment method. There is a lot of solution for business owners on how to accept bitcoin. For example, we use Bitpay which is probably the best solution for accepting bitcoins.
The problem of Bitpay is that we can receive only bitcoins, not other cryptocurrencies like Litecoin, Ethereum, Zcash, Ripple,… But there is a very easy way on how to make a deposit using by litecoin or any other cryptocurrency.
Table of Contents
---
Exchange Your Cryptocurrency To Bitcoin
Nowadays, it is beautiful how many opportunities we have. Therefore, if you own any alternative cryptocurrency (eg Litecoin, Ethereum, Zcash, Ripple…), you can use the exchange offices for cryptocurrencies. You can simply exchange Ethereum for Bitcoin. The principle is similar to going to the exchange office to exchange USD for EUR, and other currencies.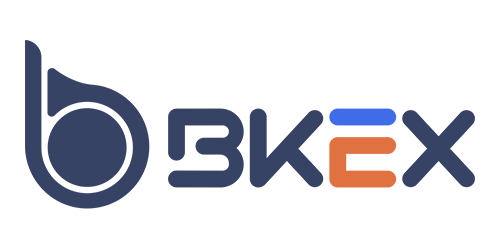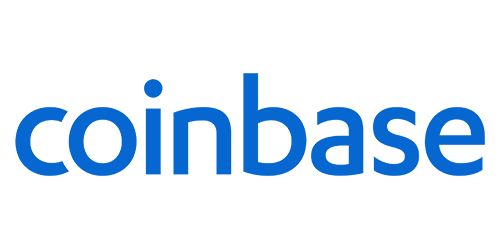 Which online exchange office you choose is entirely up to you. The goal is to exchange enough Altcoins for Bitcoins to pay for our services or product you wish to order through us. The individual systems vary a bit, however, most of them are intuitive so it is very easy to exchange cryptocurrencies with them.
---
How To Take Maximum Advantage Of Your Bitcoins?
Cryptocurrencies led by Bitcoin are becoming increasingly popular among the wider public. It is no longer just a matter of geeks and narrow communities. We are going to answer the FAQ about Bitcoins and their use in package forwarding from the USA to your home.
What Can I Buy For Bitcoins?
The range of online stores accepting Bitcoin is expanding year by year. You can find online stores in almost every product category where you can pay for your purchase using Bitcoins. Among the big players, we can mention Microsoft, Overstock, or NewEgg. However, your favorite online stores are very likely to be missing.
It needs to be said that accepting Bitcoin payment method is not common even in package forwarding world. Take a look at the following comparisons some of the biggest package forwarding companies:

However, there is a way how to shop and pay with Bitcoin in your favorite online store even if it does not accept Bitcoin…
---
How To Buy (Almost) Everything For Bitcoins?
Once you have enough cryptocurrencies (Bitcoin, Ethereum, Litecoin…), you can go shopping. When purchasing from the US, you can use our Shop For Me service.
What Is Shop For Me Service?
Our Shop For Me service is pretty easy to explain. You just tell us what do you want to buy. Then, add enough deposit to your Planet Express account so we can buy it for you. The advantage is that you can add this credit using Bitcoin. However, our purchasing specialists order items in USD. Practically, this means that we can order almost anything for your Bitcoins.
How To Order Through Shop For Me?
If you have Planet Express account already, login and go to the Shop For Me tab in the menu.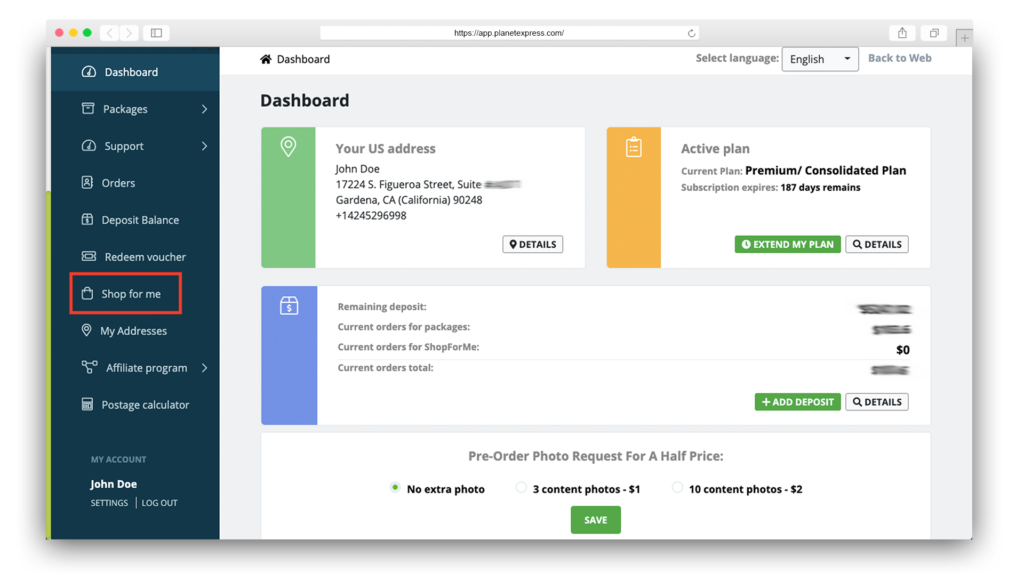 Click the NEW PURCHASE button.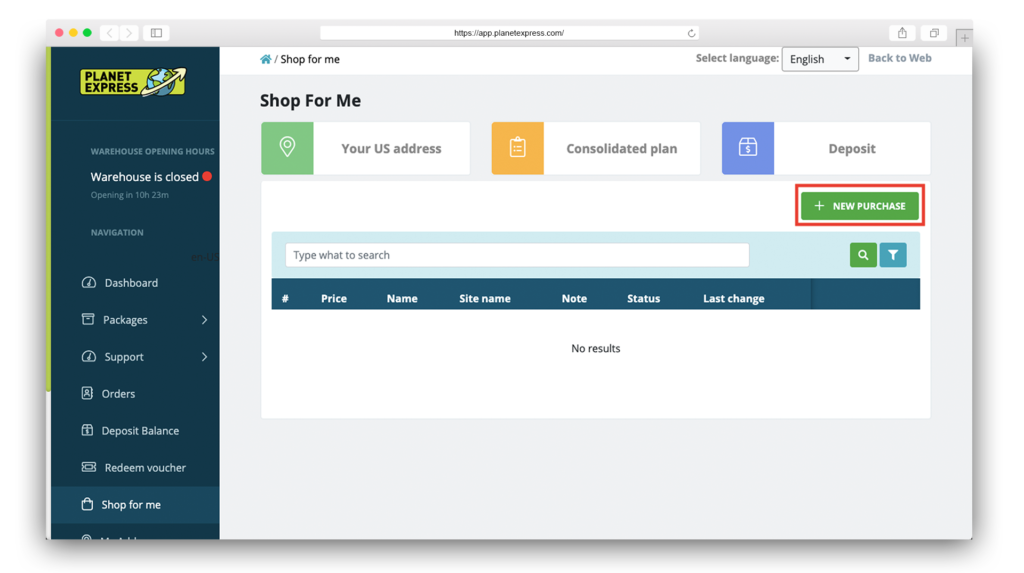 You can add as many items as you want to your shopping list. We added only one for illustration. If the goods have more variants (like colors, memory, etc.), please, be specific: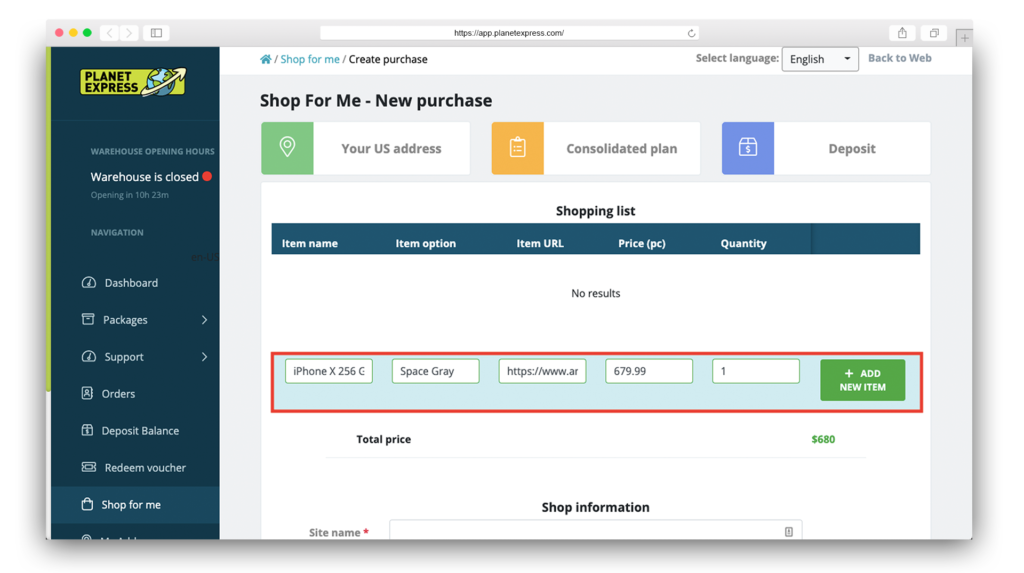 Add the item by hitting the ADD NEW ITEM button.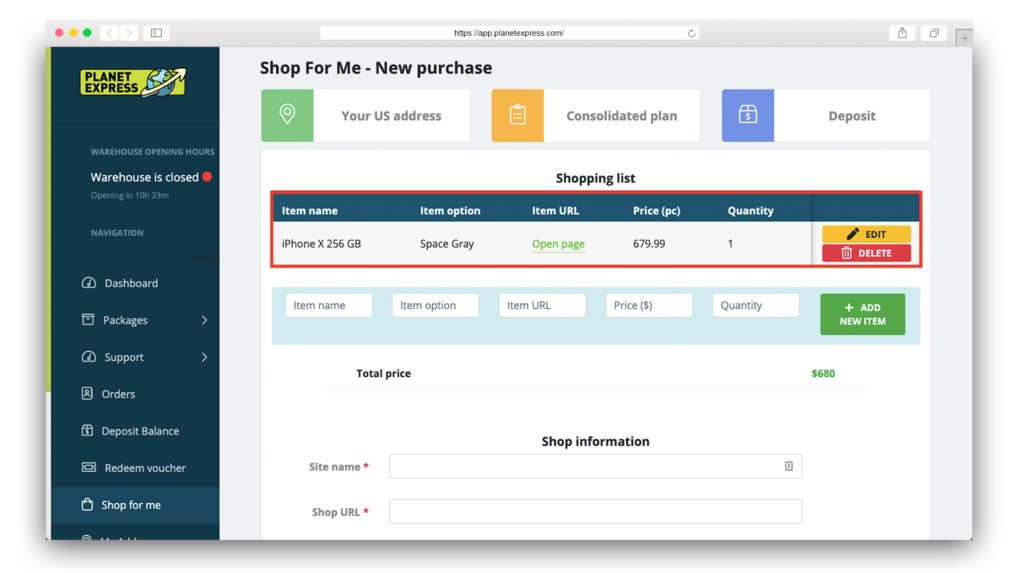 In the final step, you need to enter the store name and its URL, the price of the shipping from the store to your US address, and the sales tax (product price excluding tax × sales tax rate) that is collected in California. To confirm the order, press the FINISH ORDER button.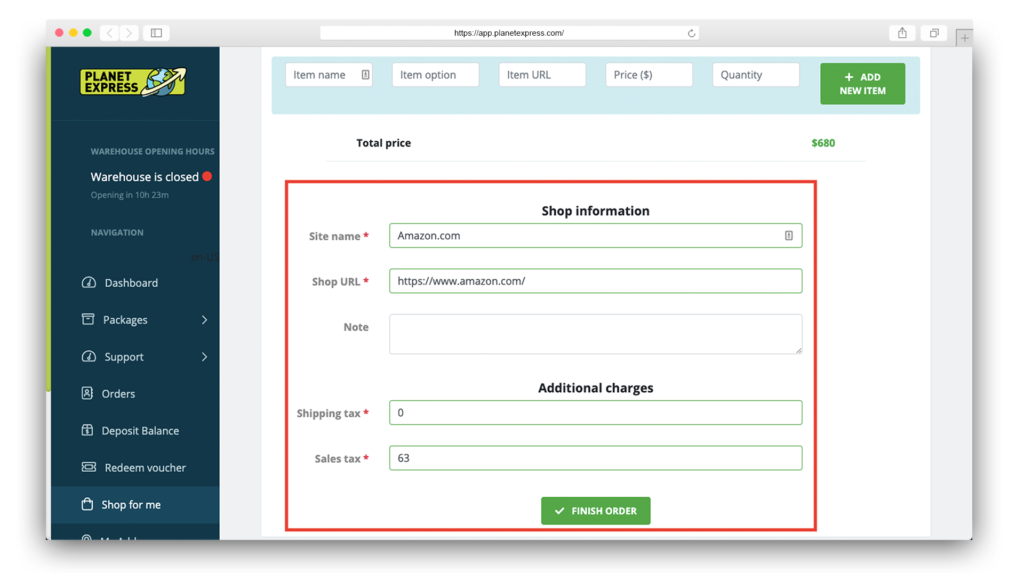 Make sure you add enough deposit so we can order the goods for you. This deposit you can add with Bitcoin.
When you click on the EDIT button, you can find out how much money you need to add: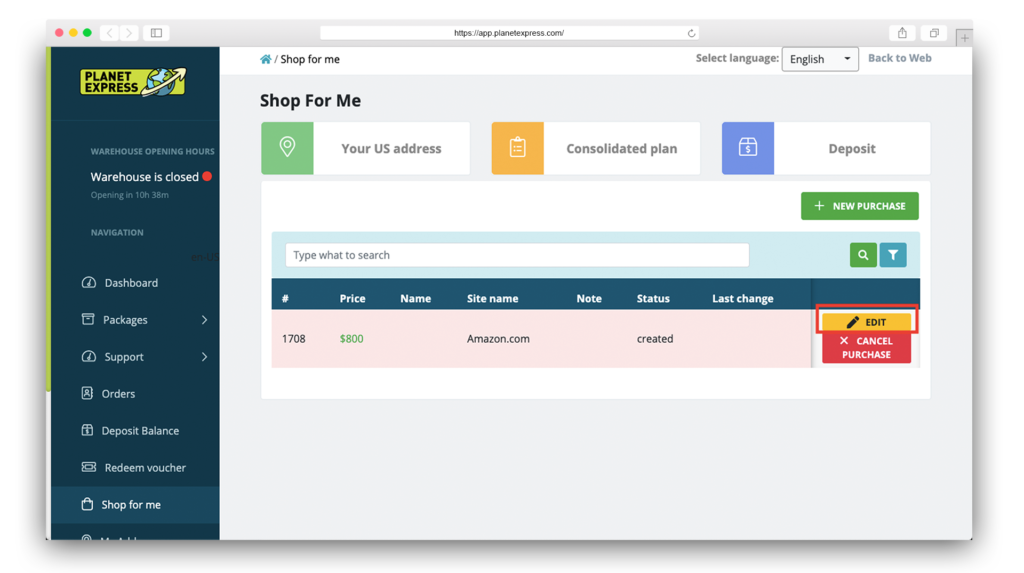 There is a price breakdown.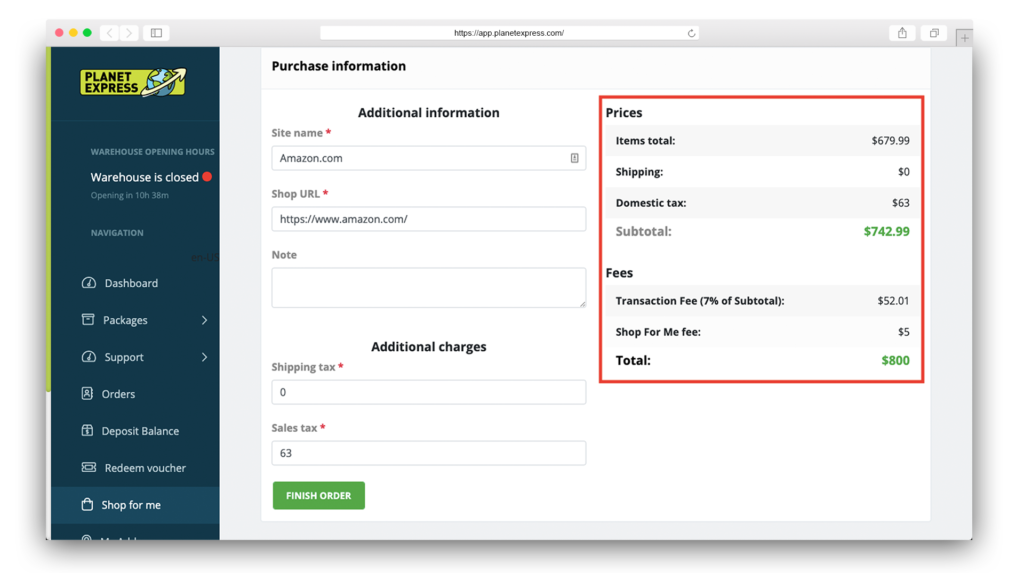 We are able to process your Shop For Me orders within 3 business days. It takes a few business days (depending on the delivery method) to receive the order to our warehouse. You will be notified by email when we receive your package. We can forward the package to your home address then.
---
How To Add Deposit Using Bitcoin?
Go to the Orders tab and click ADD DEPOSIT button.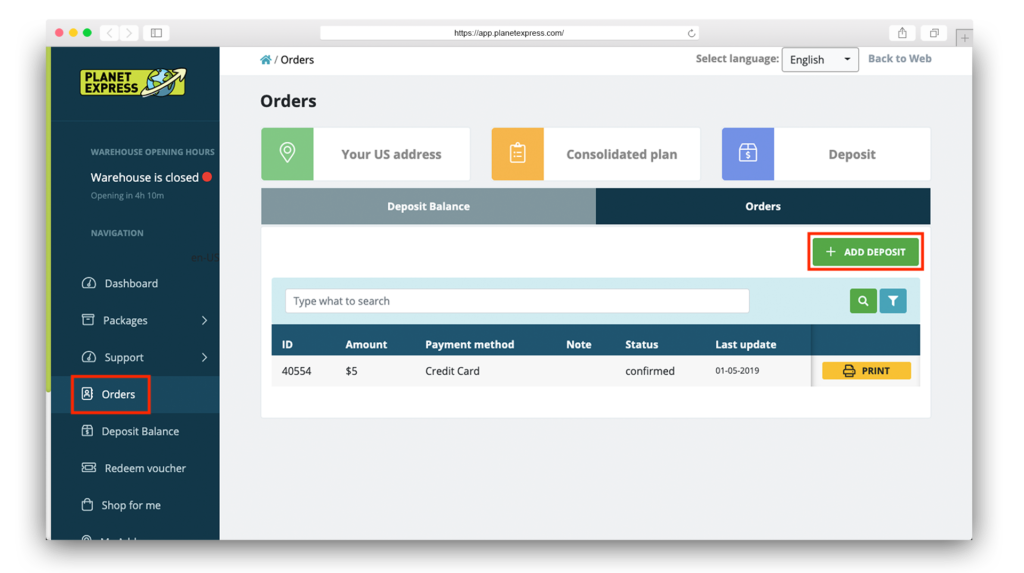 Select bitpay payment method and choose the amount you want to add.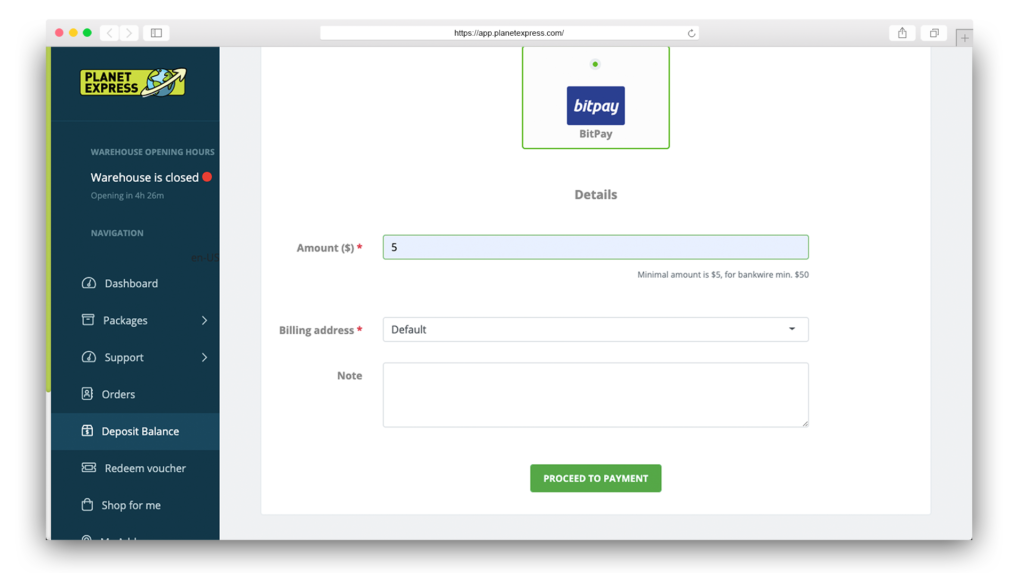 Now you can login to your BitPay ID, or if you don't have it, Continue as Guest.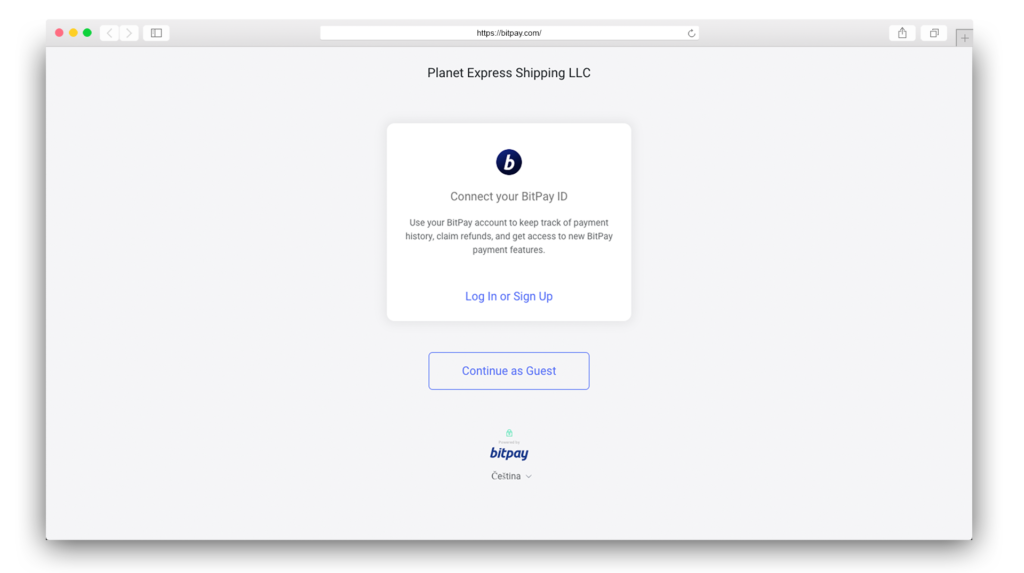 Select Bitcoin or Bitcoin Cash payment.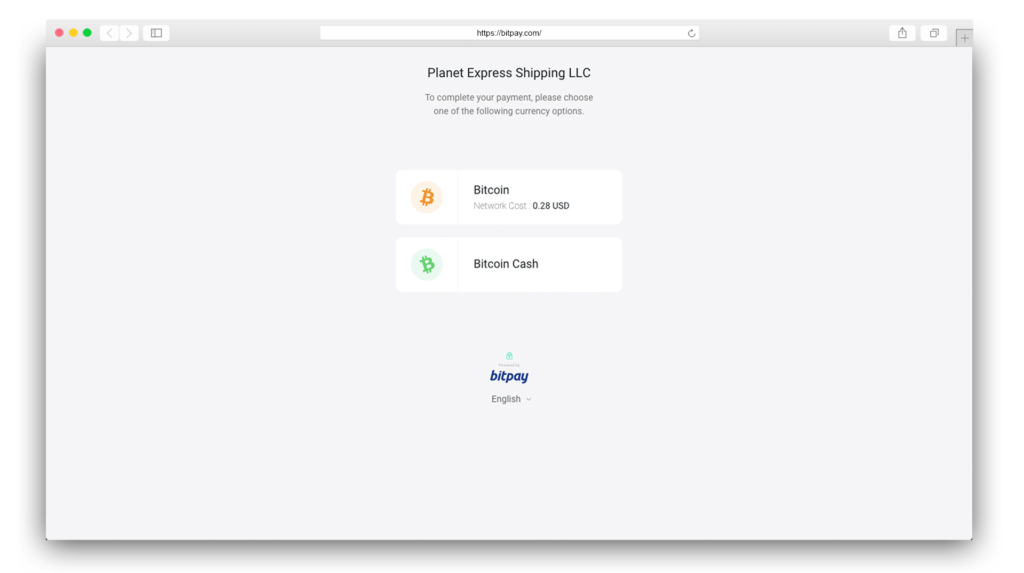 Scan the QR code with your mobile device, or pay with your Wallet eventually, and finish the order.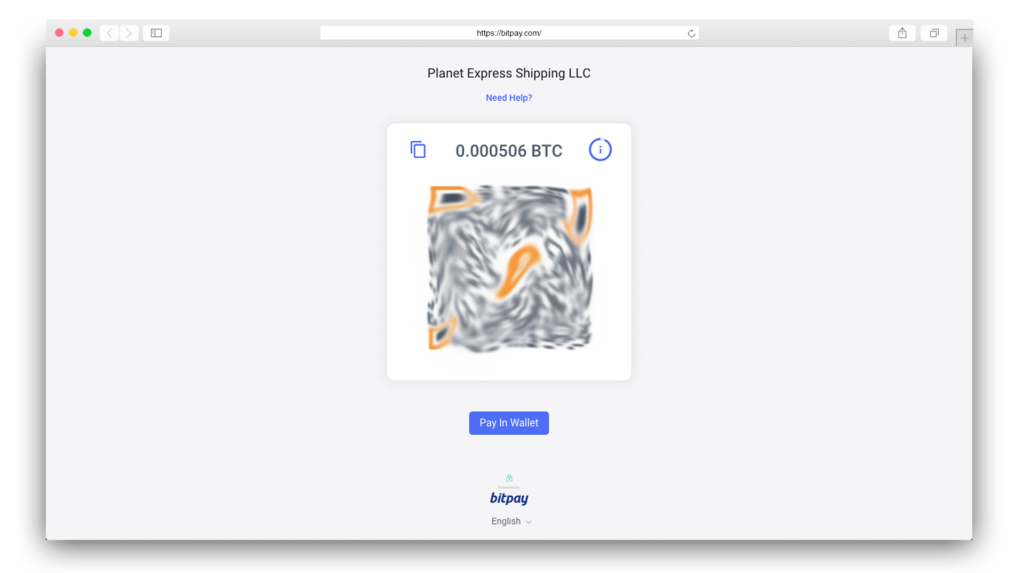 The deposit will be added to your Planet Express account.