We've shown you already how to order things from Hèrmes. Today we will focus on a similar but much younger brand. Michael Kors is a fairly young fashion brand, famous for its handbags, watches, fashion and other accessories. If you are looking for a place to order things, MichaelKors.com is a place to go. Why not order things directly in the USA? There is often wider selection and great discounts.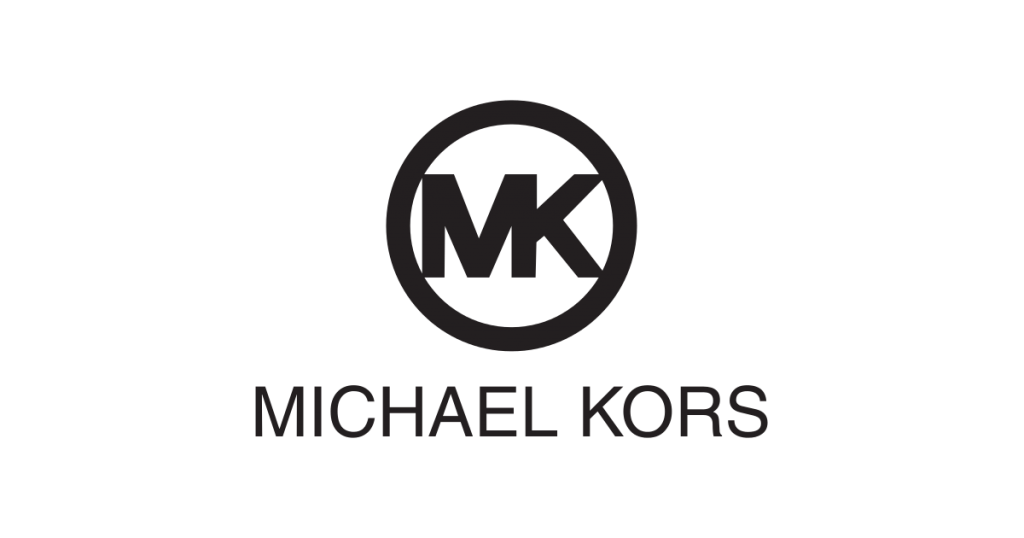 You probably think that the shipping from the US must be really expensive. It's not quite true. You can send your handbag from just dozens of dollars. You can calculate the postage cost by using our postage calculator in advance. Online stores often do not publish information about the dimensions and weight of the package in which the goods are sent. Therefore, we recommend you to send a query directly to support of the seller or estimate the package dimensions based on the product itself. 
1. Get a US address from Planet Express
If you want to shop directly in the American version of MichaelKors.com, you need an American address where they will send you your packages. Don't be afraid. Setting up an address is easy and it can be done within 5 minutes from the comfort of your bed.
You can see the entire process of setting up an address on our video below.
Eventually, you can follow these instructions:
Sign up on our sign up page. First, just fill in your name, address, country, your email, and password. Remember, the registration and the US address is free.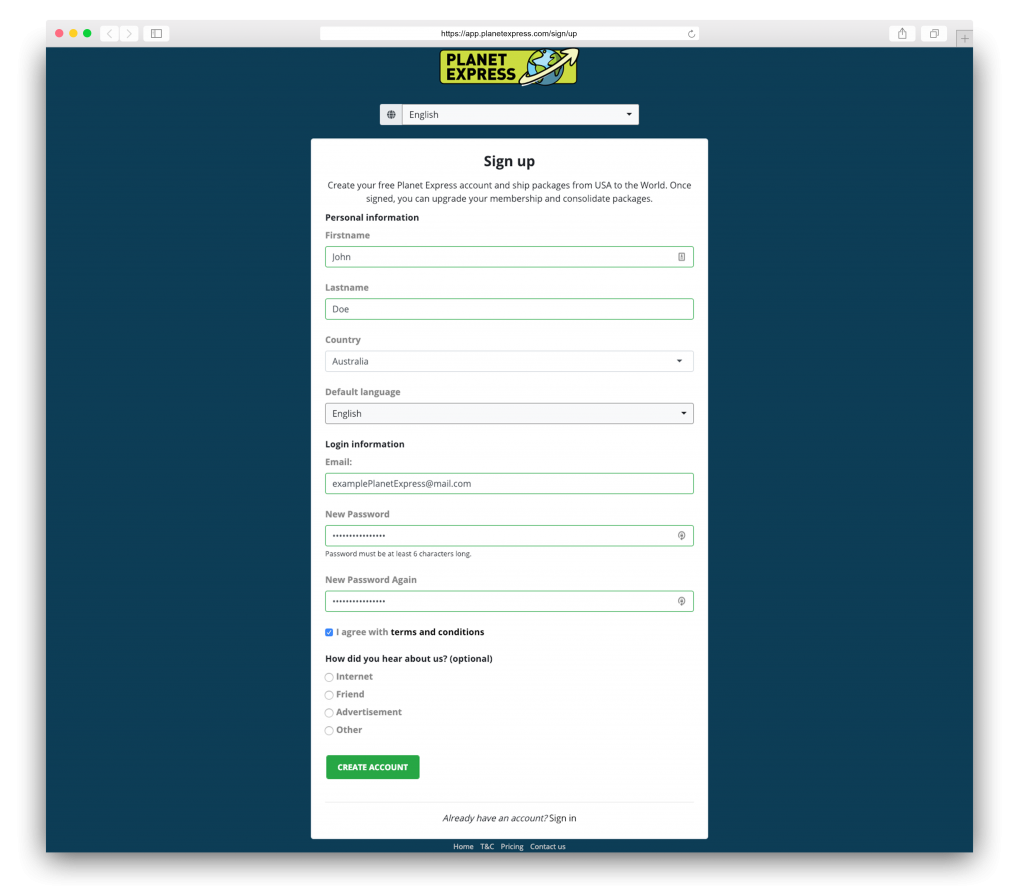 Setting up a delivery address
Fill in your delivery address (ie, where you live or where you want to send the package). You can edit this address at any time, or add more addresses if you want to send something from the US to your friend. It is also important to confirm Form 1583.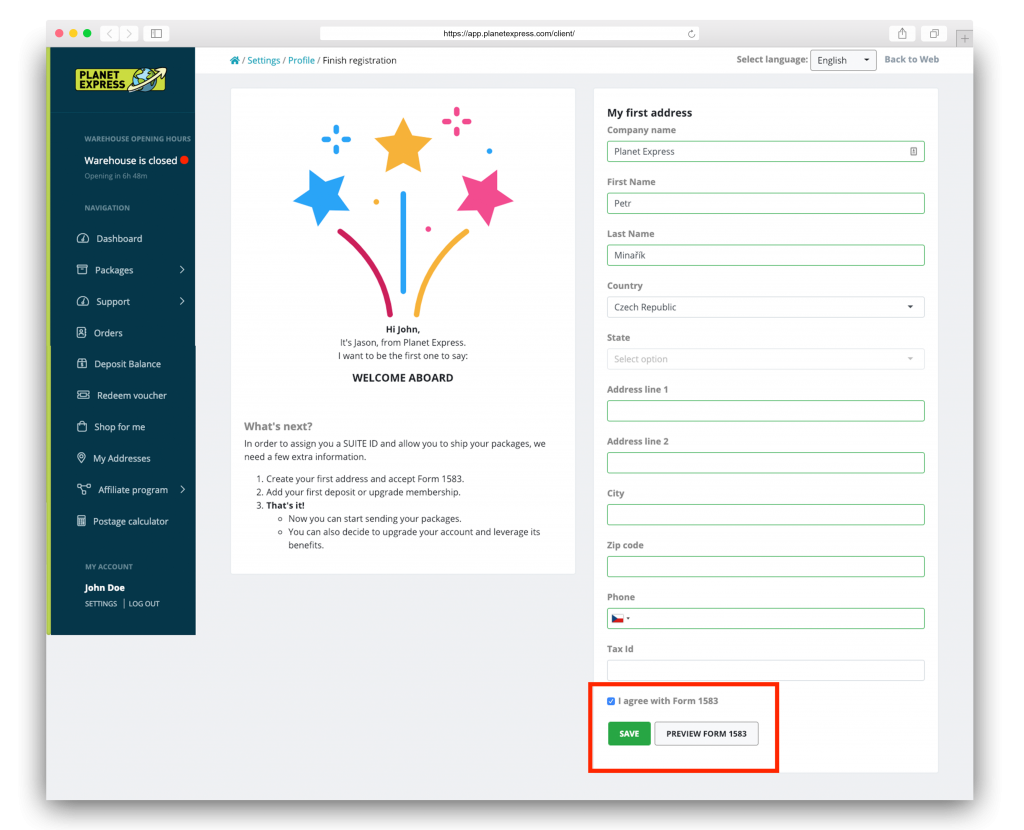 Adding deposit and account activation
Add a $5 deposit (we'll add this deposit to your account as a shipping credit, so you will not lose money). Then your US address will be activated. You will receive an address with a special suite ID A1234. Then fill in this address when you order in the US stores such as Michael Kors, Hermes, Amazon and hundreds of others ...
Name Surname
17224 S. Figueroa Street, Suite #A1234
Gardena, CA (California) 90248
+14245296998
If everything went smoothly, your dashboard will look like in this picture: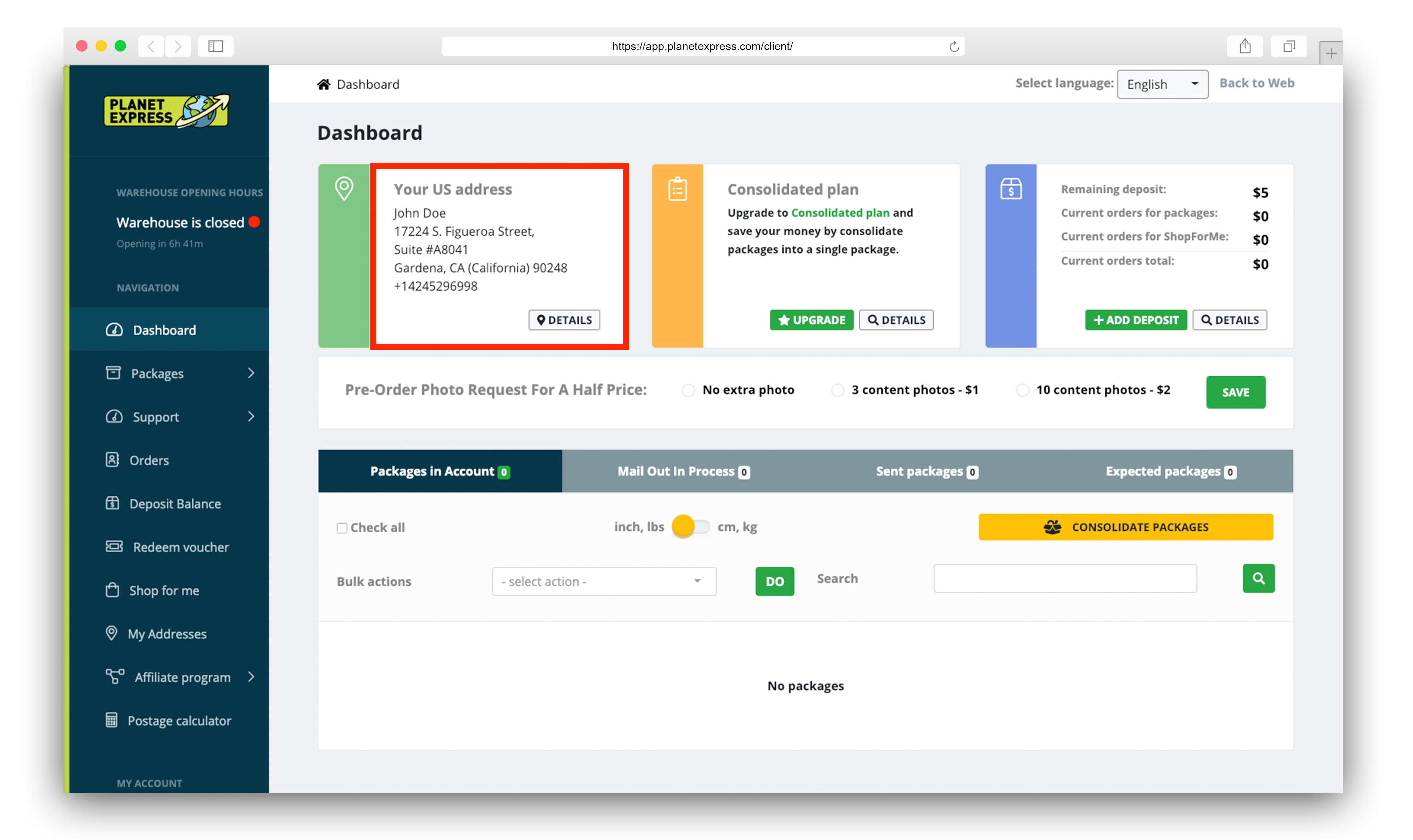 Activated Planet Express account with the US address.In case of any problems during registration and account activation, do not hesitate to contact us.
2. How to Shop on MichaelKors.com
Once you choose goods you want to shop on the Michael Kors website, the next steps are very intuitive and similar to what you probably know from different online stores. But we add a few pictures anyway.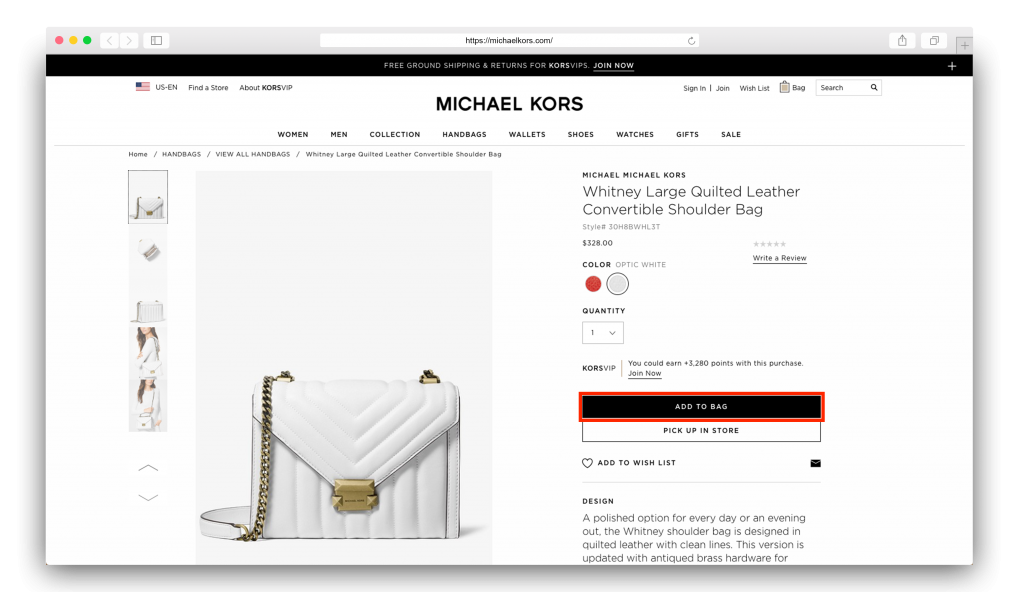 Now you can continue shopping or proceed to your shopping cart.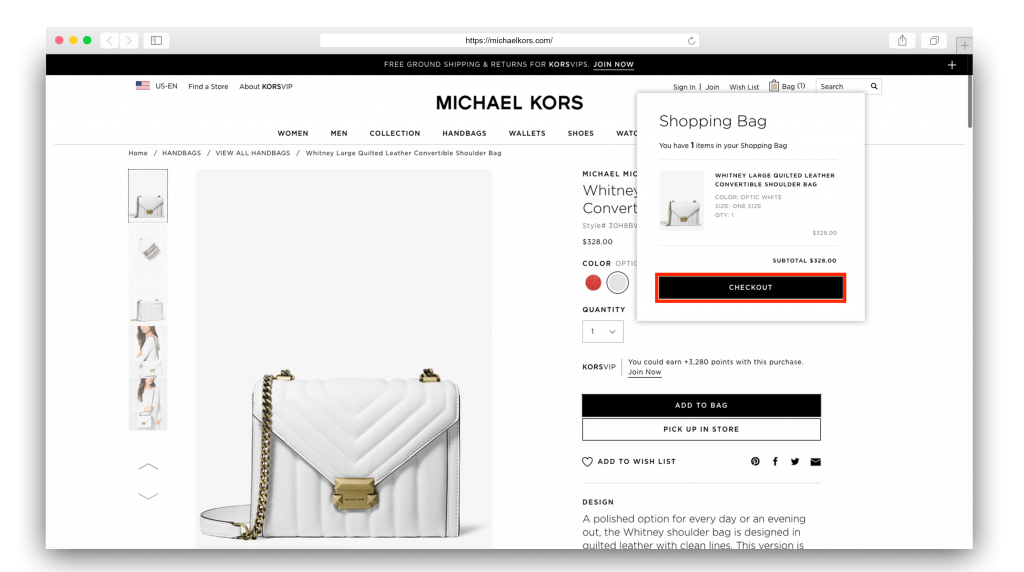 You will be asked to fill in some details (delivery address, shipping method...) and you have to pay for the order.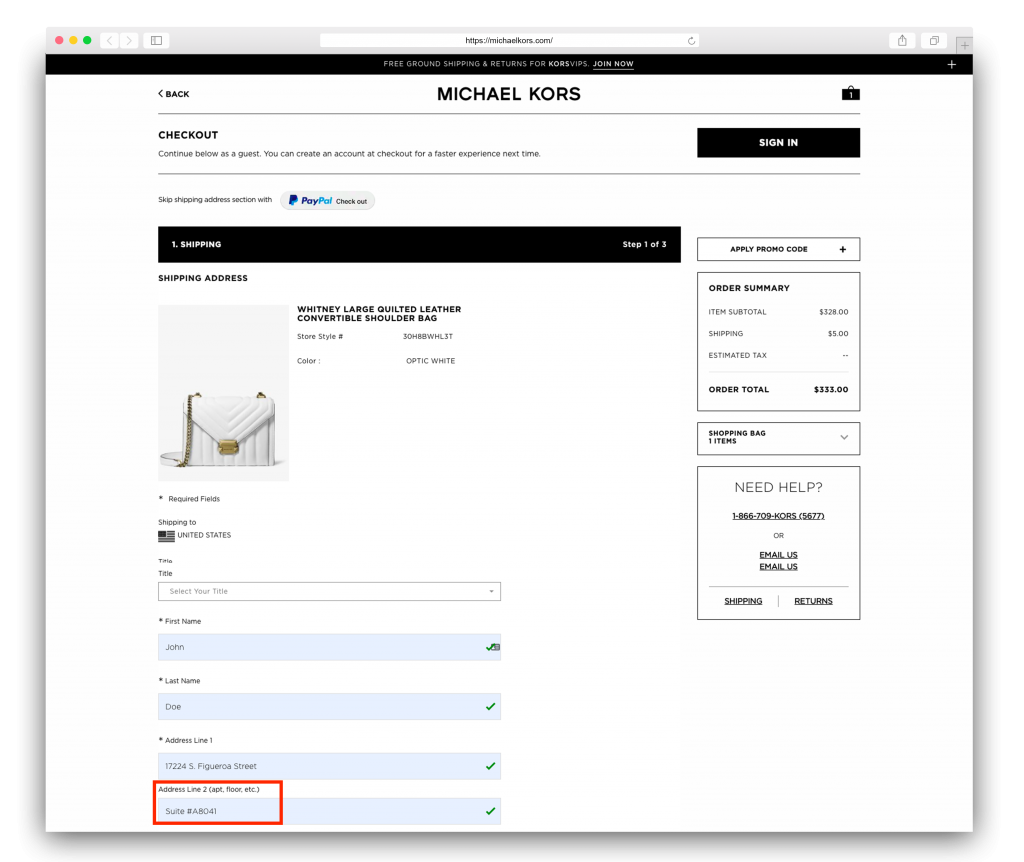 Your suite ID you can find in our administration.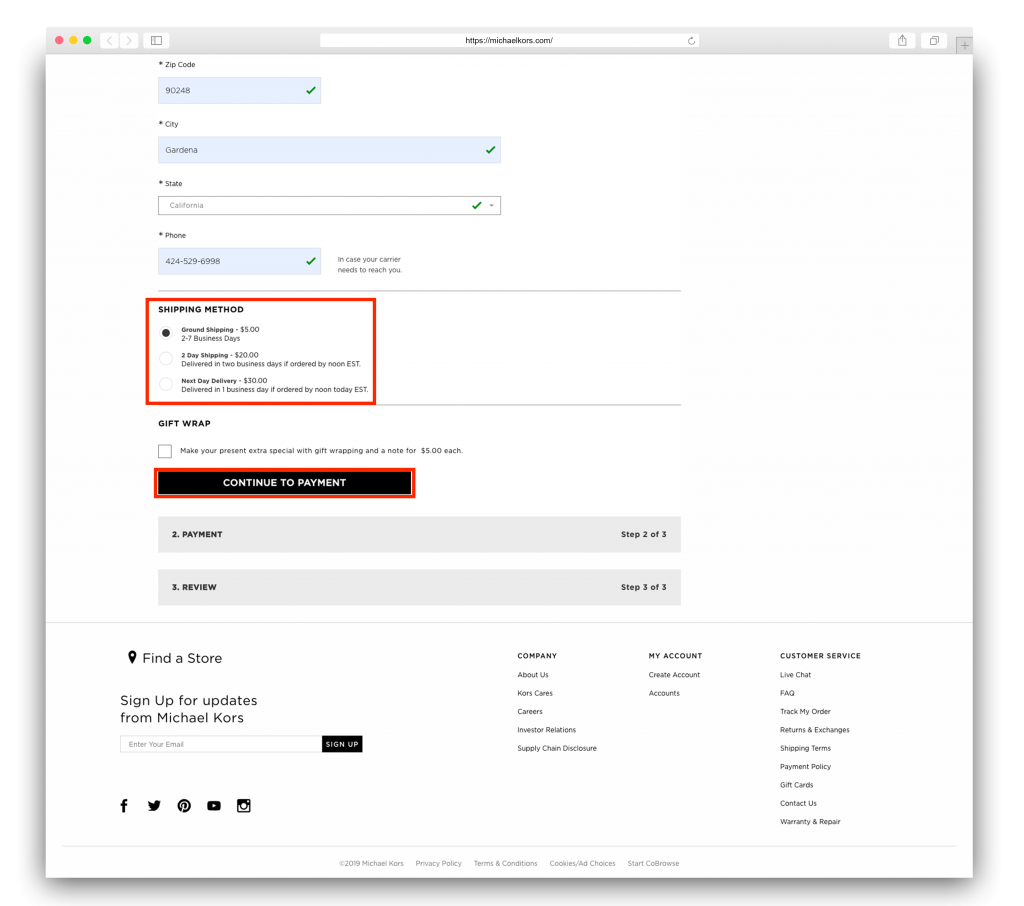 If you don't rush and you are able to wait for your new watches, handbag or whatever product, feel free to use slower delivery methods.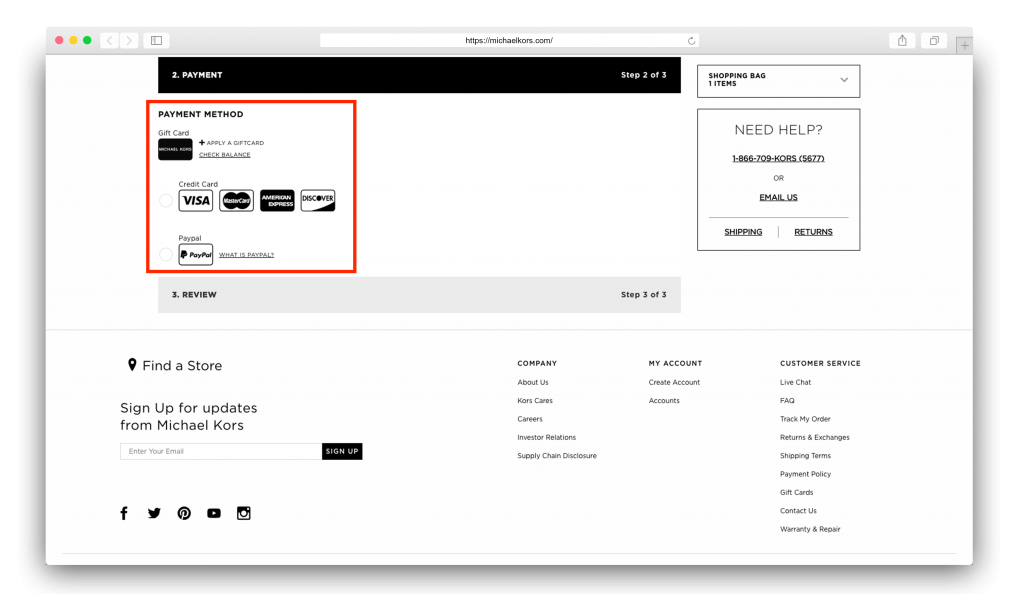 You can use a credit card (Visa, MasterCard ...) with online payments or PayPal for payment. If you have a discount code, you can use it here also. Once you confirm your order, it takes a few days for the shipment to arrive at our warehouse in Gardena, California.
3. We Received your Package. What now?
Once we receive your package from the Michael Kors online store, we will send you a notification email. If you have a suspicion that the email is not coming for a long time, let us know. It is possible that we received your package but you forgot to enter your unique ID, so we did not know to which account assign the package to.
In addition, a customs declaration must be filled in to send the package to your country. Remember, we ship to almost every country in the world – Australia, Nigeria, Japan, and dozens more.
Find out how to fill the customs declaration out from the following video.
You will then be allowed to proceed to mailout. Select the delivery addresses and delivery method. We offer several of them. It only depends on your preferences. All methods (except Planet Mail Economy) offer package tracking, so you'll know where is your package located.
In the end, it was not that complicated? We will be happy if you share this tutorial with your friends.