Planet Mail is the cheapest shipping method which Planet Express offers. It is shipped by USPS – national postal office and it is an ideal shipping method for small and cheap packages where a long delivery time is not a problem. There are two Planet Mail versions:
Planet Mail Express
Delivery time of this shipping method is around 17-25 business days depends on country where a package is shipped. For some countries (like countries in Europe), delivery time is just around 7 business days!
It has a basic tracking from our warehouse to the destination country. Once a package arrives to a destination country, you can see it on tracking, but that is the last tracking update. Then you can expect that the package will be delivered in another couple days. The tracking looks like this: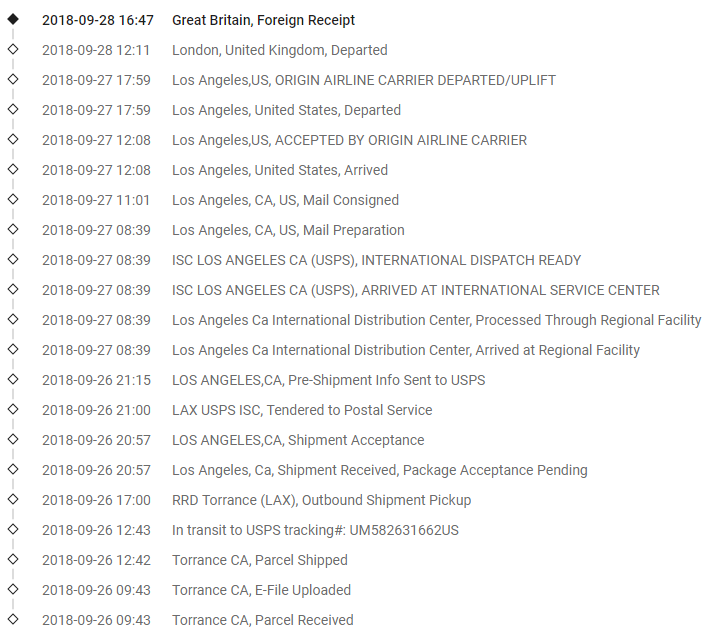 Planet Mail Economy
Our cheapest shipping method with a delivery time around 25 business days. Again, it depends on country where a package is being delivered.
In comparison with Planet Mail Express, Economy method is around 35 % cheaper. It is because this shipping method has no tracking, so it is ideal for very cheap packages with no rush on them.
Size & Weight Limits
Planet Mail is only for small packages with weight up to 4.4 lb (2 kg). The size limit for l+w+h is 36 in and the maximum length is 24 in.
Insurance
This shipping method does not include insurance, but you can pay for it during the mail out process. The price of insurance is based on a destination country. The insurance covers damage or lost of package. So in case that package would get lost, you would get full refund of the value of the package (based on commercial invoice) + all fees paid to Planet Express.
Shipping Rates
To get shipping rates for your package, please use our calculator.