If you want to send a package you have at your Planet Express address, you have to place the so-called 'Mailout Request'. Watch the following video or read our instructions below.
How To Place The Mailout Request?
Placing the Mailout Request can be described in 3 steps.
Step #1: Make sure the package does not contain any prohibited items otherwise it will be returned to our warehouse by the carrier, or customs. If the package does contain any prohibited items, you can request a Special Request and we can remove them. Once the package is good to go, fill out the customs declaration form (find the instructions on how to do it on our customs declaration page).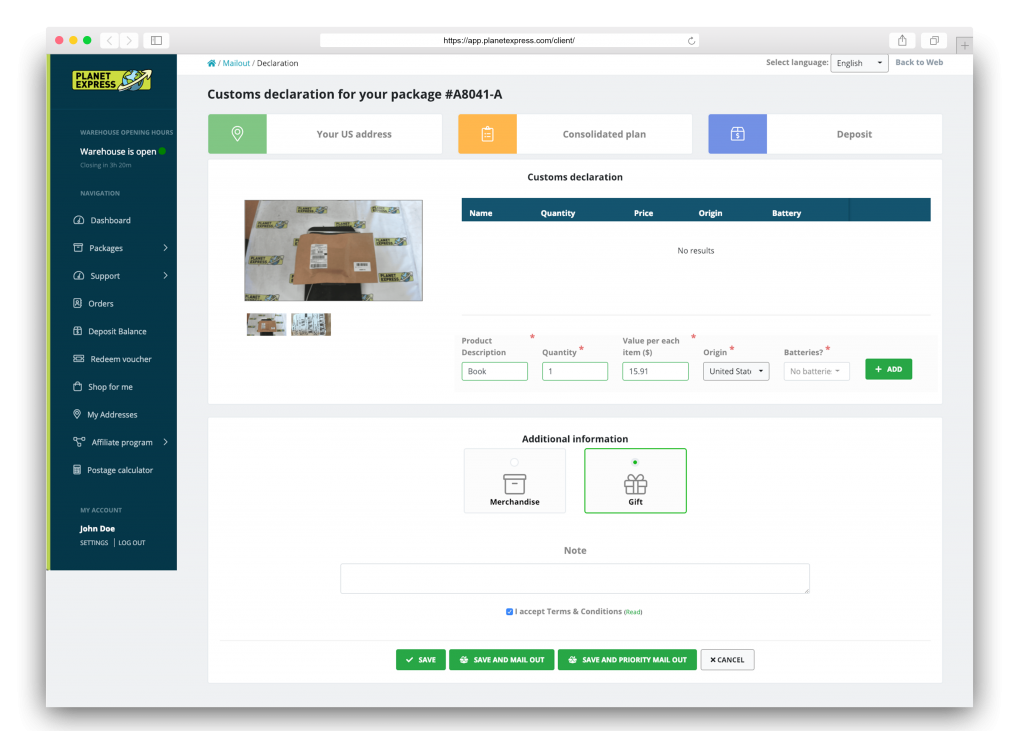 Step #2: When your customs declaration is complete, click the 'Mailout' button. You can choose from 2 options:
[1] Mailout – takes 24-72 hrs to process depending on the season (there can be delays during a busy season which takes place around major shopping days like Black Friday, Christmas, etc.).
[2] Priority Mailout – are processed within 24hrs. During the busy season, the processing time can be slightly longer.
After selecting the type of Mailout, choose the delivery address and the shipping method from the USA. You can also request any of our additional services:
– Adding "FRAGILE" stickers
– Adding bubble wrap
– Adding extra / security tape
– Removing invoices
Confirm your Mailout reqeust by clicking the 'Confirm Order' button.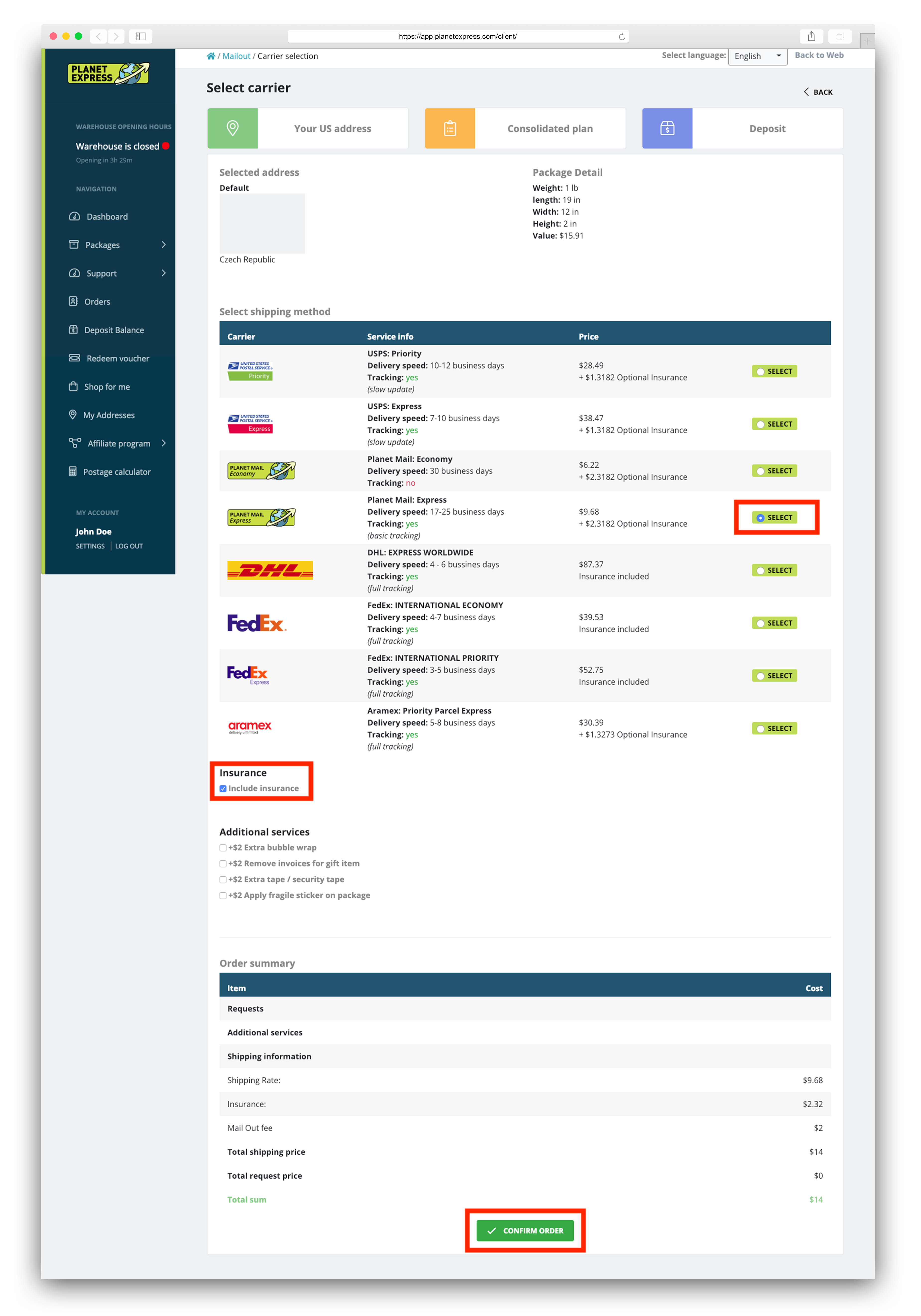 Step #3: Based on your order, the shipping costs will be calculated. Make sure you add enough credit to your Planet Express account. Without enough money in your account, the package cannot be sent!
---
Shipping Packages From the USA FAQ
? Will my package be insured?
For FedEx Priority, FedEx Economy, and DHL Worldwide Express, insurance is included in the shipping costs.
The other methods are not covered by insurance, but you can buy it. We recommend insurance of the package especially if you ship expensive and fragile products.
Read more details about insurance and its conditions.
? Are customs duties included in the shipping price?
No, we ship packages as Delivery Duty Unpaid (DDU). This means that if your package is above the de minimis threshold for your country, you have to pay for customs. If necessary, you will be contacted by the carrier or customs office.
? How much does the shipping cost and when the package will be delivered?
The shipping costs depends on
– the size & dimensions of your package
– the delivery address
– the shipping method you choose
You can use our postage calculator tool to calculate the shipping costs in advance.

The delivery time varies method by method. Use our calculator to get estimated delivery times or check our shipping methods page for more details.
Calculate the Shipping Costs In Advance
Shipping rates
Fetching rates for your package