When you set up an account with Planet Express, you agree with USPS Form 1583. This form simply permits us to forward packages to your delivery address.
In some cases, we need to notarize Form 1583. It can be in a situation when you want to increase monthly spending limit, when you send a lot of packages or when you want to forward letter mail, Documents, Bank statements, Credit cards, etc.
What's U.S. Postal Service Form 1583?
The Notarized form is required for us to be able to receive and forward letter mail on your behalf from our California and Oregon locations only, regardless of shipping method.
All customers accept this form during sign up process
In some cases (when do you want to increase your spending limit) notarized Form 1583 can be required (see more info below)
How to Fill In the Form 1583
You can download a pre-filled Form 1583 in your account. Log in to your account, go to SETTINGS –> DOWNLOAD FORM 1583 button.
Or fill the 1583 form by your self:
See what to fill into each line.
Date
Forwarding provider (Planet Express Shipping LLC)
Your address at Planet Express (you can find it in your account)
Address of Planet Express
17224 South Figueroa Street
Gardena, CA 90248
Put yes and sign the box
Your name
Your address and phone number
Fill two types of IDs that you wanna use for verification. It can be a passport, national ID, driving license, etc.
Fields 9 – 14 are only for business customers.
15. sign of agent or notary
16. your signature
How To Notarize Form 1583
There are two ways how you can notarize the form:
In-person, with an agent or public notary. Then you need to send us documents physically to our address. This method can be very expensive and we do not recommend it.
Online notarization via NotaryCam. Price per one online verification is only $25 and you pay it directly to NotaryCam.
Now, let's go through the notarization process of Form 1583 via NotaryCam. First, download the prefilled USPS form (see the instructions above).
Make sure you prepare 2 IDs* that are necessary to notarize the Form.
*Acceptable identification includes:
valid driver's license or state nondriver's identification card;
armed forces, government, university or recognized corporate identification card;
passport or alien registration card or certificate of naturalization;
current lease, mortgage or Deed of Trust;
voter or vehicle registration card;
or a home or vehicle insurance policy. A photocopy of your identification may be retained by an agent for verification.
Now, go to the notarization website and upload the prefilled USPS 1583 form.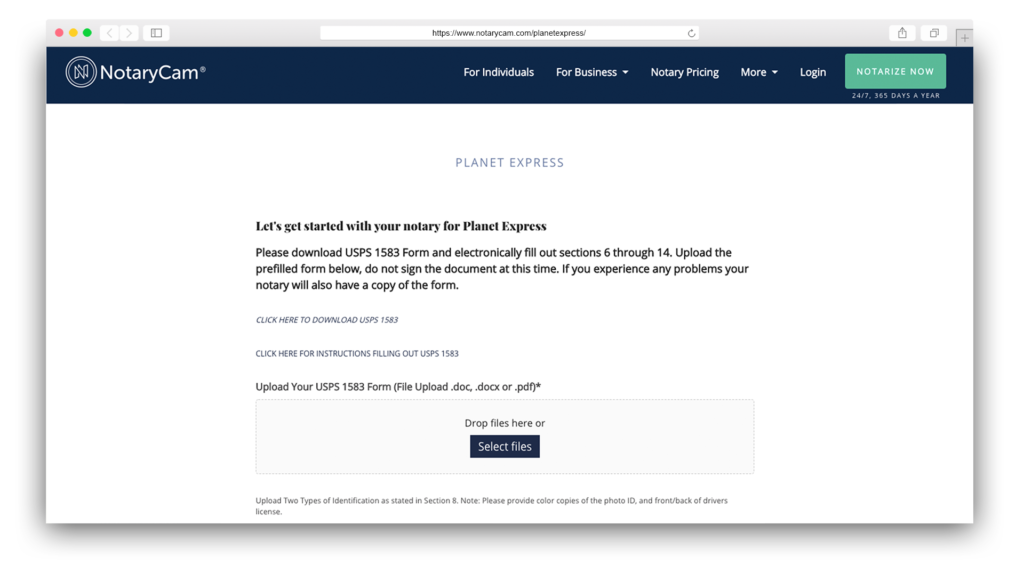 After you upload the Form, make sure you upload scanned IDs and driving license. To scan these documents, you don't even have to have a scanner. There is plenty of mobile apps that can do the work too. We have good experiences with Microsoft Office Lens available both for Android and iOS. So you can scan the documents with your mobile device.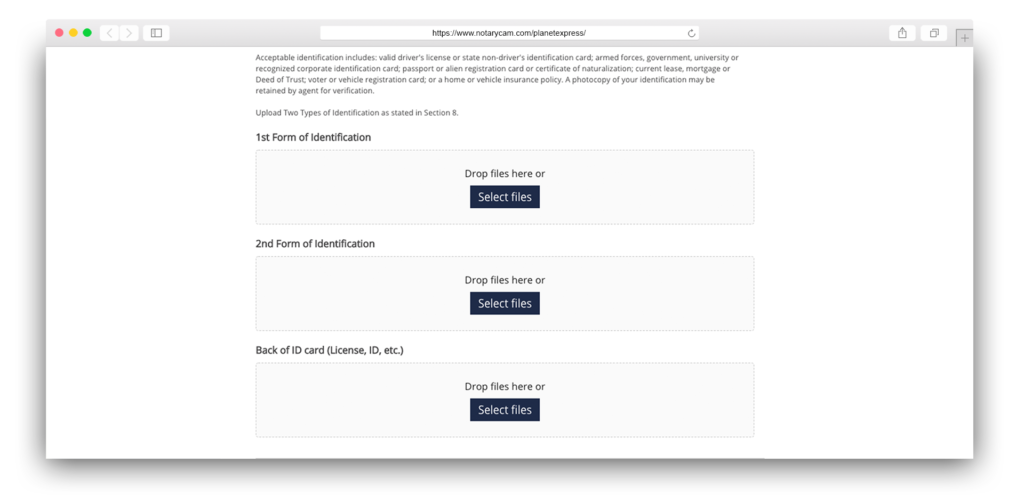 In the last step, just fill in your contact details, SUBMIT the form.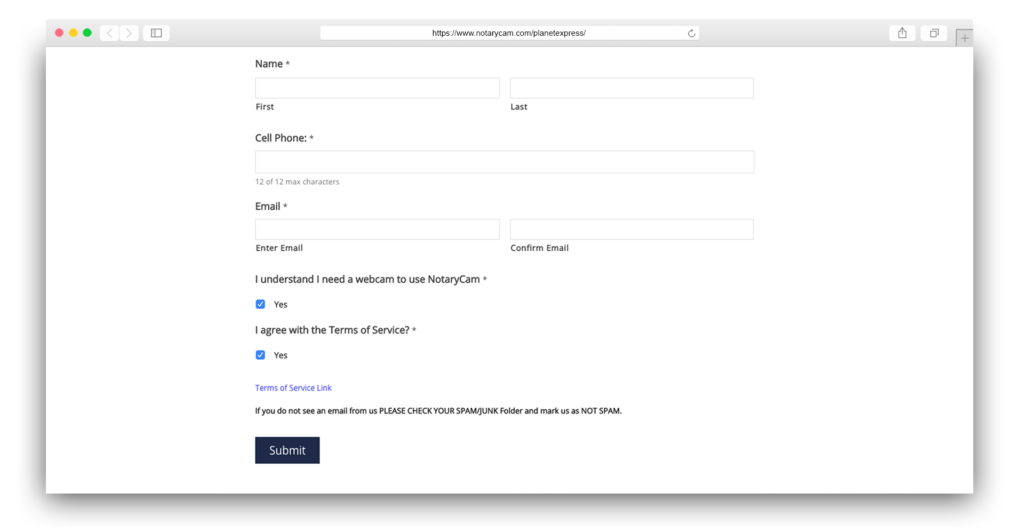 >> Click here to see how to fill in the form on the NotaryCam website [FULL RESOLUTION PICTURE]. <<
Now you are almost done. You will be contacted by NotaryCam.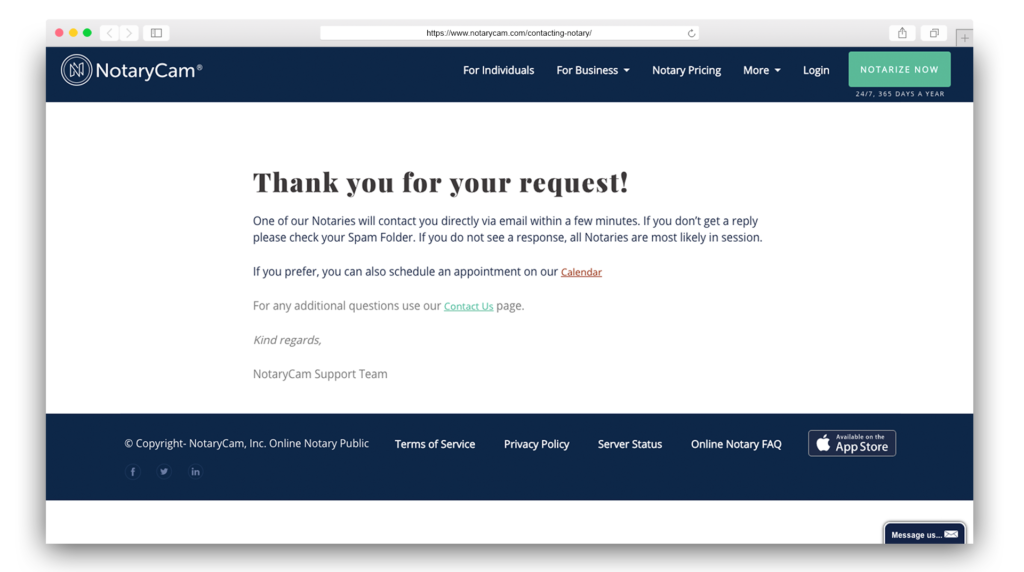 NotaryCam will let you know if they miss something from you. Just make sure you upload both sides of your ID, eventually driving license. NotaryCam agents need to see your residential address in one of these IDs.
By clicking Calendar on the "Thank you" page, you can schedule an appointment for webcam notarization.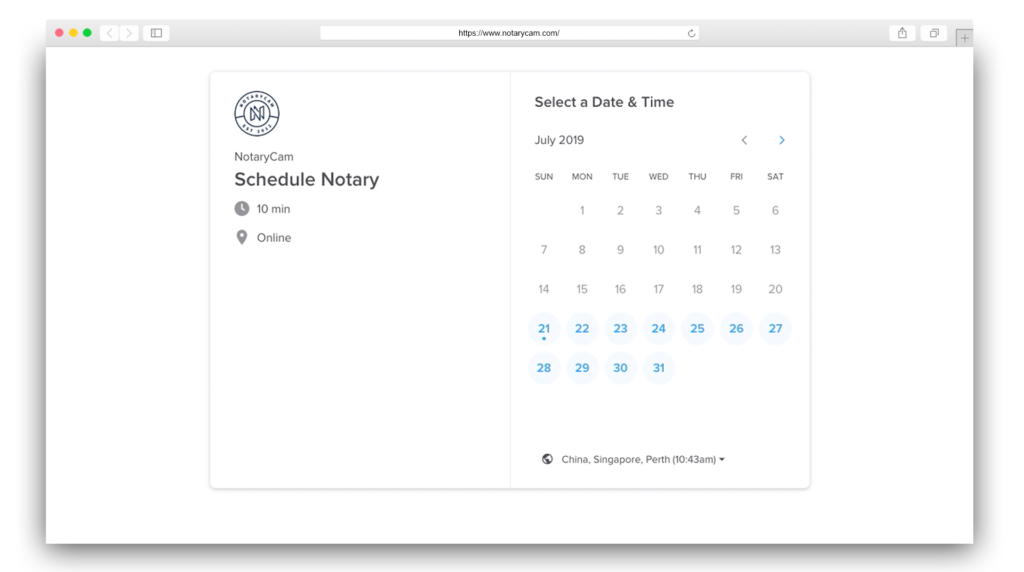 The date will be confirmed by an email, and you will also get a few reminders (to your email and even text message). In the last reminder, you will get a link for an online appointment.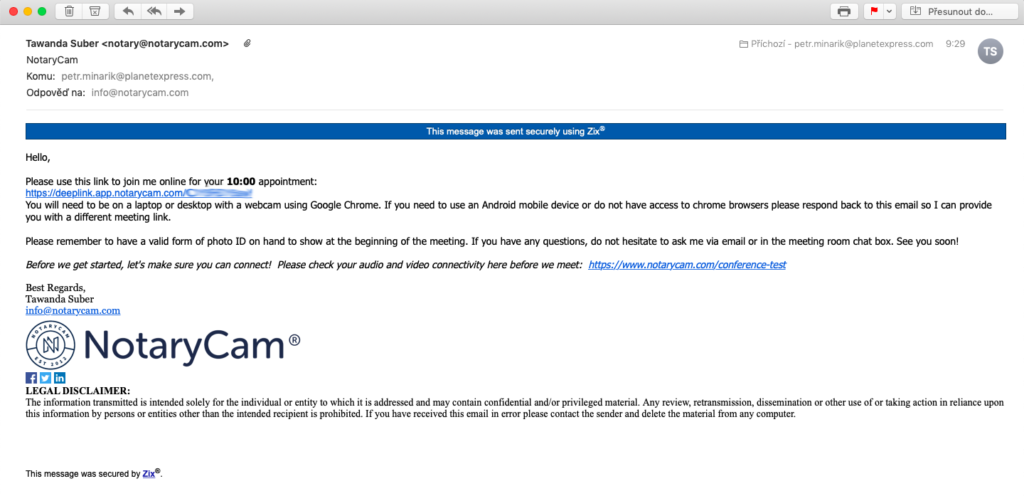 Once you go to their "online notarization room", you can set up a password for future log in (so you can download the documents).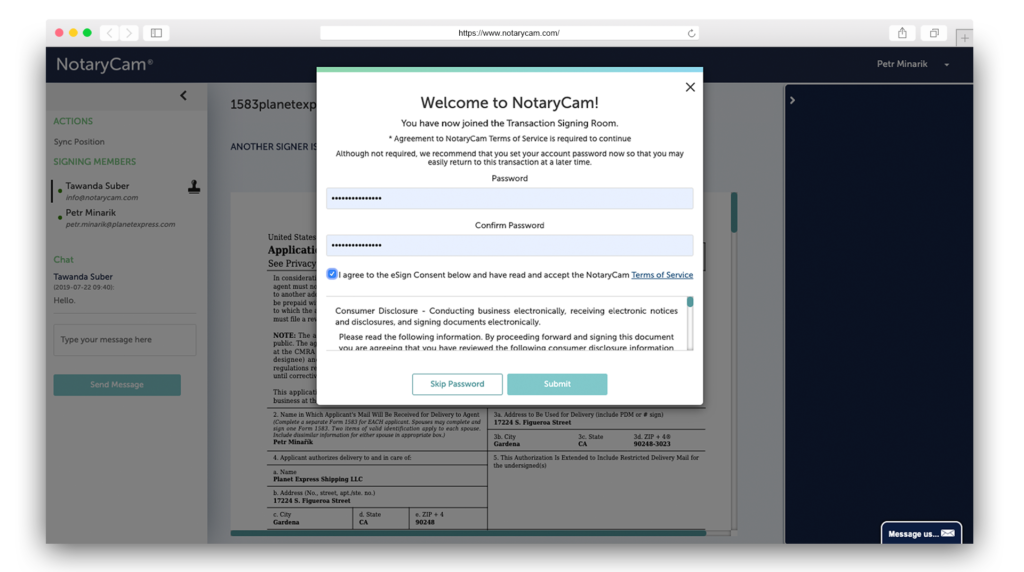 Now just follow the instructions provided by the NotaryCam agent. You will be asked to fill in your signature and pay $25 for the notarization. Once you pay for it, the notarization is done and you can download the document. You don't need to send it to us because NotaryCam will do it.
If you have any further questions on how to notarize your Planet Express address, let us know.