When you set up an account with Planet Express you agree with USPS Form 1583. This form simply gives us permission to forward packages or mail for you. It's is required by U.S. Postal service.
In some cases, we need to notarize Form 1583. It can be in a situation when you send a lot of packages or when you want to forward mail from banks etc.
What's U.S. Postal Service Form 1583
Form required by U.S. Postal Service allows Planet Express to receive mail on your behalf
All customers accept this form during sign up process
In some cases (when we forward official mails) notarized Form 1583 can be required
How to fill Form 1583
You can download a pre-filled Form 1583 in your account. Log in to your account, go to Settings –> and click "Download Form 1583".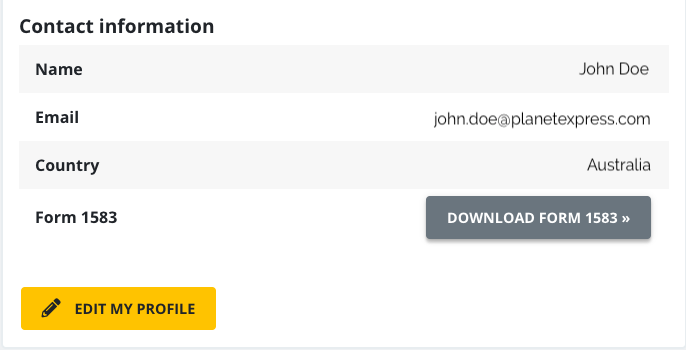 Or fill the 1583 form by your self:
See what to fill into each line.
Date
Forwarding provider (Planet Express Shipping LLC)
Your address at Planet Express (you can find it in your account)
Address of Planet Express
17224 South Figueroa Street
Gardena, CA 90248
Put yes and sign the box
Your name
Your address and phone number
Fill two types of IDs which you wanna to use for verification. It can be a passport, national ID, driving license etc.
Fields 9 – 14 are only for business customers.
15. sign of agent or notary
16. your signature
How To Notarize Form 1583
There are two ways how you can notarize the form. One is in person with an agent or public notary and send us documents physically to our address. This method can be very expensive and we do not recommend it. The second option is online notarization via Notarycam. Price per one online verification is only $25 and you pay it directly to Notarycam.
To notarize Form 1583 via Notarycam, please follow these easy steps:
Fill the Form or download pre-filled form from your account
Prepare 2 IDs which are necessary to notarize the Form
Open this website
Follow instructions on the website
That's all. We are going to receive notarized Form directly from Notarycam