Want more money to support a better life? Do you always find budget tight? When global economics looks no good, starting a new business is riskier and riskier these years. For most of us, a safer way to make extra money is by joining affiliate cooperation.
Consider joining one or more affiliate programs via some trustworthy affiliate platforms, and start making your easy money. You'll be free from troubles of building a brand or business from zero, while still share profits from the commercial promotion of an existed brand.
In order to make your affiliate money, you just need to:
A. Have an affiliate share link or exclusive affiliate coupon for online promotions.  
B. Explain how it helps audiences/users via web content or face-to-face talks.
C. Send them your affiliate purchase link/coupon for purchase.
As long as someone uses your affiliate link or coupon to make a purchase, you'll have your commission from this transaction right away.
---
Part 1: How to Find/Choose Your Affiliate Program?
Find Your Expertise or Niche
Without knowing something more in-depth, you can hardly persuade others to use it, not speaking of letting others buy it.
If you find some affiliate programs relate to your expertise or niche, you have enormous potential to promote them well. You can evaluate affiliate commodity better than others. If you make unbiased suggestions or recommendations, people will find it helpful.
What if you don't have any niches?
Try some affiliate programs related to daily services, such as Planet Express affiliate: https://planetexpress.com/become-our-affiliate/.
Everybody needs delivery services, and Planet Express supports shipping from a variety of stores, including Amazon, Best Buy, eBay, Costco, 6pm, Adidas, Apple, etc. As long as you find someone needs a good delivery service, you can suggest to him Planet Express using your affiliate link. When he places a delivery order, you'll get your commission.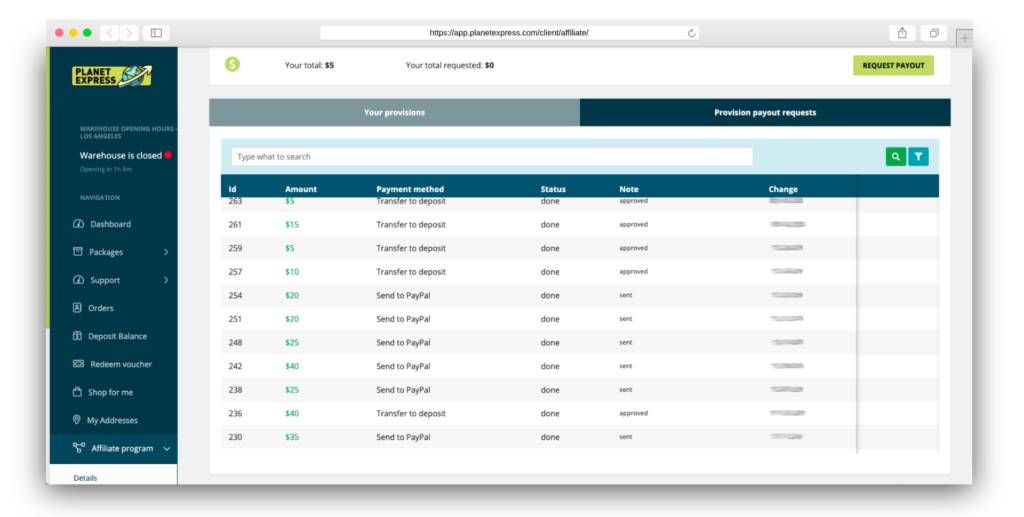 Analyze The Market
The market is the most important factor. Market size will determine whether you can gain much or little. You can never expect to earn a lot by promoting a niche product.
If your affiliate commodity market is small, your promotion effort will not likely get paid off. So it's worthwhile to analyze the affiliate market before stepping into it.
---
Part 2: How to Promote Affiliate Program Effectively?
Know Your Audiences/Clients
It's necessary to know your audiences/clients. At least know who they are, what troubles they have, and most importantly, how your affiliate service/commodity can help them.
When you understand audiences and know their culture, you'll know what they need and don't want. That's important.
Optimize Your Content, Feed Audiences What They Want
Blog, social media, and related community are all ideal places to share your promotion content. Knowing your audiences will help you focus on optimizing your promotion content.
For promotion content, we suggest you limit your content to 30 words, which is roughly the words of Google results. Avoid too much information piled up, since audiences have limited attention span.
For blog content, you'll want to provide as many helpful how-to tips. If your content does help users solve headache issues, you'll see commission grow rapidly.
Ask for Coupons/Benefits for Your Users
Coupons, discounts, and freebies are all juicy "currencies" on the Internet. People need solutions, but they want money-saving codes more.
If you can apply some benefits or coupons from your affiliate merchant, never waste the chance, and your audiences will appreciate it.
Build a Connection with Your Clients
Try to build a connection with your audiences. When you resonate with your audiences, they are more willing to read your tips. Also, their traffics and clicks will help your channel/blog grow (in SEO ways).
Subscription is a usual method to establish a connection with audiences. Some online users hate direct subscription invites, but they won't turn against subscription invitations when copying a coupon or discount.
Try YouTube Branding
YouTube is the largest streaming market that has enormous chances to make profits. It's no harm to create videos of how-to tips or top reviews for users, and you can attach your affiliate link in YouTube description.
Plus, YouTube has an AD service, which you can utilize to promote your videos. The highlight is you can target your audiences.
---
Part 3: Visualize Your Affiliate Promotions/Ads with Free Apps
Visualization is the most competitive advantage. No matter you want to promote your affiliate service/commodity via YouTube video, blog, or subscription, you need some tools to help you make them.
Today, we'll introduce 2 free apps that are most helpful for your affiliate promotion.
*FlexClip – An intuitive video maker to make promotion videos.
*DesignCap – An easy-to-use poster/infographic maker to create ads/subscription flyers.
Here is how to make the most out of them to get the results you want:
How to Make a Promotion Video?
If you decide to make a promotional video of Planet Express delivery service, then you can just pay a visit to FlexClip.com in the Chrome browser. And follow: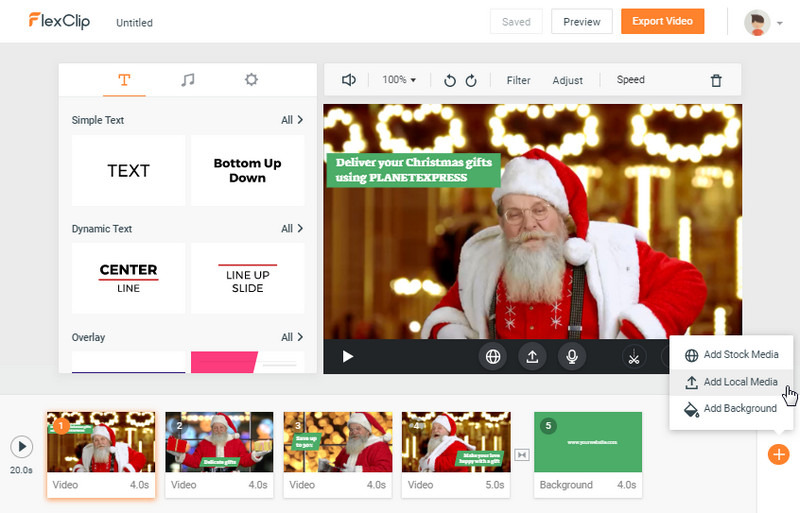 Sign yourself up by clicking [Get Started – Free].
You can explore video templates by hitting [Create By Templates]. Or, press [Start From Scratch].
Upload your shooting videos by [+Storyboard] > [Add Local Media].
Find music icon, click [+ Add Music]. Search for proper music as the background music for your video.
Preview and download your promotion video.
How to Create Infographic, Ad/Subscription Flyer in Minutes?
Infographic is much useful in explaining how to do a thing. With DesignCap, you can easily find the template to visualize your explanation. Land DesignCap.com and follow:
Sign yourself up by clicking [Get Started – Free].
On the page of https://www.designcap.com/app/, click [Templates] and search "sales", "ad", "steps",…
Click in a template you like, and paste in texts.
Preview and download your infographic/ad/flyer.
In addition, you may need to edit promotion images, or need a logo for your promotion blog, then we suggest you with DesignEvo logo maker – https://www.designevo.com/ and FotoJet image editor – https://www.fotojet.com/. They are both free and easy to use.
Part 4: Conclusion
Affiliate programs are ideal ways to earn extra money with little investment. There is a wide range of affiliate programs available for your selection. Some of them are hosted on affiliate platforms, and others are hosted directly by their service providers, like Planet Express Affiliate.
It's better to assess your niches and the market size, and then decide which affiliate program to choose.