It's already 11 days since we have launched our new warehouse in Oregon. Thanks to the new warehouse, we are able to offer a sales-tax-free address for what our customers were waiting for a long time. Today we want to give you a short update about the current situation of the Oregon warehouse.
Supported Shipping Methods
We already support all the important shipping methods which are the following:
Supported Services
You can use exactly the same offer of services as when you are shipping from Californian warehouse. The pricing is the same for both warehouses.
Where To Find Your Oregon Address
The Oregon warehouse address is available for premium users only. The premium plan is for $10/month or $50/year. With the premium plan, you can also consolidate your packages, which is the best way how to save money when shipping internationally.
You can find your Oregon warehouse address by clicking on the button "more" under the "Your US Address" section.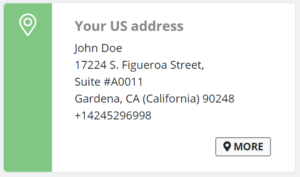 Photos
Because the warehouse has been launched just a couple days ago, it's still empty, but we are sure that it is going to be full of your packages soon ?