Yes! Black Friday starts tomorrow on Friday, 29th but there are plenty of Black Friday deals you can take advantage of today. We have prepared a selection of products and the best sites for you, where you will find great discounts on specific product categories.
We will update the deals during Black Friday so you will have access to the best deals possible.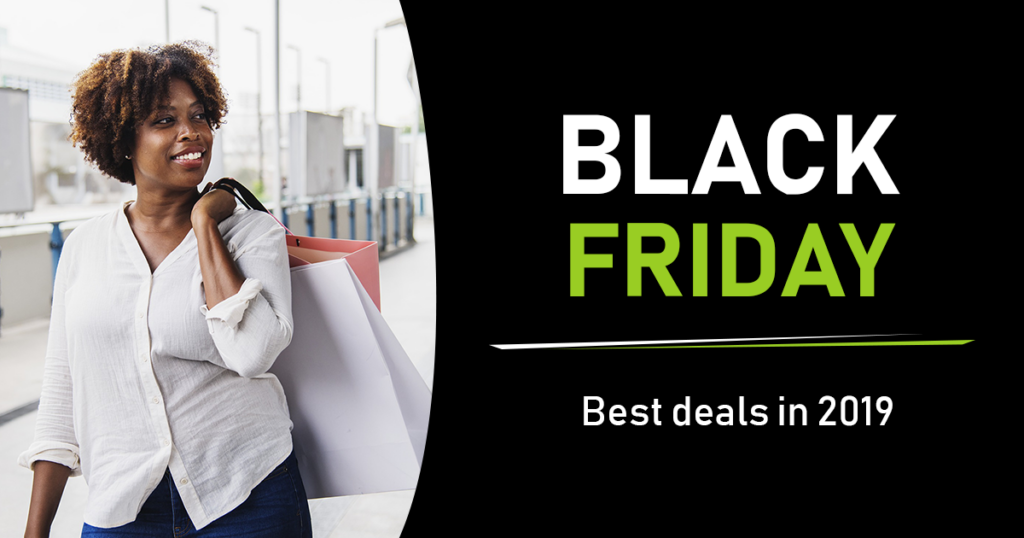 Btw. You will find a voucher inside of this article for 30 days of our premium account for free so you can use our sales-tax-free address in Oregon.
We cover the following topics in this article:
Tips Before You Start Shopping…

1. Take Advantage of Cashback Portals
2. Check the Historical Price
3. Make a Shopping List and Set Your Budget

How to Order Goods from the US to Your Country?
How to Shop Sales Tax-Free?
Major Stores and Their Black Friday Deals
The Best Technology Deals of 2019

Apple Products
Smart Home
Smartphones
Laptops & PCs
TVs

Cosmetics and Beauty Products
Fashion
Kitchen Appliances
Tips Before You Start Shopping…
1. Take Advantage of Cashback Portals
There are plenty of cashback portals on the internet. You can get some percentage back from the purchase which is very cool if you shop a lot. For example, if you shop on Amazon, you can get 3 % of your money back. Every dollar counts, right? So feel free to read our overview of cashback portals and get ready for Black Friday.
2. Check the Historical Price
Sometimes, the current price may seem like a really good deal but be aware. Make sure you double-check the current price and the historical price. Sometimes, the price is artificially risen up so the deal is not a deal at all! Fortunately, there are handy tools like CamelCamelCamel* that track the historical price of millions of products.
*This tool checks prices on Amazon only.
3. Make a Shopping List and Set Your Budget
Most of us are more aware of shopping lists and budgets from purchases in general stores and households. However, shopping lists and budgets are also useful when shopping online. Although they require a certain amount of self-control, they have several advantages:
You save time thinking about whether to buy some product or not.
You save money by focusing only on the products you select in advance.
You will be faster than other shoppers so you don't miss limited deals.
Do you want to buy a new MacBook Air? Good, decide what model with what storage do you want to buy and write it down. Once the deals start, you can search for that one particular product without any further thinking.
---
How to Order Goods from the US to Your Country?
We have a very useful step by step guides on how to order goods from the most popular stores in the US to your country. Remember that the principle is always to same. You just need to order the goods to your Planet Express address with your suite ID. Visit our list of stores for more info.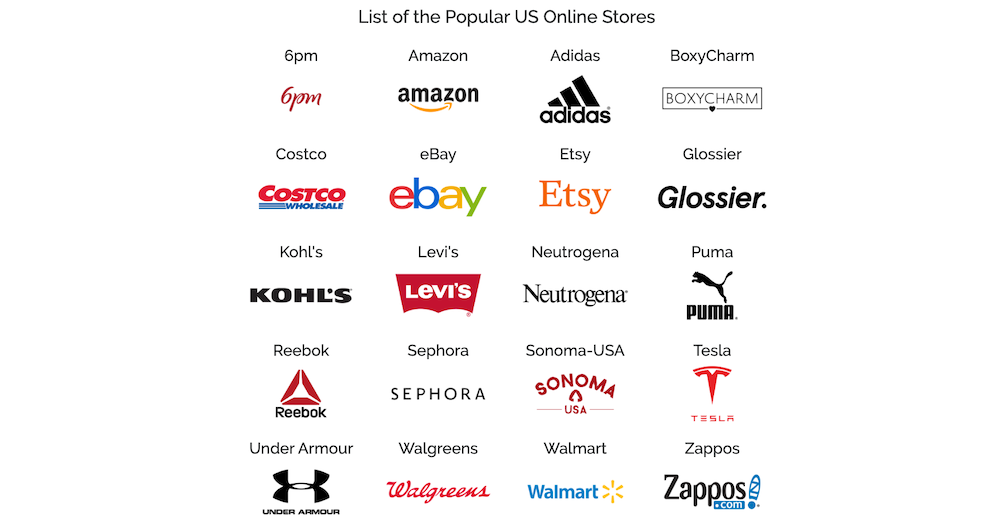 How to Shop Sales Tax-Free?
As you probably know, our first warehouse is located in Gardena, California where is a 9,5 % sales tax on new products. If you buy something more expensive, like a flagship smartphone, laptop, TV or something similar, you may consider ordering the products to our second warehouse in Portland, Oregon so you avoid sales tax which can be higher than $100 when ordering products with a price tag above $1000.
Our Portland warehouse is a sales-tax-free and it is available for our premium users. Usually, the premium membership costs $10 for 30 days but remember that we have hidden the voucher in this article so you can get it for free!
---
Major Stores and Their Black Friday Deals
Below you can find one of the most popular online stores and links to their Black Friday deals websites.
---
The Best Technology Deals of 2019
During Black Friday, you will usually find most of the deals for technology products. Most of the major stores (Amazon, Best Buy, Walmart) and brands (Dell, HP, Lenovo) offer huge discounts on their laptops. Below, there are individual product categories and websites where you can find more deals.
Apple Products
Apple product discounts are often one of the most anticipated. Black Friday brings us deals for Airpods (we will see if the new Airpod Pro will be discounted), iPads, iPhones, Apple Watches even MacBooks (especially MacBook Air but some MB Pro models are discounted too).
One of the best overviews of Apple deals you will find on MacRumors. Their website is very well made. Tom's Guide and Techradar don't fall behind too.
---
Smart Home
Smart Home gadgets became more popular every year also thanks to Amazon's aggressive strategy to push its Amazon Echo to every household in the US. Of course, Echo's is discounted again during Black Friday, but the smart home is not only about voice assistants. Why not automate vacuuming in your room? Or secure your apartment/house with smart cameras?
Feel free to check more smart home deals at Digital Trends, Tom's Guide and The Wire Cutter.
---
Laptops & PCs
If you play computer games, or you just need a new laptop/PC, make sure you wait for Black Friday. Last year, laptops and PCs from leading manufacturers (Lenovo, Dell, HP, Microsoft, etc.) were on sale for mindblowing prices.
The best deals have at CNET, Tom's Guide, TechRadar or Digital Trends. They regularly browse hundreds of offers and select top products.
Would you like to have early access to the best Black Friday 2019 deals?
---
Smartphones
Smartphones are a very popular product category to choose from during Black Friday. We expect discounts on last year's models like iPhone Xs, Samsung Galaxy S9, Note 9, Google Pixel 3, etc. However, it is possible that some retailers will discount this year's models too.
Black Friday smartphone deals are regularly updated on Digitaltrends.com, Techradar.com and other tech portals we mentioned earlier.
The voucher code is BLACK_FRIDAY_2019. Redeem it in the administration and get 30 days of our premium plan for free so you can take advantage of our tax-free warehouse in Portland, Oregon!
---
TVs
Yes, we know… the price of the shipping of 65-inches TV from the US to your country will probably not be cheap. But we expect huge discounts (even 60 % off) so actually, it may pay off! Especially, if you order the TV to our tax-free warehouse in Oregon.
Find the best deals on TVs by Samsung, LG, Sony and more on CNET, Tom's Guide, Digital Trends, and TechRadar.
---
Cosmetics and Beauty Products
There are plenty of deals on Cosmopolitan, Goodhousekeeping or Glamour for cosmetics and beauty products. We also expect deals from brands like Sephora, Neutrogena, or Glossier. Of course, there will be some discounts on Amazon too, Care to Beauty and other websites too.
---
Fashion
Even fashion brands (Victoria Secret, Coach, etc.) discount some of their products. A good overview of the Black Friday fashion deals we have found out on Good House Keeping, Glamour and ET Online. At Refinery 29 you will find luxury and designer fashion, or common clothing. And one bonus at the end – at Marie Claire, they have 100 stores that joined the shopping madness of Black Friday 2019.
---
Kitchen Appliances
If you want to equip your kitchen with appliances, we recommend waiting for the arrival of Black Friday. Discounts include rice cookers, cookers, mixers and other useful gadgets for the kitchen.
Discounts on similar products can be found at goodhousekeeping.com and Best Buy has a dedicated page too. But remember that Best Buy doesn't ship to package forwarding companies so you have to use the shop for me service.
---