As part of our series Let's Collect, we have already devoted to cans, postage stamps, and a whiskey bottles. Today, we will focus on the license plates (also called vehicle registration plates) – especially those from the USA. The US consists of 50 states, so you can get a really rich collection from there. I have always admired pubs, bars and restaurants decorated with license plates (and not just American ones). I said to myself, "How long have been these license plates collected? It had to take a lot of time and luck!" As you learn today, it may not be as a big deal as it may seem.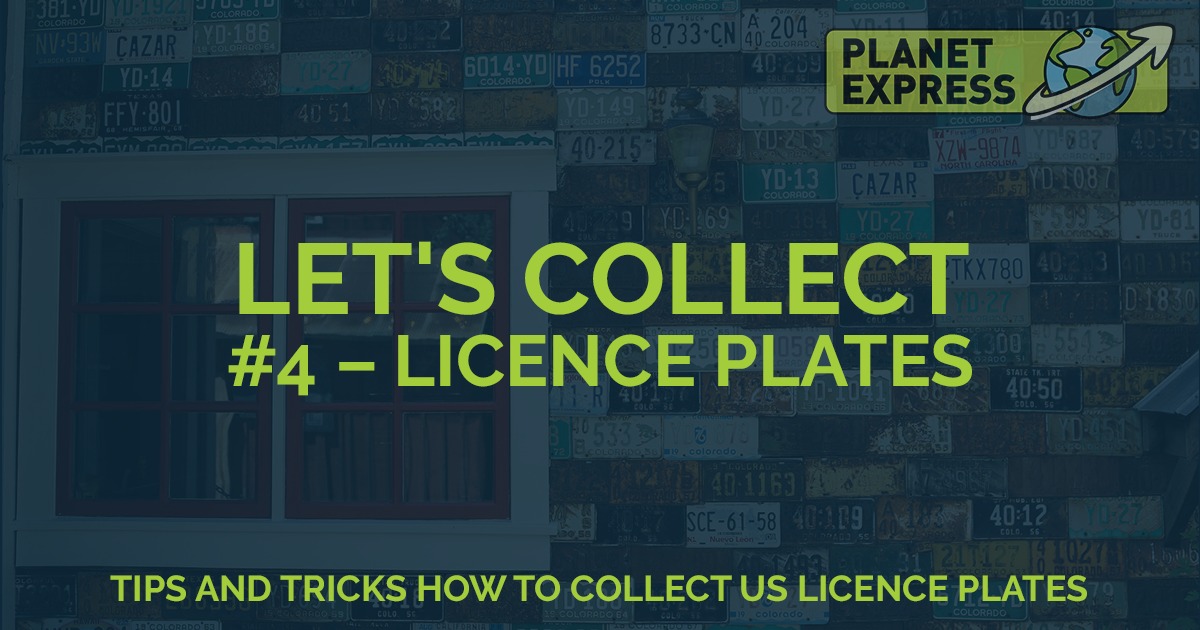 What Plates To Collect?
Collecting licence plates is much more popular in the US and Canada than in Europe. Even here, however, there are many enthusiasts who collect plates. Although our article will focus more on American licence plates, because they belong to one of the most popular. We have some tips for you what plates to collect:
License plates of all the world states
License plates of all states by continent
License plates by the date (of your birth for example)
License plates of all former countries
License plates of all French provinces
License plates where there always be a specific digit/letter
License plates of all countries you have visited
…
The list could be continued. But what plates you want to collect depends only on your fantasy, taste and time options. The oldest license plates were produced at the beginning of the 20th century. Nowadays, there is not a big problem to get most of the plates produced in past 20–30 years (more difficult is to look for true rarities). However, the value of most plates is not that high.
According to the ALPCA (Automobile Licence Plates Collectors Asociation), it is worth collecting plates produced before 1969, as they have a long-term potential for valuation, as well as special plates from police, handicapped people, politicians, etc.
American Licence Plates An Their Hidden Meaning
American license plates look a little bit different from the usual plates in Europe. Since there are 50 different states in the US and each plate looks different, one can say that American brands belong among the most diverse in the world – you can find plates with text only, but also with pictures. The value of license plates of less populated states (Alaska, North Dakota …) are more expensive.
The plate of each state carries, in addition to essential vehicle registration information, also a hidden meaning. It's best to see it in image license plates. For example, Florida oranges tell us that Florida is famous for oranges, or in Arizona, there is a Grand Canyon that you can see here.
Where To Get The Registration Plates?
Probably the easiest way is to buy the plates online. On eBay, they even have a special category for license plates from the US, Germany, Canada and other countries. You can even buy entire collections from other collectors there. If eBay is not enough for you, you can join the ALPCA, visit meetings of collectors and trade plates. You can also have luck at the landfills (with cars) where you can find some plates. Another excellent way to get them is to write to the Department of Motor Vehicles (DMV) across the US. You can then send your plates to Planet Express. And we can forward them anywhere in the world.
Usefull Links For Plates Collectors
ALPCA
Europlate – worldwide organisation of license plate hobbyists
Plaque – a website with more than 100 thousand of images of licence plates from all over the world
Facebook group of licence plates collectors
Summary
We hope you enjoy our tips for collecting license plates and we will be thrilled if you accept our invitation to the next article. We have something for all music fans – collecting vinyls & LP is gaining more and more popularity. So every music fan should be pleased with our next article: Let's Collect – Vinyls & LPs.