With today's tips, we are going to focus on the men dress shoes made from leather. As we mentioned in our article about men watches under $100, shoes belong between 3 important things (shoes, watch, and belt) of men's image. So, in our overview below you can find first-class shoemakers and also some retailers offering hundreds of different styles.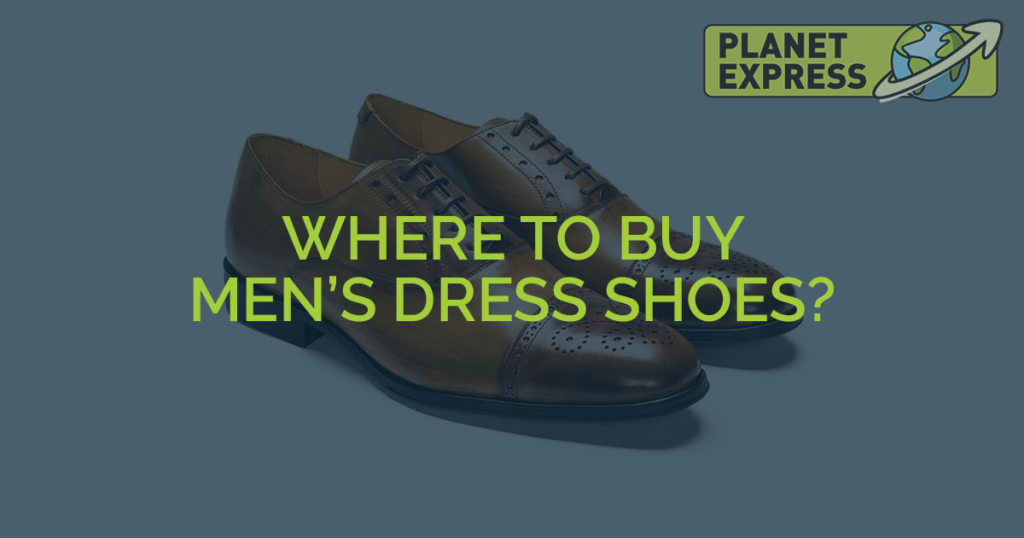 Speaking of formal dress shoes, Allen Edmonds is one of the most famous American shoe brands. Edmonds shoemakers make the shoes by hand from high-quality leathers. Some of their models were even worn by several American presidents (eg R. Reagan, B. Obama).
You will have to dig deep into your pocket for some of their models (the price can be as high as $1000). But you don't buy the shoes only but also a status symbol and high-quality product that will last forever. Make sure you spend some time choosing the right size & width of the shoe, it is worth it!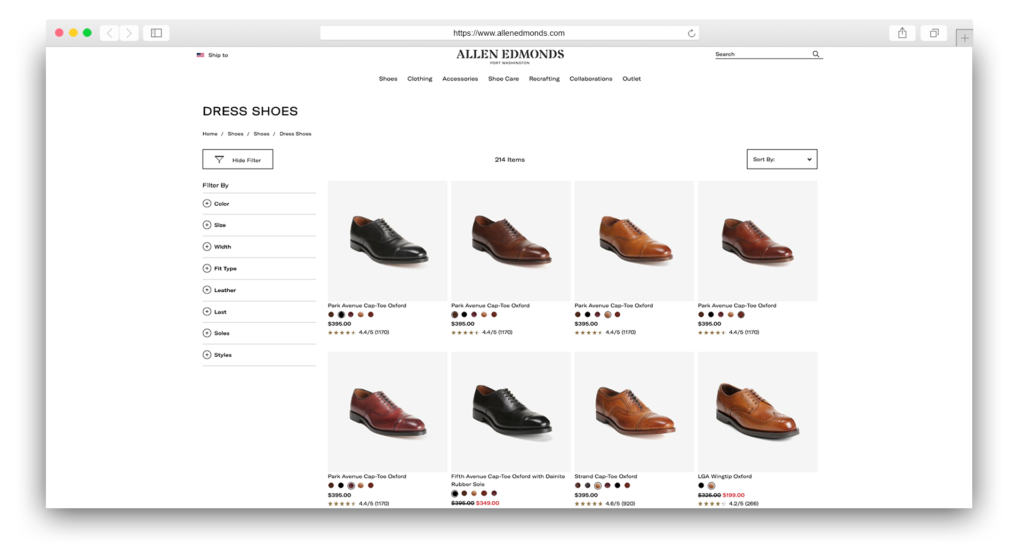 Clarks shoes are more affordable than Allen Edmonds. Yet, they look classy and elegant. The price for these shoes should not be over $250 mark. Furthermore, you can be proud of these shoes because they have almost 200-years tradition – the company was founded already in 1825. They produced more than 22 thousand of different styles for men, women, and children.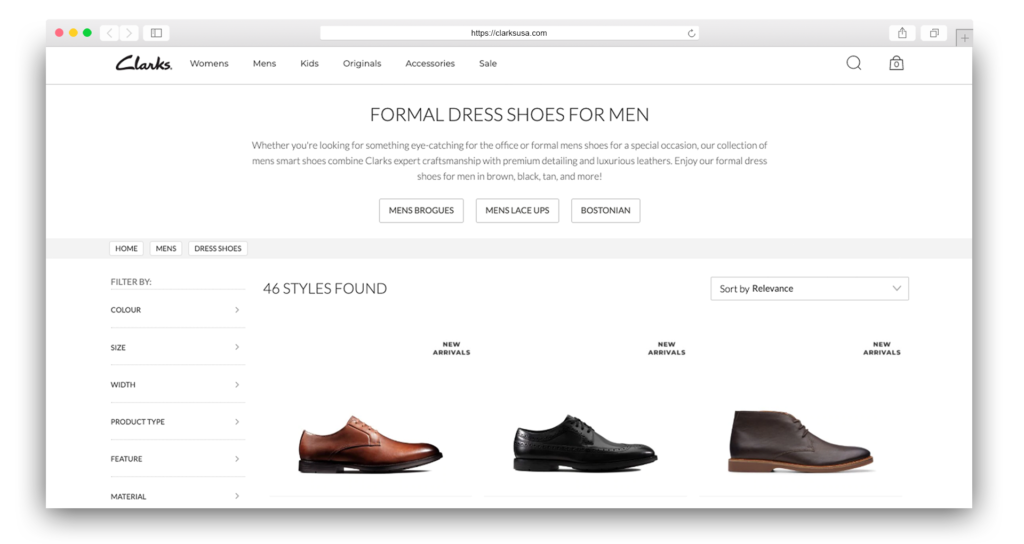 Another traditional, American manufacturer is without any doubt, Frye. Frye was founded in 1863 by a shoemaker from England, John A. Frye. Kind of a paradox, right?
The company offers high-quality leather shoes for men and women. Also other accessories like handbags, belts, etc. By the way, Frye works closely with Feeding America organization. They donate some percentage of their revenue to feed the people in need.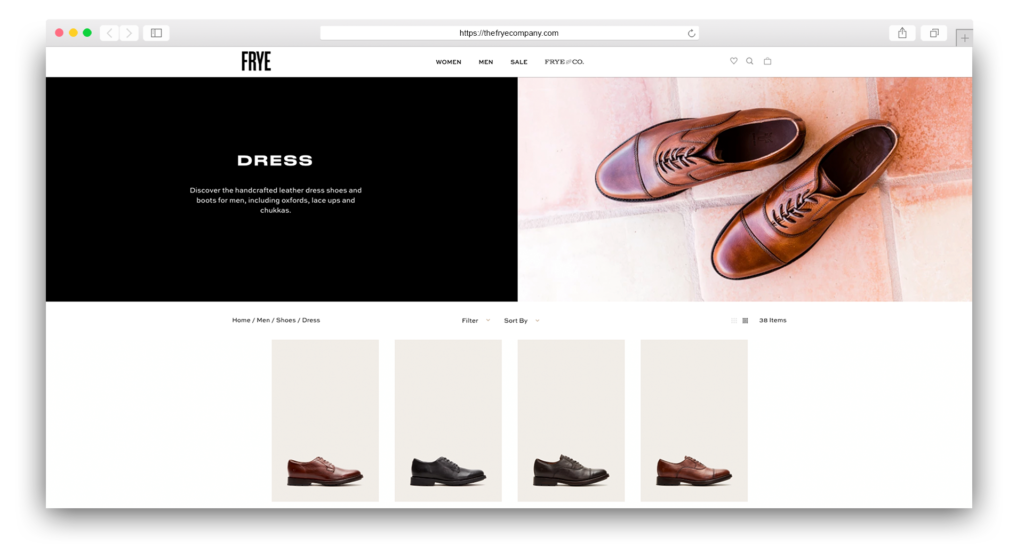 You can find a lot of departments at Macy's – from furnishings to your living room or bathroom, to jewelry, but last but not least, a large shoe department. Macy's offers a more traditional design with square toe shoes, as well as more modern with a round toe. Shoes are relatively affordable, the price of most of them ranges from about $50 to $300.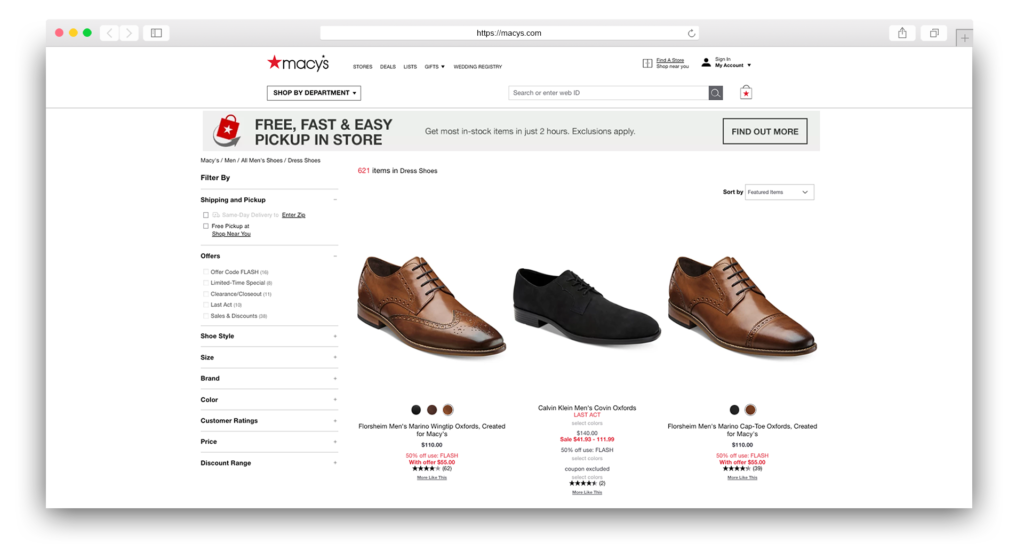 Thanks to the popularity of Nordstrom in the US, their site is full of customer reviews for each product. So you can easily avoid those models that don't offer as much quality as you need. The Nordstrom offer also includes the above-mentioned Allen Edmonds or Clarks, and many other, less popular brands.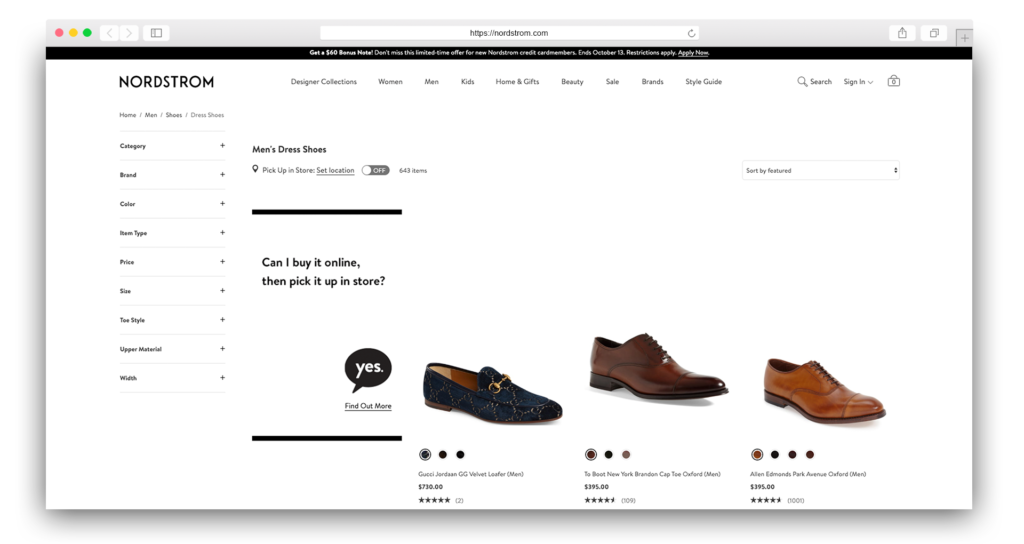 Handmade leather shoes from Rancourt & Co are also a good pick. And if you are a high demanding man, you will appreciate their tool for shoe customization. You can simply design your shoes! How cool is that? Select the color of the leather, lining or even thread that you like. These shoes will cost you around $400. Not bad, right?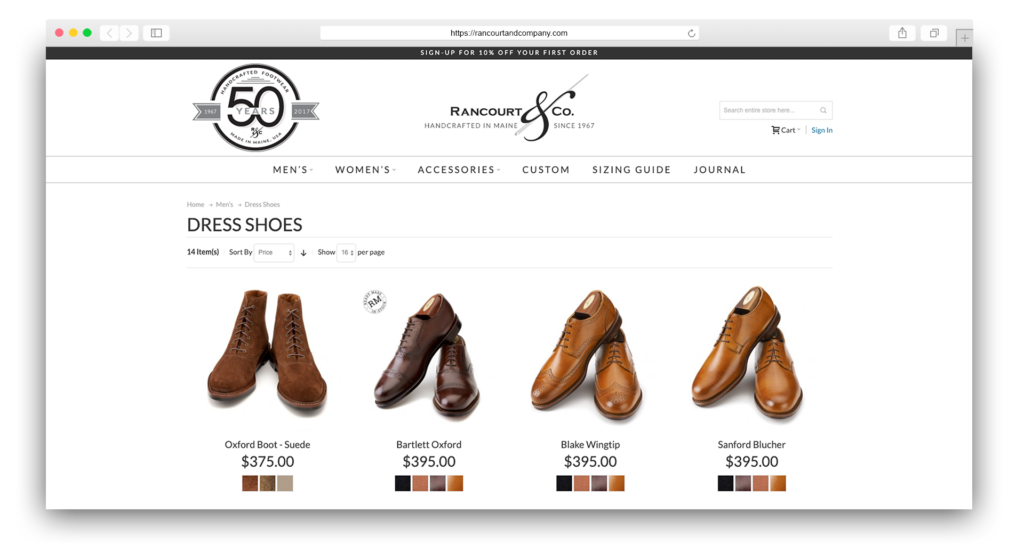 Modern shoes, suits, clothing, and fashion accessories can also be found at topman.com. If you are on a tight budget, it is one of the shops with the cheapest products in our overview. And if you like high soles, you will be particularly pleased, because Topman offers several models of shoes with higher soles.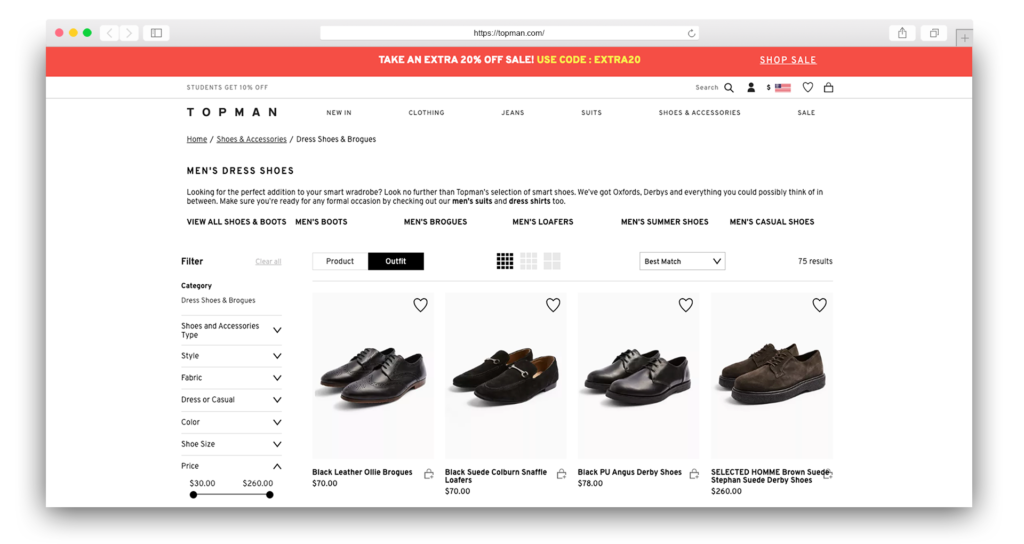 Undandy shoes are especially imaginative. With their shoes, you will stand out of the crowd. We also like their tool where you can design your pair of shoes (like Rancourt & Co). First, you select the toe form, then you can add patterns, select the leather and laces color, etc. If you like details, you can also pay for your name engraving.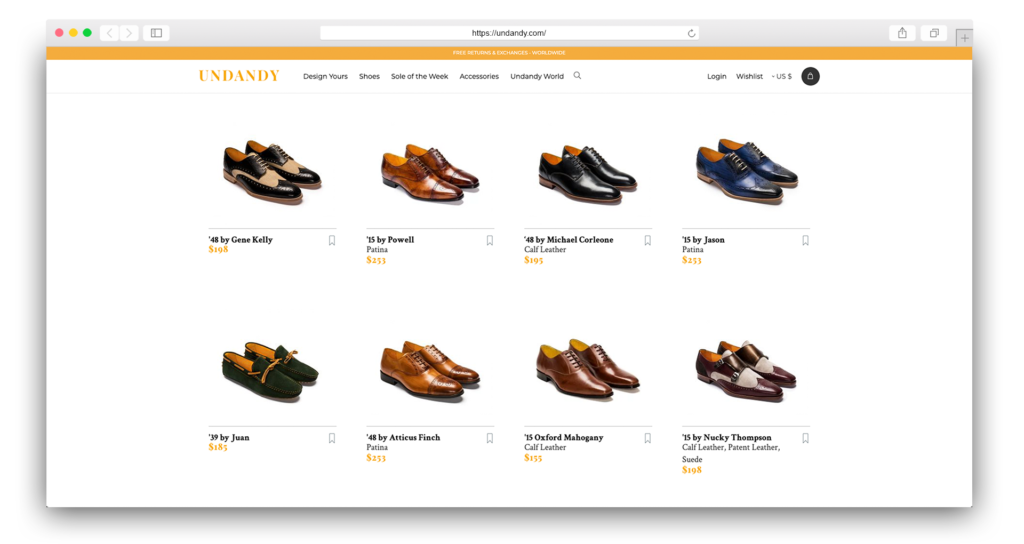 Zappos is one of the largest online stores with shoes, fashion, and other fashion accessories in the US. The offer is extremely wide. There are over 1800 different kinds in the men's dress shoe department. Thus, we recommend using filters. Select your price range first. Then continue with color, width, size, etc. This saves a lot of time when scrolling through the "endless" selection of the shoes.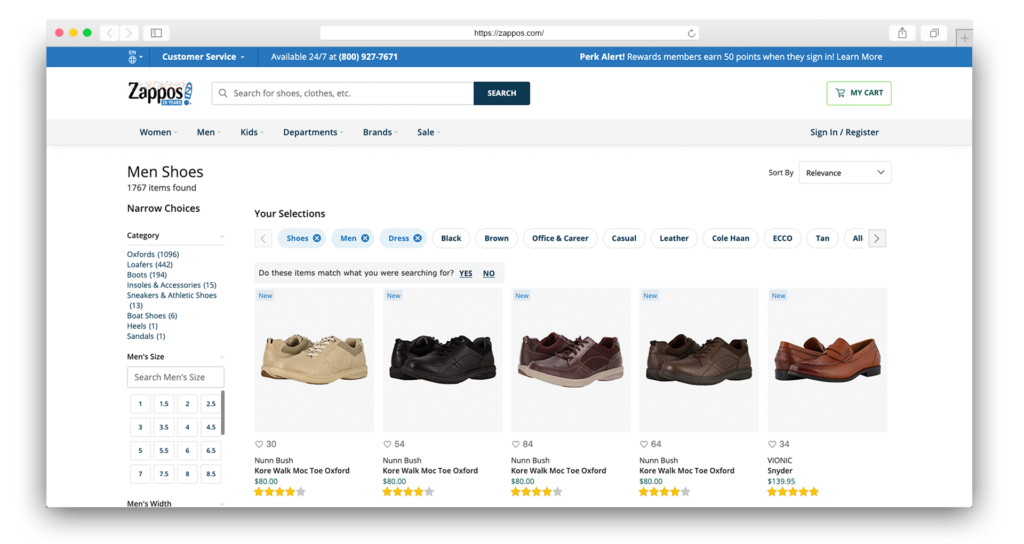 By the way, for Zappos, we have written a complete guide on how to send goods from the US to the whole world.