Have you found a specific product on the American eBay site or an auction, but the seller does not offer worldwide delivery? Read on, because on the following lines we will explain how to easily get a US address and let forward goods from the eBay right to your doorstep.
The whole process can be explained in 3 simple steps:
1. Register on our website and you get an American address (you will get a special suite ID#A1234). Goods from the eBay will be delivered to this address.
2. When we receive your package at our warehouse, we will send you an email. 
3. Then you fill in customs declaration, select the delivery method and we will forward the package to you.
The steps are described in more detail below.
Step 1: Make your Account with Planet Express and Get the US Address
In order to establish the US address for receiving goods from eBay, you must register to Planet Express. Go to planetexpress.com and click "NEW ACCOUNT". If you have an account already, just log in and follow Step 2.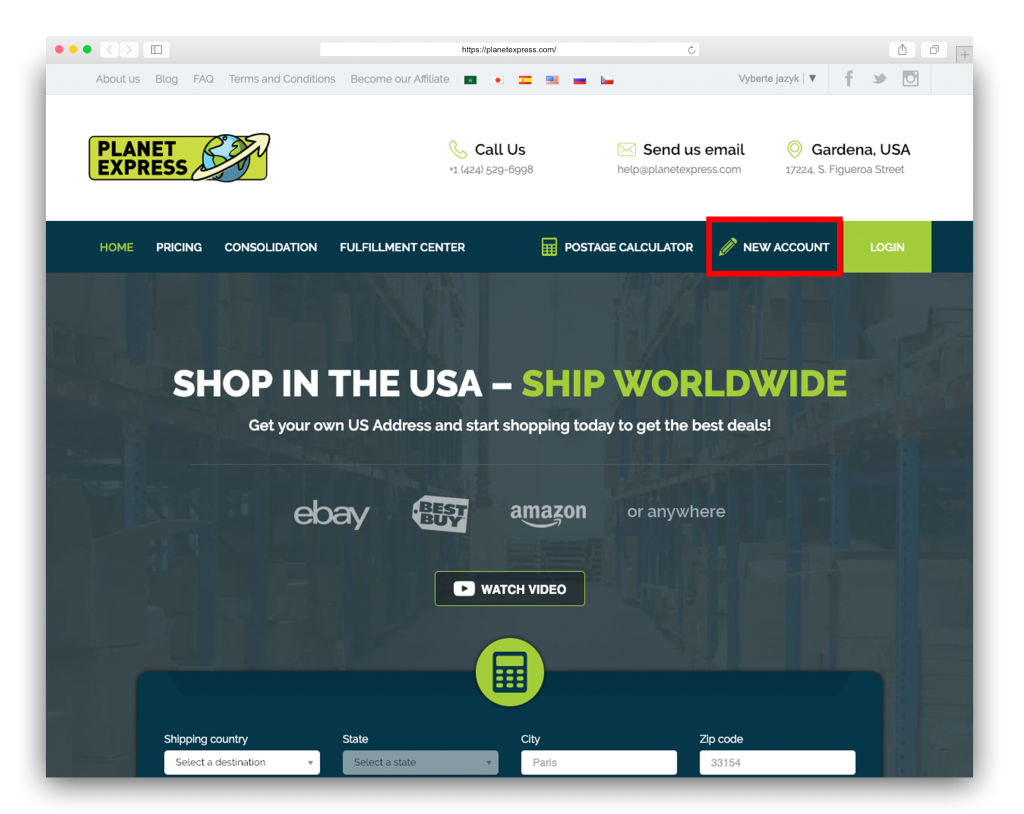 Here fill in your name, the country you live in, the preferred language, your email address and, of course, your password. To create a strong password, we recommend using one of the online passwords generators like Passwordsgenerator. Avoid using "123456", "password123" passwords, etc.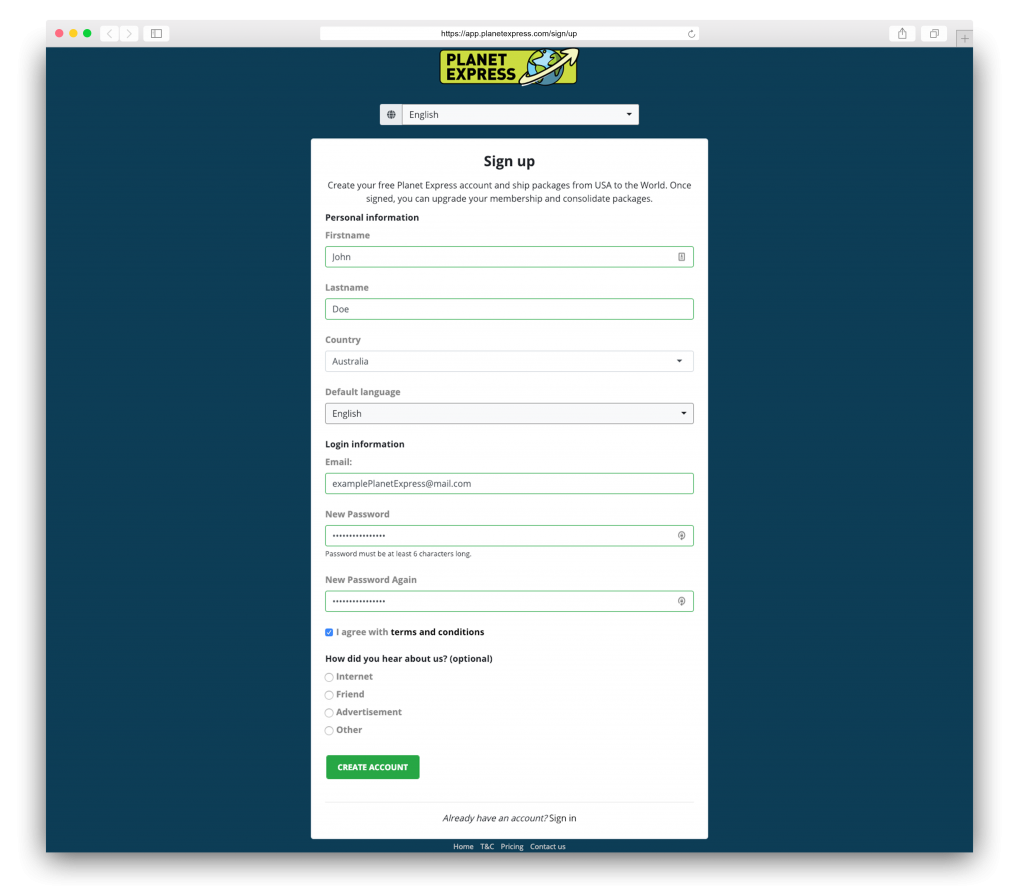 Confirm your Email Address
We have to be able to communicate with you and send you notifications, so you need to confirm your email address. Sometimes it happens that our email will fall into the spam/advertising tab, so if you don't get our email for a long time, check these folders. If you have any problems, contact us.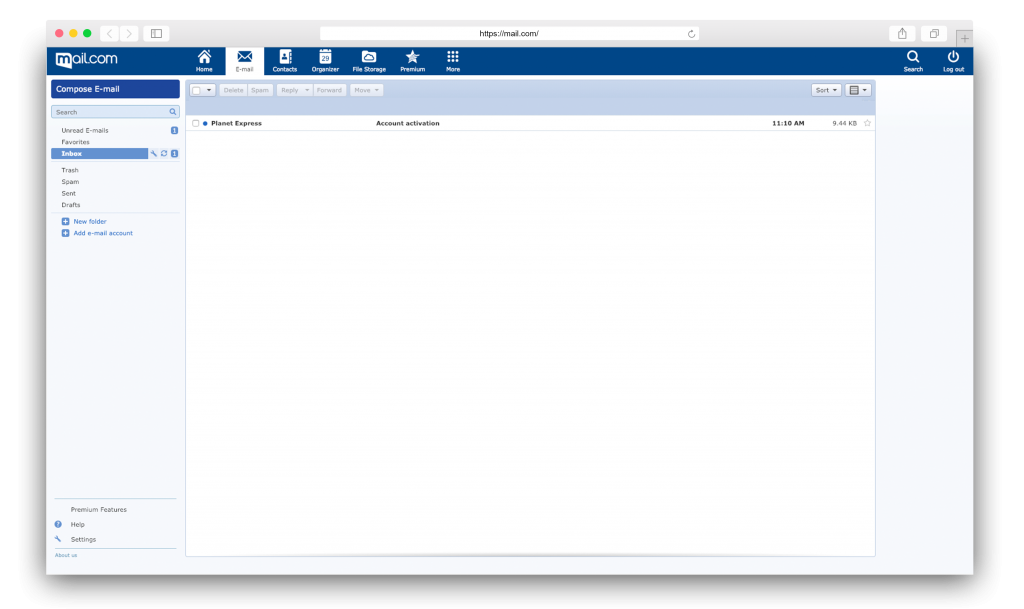 Confirm your address by clicking the button in the email and log in.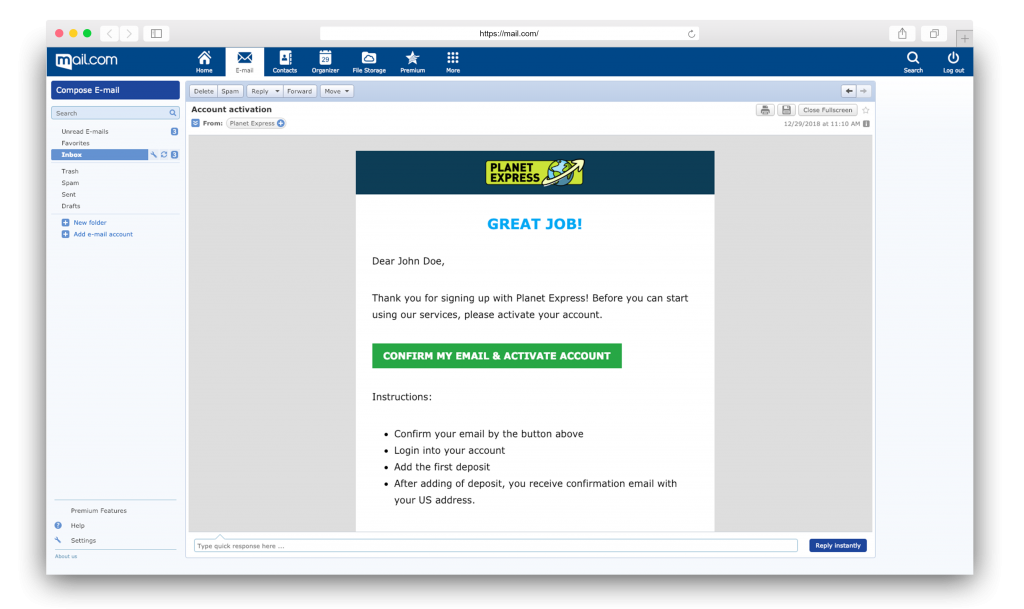 Get your US address for Shopping on eBay
Once you have signed in, you will get to our administration system. Fill in your delivery address (the address can be edited later or add additional addresses).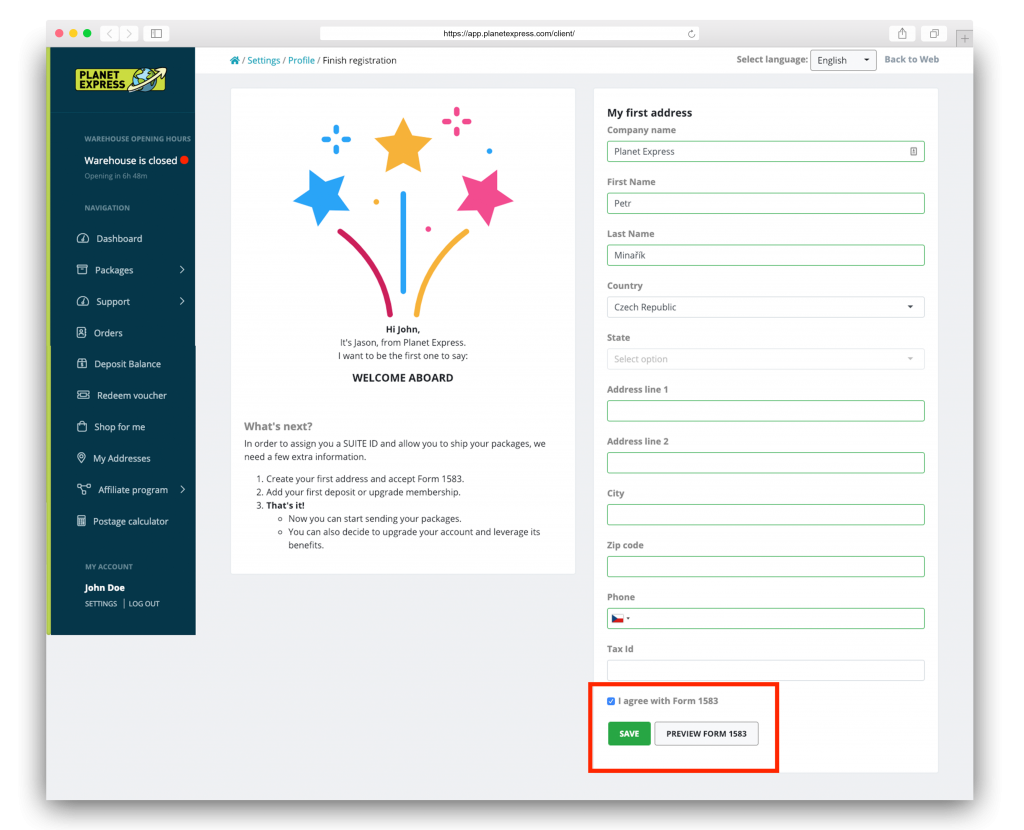 It is necessary to pay a deposit of $5 to activate the American address. We will credit this deposit to your account as a shipping credit for paying postage costs and other services. You will not lose this money. Add the deposit by clicking the "ADD DEPOSIT" button.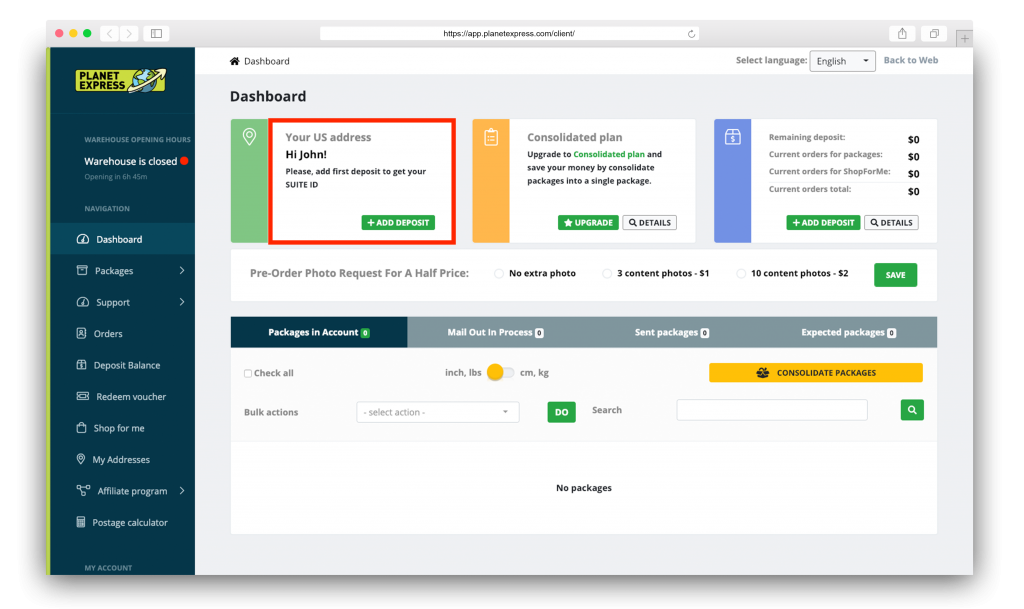 You can choose from different payment methods.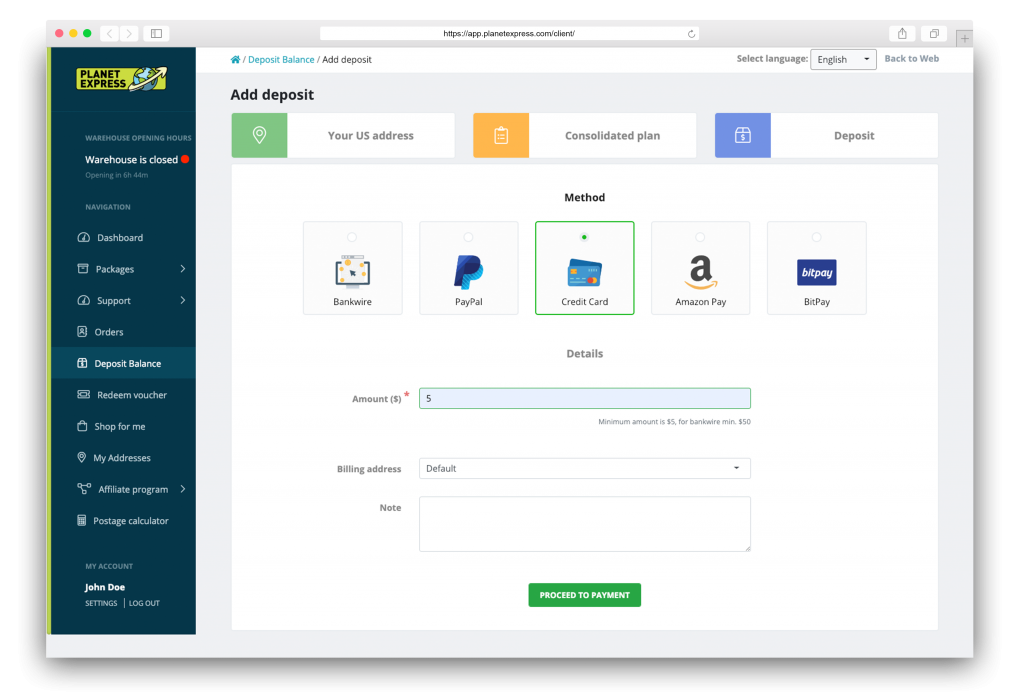 Continue to payment and enter the required credit card details. For successful payments, it is necessary to allow online payments and you have to have a sufficient balance on your bank account.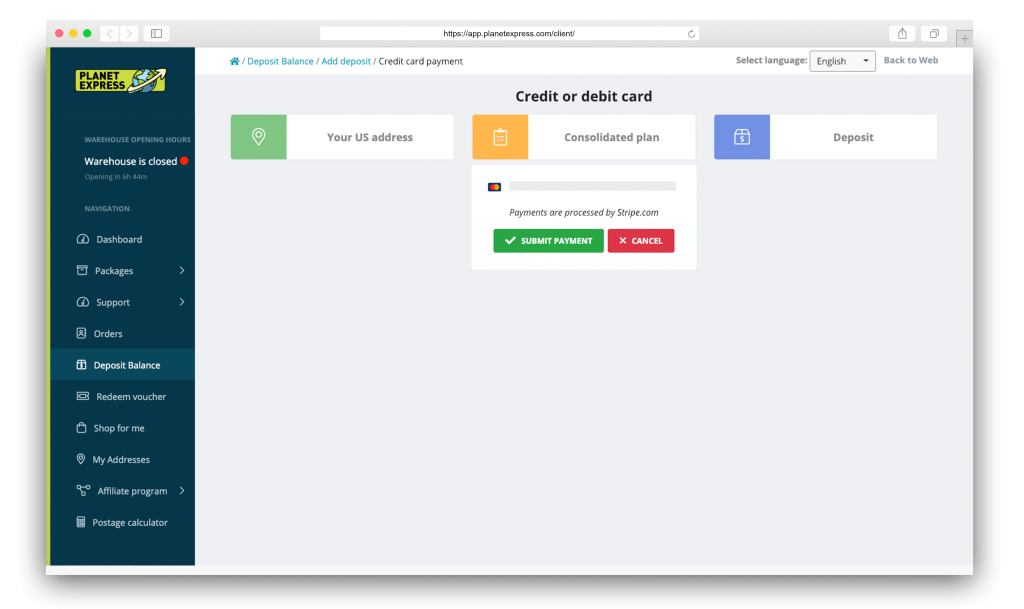 You can recognize the successful payment by crediting the deposit as well as by viewing the payment in the payments overview.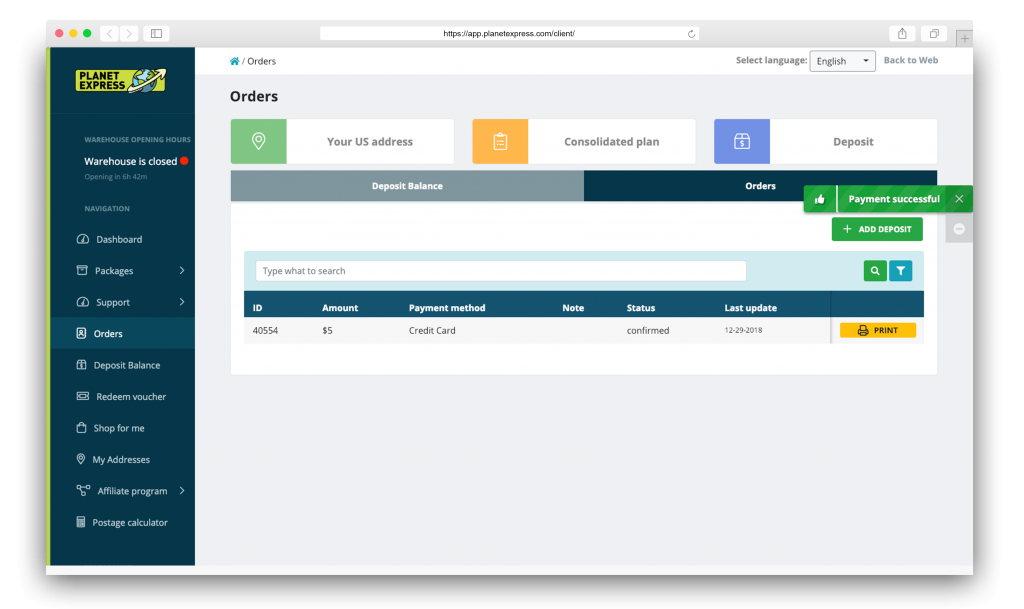 After successful payment, you get a US address with a special suite ID #A1234.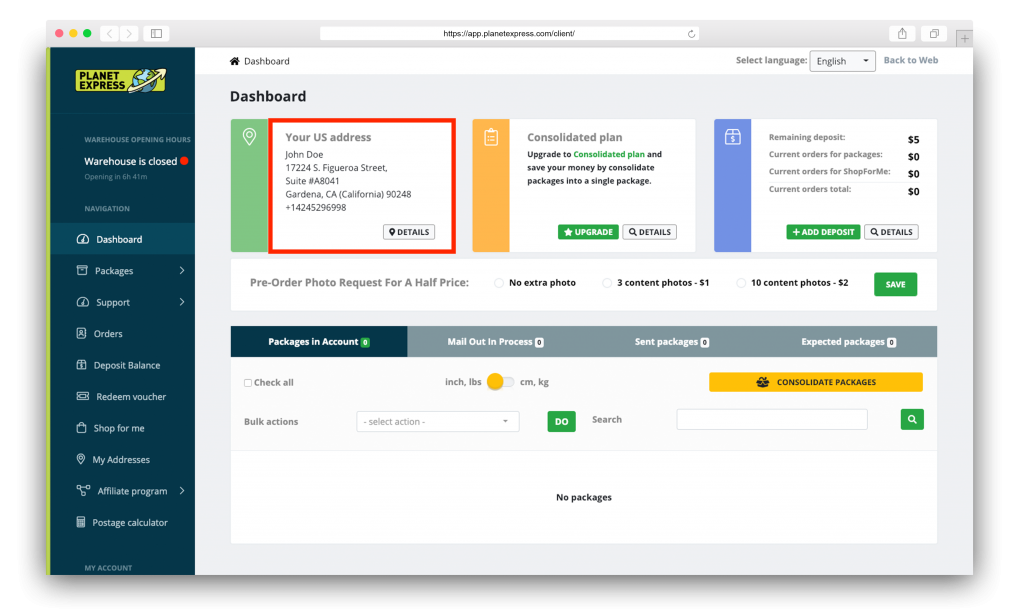 Your US address will look like this:
Name Surname
17224 S. Figueroa Street, Suite #A1234
Gardena, CA (California) 90248
+14245296998
You can find your address directly on the main page (Dashboard) of your account. With this address, we will shop in step 2 when ordering goods from eBay.
Step 2: Order the Goods from eBay.com
You have your US address. Now we can continue to the order. We will show you that on an example of buying a book End Of Procrastination.
Go to ebay.com and select the goods you want to order. Click on "BUY IT NOW" button. If you want to buy goods that are listed as an auction, you have to watch the goods by your self. Anyway, the Planet Express address can be used for the delivery.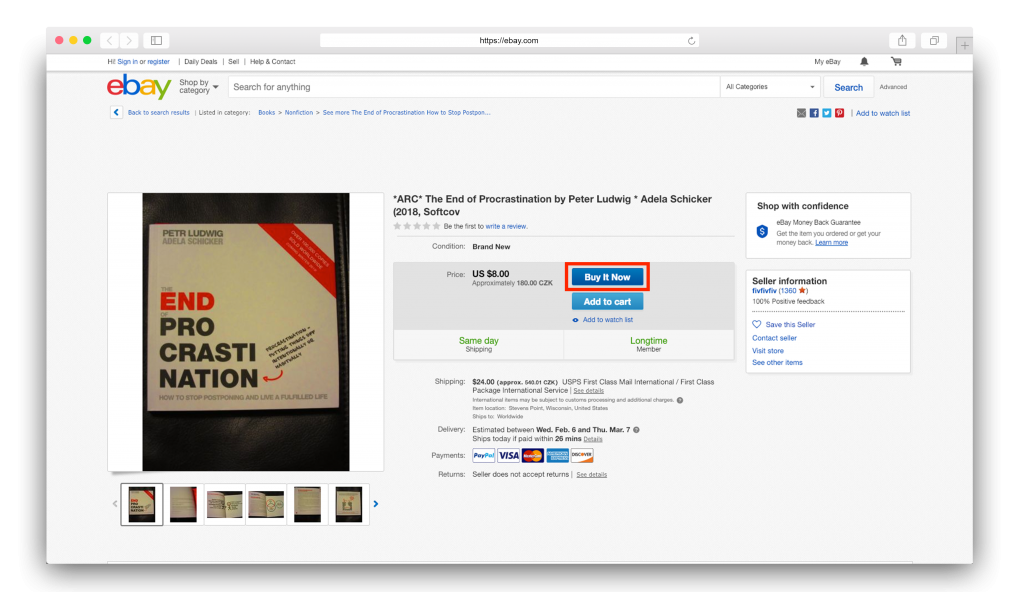 You will see a window where you will be asked to sign in or you can shop as a guest. We've chosen to "CHECK OUT AS GUEST", but nothing prevents you from signing in to your eBay's account. The only difference is that when you sign in, your address will be pre-filled. Make sure you use your US address.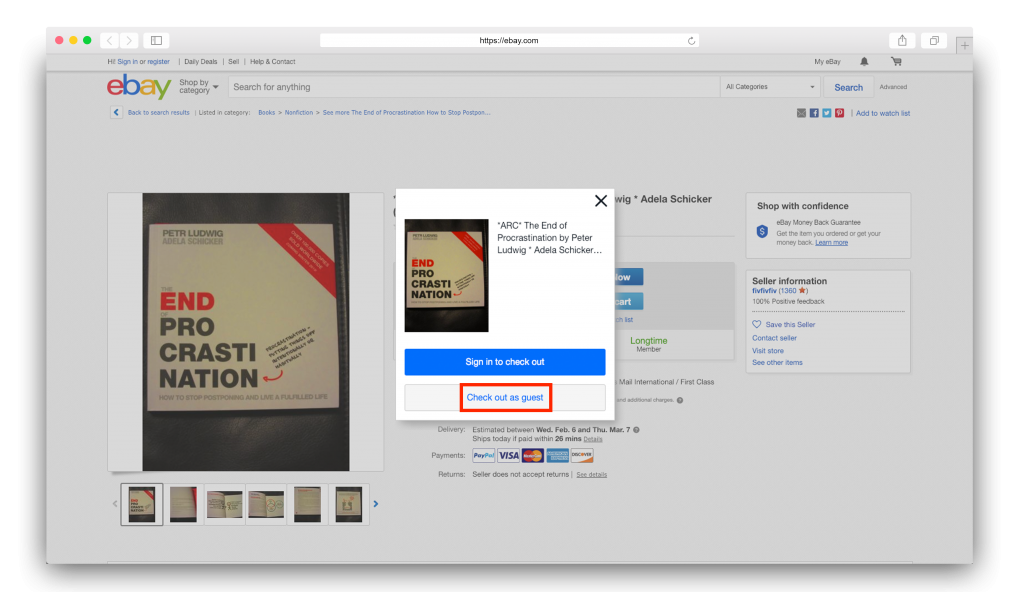 Now fill in the delivery address. If the seller does not provide international transport from eBay to your country, fill in the address you get from us. It is very important to fill your suite ID. According to it, we know which account to assign the package to.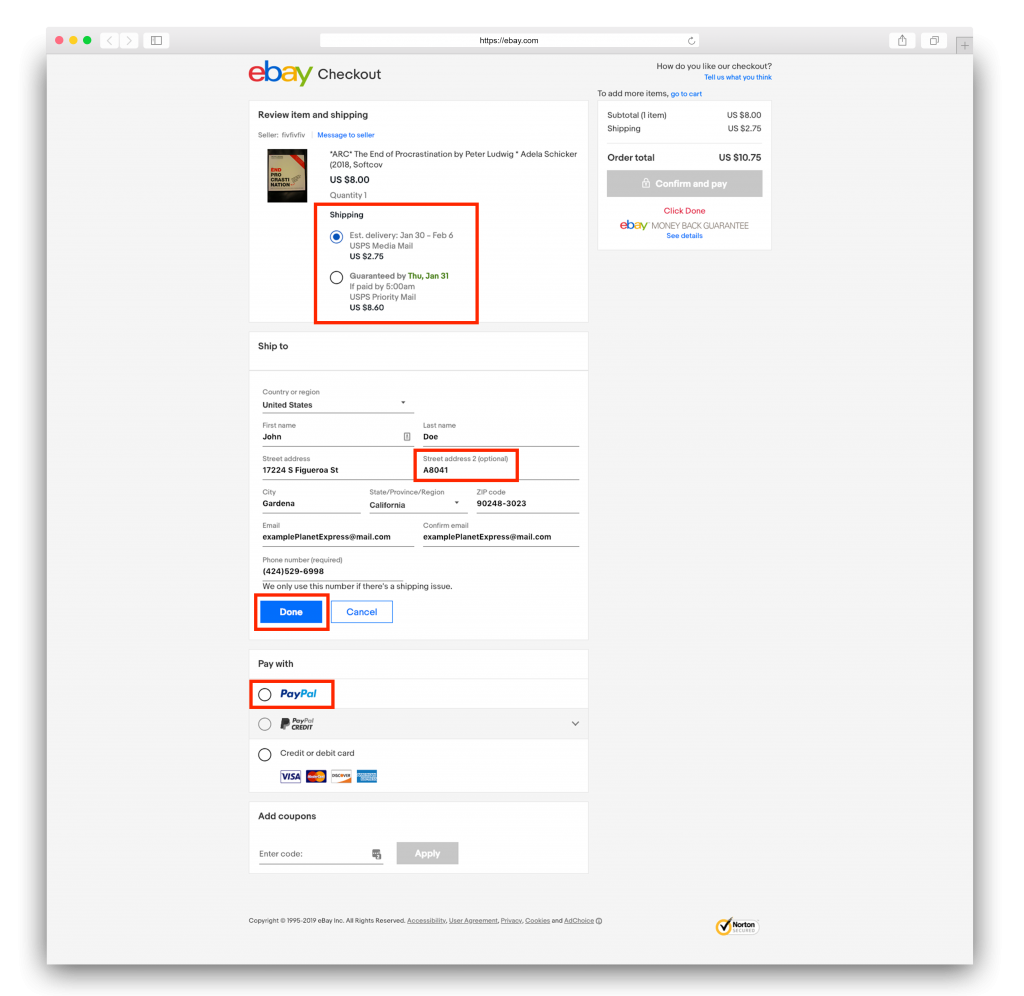 Choose your preferred shipping method, we chose Paypal. A login window opens. Subsequently, follow the instructions.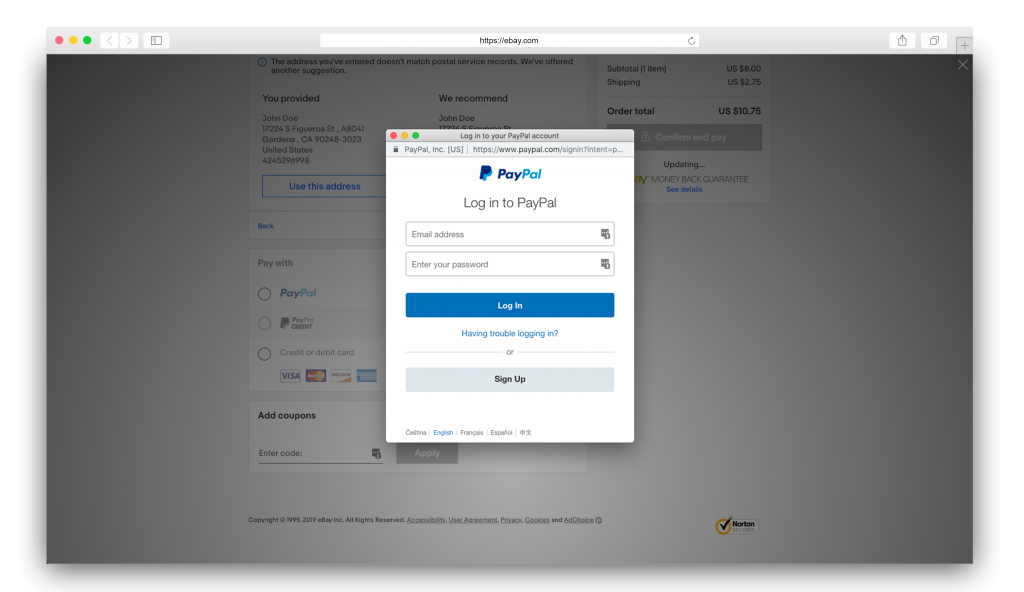 When you finish your order, it takes a few days before we receive your package in our warehouse. Then we will send you a notification email. If no email arrives, it can mean several things:
1. The email has been delivered to you but was marked as spam. Look for the spam folder.
2. The package didn't arrive in our warehouse - the vendor has either deceived you (in this case, you can report that to the eBay and our support teams immediately) or is still on its way.
3. The package arrived at our warehouse, but due to the absence of an identification number, we do not know which account to assign it to. In that case, please contact us at [email protected] and send us proof (invoice) that you have paid the goods. We will then link the package to your account.
Step 3: Forward your Package to your Country
As soon as we receive your package from eBay, you are only a short step from forwarding it to your country.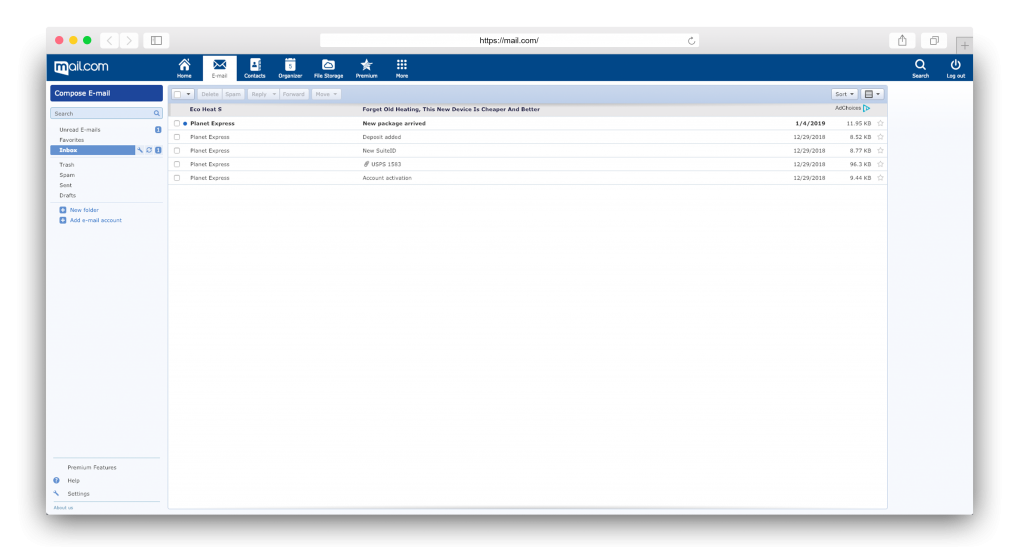 Click on the button in the email and go to our administration.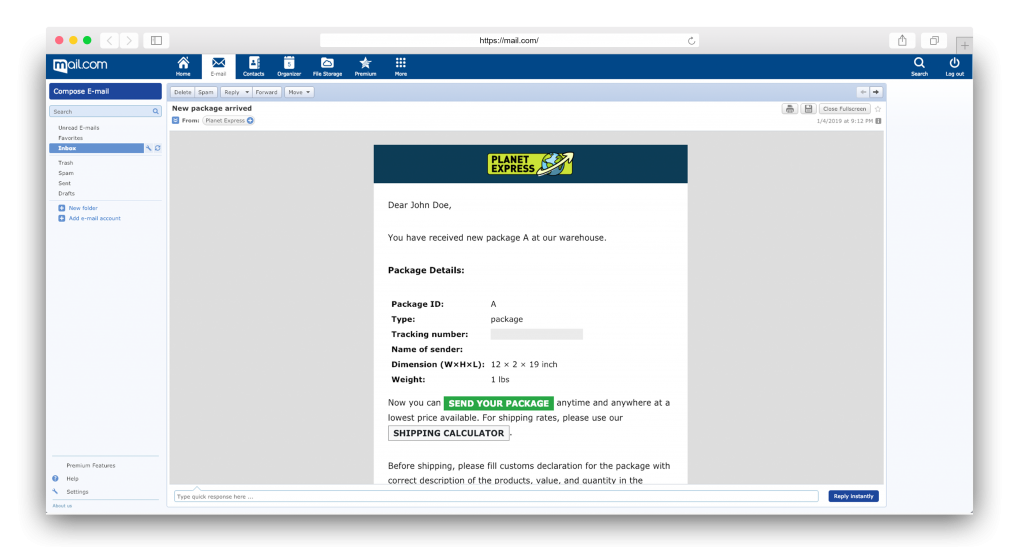 Sign in to your account and complete the customs declaration.
What is the Customs Declaration and Why to Fill it in?
The Customs Declaration is a document that is used to verify the contents of a package during the customs control. IT helps to have control over the movement of goods into the country. It is, therefore, necessary to fill it in. Without a completed customs declaration, the package cannot be sent. Remember, if the package value exceeds the de minimis value for your country, you will have to pay customs duties from it. Unfortunately, there is no 100 % how to avoid customs duties.
Tip: Use the Simply Duty tool that helps you calculate the customs duties.
The second reason why you should fill in the customs declaration is insurance. If something bad happens during transport and the content will be damaged, you will be refunded from the value in the declaration. For example, if you fill in $10 in your customs declaration, you will be refunded $10 (+ cost of the shipping), regardless of the item's value.
How to Fill in the Customs Declaration?
Now you know what is customs declaration. Let's fill it in.
The fields are explained below:
Product description – what is inside of the package? Please, fill it in English.
Quantity – how much is it?
Value – what is the value of one piece in American dollars (USD)?
Origin – where it comes from? (usually the USA)
Batteries – does the package contain batteries?
And now practically on our example with the book, This is Marketing by Seth Godin: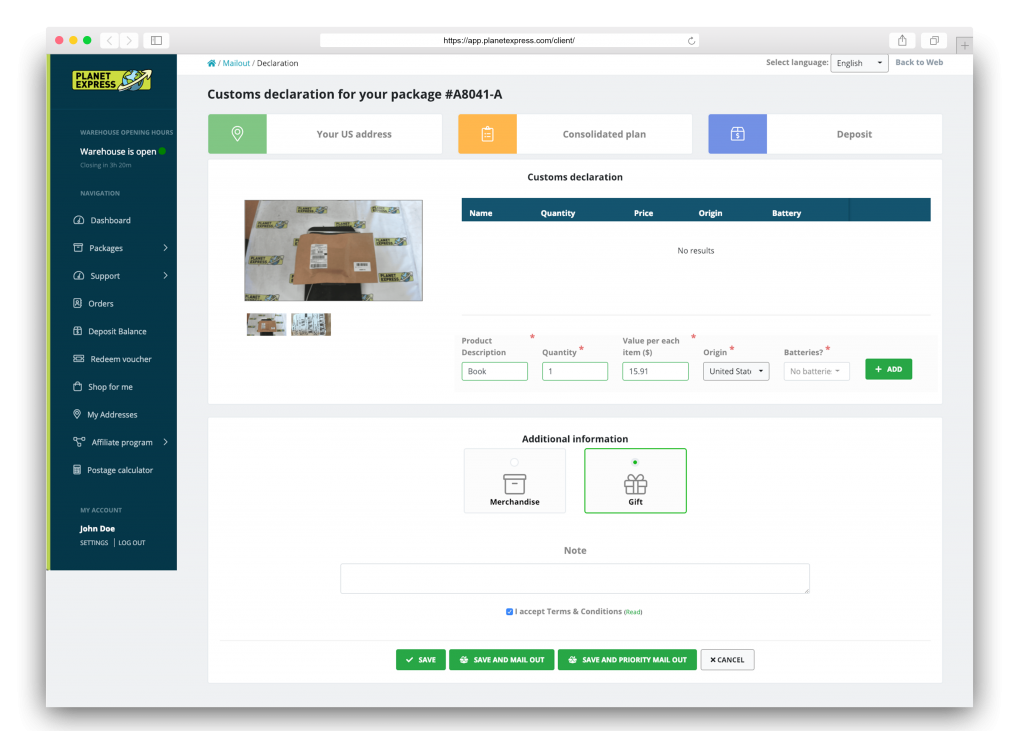 Add the product by clicking on the "ADD" button. Save it by clicking "SAVE".
Feel free to watch our How to fill in customs declaration tutorial.
The Mail out of your Package
If you have a completed customs declaration, the last steps are left to send the package. First, select a shipping address: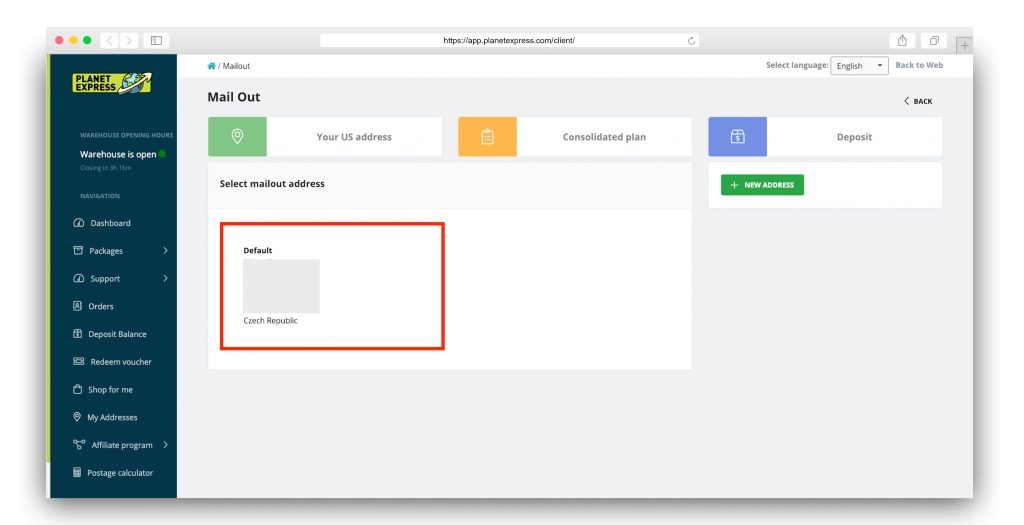 Then choose your preferred shipping method - for more expensive goods, we recommend using shipping methods that offer more detailed tracking of the package (DHL, FedEx). However, if you want to save your wallet, use methods such as Planet Mail Economy/Express or USPS Economy/Priorities.
We also recommend that you pay for insurance of the package. If the package gets lost or damaged, which happens sometimes in logistics, you will be refunded from the value in declaration + postage costs.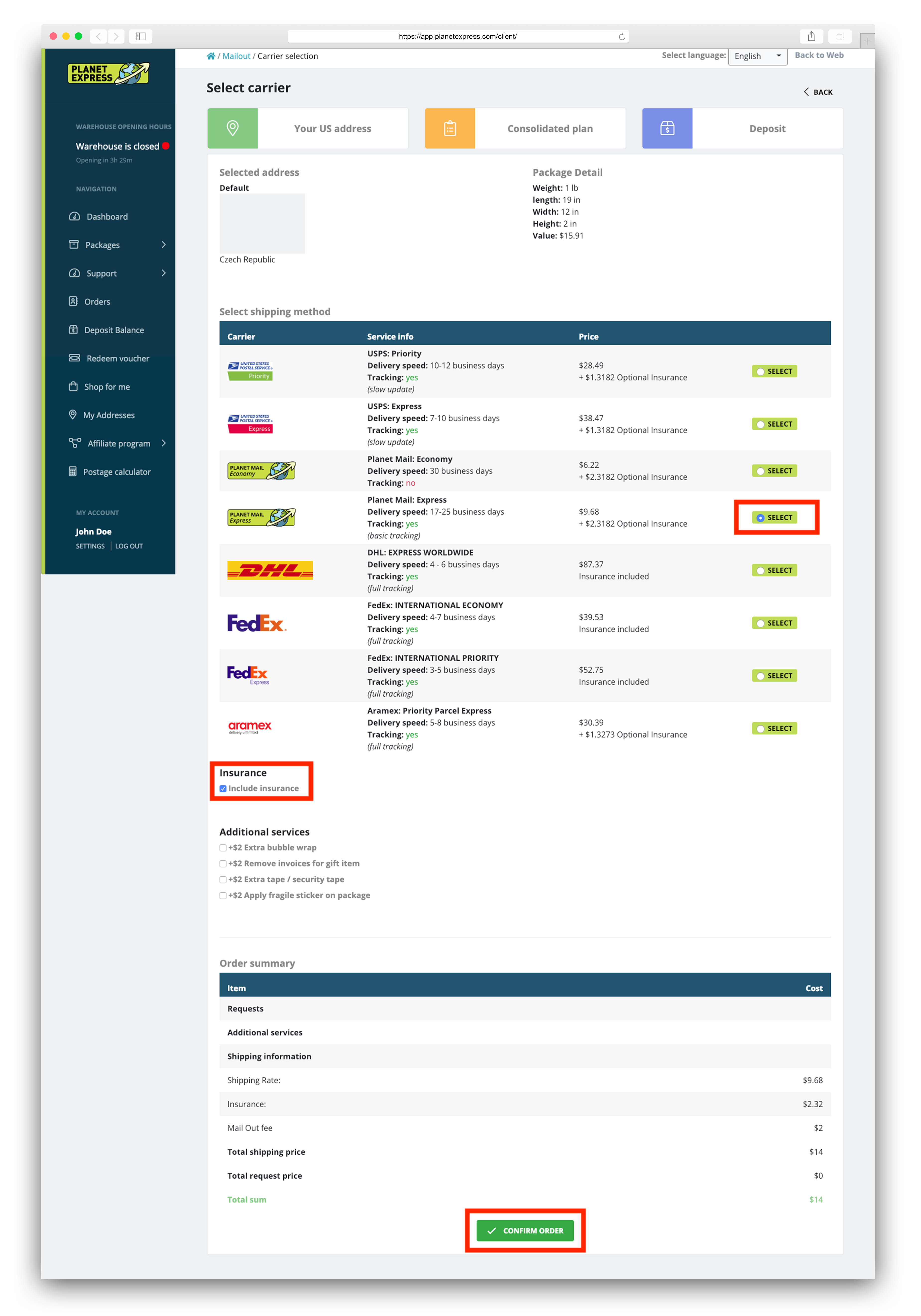 Feel free to watch our tutorial on How to send the package.
Track, Open and Check the Package
All delivery methods provided by us (except for Planet Mail Economy) offer package tracking. You can track it by clicking "TRACK PACKAGE" in the administration.
Once the package arrives at your home, check it properly and make sure its contents are okay. In case of any doubt, please contact us. Attach photos of the damaged package as well as its contents to the attachment.
In the summer we also published an unboxing video for you.
Tip: Feel free to watch our video tutorials.
Why Choose Planet Express?
For your comfortable shopping experience, we offer several useful services.
Why are our Prices so Low?
The whole principle of package forwarding from the US is based on the fact that we collect a large number of shipments in one place. This means that we are able to negotiate better rates with carriers (DHL, FedEx, USPS, Aramex, and others) than if you wanted to ship goods from eBay using a courier.
Customer Reviews of Planet Express
Read reviews of our customers on one of the following sites.