The world was hit by tragic news on Monday, the 27th of January. Kobe Bryant, his daughter, and 7 other people died in a helicopter accident. This legendary Los Angeles Lakers player was only 41 years old. It's no wonder that his fans want to buy his jersey. The problem is that Kobe Bryant's original jersey is sold out at most online stores. At the end of this article, we would like to honor his memory with a brief summary of his career.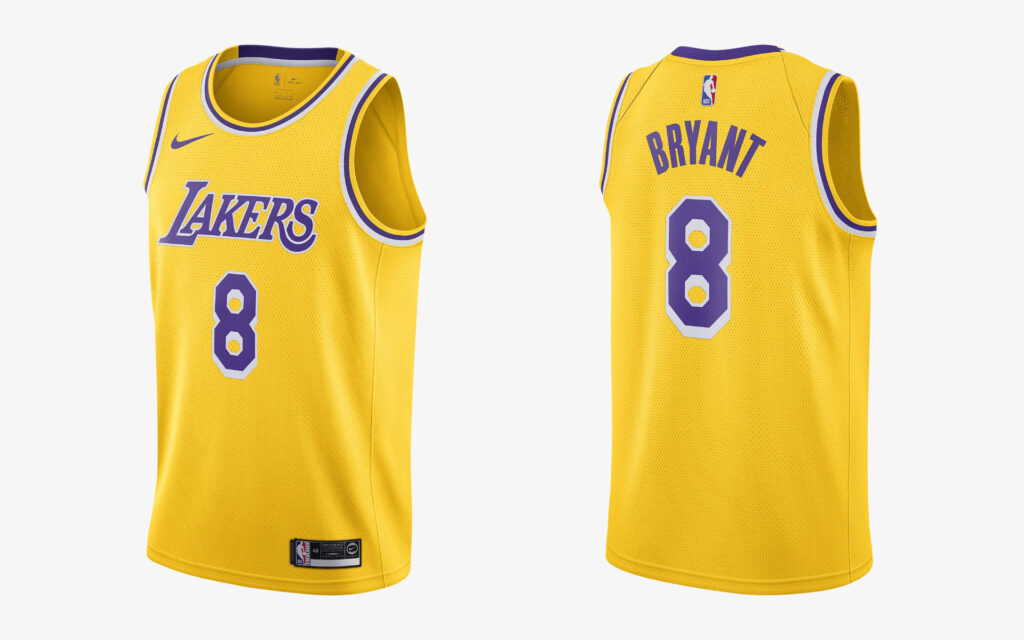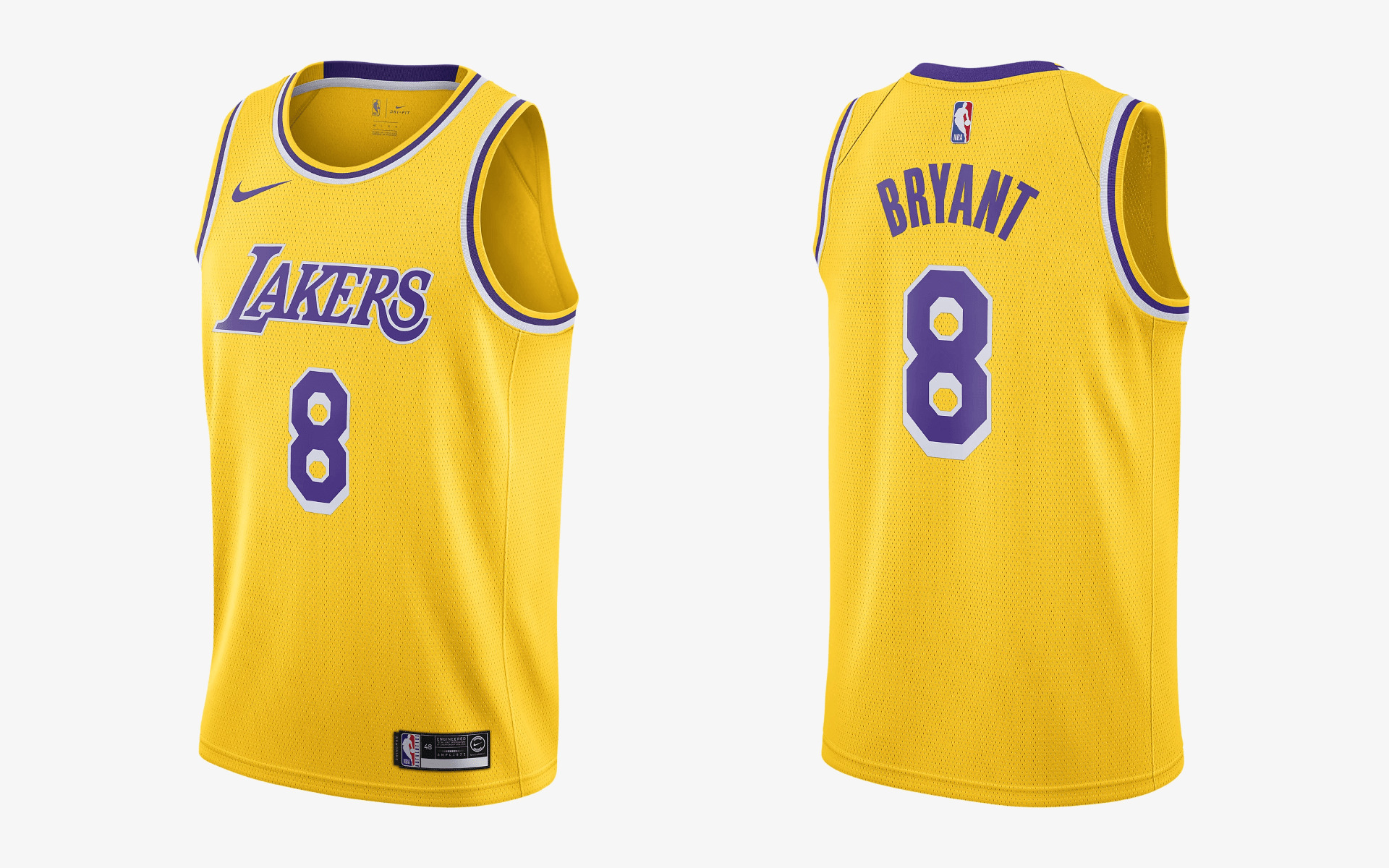 ---
Where to Buy Bryant's Jersey And Ship It Internationally?
Getting Kobe's original jersey became a big challenge after his death, CBS reported. Kobe wore the numbers 8 and 24 on his back during his career in NBA. It depends on which one of the two numbers you want, or whether you want to dig deeper into the history and look for Kobe's high school jersey with number 33.
The official NBA online store was sold out within hours after Kobe's death, and you probably won't be able to get into the league shop in New York. And even if you do, the jerseys are there sold out too. The situation is the same at Nike.com. So where to buy the jersey?
If you are not lucky and one of your local stores does not have Bryant's jersey in stock, probably the only places left are the online marketplaces like eBay.
With or Without Signature?
One of the other fundamental questions is whether you want a jersey with or without Kobe's signature. For example, the first out of 8 limited jerseys is sold for over $99.999 at eBay.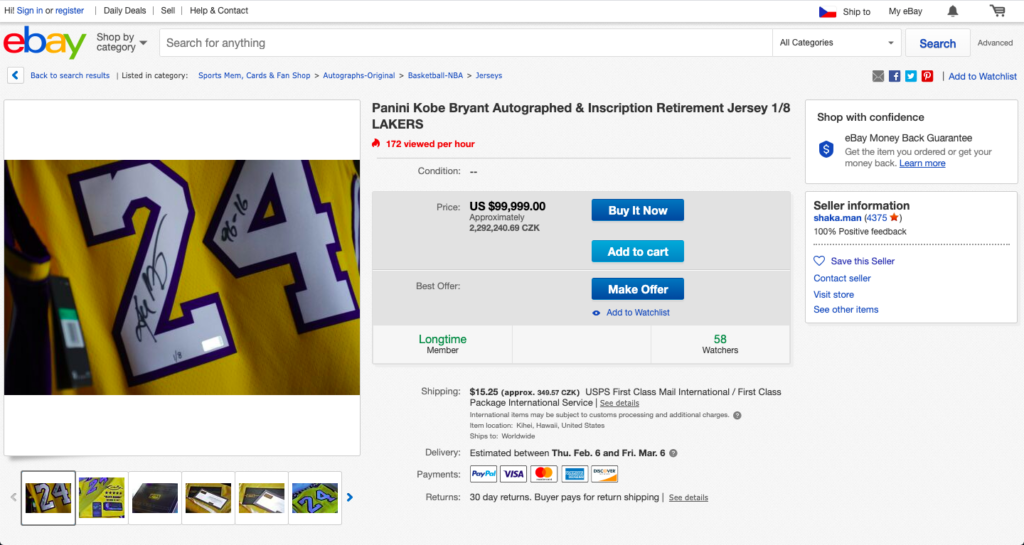 However, if you are satisfied "only" with a signed jersey that does not belong to the above mentioned limited edition, you will have to pull out of your pocket thousands of dollars. Thus, for the "normal" people, the last option will probably be the way to go.
Of course, there are also unsigned jerseys. When buying the jersey, pay particular attention to fakes. There are a lot of them on eBay. Be aware of the seller's rating and possibly request a larger number of photos to avoid being fooled.
---
How To Get Kobe Bryant's Jersey To Your Country?
Some eBay sellers may refuse to send the jersey outside of the US to your country. In this case, you can use our package forwarding service from the US. It works in 3 simple steps:
Sign up and get a free US address from us.
Order Bryant's jersey and wait for the delivery.
Complete the customs declaration online and select the shipping method to your country.
Read the detailed instructions on how to order from eBay to your country via Planet Express can be found on our eBay page.
You can take advantage of our additional services, such as taking additional photos of the contents of the package. It helps you to verify that you are not a victim of a scam and the content is exactly as you requested.
The price of the shipping to your country varies depending on the size of the package, its weight, and the chosen shipping method. You can calculate it using our calculator.
If you have any further questions, contact us.
---
Who Was Kobe Bryant?
Whether you or your children belong to Kobe Bryant's fans, or you only learned about him for the first time thanks to his death, let's briefly summarize his career.
Kobe started basketball at the age of three, mainly thanks to his father, who played basketball professionally until 1991. Kobe stayed with basketball, although there was not much left and could have been a soccer player. In high school, he played for Lower Merion High School. He won a national title in his graduation year and went from high school straight to the NBA, which was not quite common and until then only 6 players had found the courage to do that.
Kobe joined the Lakers (where he stayed until the end of his career). He gained experience from greats like Michael Cooper and Larry Drew. Kobe was the youngest player in the team's lineup during his first season in NBA. He was the youngest player of the All-Star game during his second season, and he has already signed a fabulous $70 million contract during the third season. In the playoffs, however, he suffered and achieved results below expectations. The next season, however, he began to improve. Also thanks to Bryant–O'Neal cooperation, the Lakers won the title three times in a row (2000–2002).
The Lakers basketball players lost the title in the following years, but Bryant got to the Hall of Fame thanks to his performance. E.g. in 2006 he scored 81 points in one match which is the second-best score (Wilt Chamberlain holds the record, he scored 100 points). Bryant also won the Most Useful Player Award (MVP) in the 2007/2008 season.
In 2008 and 2012 he won the Olympic Tournament with his teammates for the United States. In 2013, he scored more than 30,000 points as the youngest player in history. The seasons in 2013-2015 were marked by numerous injuries and although Bryant returned, he decided to end his career in 2016.
10 Awesome Kobe Bryant's Statistics
There is no doubt Kobe Bryant was one of the best basketball players of all time. Have a look at the following numbers:
| | |
| --- | --- |
| Games Played | 1346 |
| Minutes Played | 48 654 |
| Points | 33 634 |
| Field Goal Percentage | 44.7 % |
| 3 Point Field Goals Percentage | 32.9 % |
| Free Throw Percentage | 83.7 % |
| Blocks | 640 |
| Assists | 6306 |
| Most Points In One Game | 81 |
| Number of Olympic Gold Medals | 2 |
Source: stats.nba.com