Našli jste na americkém Amazonu určitý druh zboží, ale zjistili jste, že není dostupná doprava do České republiky, případně na Slovensko? V tom případě jste u nás správně, v následujících řádcích totiž vysvětlíme, jak si snadno a levně přeposlat zboží z Amazonu až k vám domů.
Celý proces lze shrnout ve 3 jednoduchých krocích:
1. Registrujete se na našem webu a založíte si americkou adresu. Na tuto adresu (adresa našeho skladu v Kalifornii) budete moci objednat zboží z Amazonu. Abychom váš balík identifikovali, získáte speciální identifikační číslo ve tvaru #A1234.
2. Následně si na námi zřízenou americkou adresu objednáte vámi vybrané zboží. Jakmile balík přijmeme v našem skladu, pošleme vám email.
3. Poté už jen vyplníte celní deklaraci, vyberete si přepravní metodu a my vám balík pošleme až k vám domů.
Jednotlivé kroky podrobněji popisujeme níže. 
KROK 1: Registrace do služby Planet Express a založení americké adresy
Abychom vám mohli založit adresu pro přijímání zboží z Amazonu, je nejdříve potřeba se zaregistrovat. Přejděte na stránku planetexpress.com a klikněte na tlačítko "Nový účet". V případě, že již účet máte, stačí se přihlásit.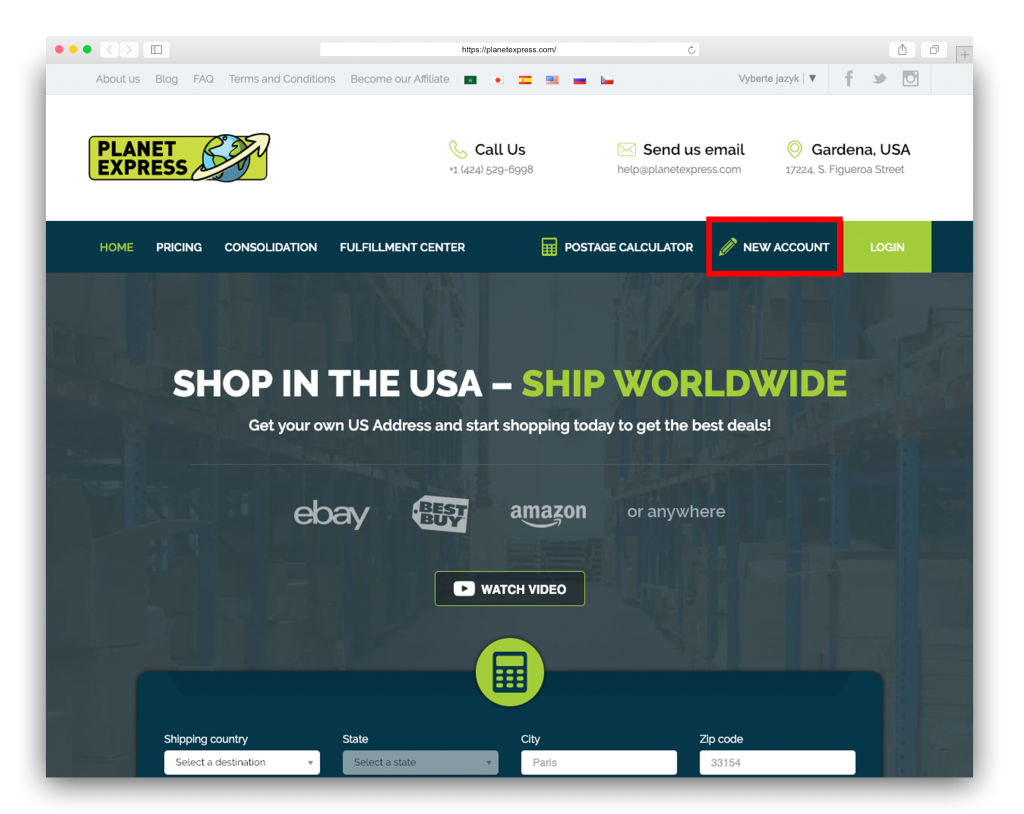 Zde vyplňte vaše jméno, zemi, ve které žijete, preferovaný jazyk, vaši emailovou adresu a samozřejmě také heslo. Pro vytvoření silného hesla doporučujeme využít některý z online generátorů hesel typu Passgenerator.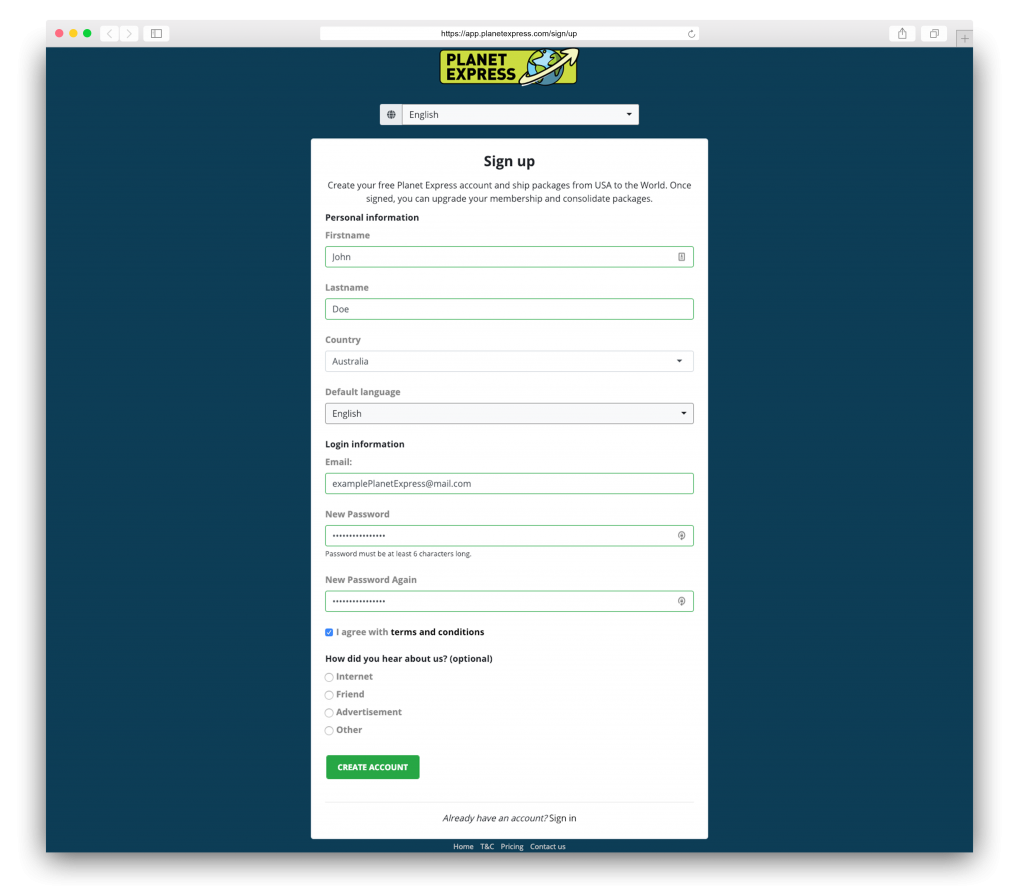 Potvrzení emailové adresy
Abychom s vámi mohli komunikovat, potřebujeme, abyste potvrdili vaši emailovou adresu. Občas se stane, že náš email spadne do záložky spam/reklama, pokud vám tedy email delší dobu nepřichází, zkontrolujte si prosím tyto složky.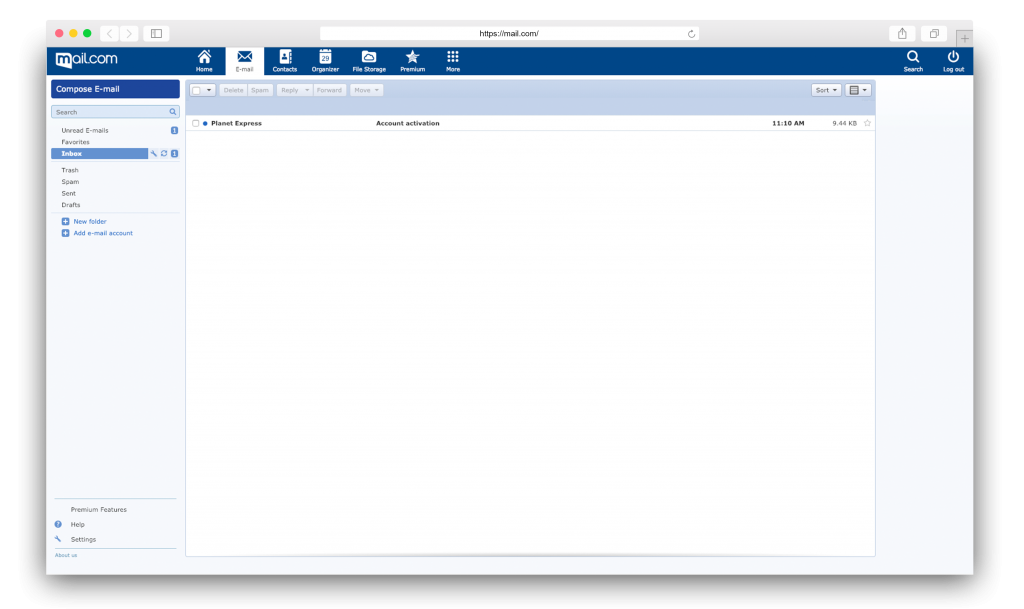 Následně už stačí jen kliknout na odkaz v emailu a přihlásit se.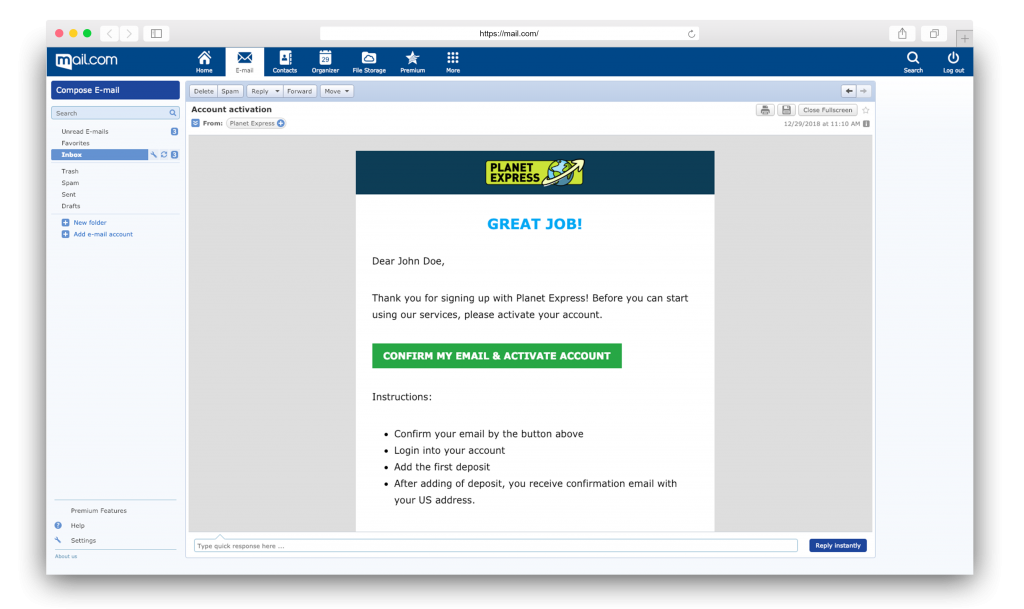 Založení americké adresy pro nákup na Amazonu
Po přihlášení se dostanete do našeho zákaznického rozhraní. Abychom věděli, kam vám balíky posílat, vyplňte vaši adresu pro doručení (adresu lze později upravit, případně můžete přidat další adresy).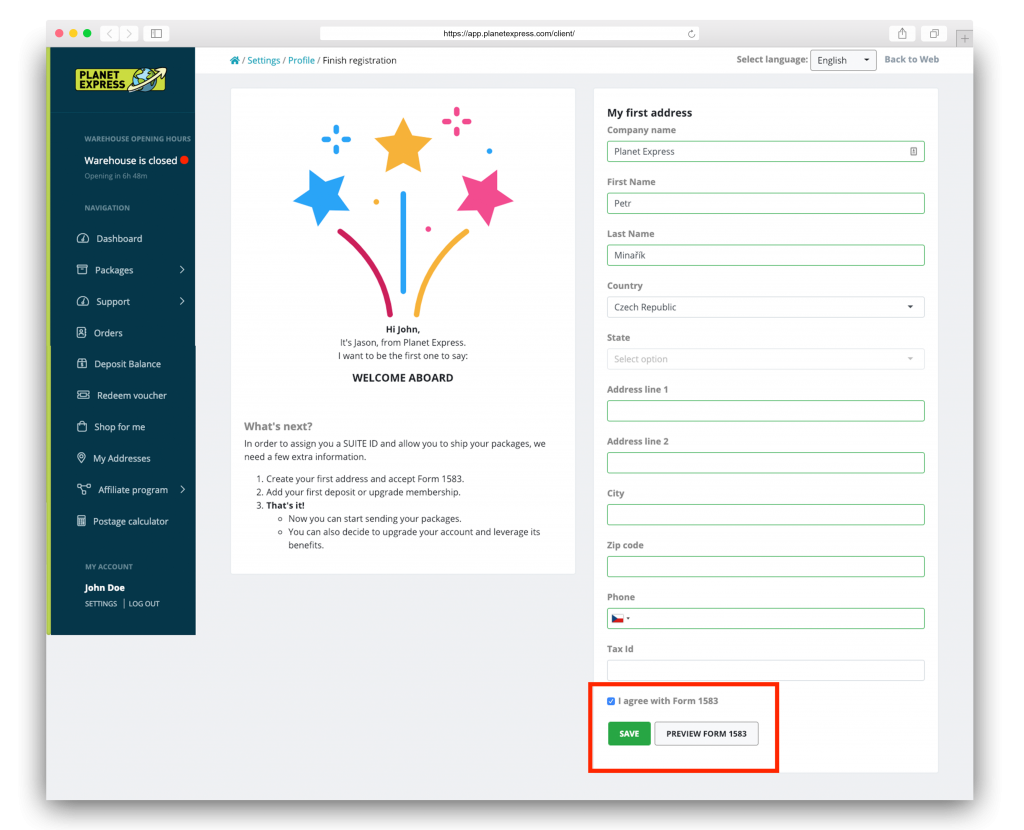 Pro aktivaci americké adresy je jako poslední krok nutné zaplatit zálohu ve výši $5. Tuto zálohu vám připíšeme na váš účet jako kredit, kterým budete platit poštovné a další služby. O peníze tak nepřijdete. Klikněte na tlačítko "Add deposit".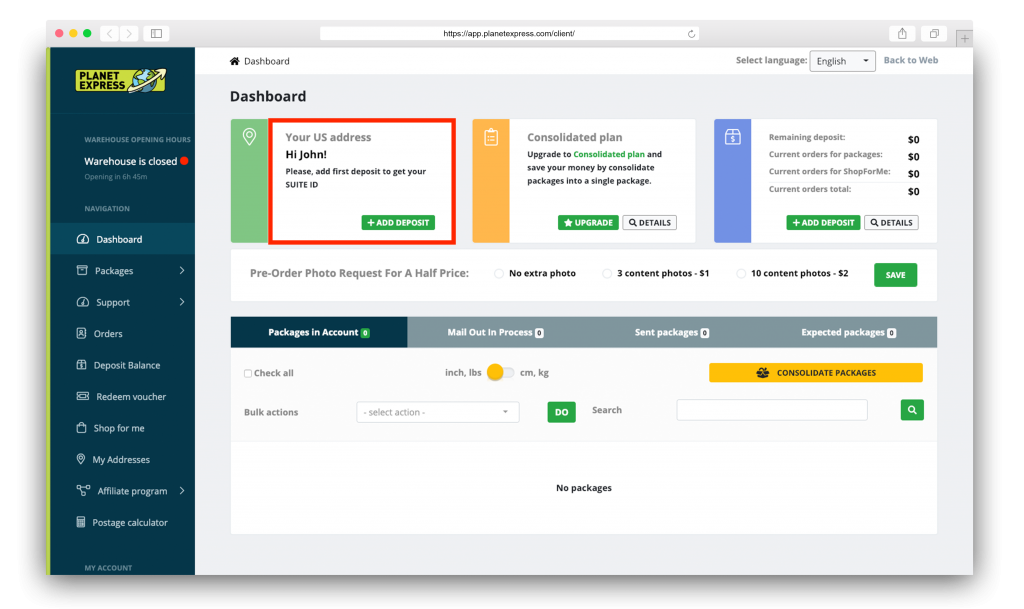 Nabízíme hned několik platebních metod, vybrat si můžete tu, která vám nejvíce vyhovuje.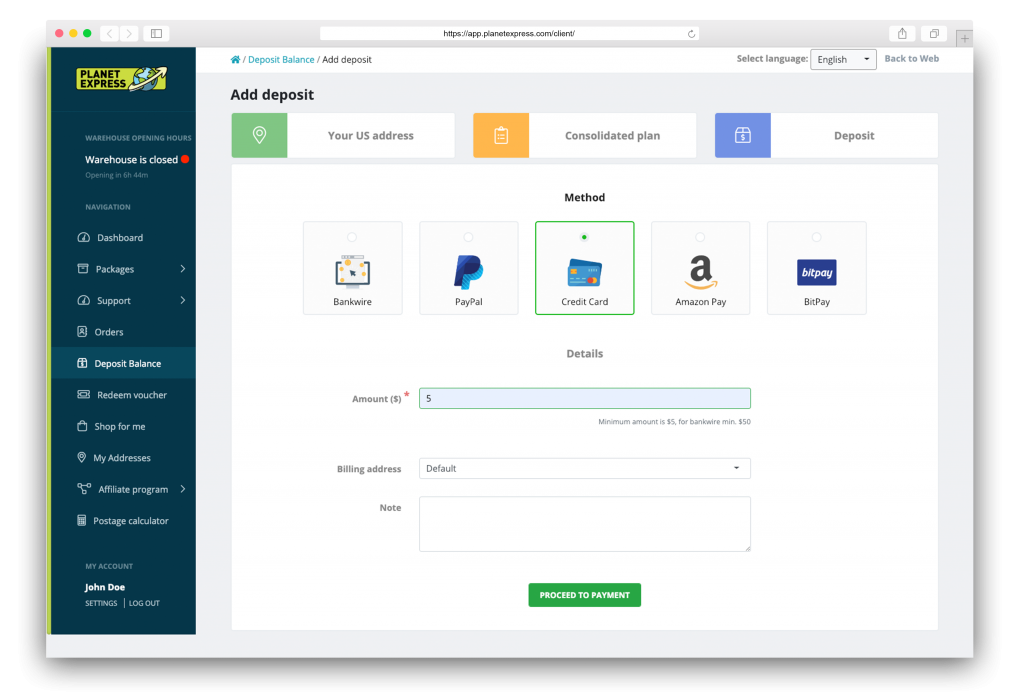 Nyní už jen stačí pokračovat k platbě a zadat údaje o platební kartě. Mějte na paměti, že aby byla platba provedena, musíte mít povoleny online platby a také dostatečný zůstatek na vašem bankovním účtu.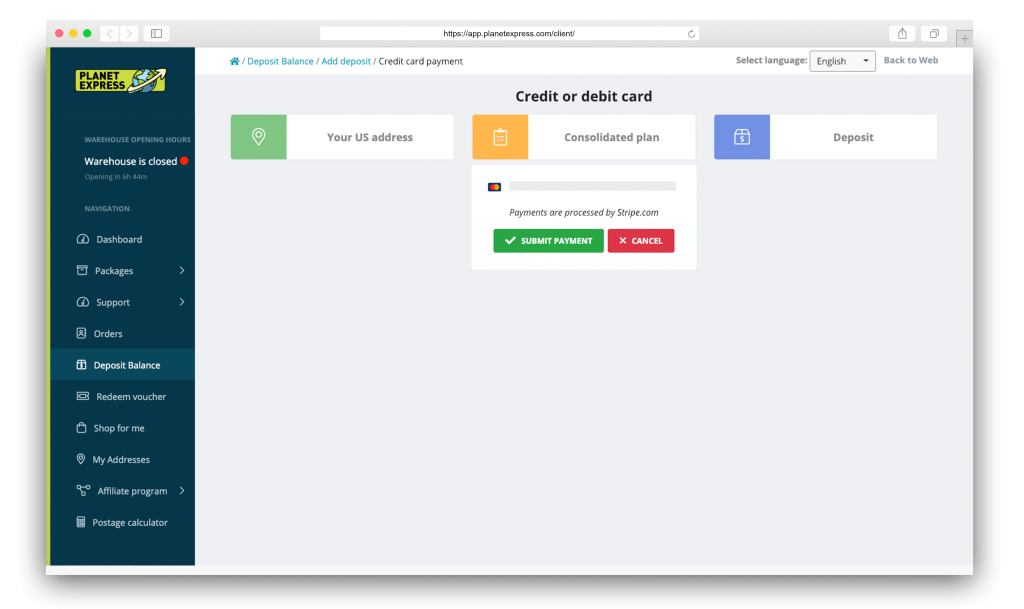 Úspěšnou platbu poznáte připsáním zálohy a také se zobrazí ve výpisu plateb.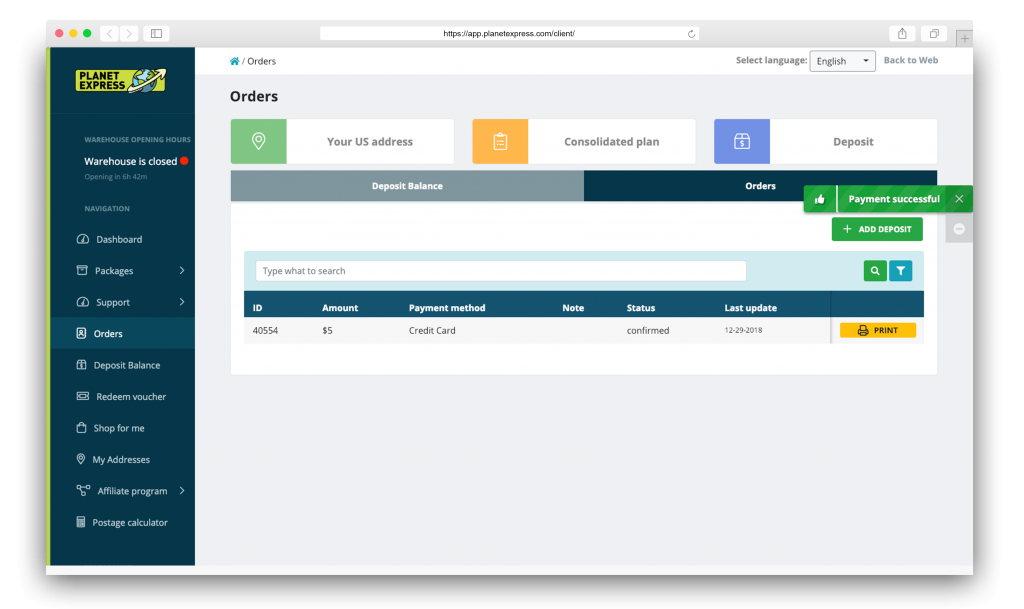 Pokud jste vše provedli správně, získali jste americkou adresu se speciálním číslem ve tvaru #A1234.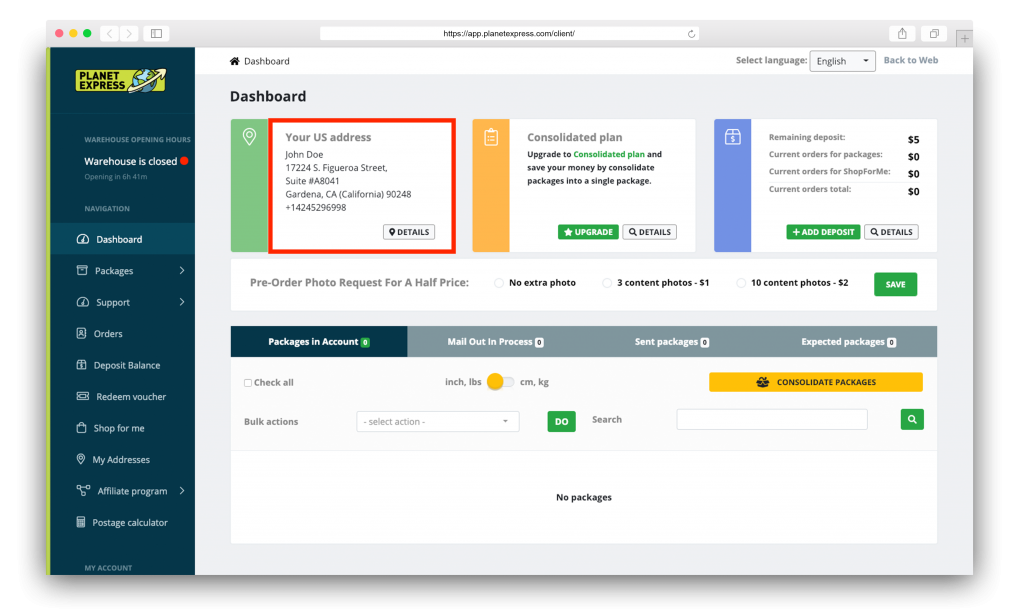 Kompletní adresa bude vypadat následovné:
Jméno Příjmení
17224 S. Figueroa Street, Suite #A1234
Gardena, CA (California) 90248
+14245296998
Vaši adresu najdete přímo na hlavní stránce v zákaznickém účtu. Tuto adresu budete vyplňovat při objednávání zboží na Amazonu.
KROK 2: Objednání zboží z Amazon.com a jeho přijetí
Adresu pro nákup už máte, nyní si ukážeme samotný nákup. My jsme si jako ilustraci vybrali knihu od Seth Godin – This Is Marketing.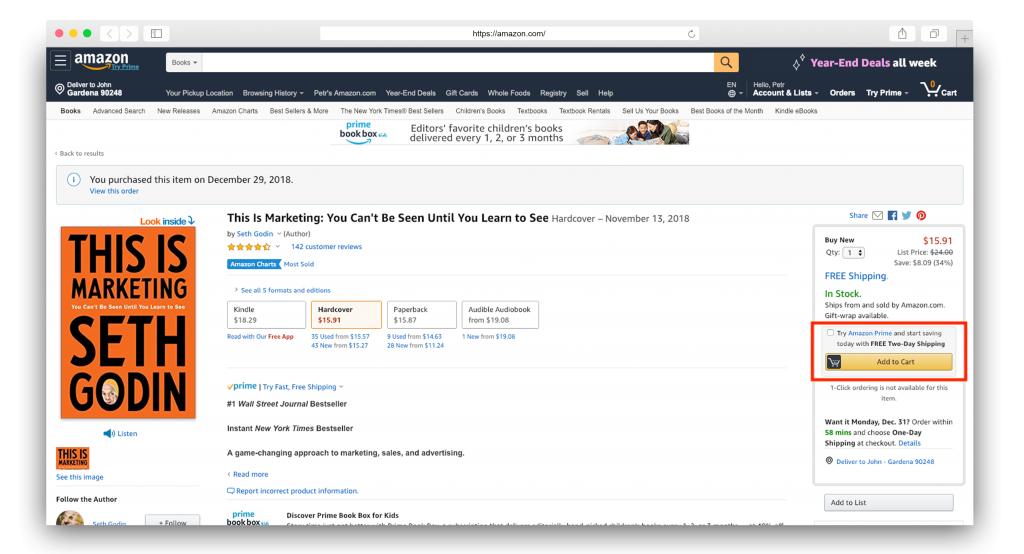 Jakmile máže zboží v košíku, otevřte si košík a přejděte k zaplacení.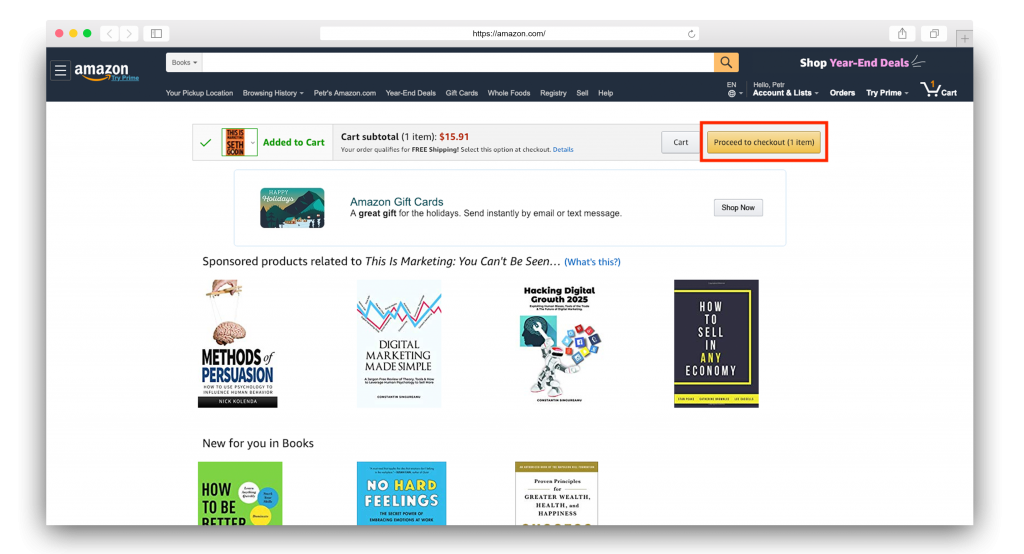 Po přihlášení do Amazonu budete vyzvání k vybrání adresy pro doručení. V našem příkladu se můžete podívat, jak vyplnit Planet Express adresu.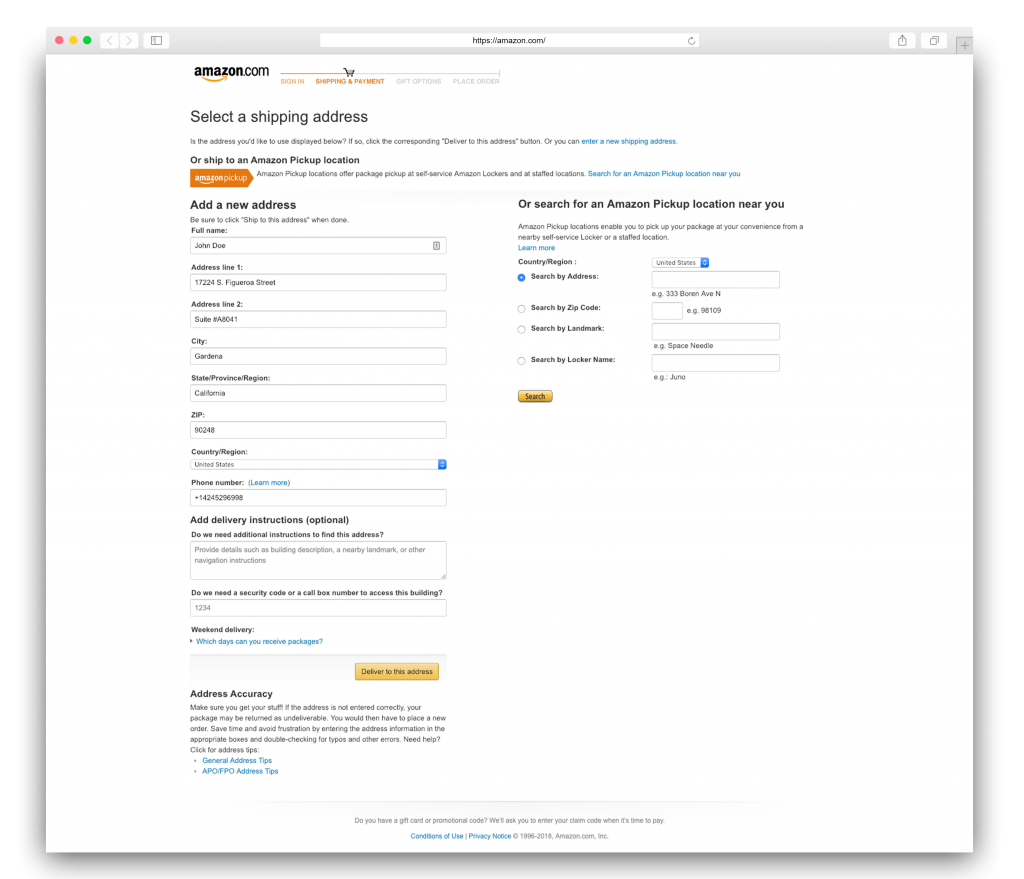 V následujícím mezikroku stačí vybrat adresu pro doručení: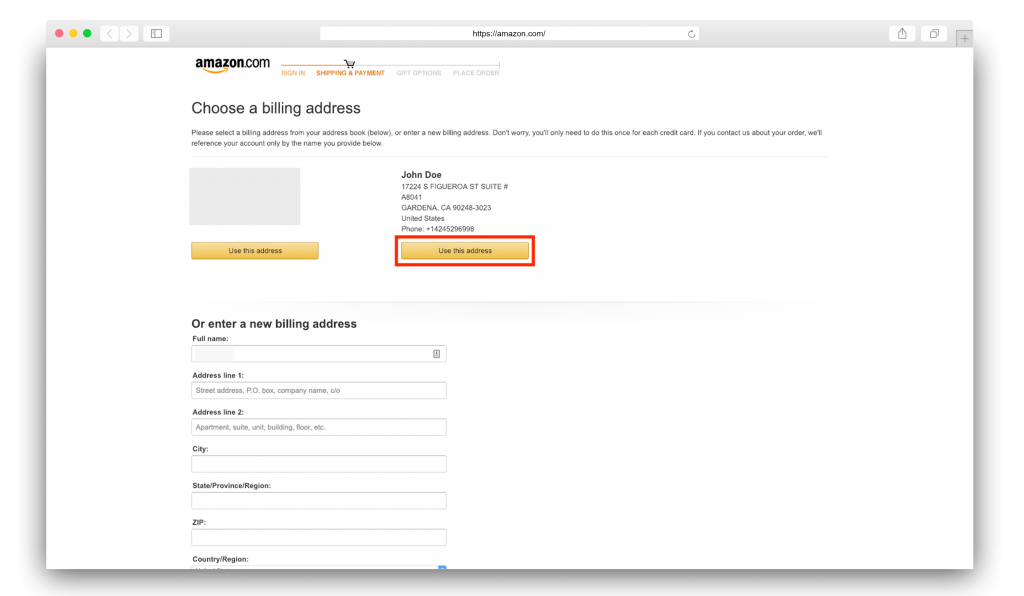 Budete také vyzváni k zapojení se do programu Amazon Prime. V našem případě se k programu přihlašovat nebudeme.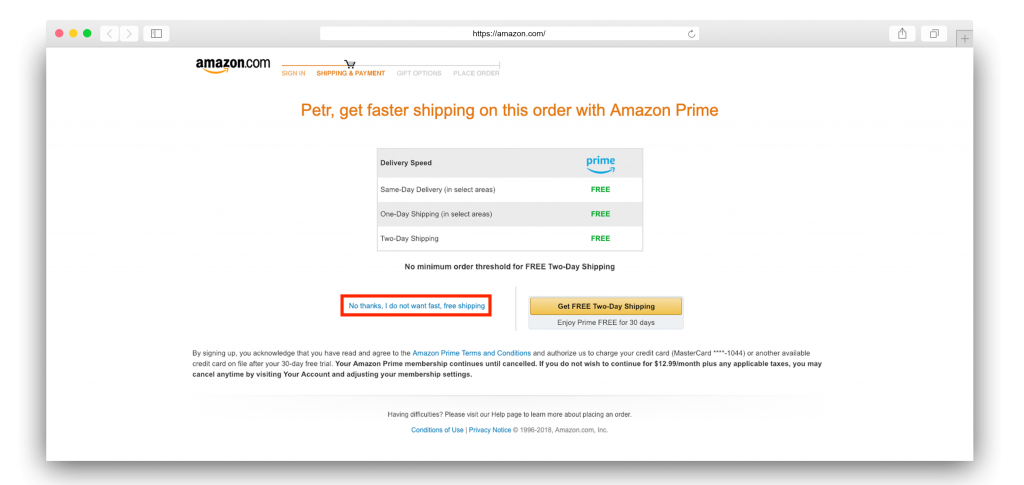 Nyní si zvolíte metodu doručení.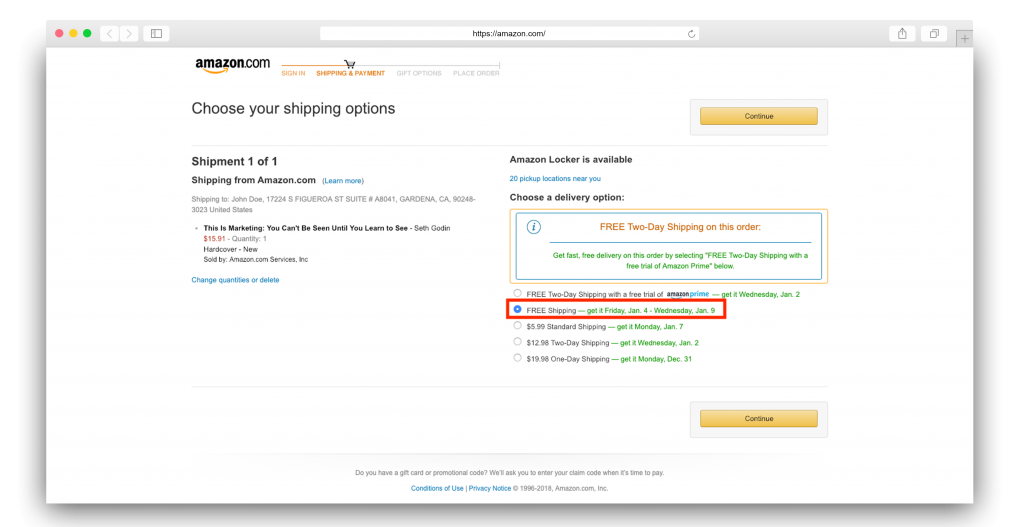 Jakmile si vyberete metodu doručení, budete přesměrování na shrnutí objednávky.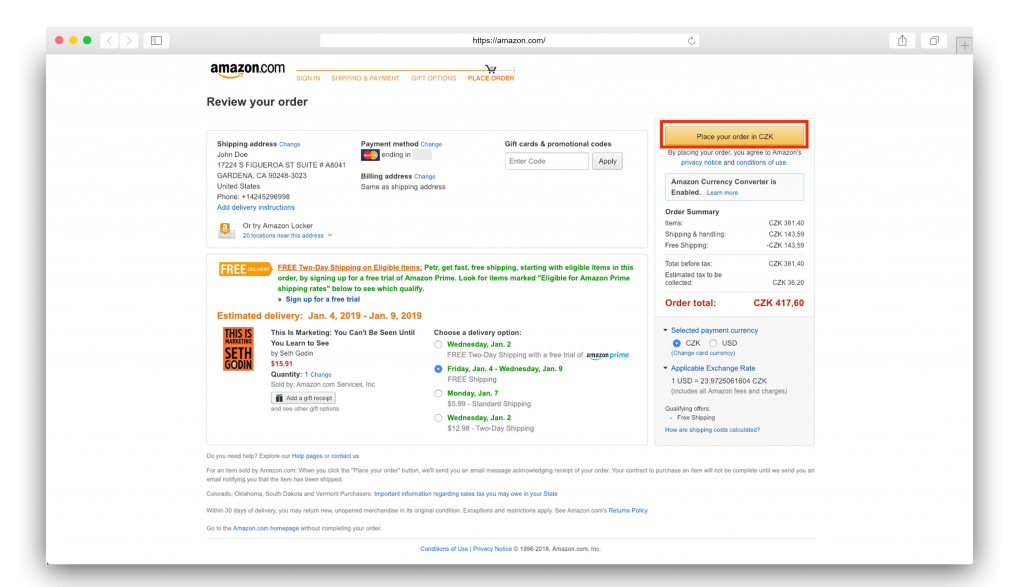 Po odeslání objednávky se vám zobrazí následující hláška s poděkováním a potvrzením objednávky.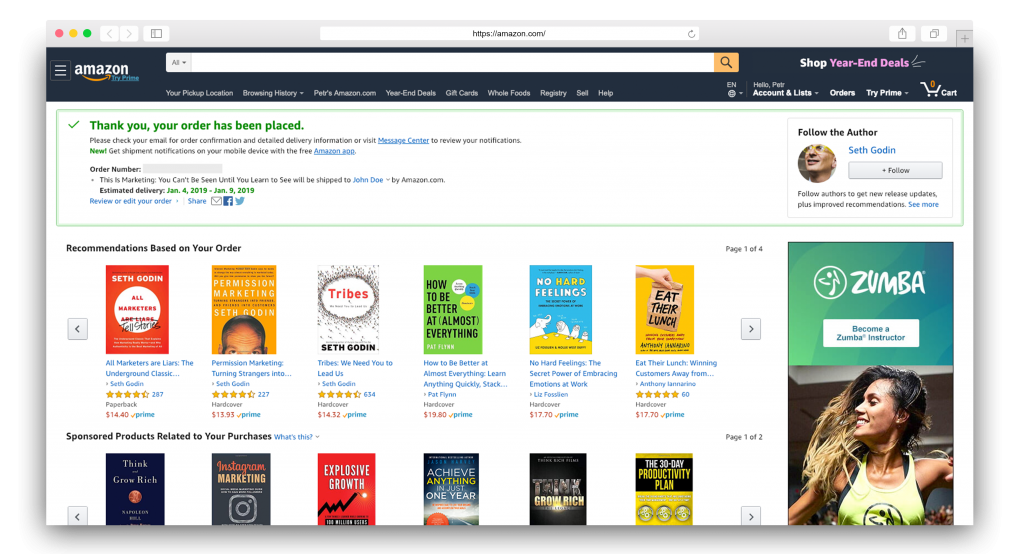 Nyní už stačí jen vyčkat, než zboží přijmeme a zašleme vám email. Pokud se vám bude zdát, že mail o potvrzení přijetí dlouho nepřichází, kontaktujte nás. Možná jste zapomněli zadat svoje identifikační číslo a my tím pádem nevíme, kterému účtu balík přiřadit.
KROK 3: Vyplnění celní deklarace, odeslání a kontrola balíku
Přišel vám email o přijetí balíku v našem skladu jako je na obrázku níže? Výborně!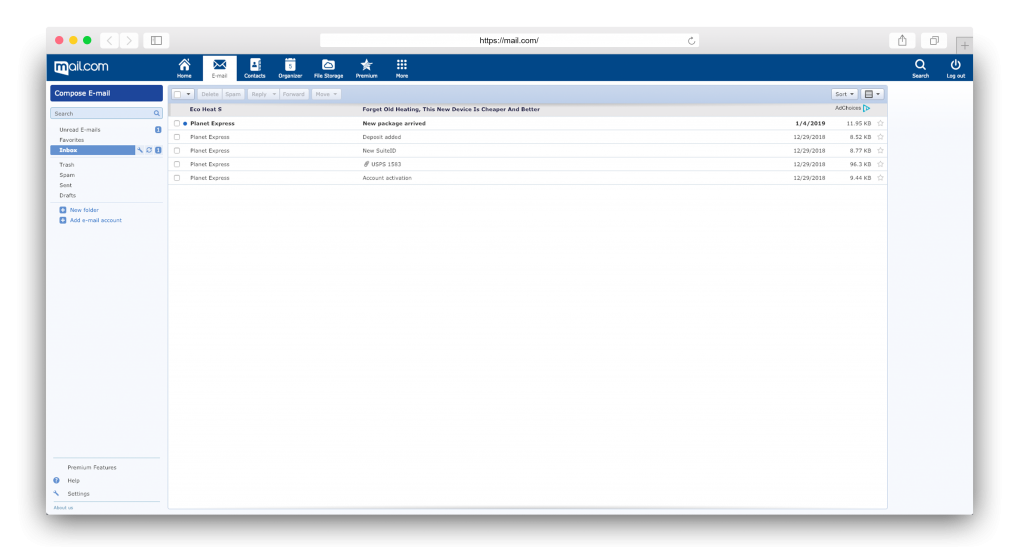 Po otevření tohoto emailu najdete tlačítko, díky kterému se prokliknete do vašeho účtu.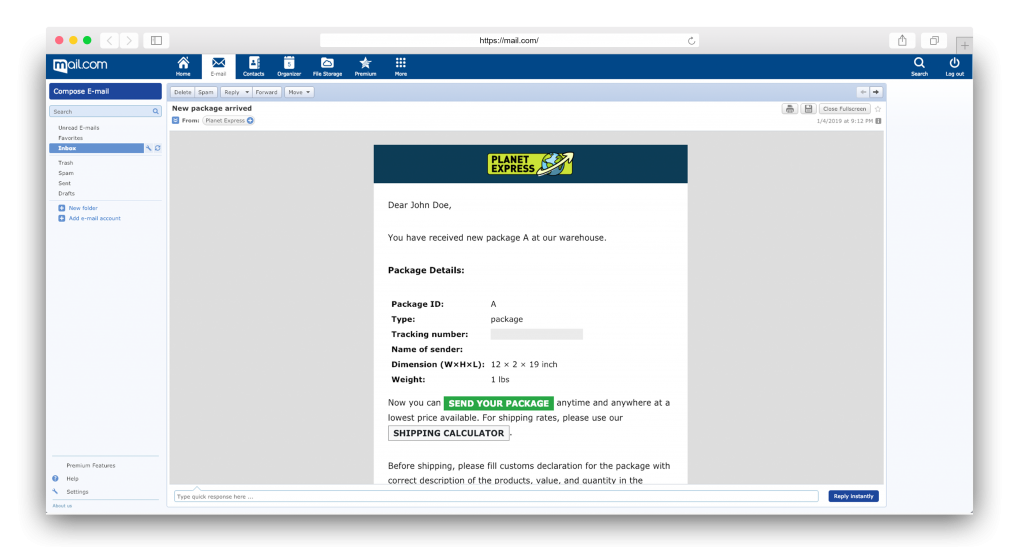 Nyní se přihlašte do vašeho účtu a vyplňte celní deklaraci.
Co je to celní deklarace a proč ji vyplnit?
Celní deklarace je dokument, který slouží k ověření obsahu balíku při celní kontrole a pohybu zboží do země. Je tedy nutné jej vyplnit. Bez vyplněné celní deklarace nemůže být balík odeslán. Pokud zboží přesahuje limity pro CLO, je nutné odvést také daň z přidané hodnoty (angl. VAT).
Tip: Využijte nástroj Simply Duty, který vám umožní spočítat daňovou povinnost. 
Druhým důvodem, proč se vyplatí zodpovědně vyplnit celní deklaraci, jsou náhrady případných škod. Pokud budete mít v celní deklaraci vyplněnou například částku $10. Bude vám (při zaplaceném pojištění) nahrazena částka $10 bez ohledu na to, jaká je reálná hodnota balíku.
Jak vyplnit celní deklaraci?
Už víme, k čemu celní deklarace slouží. Pojďme si vysvětlit jednotlivá políčka a deklaraci vyplnit.
Vysvětlení jednotlivých políček:
Product description – co posíláte? Vyplňujte v angličtině.
Quantity – kolik toho je?
Value – jakou to má hodnotu v amerických dolarech (USD)?
Origin – odkud to pochází? (USA)
Batteries – obsahuje balík baterie?
A nyní prakticky na příkladu s knihou This is Marketing od Setha Godina: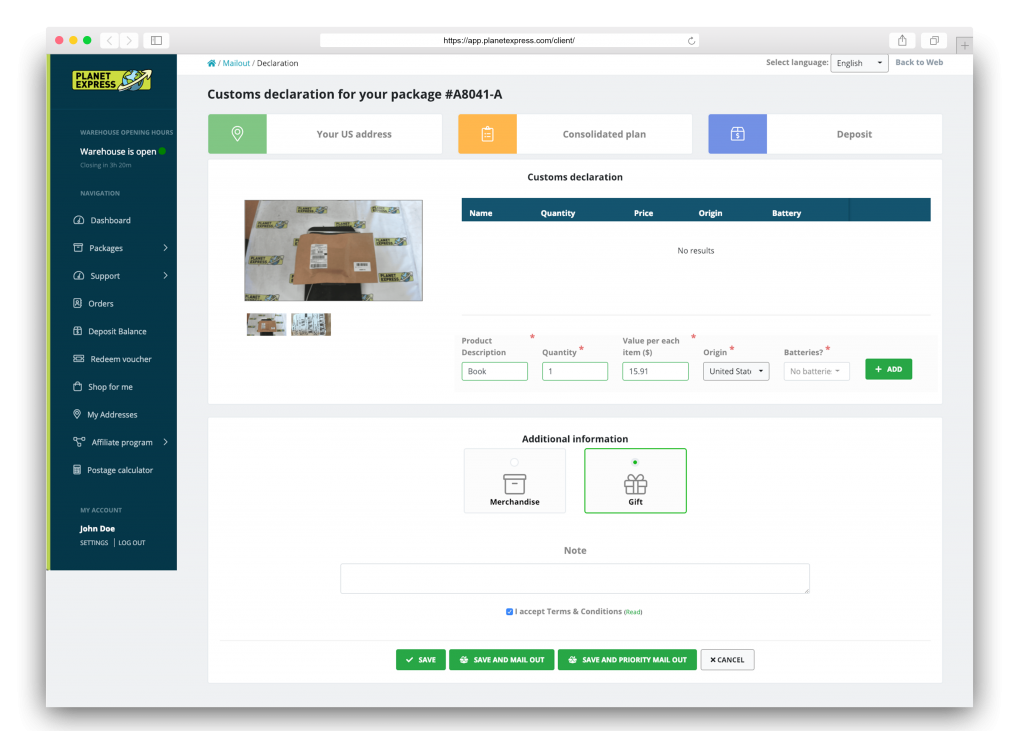 Nejprve přidejte konkrétní produkt (obsah balíku) kliknutím na "ADD" a následně deklaraci uložte tlačítkem "SAVE".
Postup vyplnění celní deklarace si můžete zhlédnout také v našem videonovádu Jak vyplnit celní deklaraci.
Odeslání balíku do vaší země
Celní deklaraci máme vyplněnou. Zbývají poslední krůčky. Nejdříve vyberte adresu pro doručení: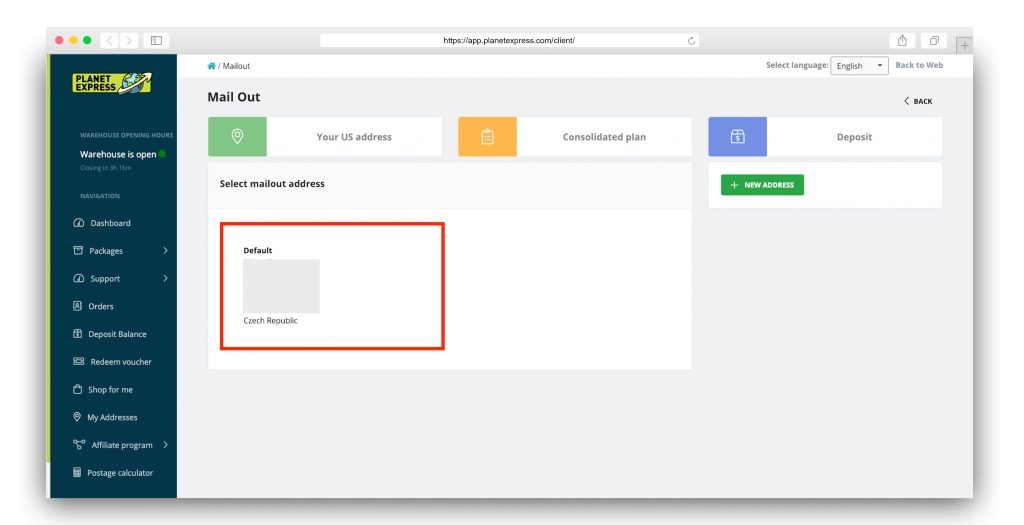 A nyní doručovací metodu – pro zboží vyšší hodnoty doporučujeme využít dražší přepravní metody, které nabízejí podrobnější sledování balíku (DHL, FedEx). Pokud však chcete ušetřit, využijte metody jako je např. Planet Mail Economy/Express či USPS Economy/Priority.
Dále je vhodné balík pojistit. V případě, že se balík ztratí, nebo bude poškozen, což se v logistice občas stává, bude vám navrácena částka uvedena v deklaraci + cena poštovného.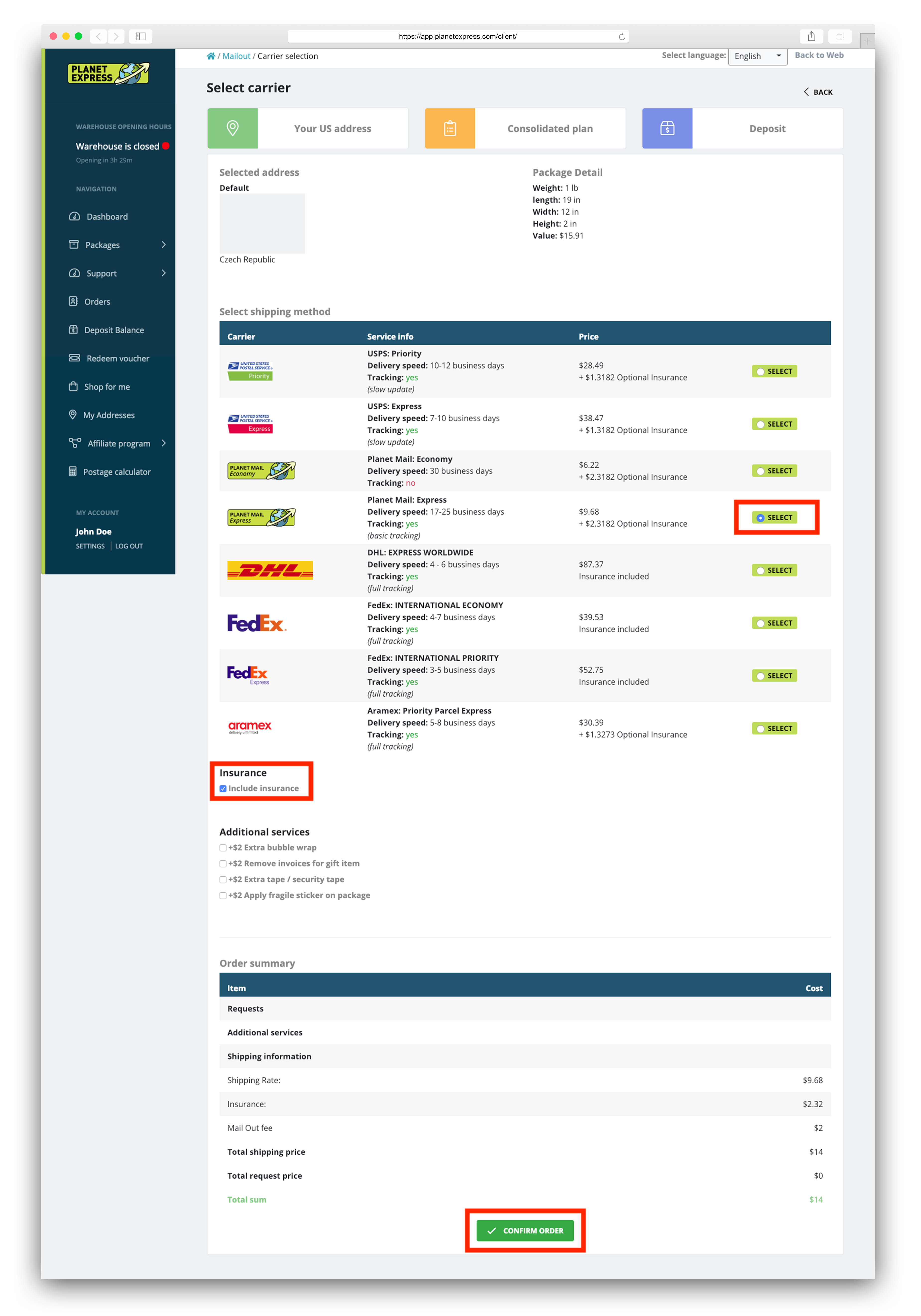 I pro Odeslání balíku jsme natočili videonávod.
Sledování balíku, jeho rozbalení a kontrola
Všechny námi poskytované doručovací metody (kromě Planet Mail Economy) nabízejí sledování balíku. Svůj balíček můžete sledovat po kliknutí na "TRACK PACKAGE" v administraci.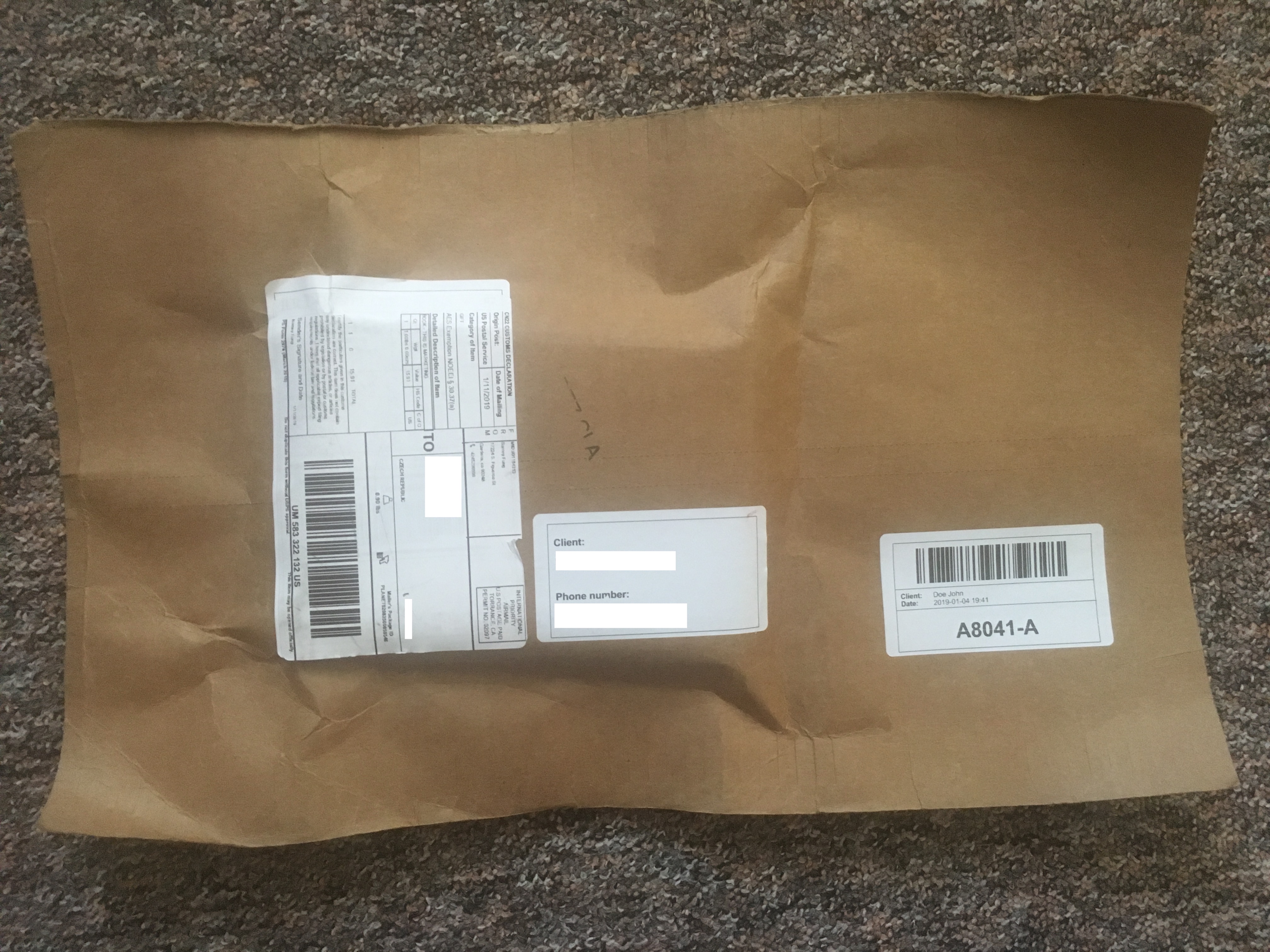 Jakmile vám balík dorazí domů, řádně jej zkontrolujte a ujistěte se, že je jeho obsah v pořádku. V případě jakýchkoliv pochybností nás kontaktujte. Do přílohy pošlete rovnou také fotografie poškozeného balíku a také jeho obsahu.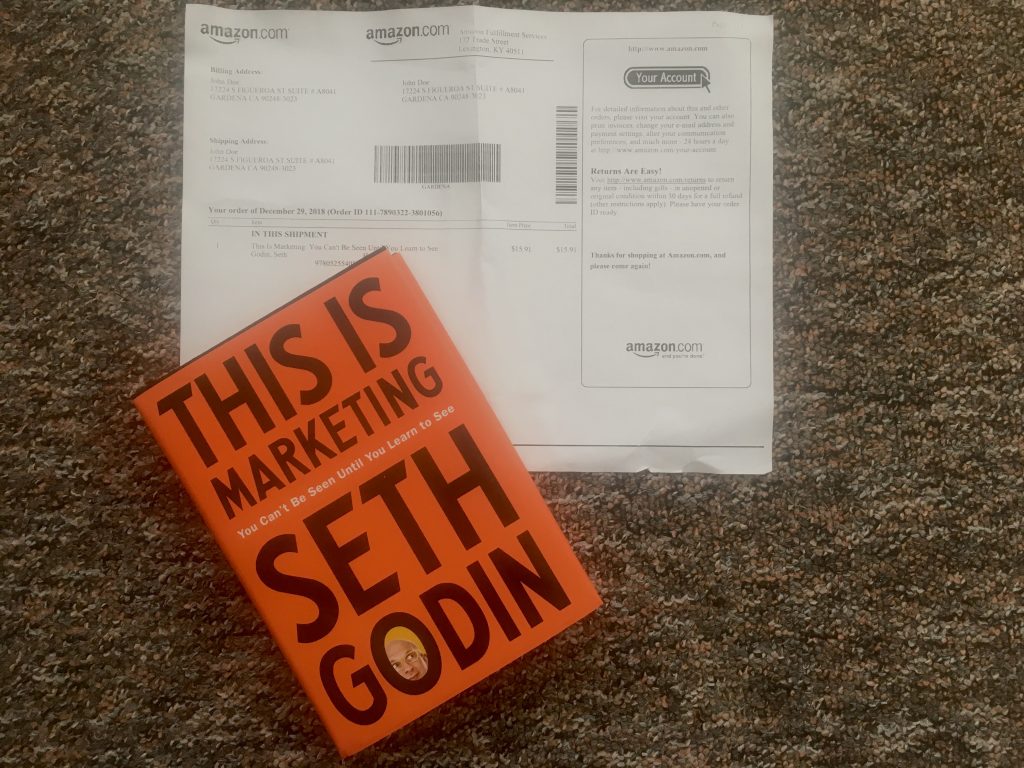 V létě jsme pro vás natočili také jedno unboxing video, kde najdete tipy pro dárek např. k narozeninám pro vaši přítelkyni nebo přítele.
Tip: Pokud vám nebude jakýkoliv krok jasný, podívejte se na naše videonávody.
Proč při nákupu na Amazonu využít Planet Express?
Pro váš pohodlný nákup nabízíme hned několik užitečných služeb.
Proč jsou ceny poštovného tak nízké?
Celý princip přeposílání balíků z USA je postaven na tom, že shromažďujeme velké množství zásilek na jednom místě. To znamená, že jsme s přepravci (DHL, FedEx, USPS, Aramex a dalšími) schopni vyjednat lepší ceny, než kdybyste si zboží z Amazonu chtěli přepravit pomocí kurýra.
Zákaznické recenze Planet Express
Přečtěte si recenze našich zákazníků na některém z následujících webů.