Step #1: Sign up with Planet Express and Get your US Address
International shipping from Tommy Hilfiger US is not available. In fact, Tommy Hilfiger offers shipping across the USA and its territories only. To be able to receive goods from Tommy Hilfiger, you need the US address by Planet Express. This is the address of our warehouse where we receive your order from Tommy Hilfiger. We can forward your packages from Tommy Hilfiger to almost any country in the world, and right to your doorstep.
It is really easy to get the Planet Expres. You get a free address in California, and we offer a sales-tax-free address in Oregon for our premium users too! Watch the following video or read our tutorial on how to get the US address from us.
Use your Californian address free of charge and shop at Levi's, Sonoma USA, Reebok, and other popular US stores.
Or feel free to calculate the price of the shipping using our postage calculator tool below.
---
Step #2: Order Products From usa.tommy.com
You already have an American address, we can now move to the actual purchase. We'll show you how to fill in the address correctly in the following example.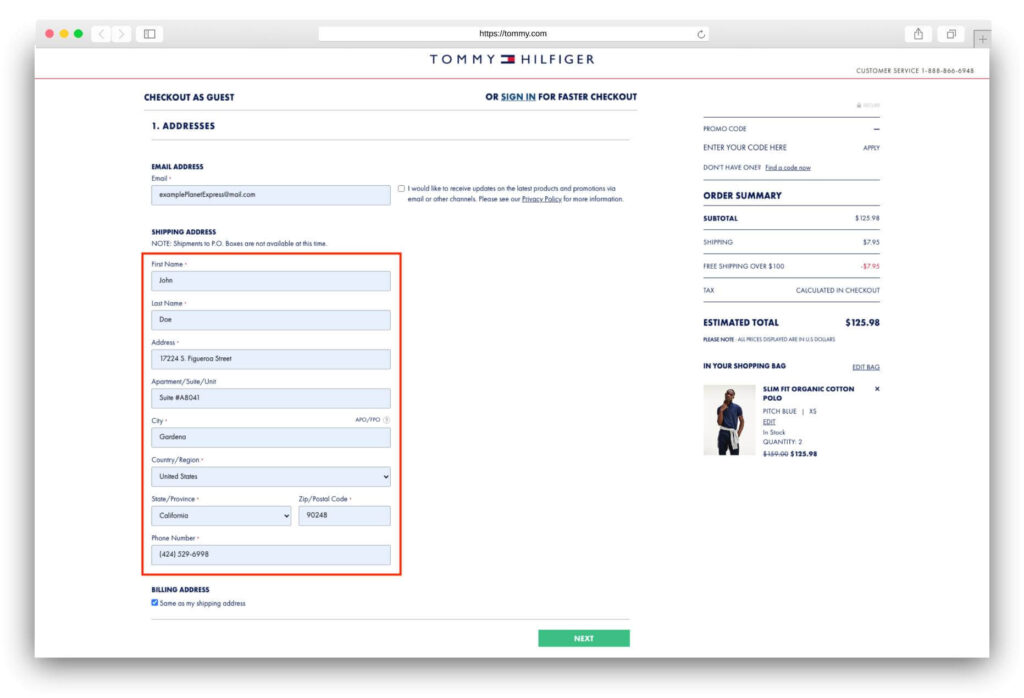 When you finish your order, you have to wait until your order is delivered to our warehouse (to your Planet Express address). The delivery from Carter's to our warehouse takes a few days.
---
Step #3: Get International Shipping for your Package
When your package from Tommy Hilfiger will be delivered to our warehouse, you receive a notification email from us. The email provides you with the most important info about your package (weight, dimensions, tracking number, etc.).
Complete the Customs Declaration
Before we can forward your package to your home address (or any other address you choose), it is necessary to fill in the customs declaration. Sign in to your Planet Express account and fill it in according to the instructions on How to fill the customs declaration page or watch the video below.
Select the Shipping Method from the USA
Once you are done with the customs declaration, you can select the shipping method from the US to your country. Feel free to read the full tutorial on How to send your package page. Or you can watch our video tutorial below.
---
Tommy Hilfiger Shipping FAQ
---
Planet Express is the Best Choice for Your Tommy Hilfiger Orders
We provide a first-class service to our customers while maintaining a friendly face. In case of any problems you can contact us and we will help you. In addition to excellent customer support, we also offer other useful services:
Why Are The Planet Express Rates Lower Than Using A Courier?
The whole principle of forwarding packages from the US is really simple. We collect a large number of packages in one place. As a result, we can negotiate prices with our partners (DHL, FedEx, USPS, Aramex, and others) that are several times lower than if you would ship products from Tommy Hilfiger USA by courier.
Read Reviews of our Customers
Read thousands of reviews of our satisfied customers on the following websites.