Etsy je jedním z nejznámějších online míst, kde můžete najít originální produkty od kutilů a drobných výrobců. Většina produktů je vyráběna ručně a každý kus je originál. Bohužel, možnost poslat balík od výrobce z USA do České republiky nemusí být vždy k dispozici, případně je poštovné předražené.
Proto bychom vám dnes rádi ukázali, jak si v několika krocích nechat přeposlat zboží přímo z USA za jedny z nejlepších cen na trhu. 
1. Nejprve si u nás založíte americkou adresu. Na tuto adresu bude zasláno zboží od výrobce na Etsy.
2. Jakmile přijmeme zboží, které jste si objednali, zašleme vám email.
3. Balík se zobrazí ve vašem účtu v naší administraci. Vy už jen vyplníte celní deklaraci a zvolíte přepravní metodu. O zbytek už se postaráme my. Během pár dnů až týdnů (dle doručovací metody) budete mít balík doma v Česku.
Proces na první pohled zní složitě, avšak podrobněji jsme jej popsali níže.
KROK 1: Založit americkou adresu je hračka
Jak již bylo řečeno v úvodu, některé zboží je doručováno přímo od prodejce na vaši adresu. Takové štěstí však nemusíte mít vždy, proto existují služby, jako je ta naše – přepošleme vám balík z USA na jakoukoliv adresu. Potřeba je k tomu založit si adresu u nás. Pojďme na to.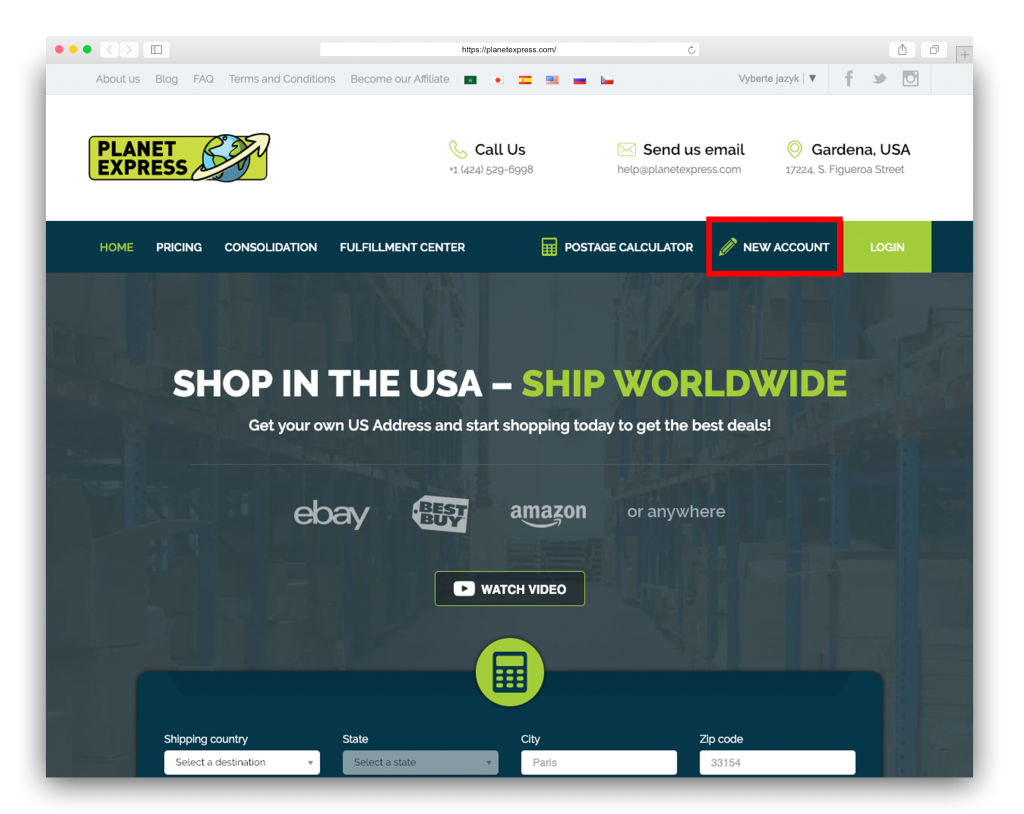 Registrace probíhá jako kdekoliv jinde, vyplníte jméno, zemi, email a heslo. Pokud se vám nechce vymýšlet nové, silné heslo, doporučujeme nástroj typu LastPass, který heslo vymyslí za vás. Vyhněte se použití hesel typu "123456", "heslo123", "password123" atp..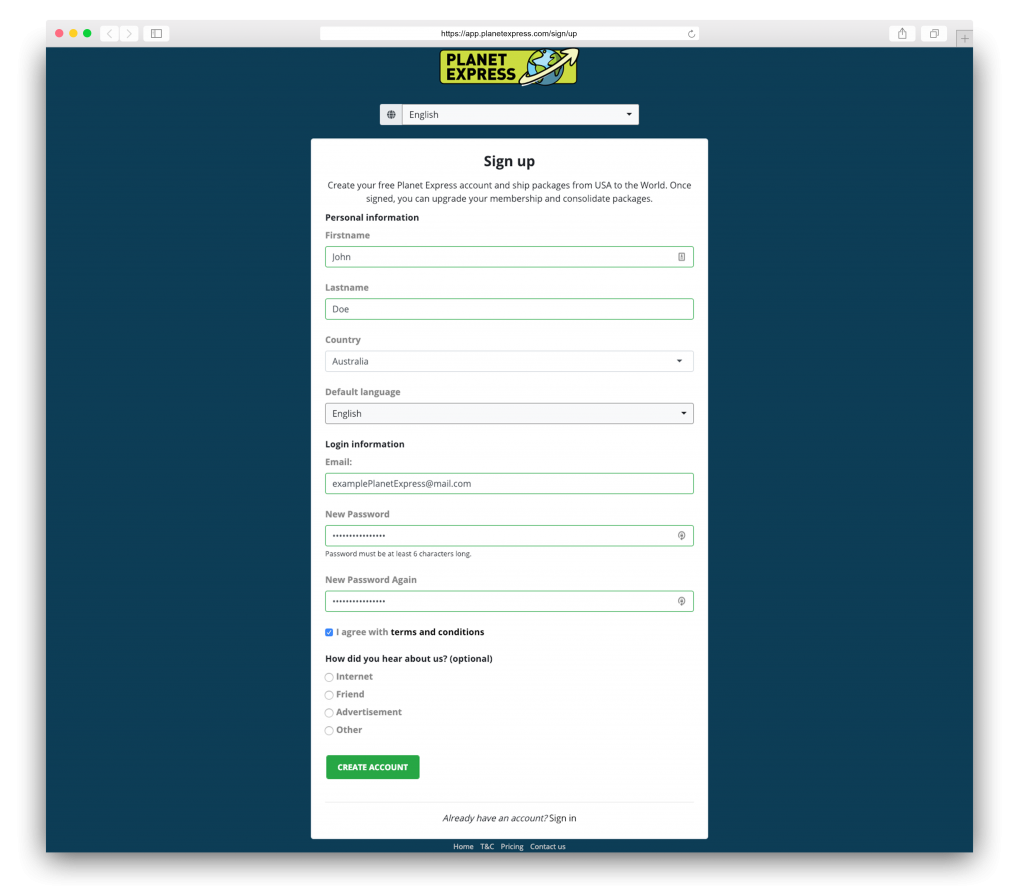 Potvrďte váš mail
Okamžitě po registraci by vám měl přijít potvrzovací email, pokud nedorazí, podívejte se do složek spam/reklama. Pokud email nedorazí do 15 minut, kontaktujte nás.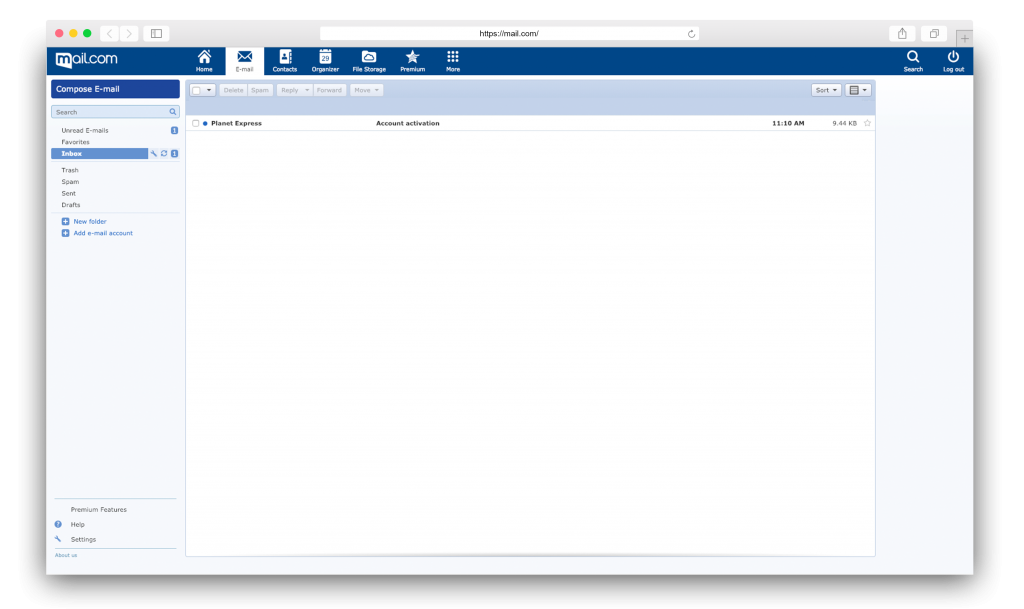 Váš email potvrdíte kliknutím na tlačítko uvnitř emailu.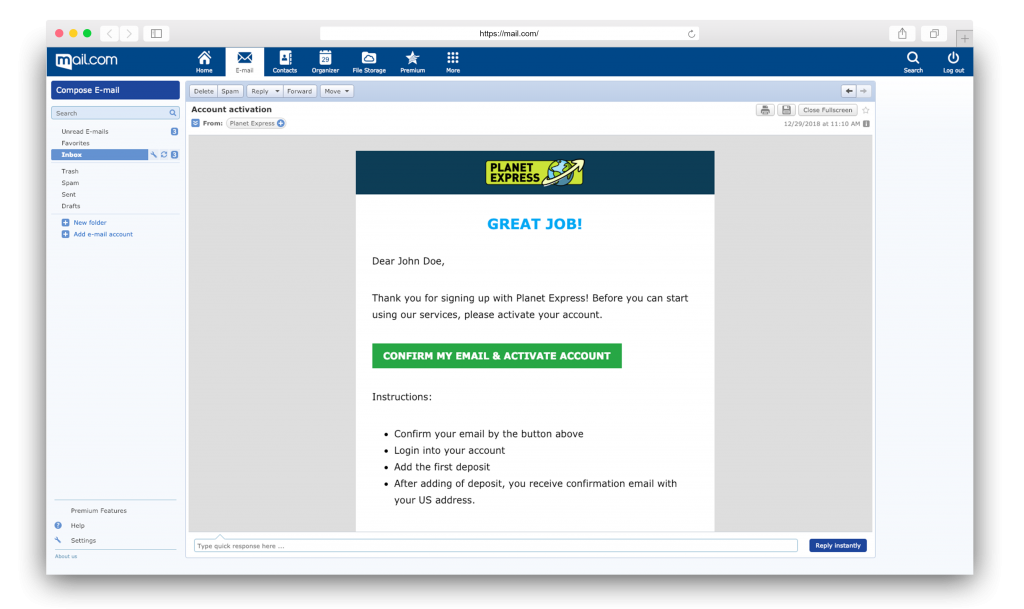 Dokončení registrace do Planet Express
Máte-li raději videonávody, registrační proces jsme pro vás natočili. 
Na uvítací obrazovce v administraci Planet Express uvidíte na pravé straně vaši první adresu, kterou je teprve potřeba nastavit. Na tuto adresu budeme přeposílat balíky, které si objednáte v USA.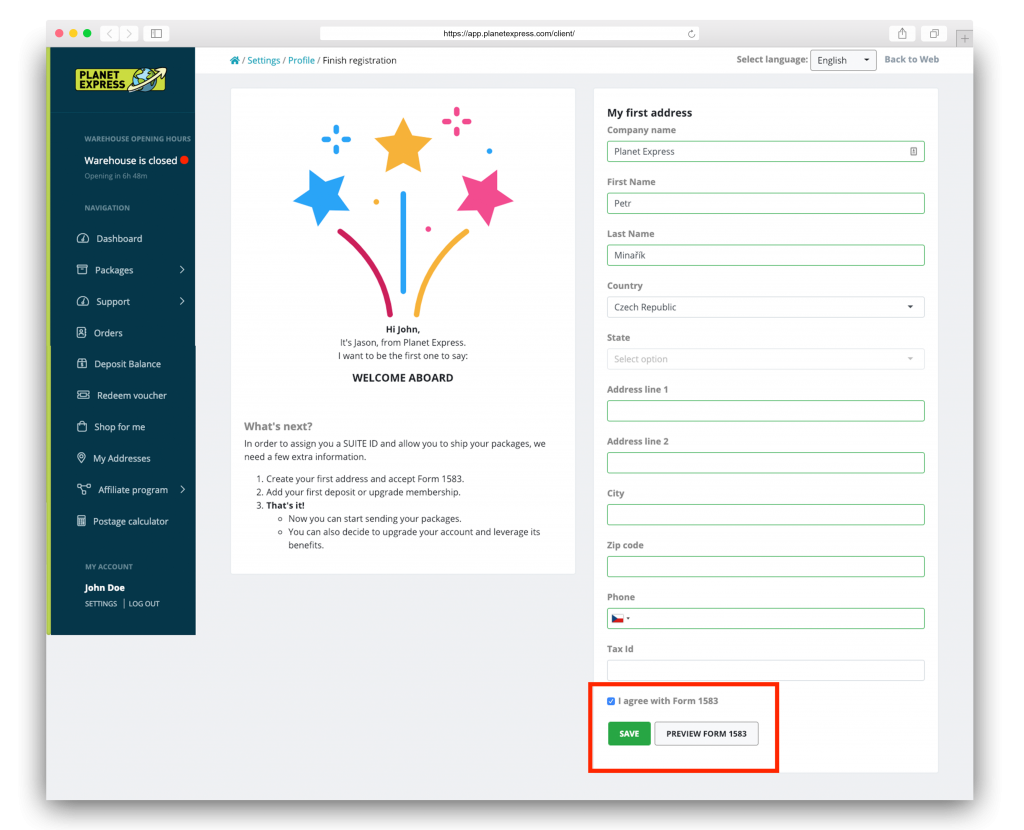 Před tím, než bude adresa plně funkční si ji musíte aktivovat. To provedete přidáním $5 zálohy (klikněte na ADD DEPOSIT), která vám bude připsána na účet Planet Express. Můžete tak platit za poštovné a naše další služby.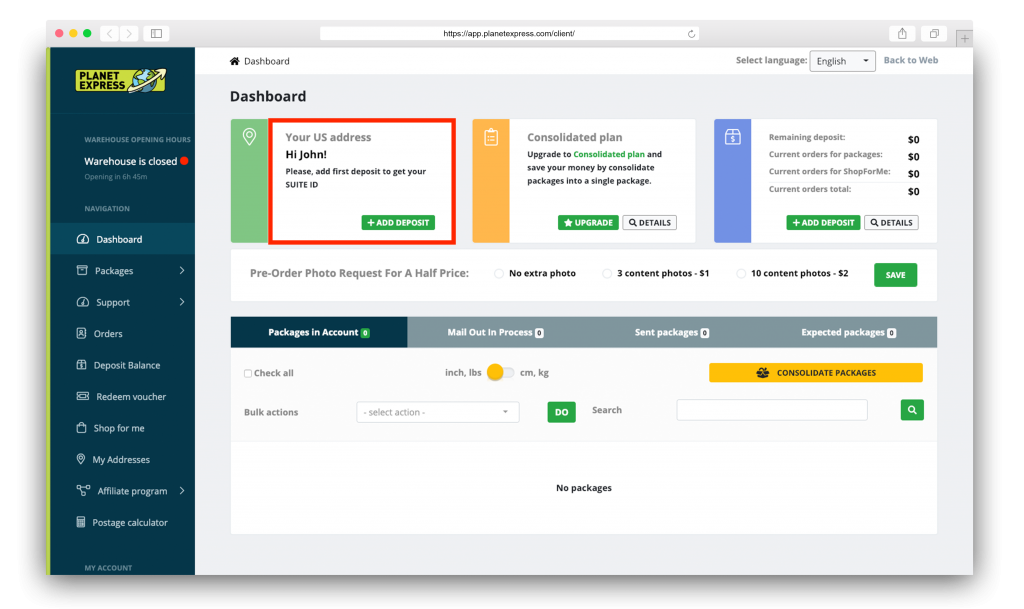 Vybrat si můžete hned z několika platebních metod (Paypal, Amazon Pay, platba kartou, převodem na účet nebo Bitcoinem).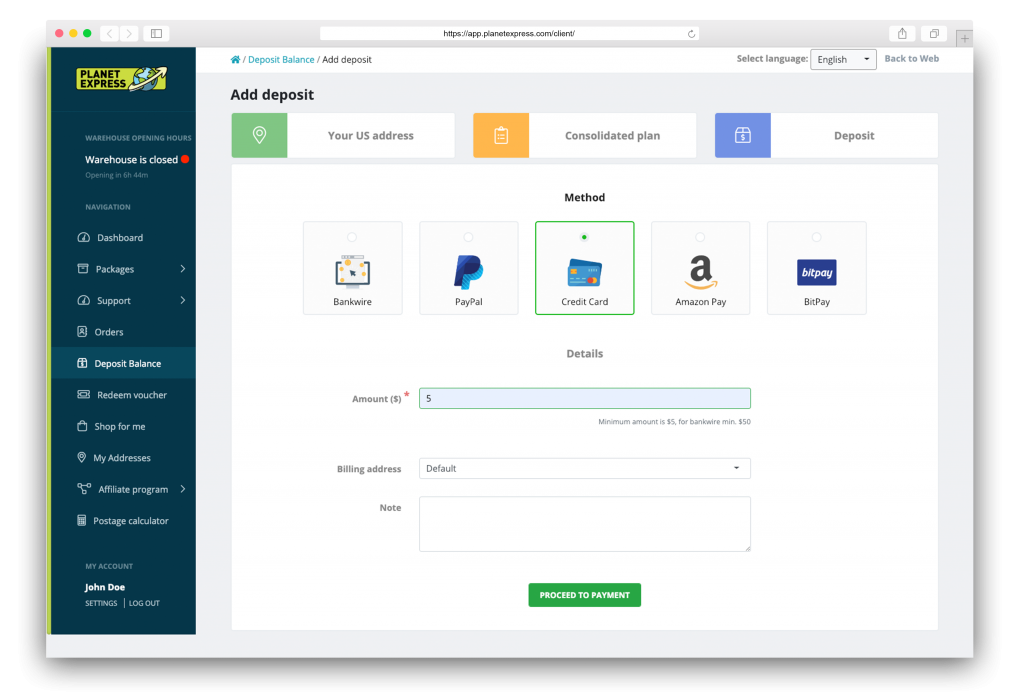 Během platby postupujte podle instrukcí v závislosti na platební metodě.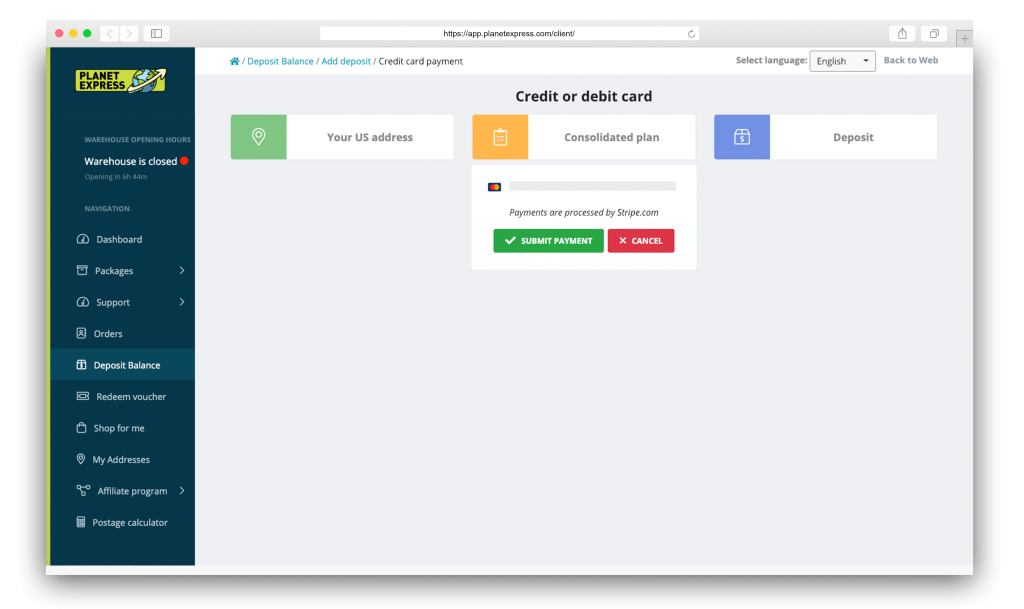 Po zaplacení uvidíte platbu ve výpisu objednávek.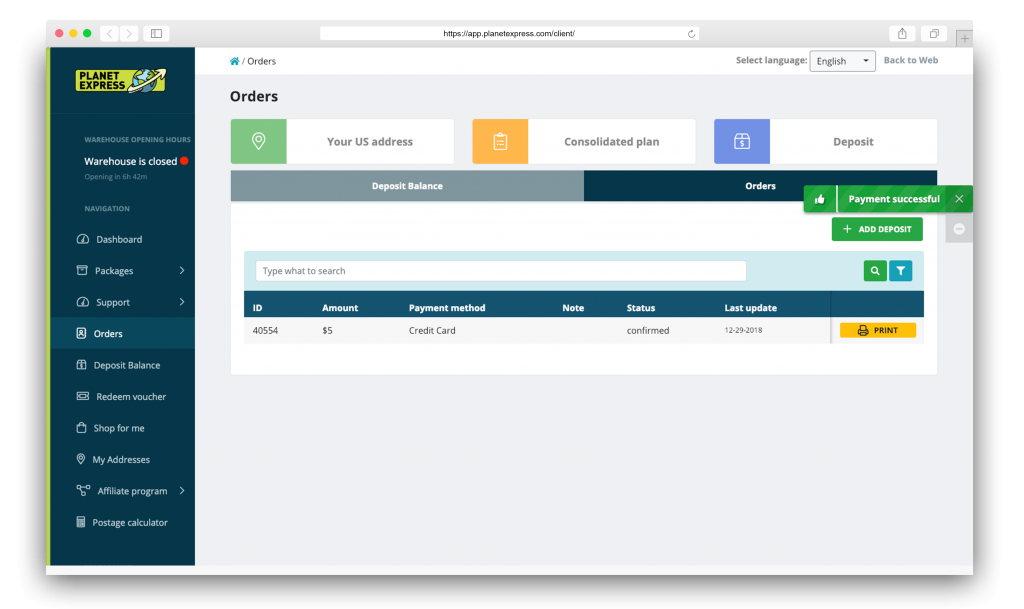 Admininistrace až na jeden malý detail vypadá stejně – nyní však uvidíte vaši americkou adresu.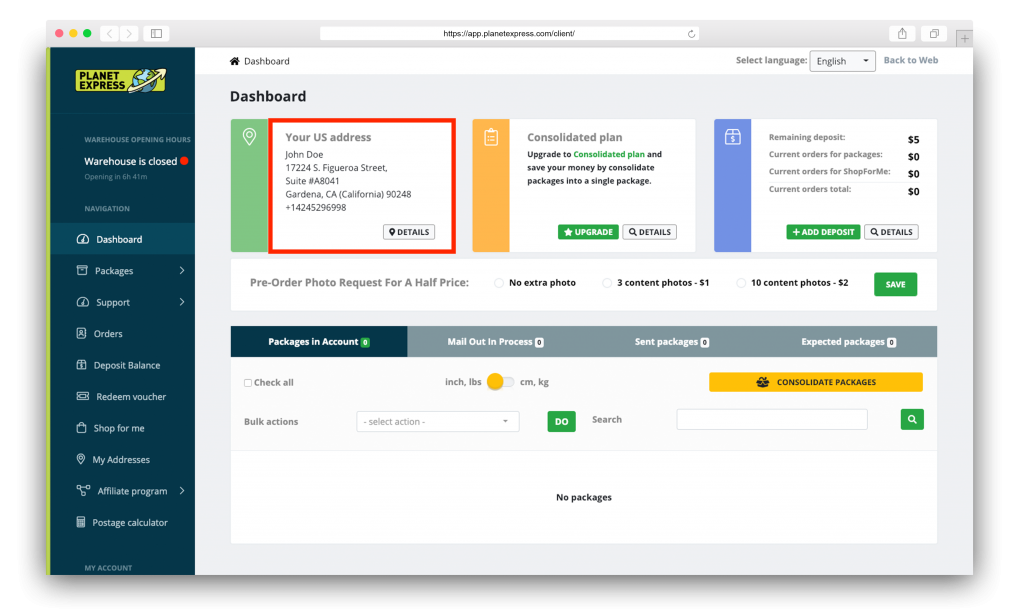 Adresa, kterou od nás dostanete, vypadá následovně:
Jméno Příjmení
17224 S. Figueroa Street, Suite #A1234
Gardena, CA (California) 90248
+14245296998
Veledůležitým prvkem adresy je unikátní číslo, které má každý náš zákazník vlastní. Naši adresu můžete kromě nákupu na Etsy.com využít při nákupech v obchodech typu Amazon, eBay, Walmart a stovkách dalších. Omezovat se nemusíte pouze na USA, přijímat můžeme balíky i z jiných zemí.
KROK 2: Objednání zboží z Etsy.com
Před samotným objednáním zboží musíme na stránkách Etsy provést několik úprav. Nejprve nastavíme lokalitu na USA. Jazyk a měnu necháme na vašem výběru, avšak pro univerzálnost jsme zvolili jako jazyk Angličtinu a měnu americký dolar (USD). Možnost úpravy tohoto nastavení najdete na úplně spodní části stránky, kde stačí kliknout na vlaječku.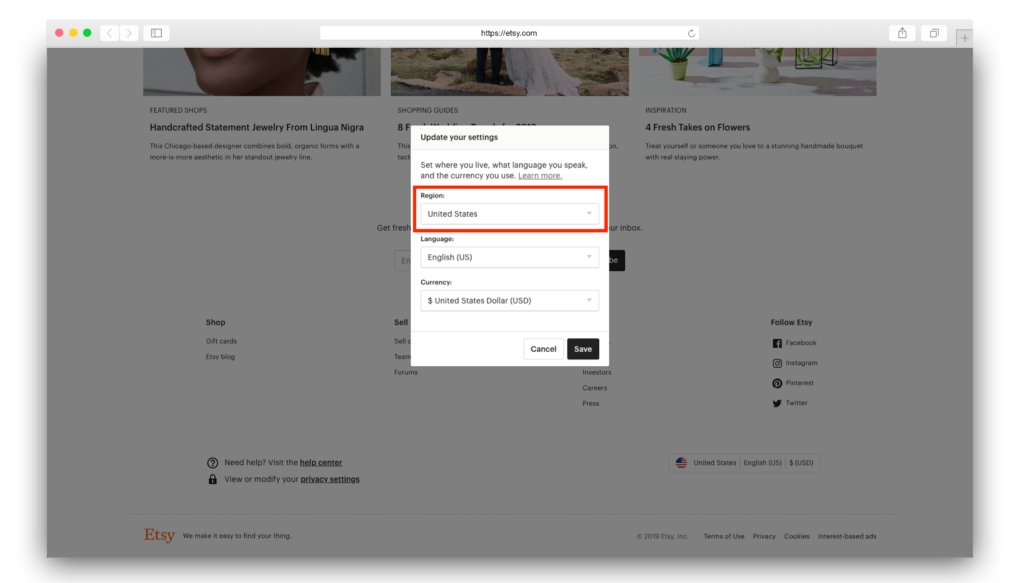 Jakmile vyberete zboží, které se vám líbí, přidáte jej do košíku přes tlačítko ADD TO CART.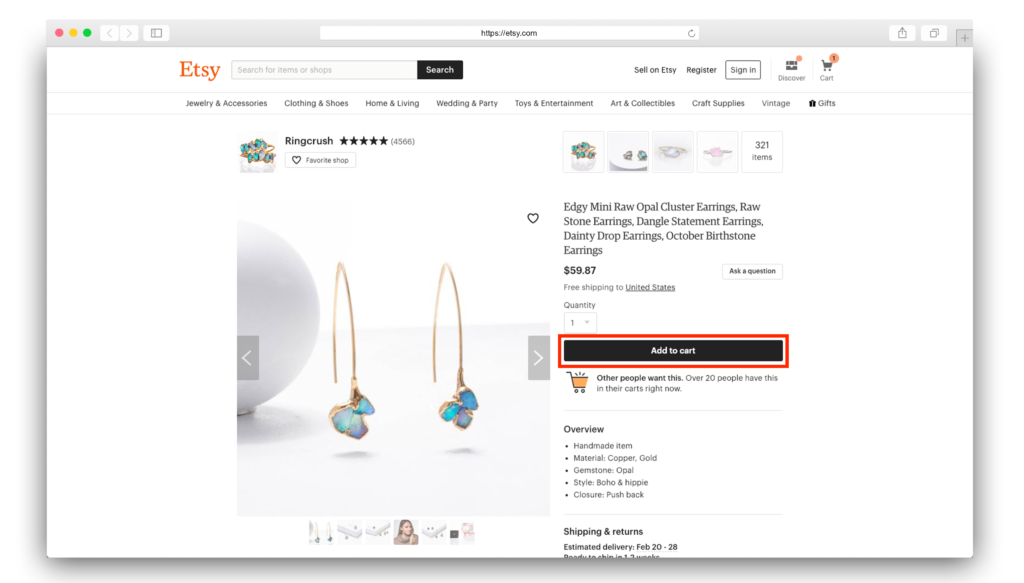 Budete přesměrování přímo do košíku, kde uvidíte cenu za veškeré zboží + poštovné.
[1] Již v tomto kroku vyberte
platební metodu. 
[2] Pravděpodobně se vám přednastaví adresa/stát pro doručení podle toho, kde se právě teď nacházíte, nebo odkud jste připojeni. Proto klikněte na adresu v závorce a zadejte
United States
a
PSČ 90248. Nastavení adresy uložte. 
[3] Pro zaplacení je potřeba kliknout na PROCEED TO CHECKOUT.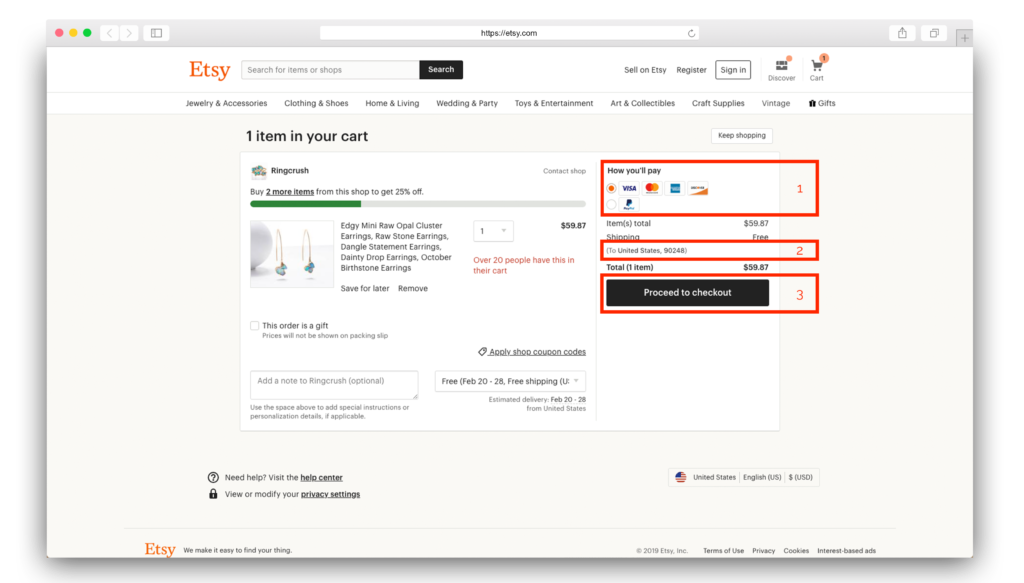 V mezikroku č. [2] se objeví možnost vybrat stát a PSČ. Zvolte tedy Spojené státy a PSČ našeho skladu.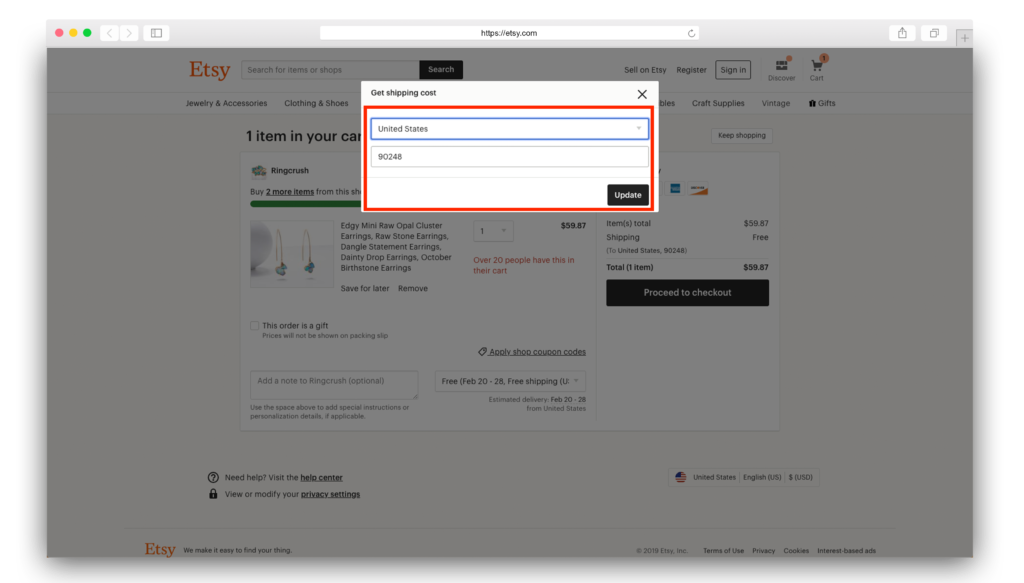 Jakmile provedete mezikrok [3], budete vyzváni k přihlášení, případně můžete nakoupit jako neregistrovaný uživatel.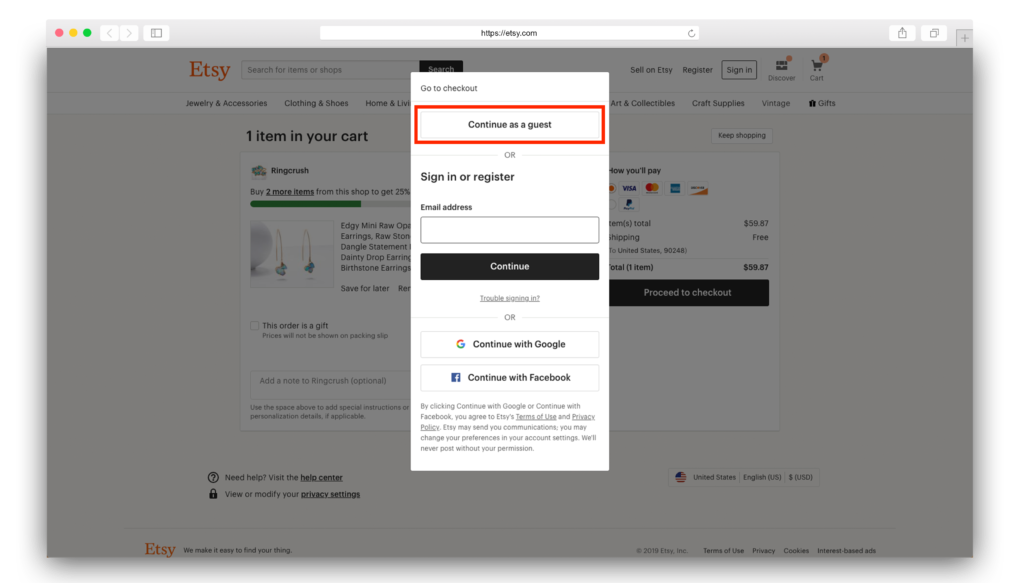 Dalším krokem je vyplnění doručovací adresy. Zde vyplníte adresu, kterou jste od nás získali. Příklad správného vyplnění můžete vidět na obrázku níže.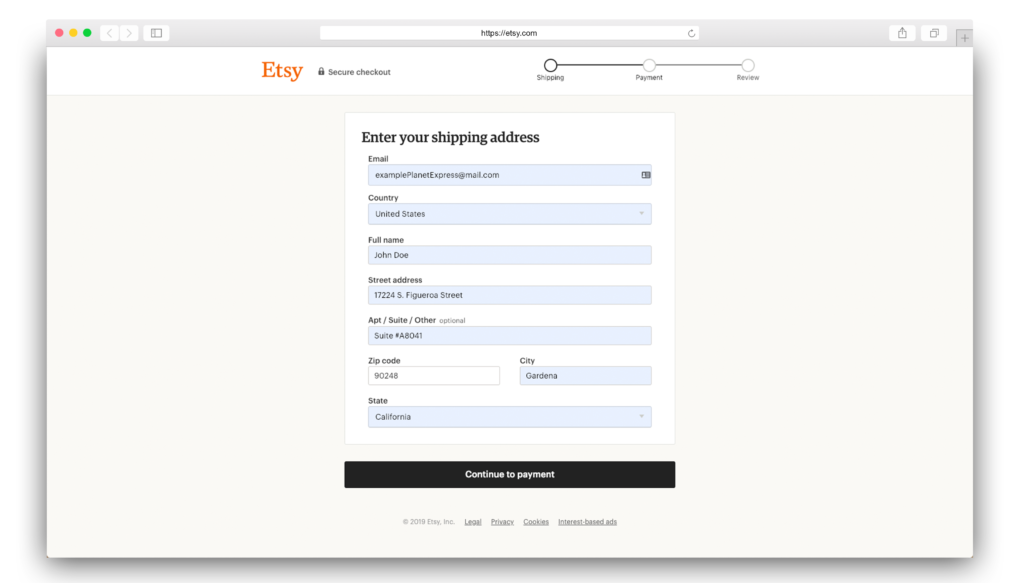 Systém nabídne drobnou úpravu adresy (přidání 3023 do PSČ, které upřesňuje lokalitu doručení).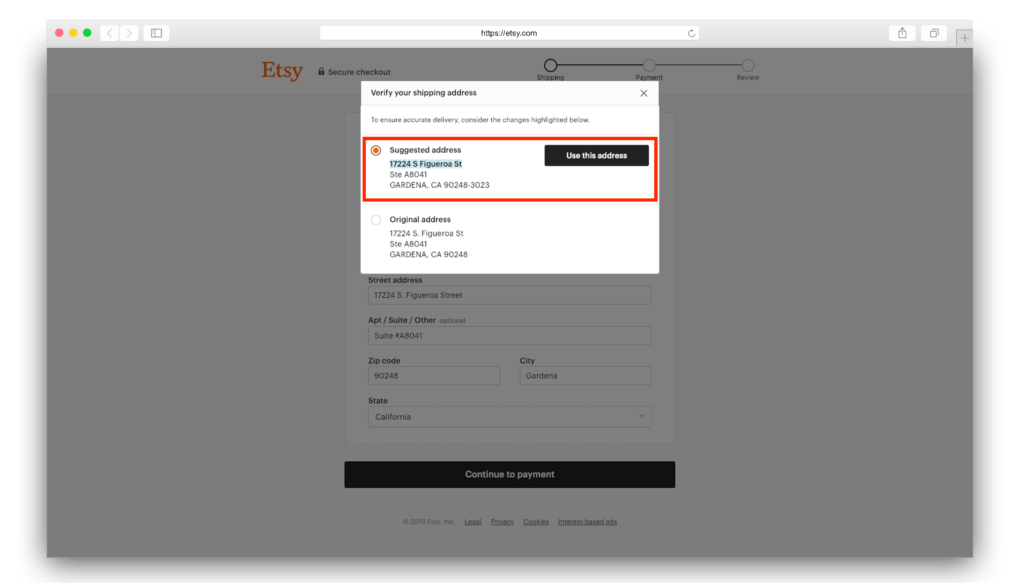 Platební metodu jsme vybrali před chvílí, nyní stačí vyplnit platební údaje a potvrdit objednávku.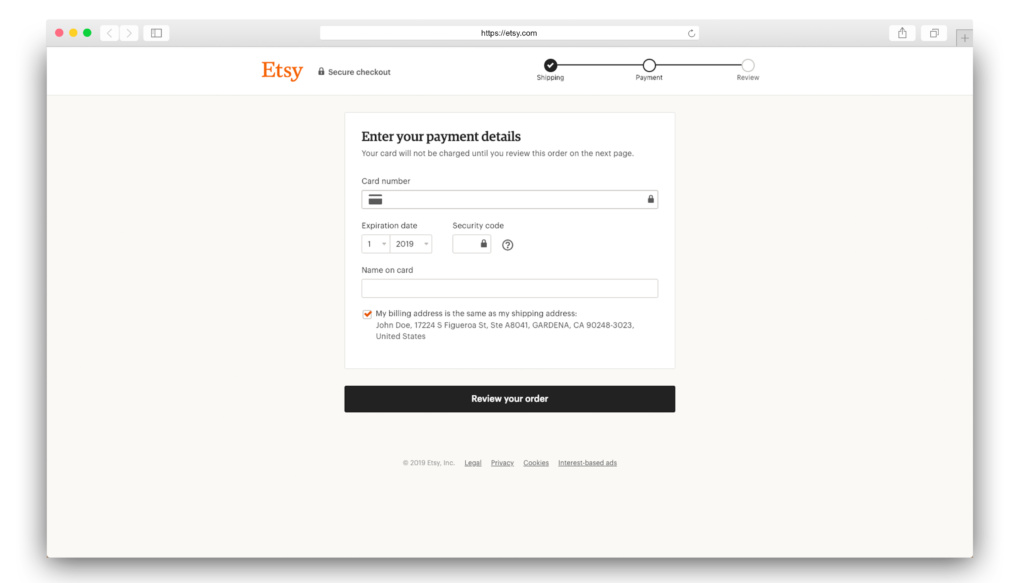 Většina balíčků zasílaných v rámci USA dorazí do 2 týdnů, vše však záleží na zvolené přepravní metodě. Zpravidla platí, že doručení metodami zdarma zabere více času, než při využití placených či expresních metod.
To, že jsme balík přijali v našem skladu poznáte jednoduše – dorazí vám od nás email. Zdá-li se vám, že se dlouho nic neděje, může to znamenat následující:
1. Email vám přišel, ale byl označen jako spam a vy jste si toho nevšimli. Prohledejte tedy složky spam, reklama atd.
2. Balík nedorazil do našeho skladu – je stále na cestě. nebo vás prodejce podvedl (v případě obchodu Costco je to velmi nepravděpodobné).
3. Balík dorazil do našeho skladu, avšak kvůli absenci identifikačního čísla nevíme, ke kterému účtu jej přiřadit. V takovém případě nás kontaktujte na [email protected] a zašlete důkaz (fakturu), že jste zboží zaplatili. Balík následně propojíme s vašim účtem.
KROK 3: Odeslání balíku z USA do ČR
Dorazil vám podobný email, jako je na obrázku níže? Výborně!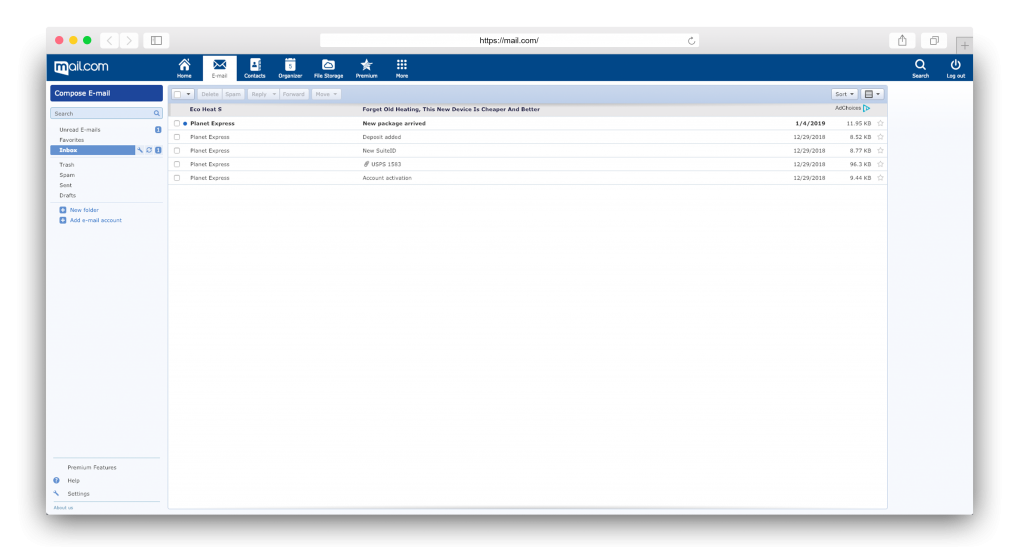 V emailu najdete nejdůležitější info o vašerm balíku.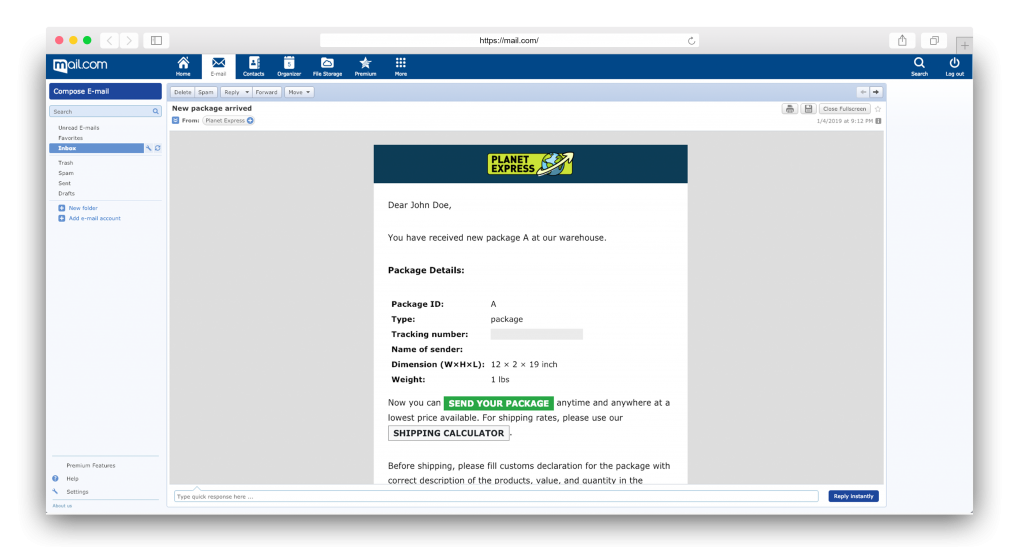 Abyste mohi balík odeslat, přihlašte se do administrace Planet Express a vyplňte celní deklaraci.
Co je to celní deklarace a proč ji vyplnit?
Celní deklarace je dokument, který slouží k ověření obsahu balíku při celní kontrole a pohybu zboží do země. Je tedy nutné jej vyplnit. Bez vyplněné celní deklarace nemůže být balík odeslán. Pokud zboží přesahuje limity pro CLO, je nutné odvést také daň z přidané hodnoty (angl. VAT).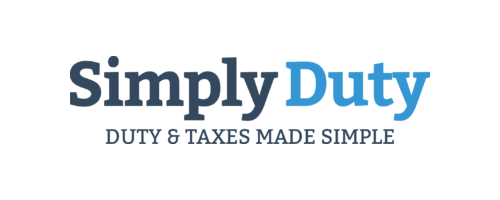 Druhým důvodem, proč se vyplatí zodpovědně vyplnit celní deklaraci, jsou náhrady případných škod. Pokud budete mít v celní deklaraci vyplněnou například částku $10. Bude vám (při zaplaceném pojištění) nahrazena částka $10 bez ohledu na to, jaká je reálná hodnota balíku.
Jak vyplnit celní deklaraci?
Už víme, k čemu celní deklarace slouží. Pojďme si vysvětlit jednotlivá políčka a deklaraci vyplnit.
Vysvětlení jednotlivých políček:
Product description – co posíláte? Vyplňujte v angličtině.
Quantity – kolik toho je?
Value – jakou to má hodnotu v amerických dolarech (USD)?
Origin – odkud to pochází? (USA)
Batteries – obsahuje balík baterie?
VIDEONÁVOD: Jak vyplnit celní deklaraci.
A nyní prakticky na příkladu s knihou This is Marketing od Setha Godina: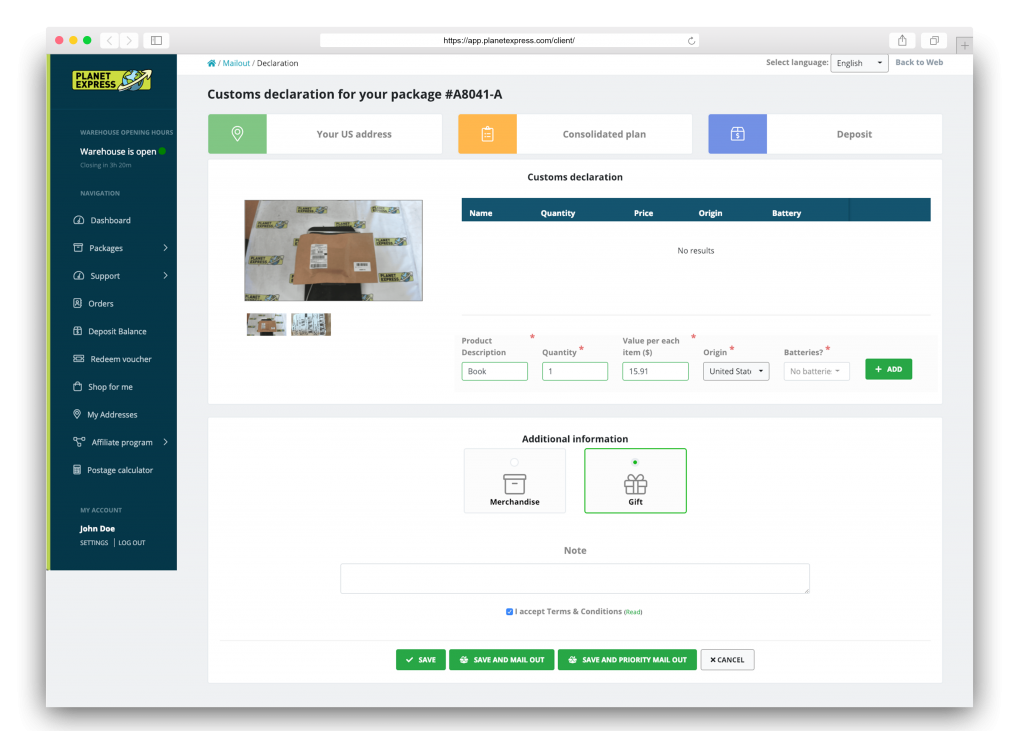 Nejprve přidejte konkrétní produkt (obsah balíku) kliknutím na "ADD" a následně deklaraci uložte tlačítkem "SAVE".
Vybrání adresy pro doručení a doručovací metody
Celní deklarace již máte vyplněnou podle povahy zboží v balíku, nyní zadejte příkaz (MAILOUT) pro odeslání balíku: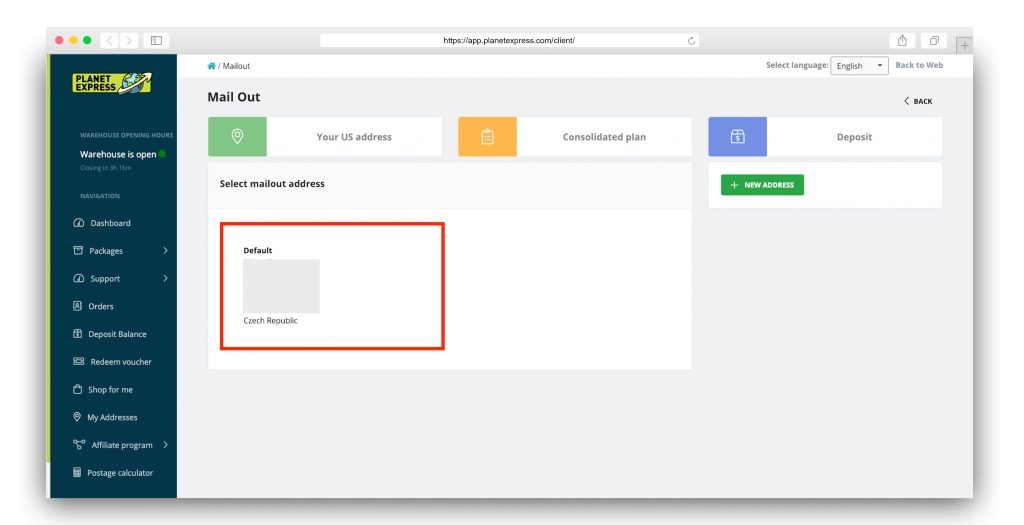 Další částí je zvolení přepravní metody z USA do ČR. Metod nabízíme hned několik. Pokud jste si na etsy.com vybrali nějaký drahý šperk, doporučujeme vám, abyste si zvolili např. přepravu pomocí DHL a FedEx. Tito dopravci totiž nabízejí podrobné aktualizace o stavu balíku. V případě levného zboží za pár stovek klidně využijte metody jako Planet Mail Express či USPS Economy/Priority.
VIDEONÁVOD: Jak odeslat balík
Pojištění balíku není povinné, ale je vhodné. Občas se totiž stane, že je balík neopatrnou manipulací při přepravě poškozen, a v krajním případě dokonce ztracen. Tyto okolnosti nemůžeme ovlinivt. Díky pojištění vám však bude navrácena částka, kterou jste uvedli v celní deklaraci spolu s cenou poštovného.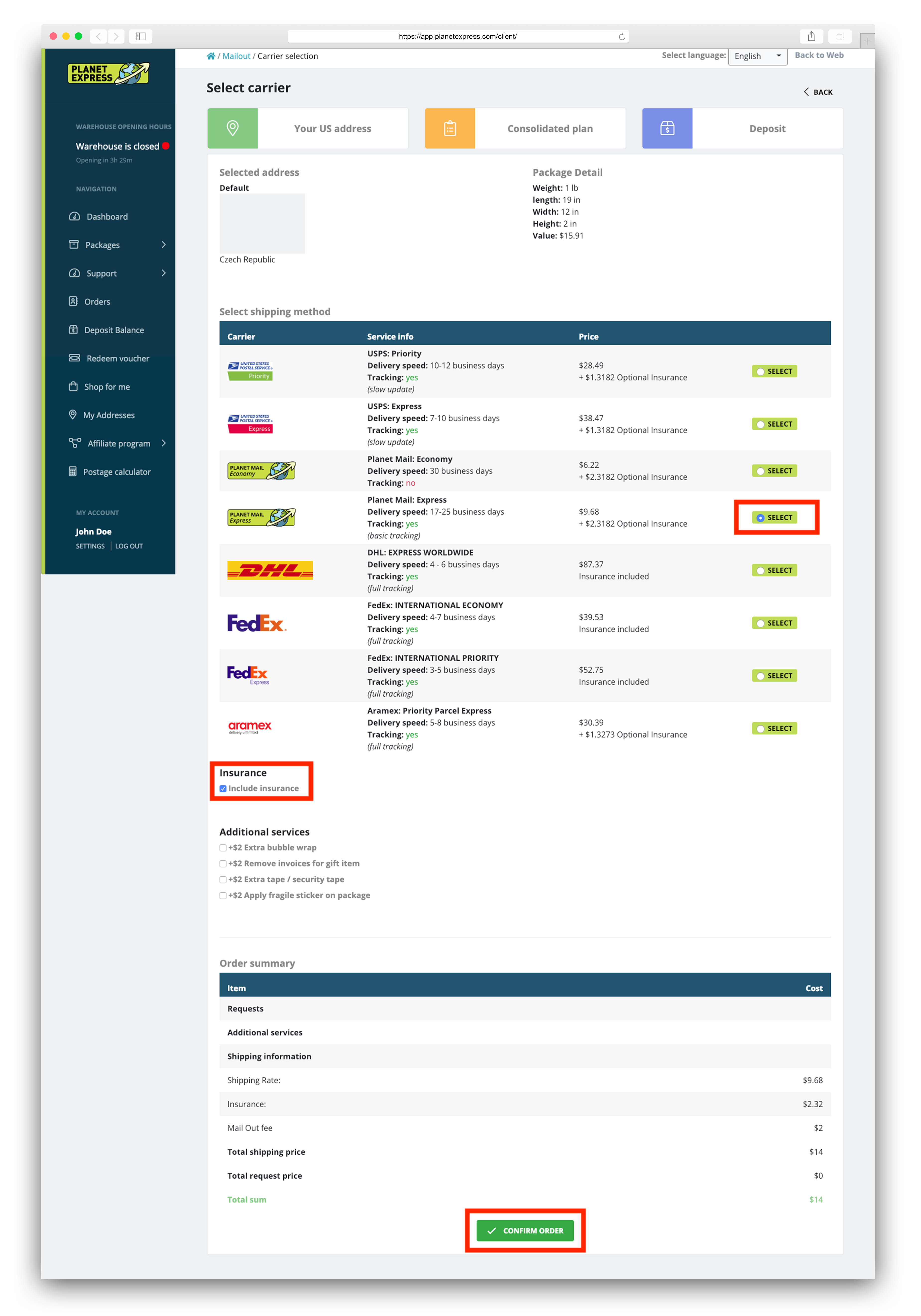 Dorazil vám balíček? Řádně jej zkontrolujte
Průběh doručení balíku můžete sledovat v naší administraci, případně pomocí dalších způsobů, které jsme pro vás sepsali. Informace o balíku poskytujeme ke všem poštovním metodám.
Nezapomeňte si balík zkontrolovat, zda náhodou nebyl poškozen během přepravy. Kdyby náhodou se stalo, že s balíkem není něco v pořádku, nafoťte jej a fotografie balíku i zboží nám pošlete.
A jak vypadá unboxing balíku? Podívejte se na video níže.
Tip: Pokud vám nebude jakýkoliv krok jasný, podívejte se na naše videonávody.
Proč při nákupu na Etsy.com využít Planet Express?
Kromě toho, že poštovné v mnoha případech vychází levněji, přeposílání balíků nabízíme několik užitečných služeb. Například můžeme zboží před odesláním zkontrolovat, takže budete mít jistotu, že bylo odesláno bez poškození.
Proč jsou ceny poštovného tak nízké?
Celý princip přeposílání balíků z USA je postaven na tom, že shromažďujeme velké množství zásilek na jednom místě. To znamená, že jsme s přepravci (DHL, FedEx, USPS a dalšími) schopni vyjednat lepší ceny, než kdybyste si zboží z Etsy chtěli přepravit pomocí kurýra nebo dopravními metodami, které nabízejí samotní prodejci.
Zákaznické recenze Planet Express
Přečtěte si recenze našich zákazníků na některém z následujících webů.