Kohl's patří mezi vůbec největší obchodní řetězce v USA. Není proto divu, že nákupy v něm lákají také lidi ze zahraničí, a občas také z České republiky. Na této stránce vám ukážeme, jak si zboží z Kohls.com poslat do ČR. Kohls totiž nenabízí mezinárodní poštovné, a je tak potřeba najít alternativu.
Alternativou je v tomto případě služba přeposlání balíků. Zřídíme vám bezplatnou adresu v USA a následně zboží pošleme z této adresy až k vám domů. Nutné je projít 3 hlavní kroky:
1. Založíte si u nás americkou adresu. Na tuto adresu řetězec Kohl's pošle zboží, které si zde objednáte.
2. Po přijetí vaší objednávky vám zašleme email o přijetí balíku v našem skladu.
3. Přihlásíte se do naší administrace, vyplníte celní deklaraci a vyberete si metodu pro doručení do ČR. Vše ostatní už vyřídíme my. Za pár dní/týdnů (v závislosti na doručovací metodě) vám bude balík doručen až domů, do ČR.
Pojďme si jednotlivé kroky vysvětlit podrobněji níže.
KROK 1: Založte si adresu v USA
Založení adresy v USA může znít složitě, ale vězte, že je to vcelku jednoduché. Následující kroky podrobně popisují, jak na to. Dáváte-li přednost videím, můžete se podívat na registraci v našem videu.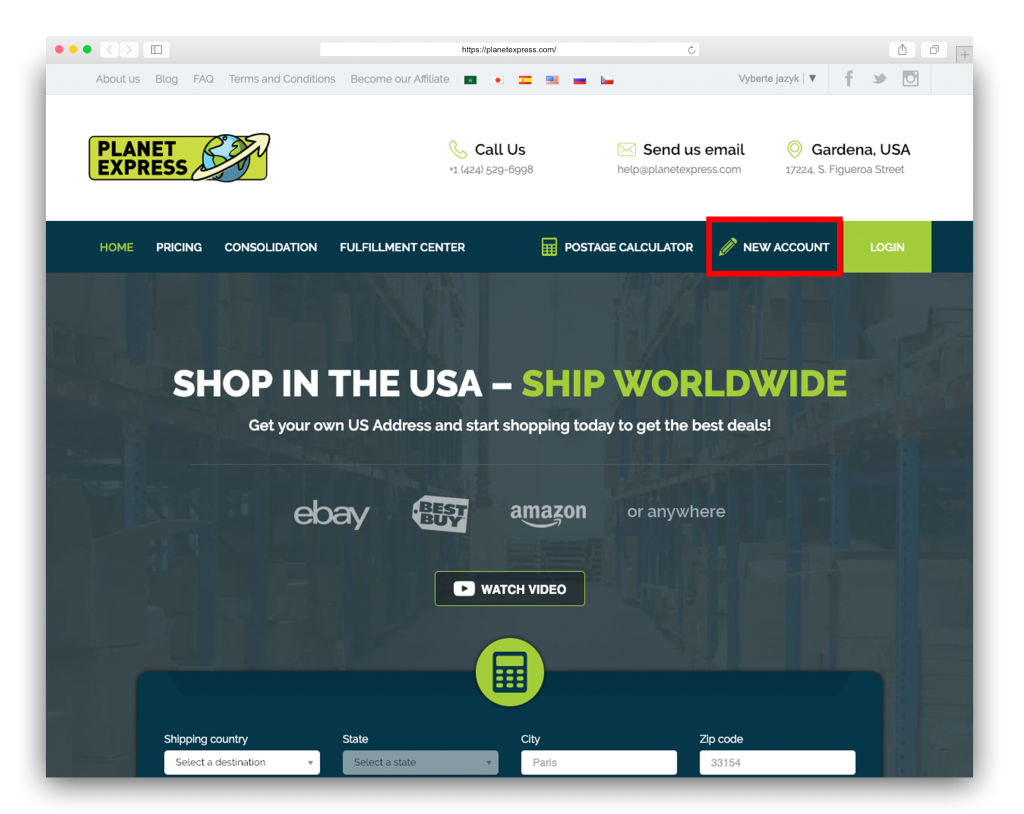 Vyplňte registrační formulář (jméno, zemi, heslo atp.). Doporučujeme použít silné heslo, proto tyto účely poslouží generátor hesel LastPass, díky kterému si hesla následně můžete i uložit. Rozhodně nepoužívejte hesla "123456", "heslo123", "password123" atp..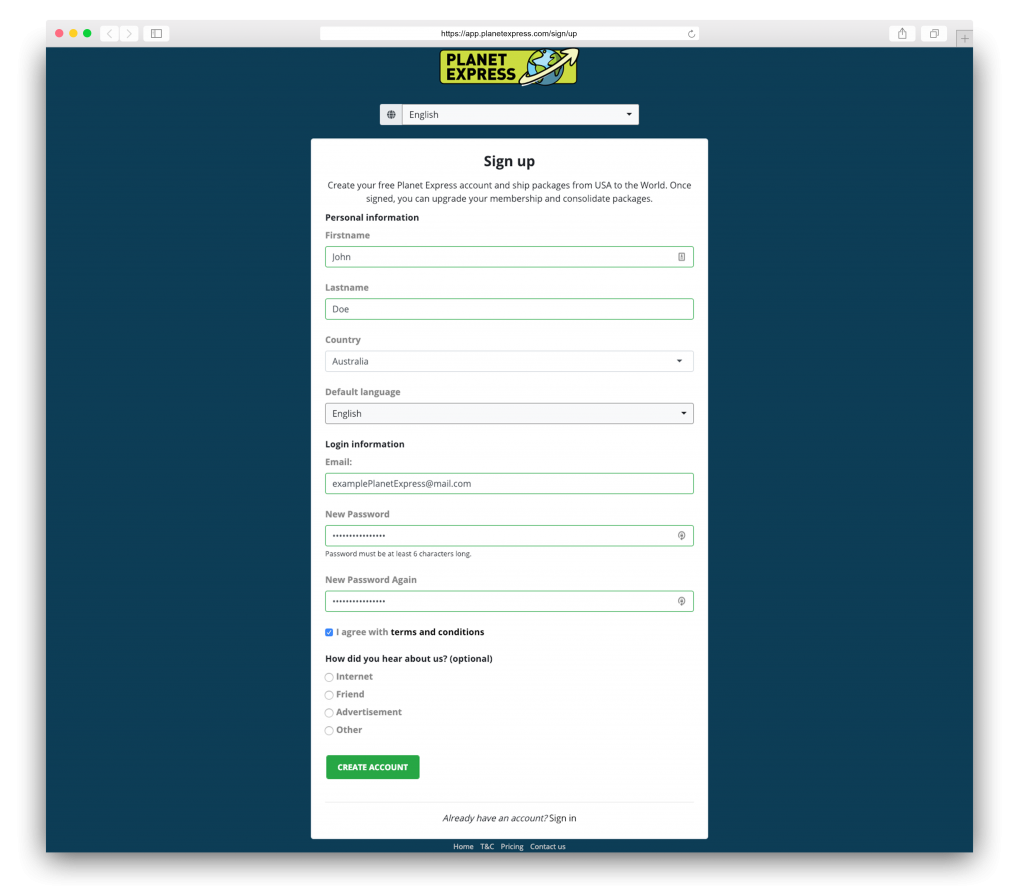 Potvrďte váš mail
Po registraci vám bude zaslán email, ten potvrďte. Pokud vám žádný email nepřišel, prohledejte složky spam/reklama.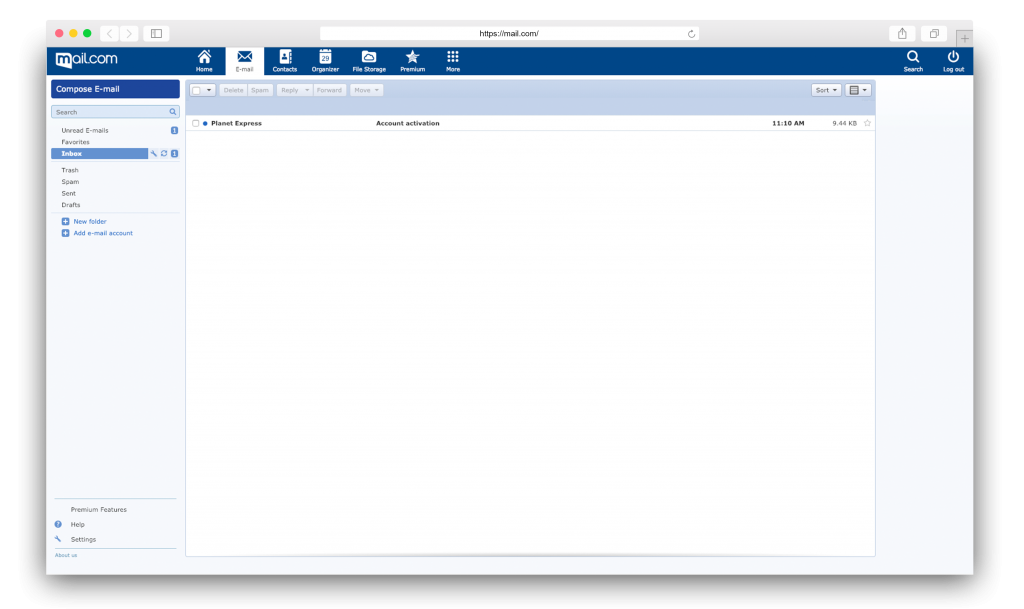 V emailu naleznete instrukce, co dělat dál. My si však vše ukážeme i zde.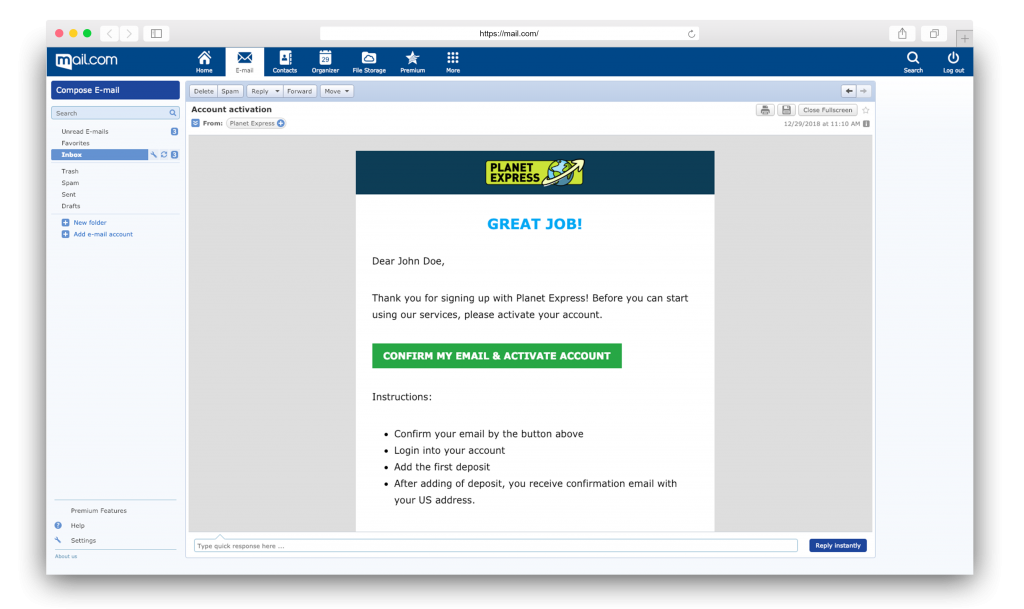 Dokončete vaši registraci na Planet Express
Dokončení registrace je myšleno vyplnění doručovací adresy. Doručovací adresa v tomto případě znamená tu adresu, kam budeme posílat balíky z USA.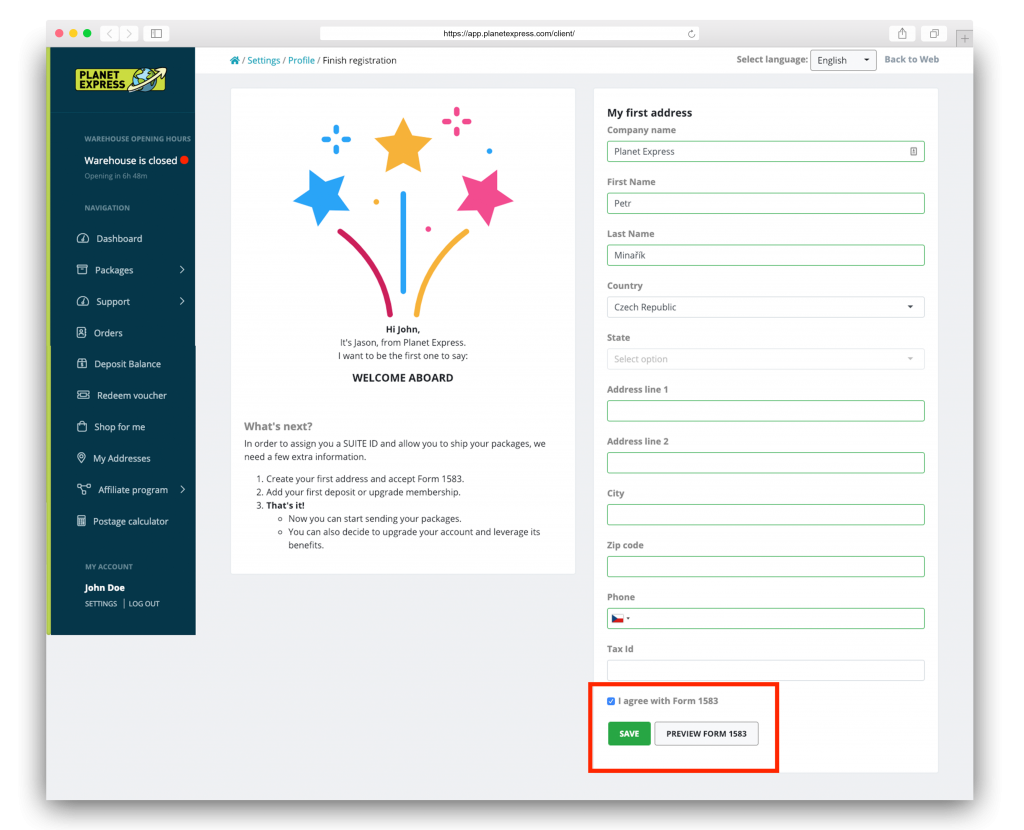 Vaši americkou adresu aktivujete přidáním zálohy $5. O tyto peníze nepřijdete, přidáme je na vašem účtu jako kredit. Kreditem budete následně platit poštovné a další služby.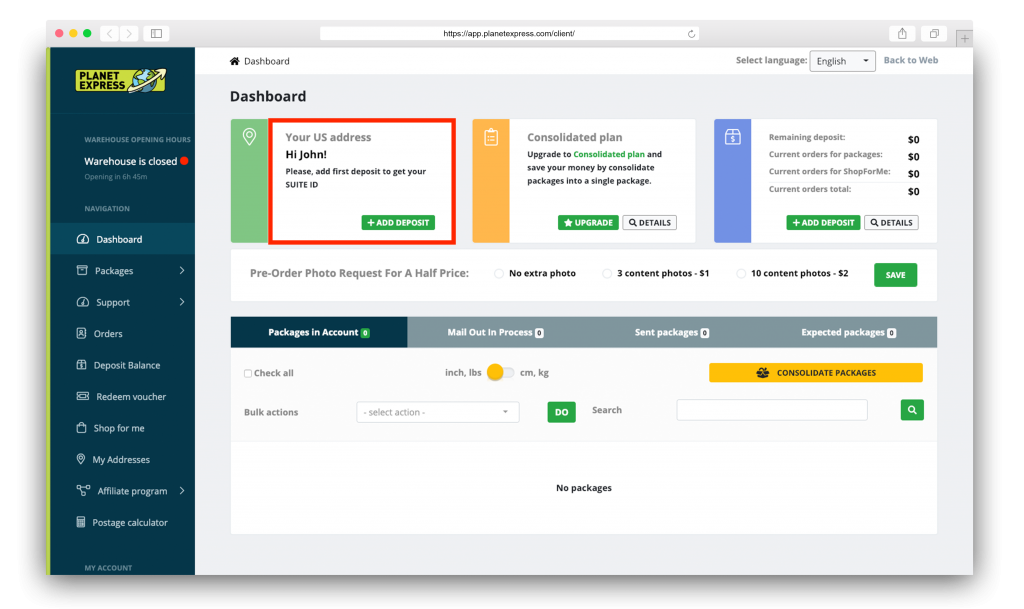 Přijímáme hned několik platebních metod: Paypal, Amazon Pay, platbu kartou, převodem na účet nebo Bitcoin.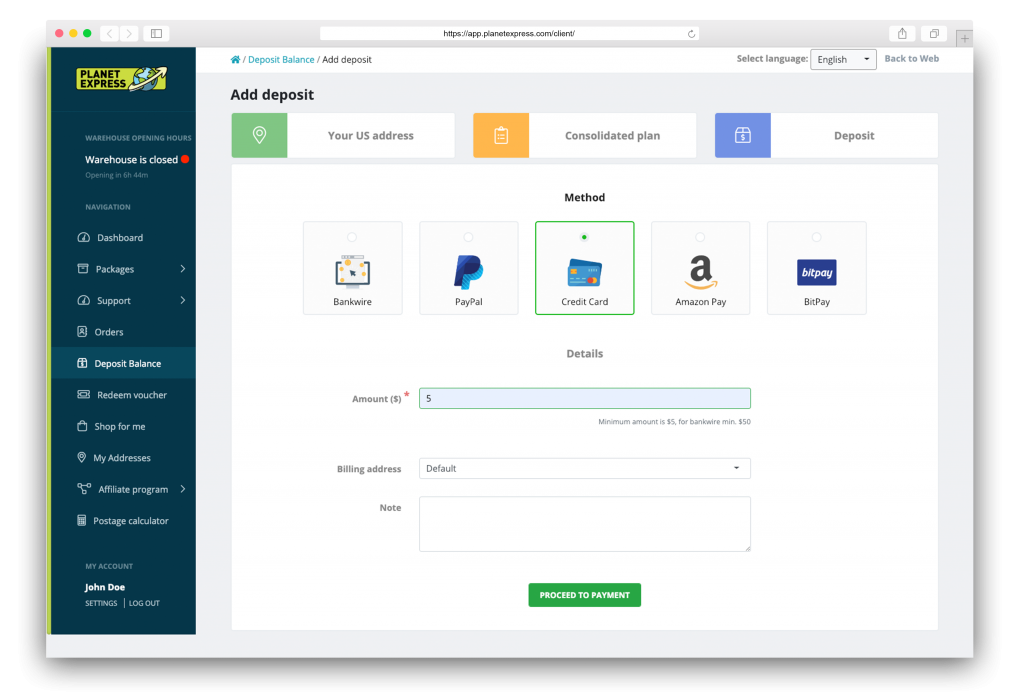 Instrukce pro různé platební metody se mění, stačí je však následovat.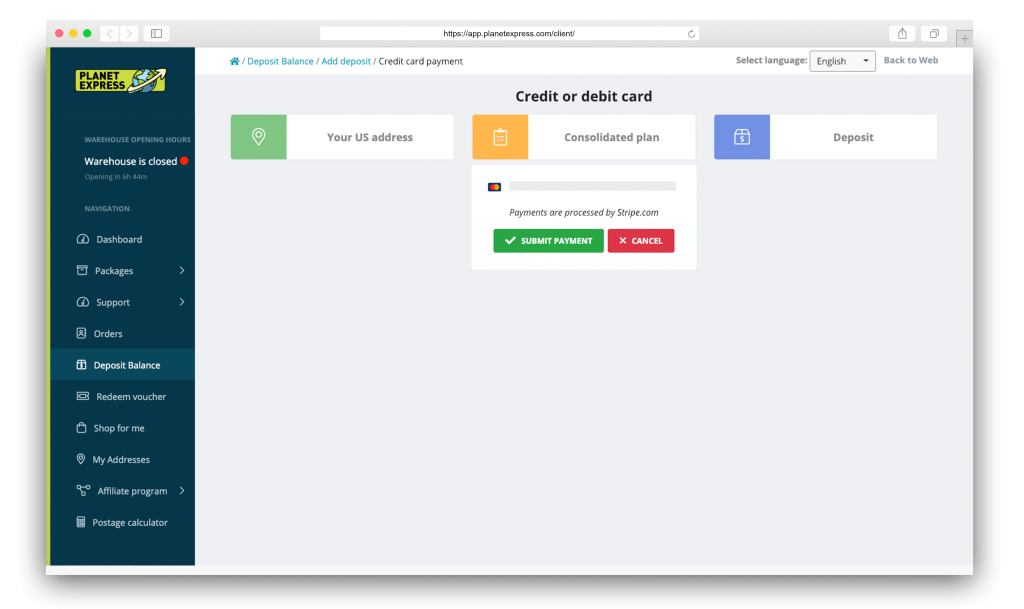 Úspěšná platba se zobrazí v záložce ORDERS.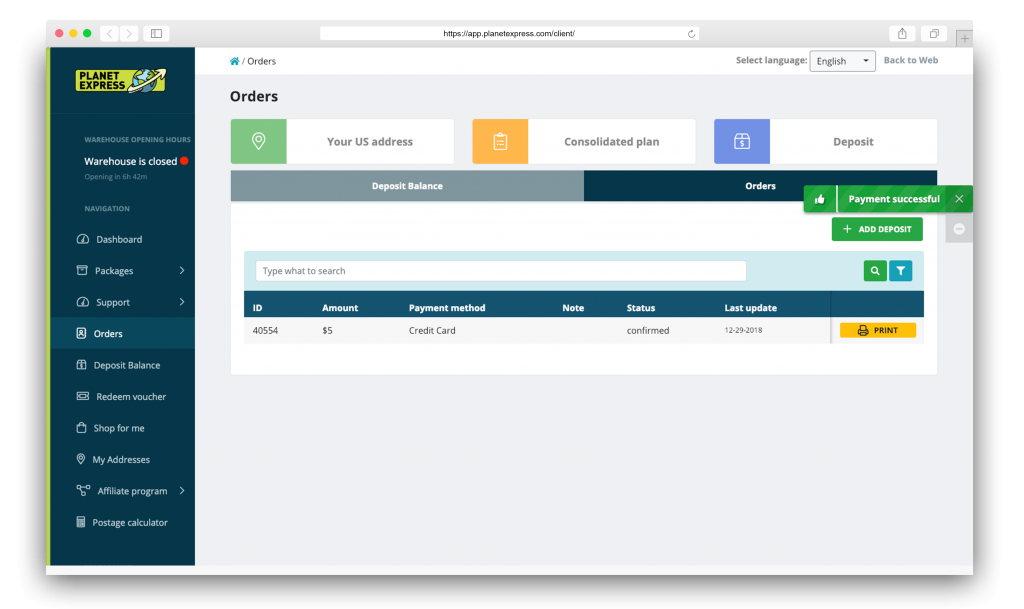 Přidáním zálohy bude aktivována vaše americká adresa.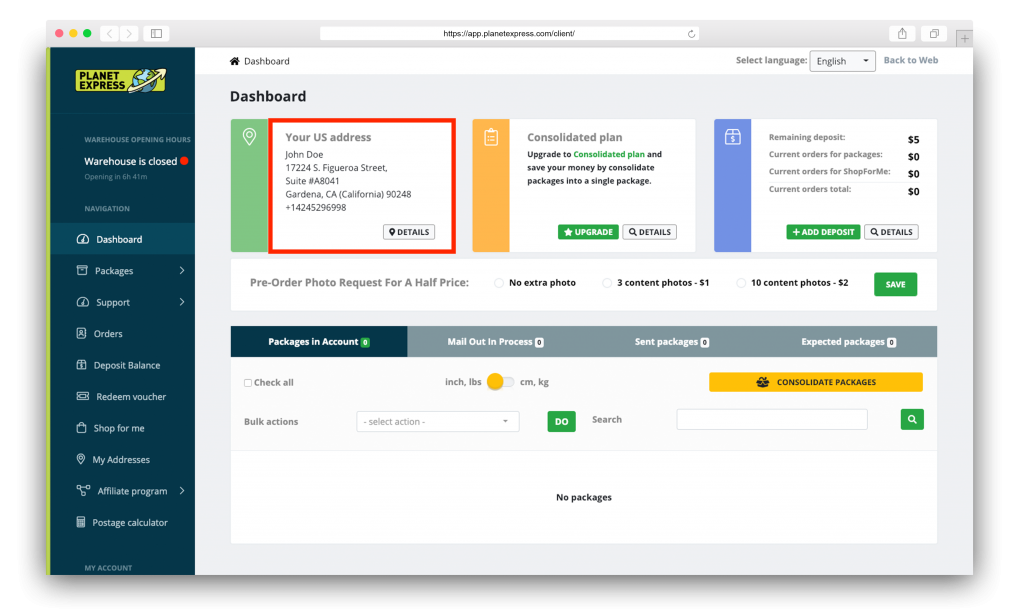 Vaše nová americká adresa bude vypadat takto:
Jméno Příjmení
17224 S. Figueroa Street, Suite #A1234
Gardena, CA (California) 90248
+14245296998
Velmi důležitou součástí adresy je tzv. SUITE ID, které má každý náš zákazník vlastní. Podle tohoto čísla poznáme, do kterého účtu máme přiřadit balíky z různých obchodů. Nakupovat v USA můžete např v Amazon, eBay, Walmartu a stovkách dalších obchodů. Omezovat se však nemusíte pouze na USA, přijímat můžeme balíky i z jiných zemí.
KROK 2: Objednejte si zboží z Kohl's
Přejděte na stránky Kohls.com a vyberte si zboží, které chcete koupit. My pro ilustraci vybrali dětské Conversky. Vyberte správnou velikost (tomuto kroku při nákupu oblečení a obuvi věnujte obzvláště velkou pozornost) a přidejte zboží do košíku tlačítkem ADD TO CART. Zobrazí se vám položky, které máte v košíku.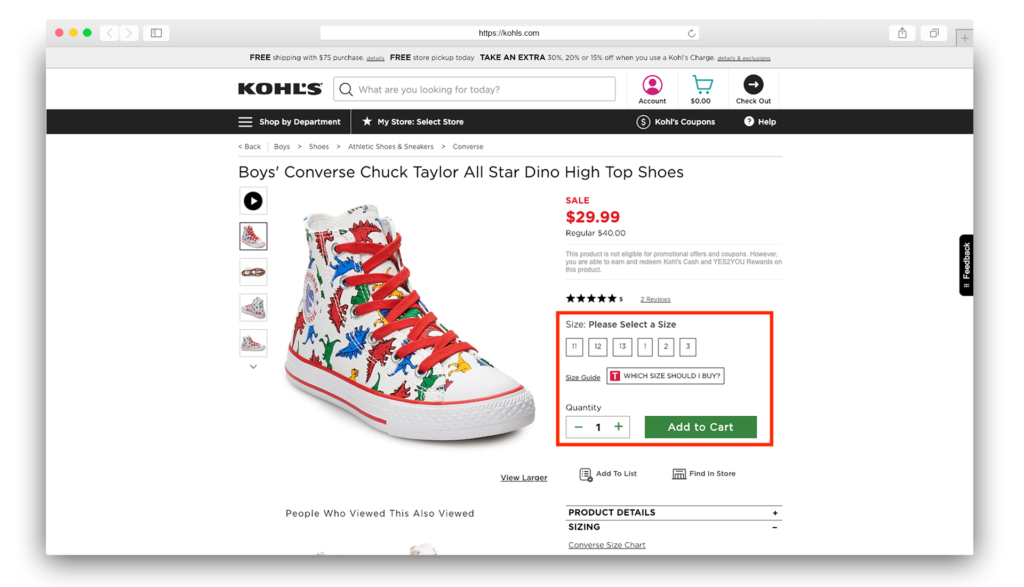 Jakmile dokončíte výběr produktů a budete chtít zboží objednat, klikněte na CHECK OUT.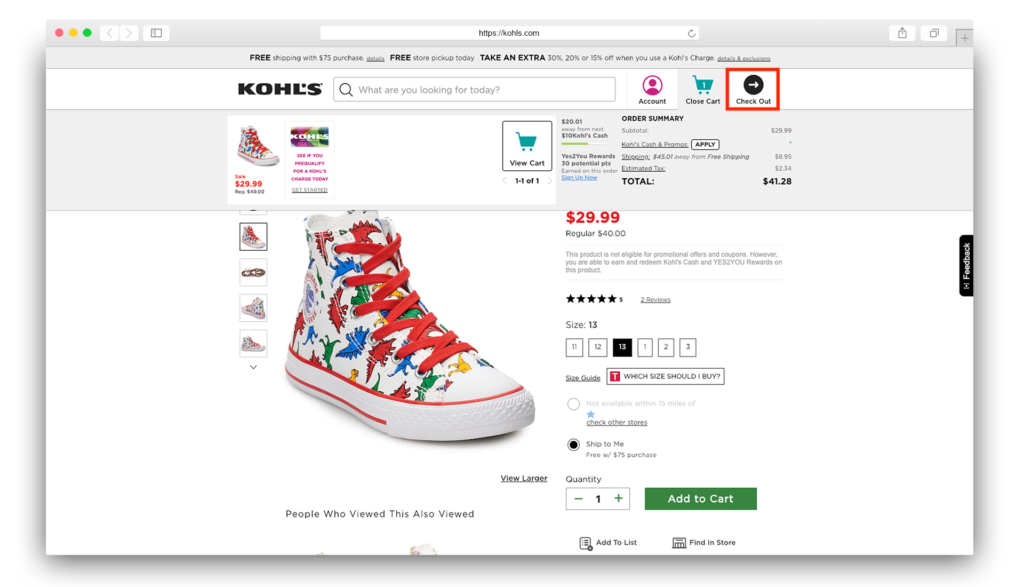 Většina online obchodů v USA nabízí možnost založení účtu, avšak nakupovat můžete i jako neregistrovaný uživatel.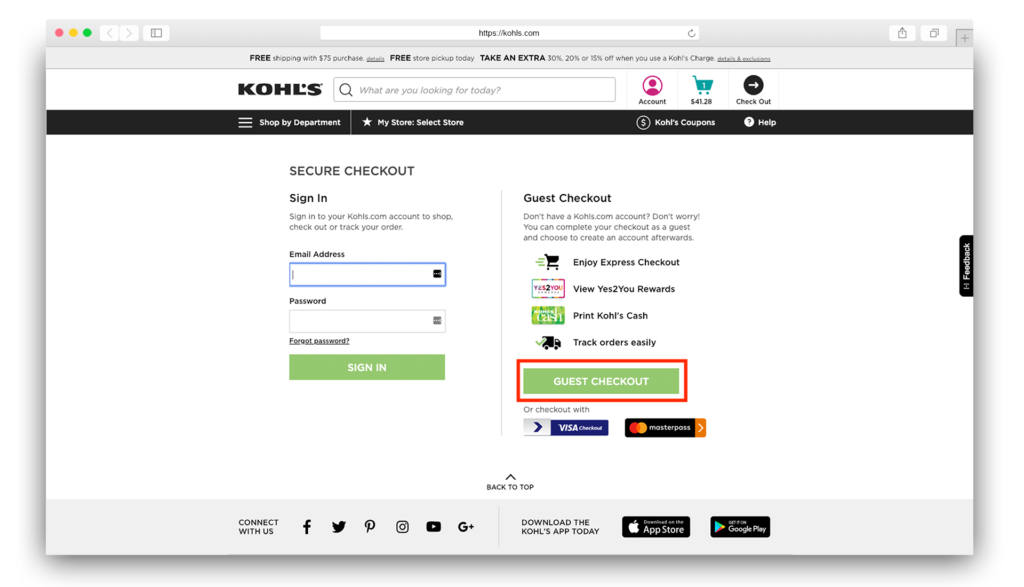 Doručovací adresu vyplňte podle vzoru níže. Důležité je správně vyplnit zejména vaše suite ID a PSČ. Adresu pro jistotu 2x překontrolujte. K zaplacení pokračujte kliknutím na CONTINUE TO PAYMENT.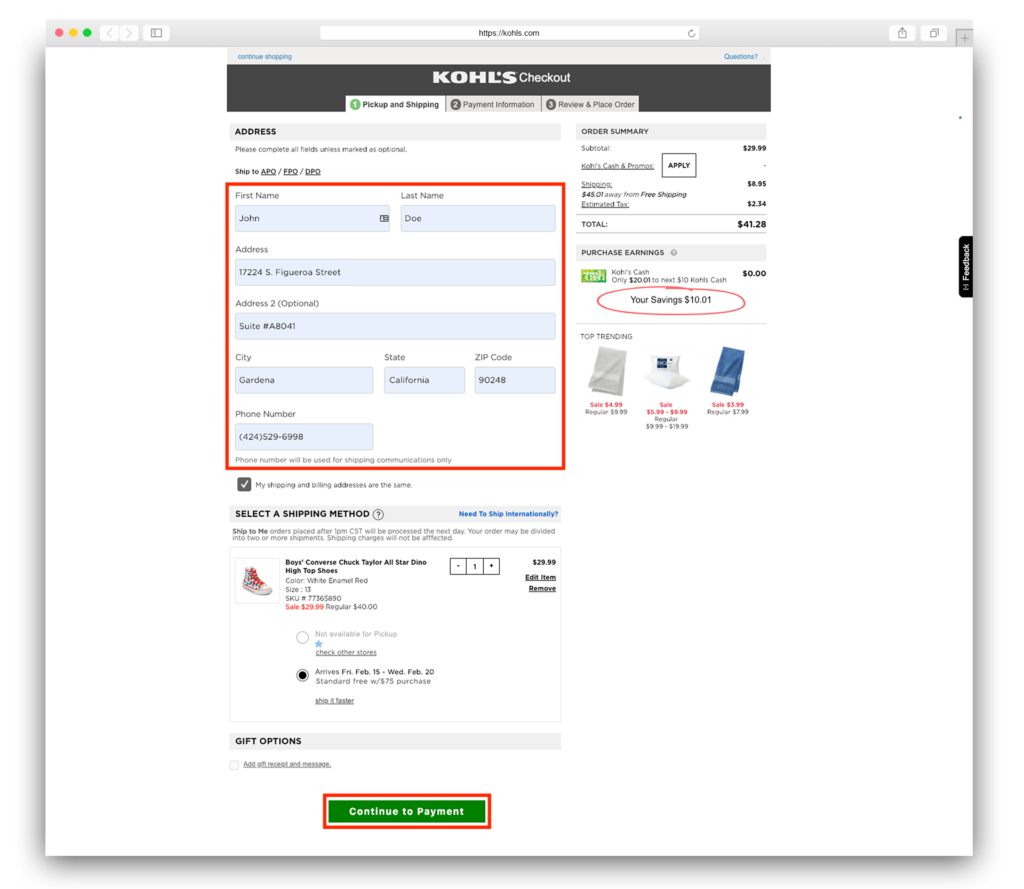 Platební metodu zvolte dle osobních preferencí a platbu dokončete podle instrukcí. Následně už jen potvrďte objednávku a vyčkejte, než vám bude zboží doručeno na vaši Planet Express adresu.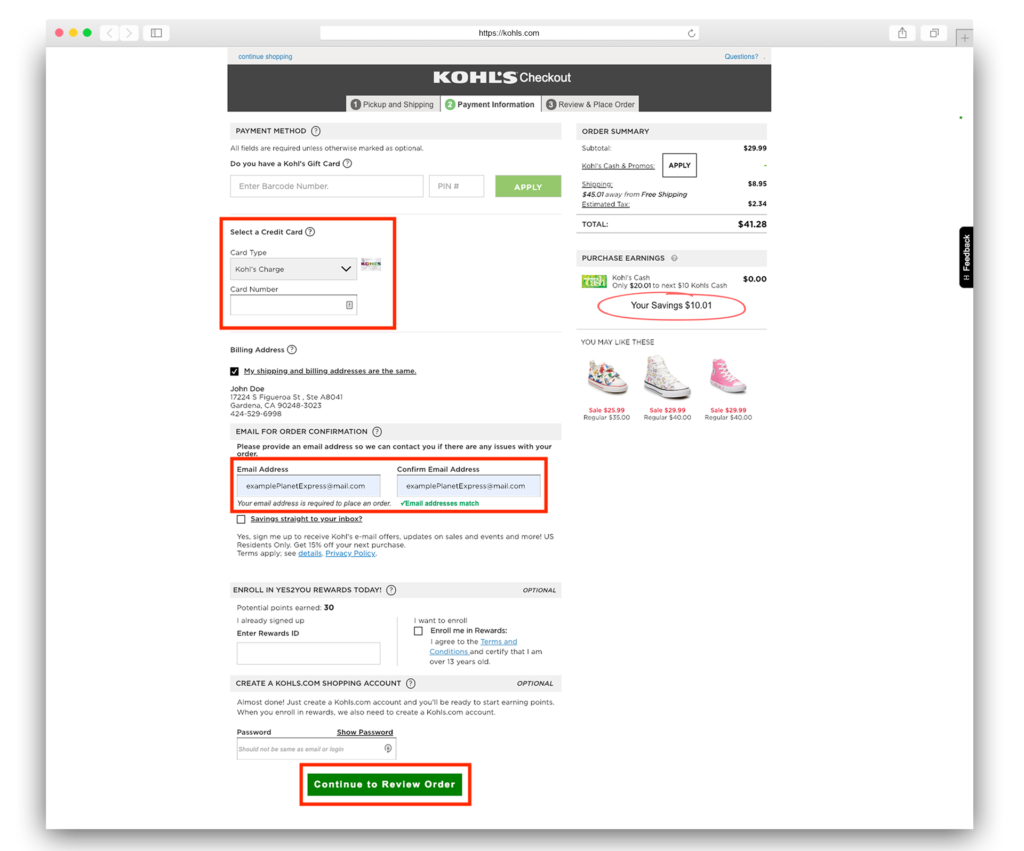 Přijetí vašeho balíku v našem skladu poznáte jednoduše – zašleme vám email. Pokud se vám zdá, že email dlouho nepřichází, může to znamenat následující:
1. Email vám přišel, ale byl označen jako spam a vy jste si toho nevšimli. Prohledejte tedy složky spam, reklama atd.
2. Balík nebyl doručen
a) Je stále na cestě – vyčkejte ještě nekolik dní.
b) Prodejce vás podvedl (pokud nenakupujete na eBay zboží z druhé ruky nebo od drobných prodejců, je tato možnost velmi nepravděpodobná).
3. Balík byl doručen do našeho skladu, avšak kvůli absenci vašeho SUITE ID nevíme, ke kterému účtu jej přiřadit. Kontaktujte nás a zašlete nám důkaz o tom, že je balík opravdu váš (např. fakturu). Balík následně přidáme do vašeho účtu.
KROK 3: Zadejte příkaz pro odeslání balíku z USA do ČR
Závěrečným krokem je odeslání balíku z našeho skladu k vám domů. Nejdříve vám musí přijít email o tom, že jsme váš balík převzali.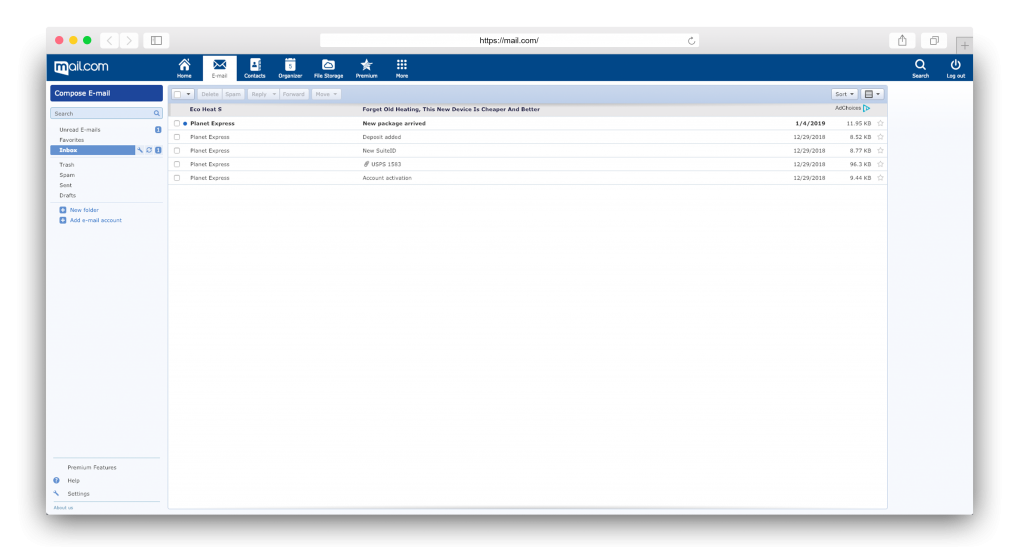 Email shrnuje důležité informace o balíku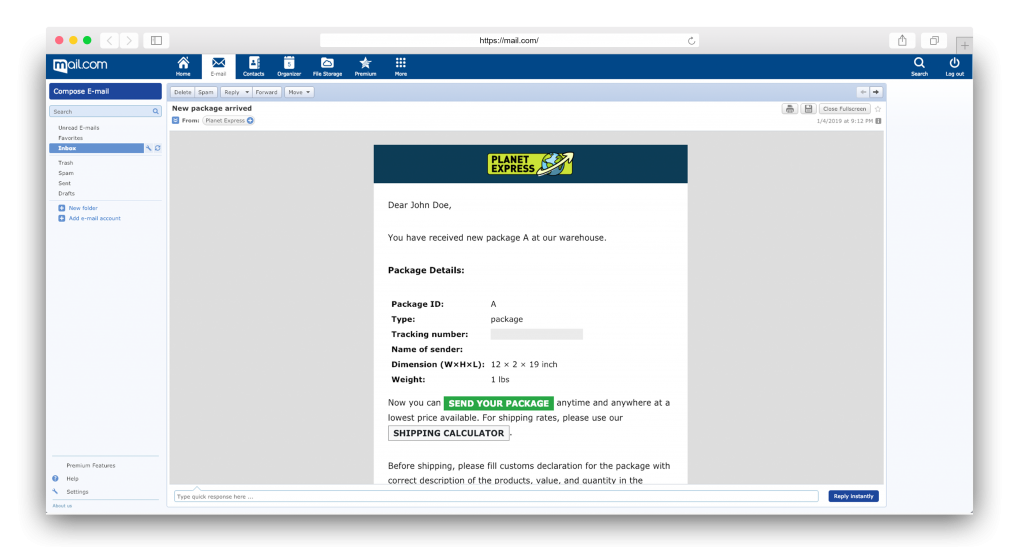 Pro odeslání balíku se přihlašte se do vašeho Planet Express účtu a vyplňte celní deklaraci.
Co je to celní deklarace a proč ji vyplnit?
Celní deklarace je dokument, který slouží k ověření obsahu balíku při celní kontrole a pohybu zboží do země. Je tedy nutné jej vyplnit. Bez vyplněné celní deklarace nemůže být balík odeslán. Pokud zboží přesahuje limity pro CLO, je nutné odvést také daň z přidané hodnoty (angl. VAT).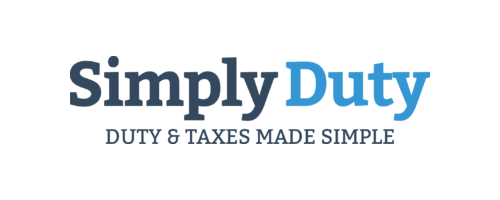 Druhým důvodem, proč se vyplatí zodpovědně vyplnit celní deklaraci, jsou náhrady případných škod. Pokud budete mít v celní deklaraci vyplněnou například částku $10. Bude vám (při zaplaceném pojištění) nahrazena částka $10 bez ohledu na to, jaká je reálná hodnota balíku.
Jak vyplnit celní deklaraci?
Už víme, k čemu celní deklarace slouží. Pojďme si vysvětlit jednotlivá políčka a deklaraci vyplnit.
Vysvětlení jednotlivých políček:
Product description – co posíláte? Vyplňujte v angličtině.
Quantity – kolik toho je?
Value – jakou to má hodnotu v amerických dolarech (USD)?
Origin – odkud to pochází? (USA)
Batteries – obsahuje balík baterie?
VIDEONÁVOD: Jak vyplnit celní deklaraci.
A nyní prakticky na příkladu s knihou This is Marketing od Setha Godina: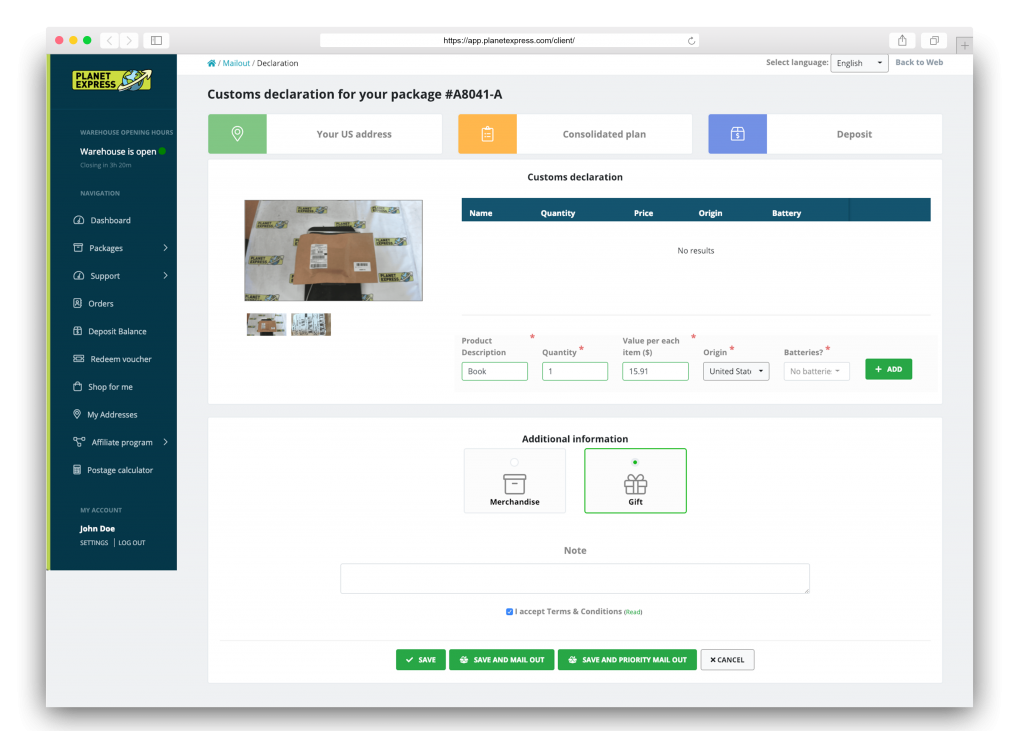 Nejprve přidejte konkrétní produkt (obsah balíku) kliknutím na "ADD" a následně deklaraci uložte tlačítkem "SAVE".
Vyberte doručovací adresu a metodu
Celní deklaraci jsme již vyplnili, nyní odešleme balík. V administraci si jej najděte a klikněte na MAILOUT, zobrazí se vám možnost výběru adresy.
VIDEONÁVOD: Jak odeslat balík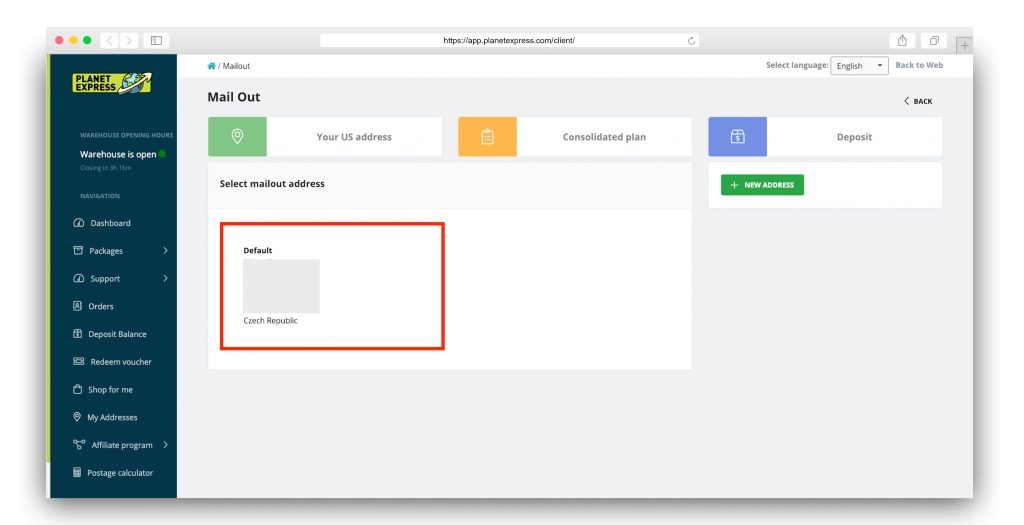 Zvolte si doručovací metodu, kterých nabízíme hned několik. Pokud nakupujete velmi cenné zboží, doporučujeme zvolit přepravu pomocí DHL a FedEx. Metody těchto dopravců nabízejí podrobné informace při sledování balíku. Využít můžete i levnější metody Planet Mail Express či USPS Economy/Priority, popřípadě Aramex.
Balík lze také pojistit. Někdy je balík při přepravě poškozen, v krajním případě může dojít k jeho ztracení. Tyto okolnosti bohužel nemůžeme ovlinivt. Pokud balík pojistíte, bude vám navrácena částka, kterou jste uvedli v celní deklaraci spolu s cenou poštovného.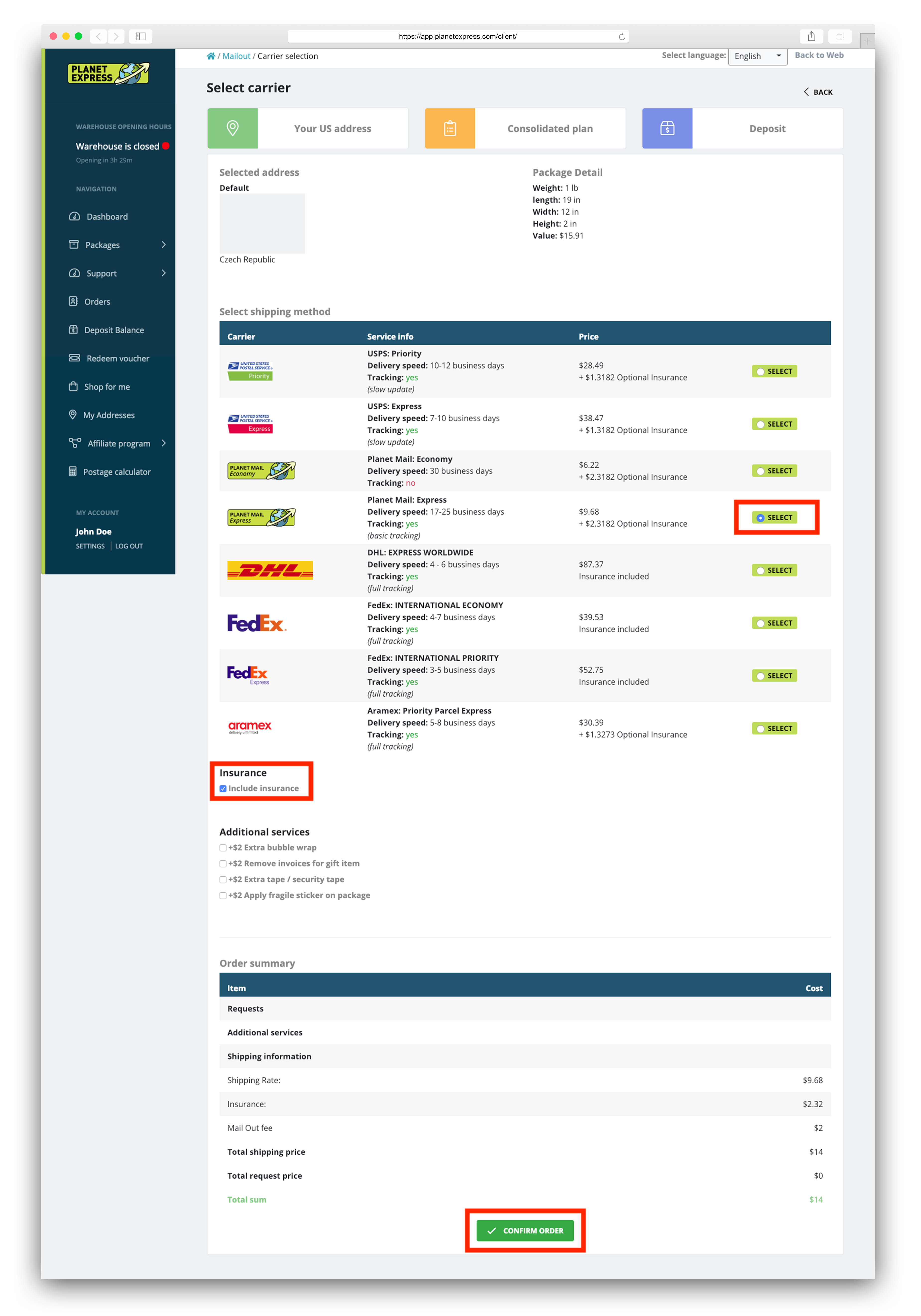 Přijali jste váš balík? Zkontrolujte si jej
Pomocí sledovacího čísla můžete balík sledovat. Způsobů je hned několik a sepsali jsme je pro vás na našich stránkách. Všechny metody disponují sledováním balíku.
Jakmile vám bude balík doručen, zkontrolujte zejména jeho obsah, zda není poškozen. Pokud bude zboží poškozeno, nafoťte fotografie a zašlete nám je.
A jak vypadá unboxing balíku? Podívejte se na video níže.
Tip: Pokud vám nebude jakýkoliv krok jasný, podívejte se na naše videonávody.
Proč při nákupu na Kohls.com využít Planet Express?
Kromě toho, že poštovné v mnoha případech vychází levněji, přeposílání balíků nabízíme několik užitečných služeb. Například můžeme zboží před odesláním zkontrolovat, takže budete mít jistotu, že bylo odesláno bez poškození.
Proč jsou ceny poštovného tak dostupné?
Celý princip přeposílání balíků z USA je postaven na tom, že shromažďujeme velké množství zásilek na jednom místě. To znamená, že jsme s přepravci (DHL, FedEx, USPS, Aramex a dalšími) schopni vyjednat lepší ceny, než kdybyste si zboží z Kohls.com chtěli přepravit pomocí kurýra nebo dopravními metodami, které nabízejí samotní prodejci.
Zákaznické recenze Planet Express
Přečtěte si recenze našich zákazníků na některém z následujících webů.