Do You Want To Ship To Bolivia From The US?
Shipping to Bolivia from the USA takes between 5 to 30 business days (depending on the shipping method). We ship to Bolivia using carriers like FedEx, DHL, USPS, and Planet Mail. Prices start at around $10 for small packages and you get package tracking as well. We also send packages right to your doorstep so it is very convenient for you.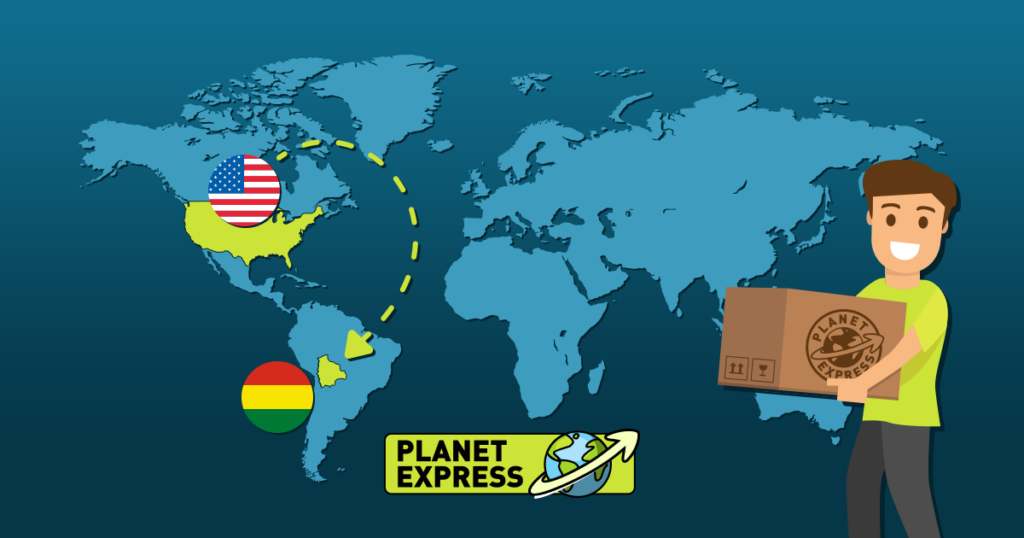 In this guide, we are going to explain to you, how does it work, how much does it cost, and how to get the cheapest shipping from the USA to Bolivia, how to declare the goods, what are the prohibitions & restrictions, and much more.
If you are interested in specific sections only (VAT, delivery time, etc.), use our navigation below.
Shipping Price And Time From The USA To Bolivia
Prices for shipping from the US to Bolivia are very affordable. For smaller packages, the price starts on dozens of dollars. The estimated postage and delivery time can be calculated using our postage calculator.
How To Get The Cheapest Shipping From The USA To Bolivia?
The price of the shipping depends mainly on the dimensions of the package, its weight, and the delivery method you choose. To get the cheapest shipping from the USA to Bolivia, select slower delivery methods like Planet Mail Express or USPS.
In the following table, you can see the estimated prices of shipping from the USA to Sucre, Bolivia.
| Shipping Method | 0.5 kg, 25×18×10 cm | 4.5 kg, 50×25×18 cm | 20 kg, 90×60×50 cm |
| --- | --- | --- | --- |
| *FedEx: International Economy | $69.69 | $93.87 | $258.61 |
| *FedEx: International Priority | $74.43 | $101.28 | $372.12 |
| *DHL: Express Worldwide | $53.46 | $128.68 | $696.38 |
The prices were estimated on the 3rd of July, 2020.
*Insurance included
We send the packages to Bolivia using carriers such as DHL, or FedEx. The delivery usually takes 5 days with express methods and 15 to 30 days with cheaper, economy methods.
Searching for the best rates
Start with our free plan or go premium to save even more by consolidating your packages into one.
Create New Account
Shop in the USA or UK
and have packages forwarded to anywhere in the World
NO HIDDEN FEES in the shipping price. You only pay for the services you order.
Feel free to compare our shipping prices with competitors.

Tip: Our customers from Bolivia especially love the FedEx Economy & Express delivery methods.
---
How Does The Shipping To Bolivia Work?
Generally, there are 2 most used ways how to ship goods and personal items from the US to Bolivia. The first is you find some carrier like FedEx, contact them, schedule the pickup and they deliver the package to your delivery address. It works, but it is ridiculously expensive.
The second way is to take advantage of a package forwarding company like Planet Express. You can benefit from several advantages when using the package forwarder. The following table shows the pros and cons of traditional shipping and package forwarding (Planet Express).
| | Traditional Shipping | Planet Express |
| --- | --- | --- |
| Costs of the shipping | Very expensive | Much cheaper |
| Delivery time | Depending on the delivery method | Depending on the delivery method |
| Additional services | Very limited | Wide selection* |
| Delivery methods | Limited, depending on the carrier | Wide selection (more carriers) |
| Customer support | Very slow | Very responsive and helpful |
| Package consolidation | n/a | Available |
*Read below how you can benefit from our additional services.
Shipping From The USA To Bolivia With Planet Express
Whether you wanna shop from the US stores that don't offer delivery to Bolivia, or you just want to send some personal items, Planet Express is here to help you with that. The shipping process can be described in 3 simple steps.
1. Getting a Free USA Address
At Planet Express we can provide you with a free US address in Gardena, California, and also with a premium sales-tax-free address in Portland, Oregon. You can use these addresses for orders from the US stores, or even for packages containing your personal items, eventually gifts from your friends that live in the US.
2. Using Your USA Address
When you have the Planet Express address, feel free to use it for receiving the orders from the US online stores. Once we receive packages addressed to you, we link them with your account and send you the notification email. Then you can take advantage of one of our additional services. Once you decide to send the package to your home address in Bolivia, proceed to step 3.
3. Choosing The Delivery Method From The USA To Bolivia
Before we can send the package to you, you have to complete the customs declaration. It is an online form where you describe the contents of the package. It is closely tied up with customs and it allows customs officers when checking the imported package.
Once you finish the declaration, you can choose the delivery method that suits your needs. We offer quick delivery methods and even cheap, slower ones. Read more about the methods in the following section.
Duty & TAX
Bolivia doesn't have de minimis value on duty & TAX. So you have to pay Duty & TAX from every package. Aduana.gob.bo is the official customs website.
We recommend using USPS Express and Planet Mail Express delivery methods (see more details below). If you use DHL or FedEx, there are huge fees for customs processing.
Planet Mail Express
If you use Planet Mail Express, you don't have to pay VAT but the tracking info is not so exact and there are size & weight limits.
USPS Express
You have always pay VAT, however, you can send bigger packages (see size & weight limits).
The VAT rate is 14.71% + there is a customs tax. The rates vary according to a product category. Feel free to visit customs duties list where you can find all the categories and rates.
Example:
If you ship an Apple Airpods ($150) you have to pay 14.71% + 5% customs tax of the total value (shipping costs, insurance + value in customs declaration).
VAT $150*0.1471=$22.07
GST $150*0.005=$7.50
Total: $29.57
Important information is that the customs declaration is the responsibility of each customer. If you do not know how to complete it read our guide How to fill out the customs declaration.
---
Prohibitions & Restrictions On Goods Imported To Bolivia
There are also some restrictions on some goods. Each carrier has its own list of prohibited items. So what you can't ship from the US to Bolivia? You can read the terms of each carrier under the following links:
The most important information for you is that we can not ship the following items from the USA to Bolivia:
| | | |
| --- | --- | --- |
| Acids | Pornography | Poisons |
| Powder | Antiques | Gases |
| Bearer documents | Bullion | Furs |
| Ice (dry or wet) | Used clothing | Currency |
| Precious metals and stones | | |
If you are not sure whether some restrictions apply to your goods, please visit aduana.gob.bo, review the above terms of each carrier or contact us at [email protected].
---
Take Advantage Of Some Of Our Other Services
Planet Express is not just about forwarding packages. We also offer our customers additional services such as consolidation, fulfillment or Shop For Me service.

Calculate the Postage Price in Advance
You can easily calculate the postage price in advance. Take advantage of our postage calculator. Just fill in some details and you will get an estimate of the price and delivery time.

Let Us Shop For You
Don't you have time to shop, or does the business not accept your preferred payment method? Tell us what and where you want to buy and we will do the work for you.

Save Up To 80% With Consolidation
f you order more pieces of goods from different stores and you want to save on postage, we recommend using the consolidation service. You can save up to 80%.

Do You Have Any Other Wish?
Do you need to scan documents, remove invoices from the package, check the status of the goods, fill customs declaration, or something else? Just make a special request.
---
Why Choose Planet Express?
✅ We offer the best prices on the market.
✅ We provide excellent Spanish and English speaking customer support.
✅ We have great customer reviews.
Read Reviews of our Customers
Read thousands of reviews of our satisfied customers on the following websites.
---
Useful Information For Purchase And Package Forwarding From The USA To Bolivia
Read our blog, where we regularly publish tips for different kinds of goods. Also, make sure you visit our following page where you can find tutorials on how to order from the most popular US stores.
We deliver to all parts of Bolivia – from La Paz to Santa Cruz de la Sierra, Oruro, Potosi, Copacabana, and other cities and villages. You can manage everything from the comfort of your home.
---
Shipping From The USA To Bolivia FAQ
? How much does it cost to ship from the USA to Bolivia?
The price of the shipping varies depending on the delivery method you choose, the dimensions and the weight of the package. Cheaper methods costs between $50 to $60. The more expensive ones are usually above $90 for the smaller package.
Find out more about the price of shipping from the USA to Bolivia.
?? How can I send a package from the USA to Bolivia?
The process of the shipping packages from the USA to Bolivia can be described in 3 simple steps:
#1 STEP: You sign up with Planet Express and get a free US address. Thanks to it you can receive goods from the US stores.
#2 STEP: Once Planet Express receives your package, you will get a notification email.
#3 STEP: After that, you fill in the customs declaration and you can select the delivery method to Bolivia.
Show me the full tutorial.
⏱ How long does it take to ship from the US to Bolivia?
Getting a package from the USA to Bolivia takes around 5-10 business days with fast delivery methods, about 10-20 business days with slower delivery methods, and about 20-30 business days with the slowest and cheapest delivery methods.
✈️ Does the USPS ship to Bolivia?
Yes, USPS delivers to Bolivia. They offer several methods including Postal Service Fully Tracked, USPS Priority, USPS Express.
With Planet Express, you will get discounted rates on these methods so you can save a lot of money.
However, this shipping method is currently (April 2020) not available due to COVID-19 restrictions.
✈️ Does FedEx ship to Bolivia?
Yes, FedEx delivers to Bolivia. People especially like FedEx Economy and FedEx Priority delivery methods.
Planet Express offers discounted rates for these methods for its customers.
✈️ Does DHL ship to Bolivia?
Yes, DHL delivers to Bolivia. The most popular method is DHL Worldwide express which takes around 6 business days to deliver.
? Does Amazon deliver to Bolivia?
Some of the products from Amazon USA can be shipped to Bolivia, however, if you want to be 100 % sure you get the shipping from the USA to Bolivia, you can use a package forwarding service like Planet Express. We will provide you with a free US address so you can order goods from Amazon USA and forward them to your home address in Bolivia.
---
Fulfillment
Our fulfillment center services are used by those who want to save on storage costs. We offer the opportunity to rent storage space in the California warehouse. In addition, we will handle logistics for you, your only concern being the marketing of your business and the administration. For individual calculation, please contact us at [email protected].
---