Řetězec Sephora nabízí ve svém portfoliu produkty více než 300 značek a svým výběrem se tak právem řadí k nejoblíbenějším obchodům s kosmetikou vůbec.
Ačkoliv Sephora je v České republice běžně zavedená, sem tam můžete narazit na produkty, které jsou dostupné pouze v USA, případně zde jsou násobně levnější, tudíž se vyplatí jejich přeposlání.
Pouhé 3 kroky stačí k tomu, abyste si mohli nechat zboží doručit až k vám domů a to i přes to, že Sephora.com nenabízí mezinárodní poštovné.
1. Nejprve si na našem webu založíte americkou adresu zdarma.
2. Následně vám bude zásilka ze Sephora doručena do našeho skladu.
3. Vyplníte celní deklaraci a zvolíte si metodu doručení k vám domů.
Jednotlivé kroky podrobně vysvětlujeme níže.
Obchody Podobné Sephora
1. KROK: Založte si americkou adresu ZDARMA
Ze Sephora.com zboží nejde zaslat přímo do České republiky (případně na Slovensko). To však nezanemná, že neexistuje způsob, jak zboží doručit k vám domů. Zřízení americké adresy, která je potřebná pro doručení, totiž zabere pár minut a její vedení je zdarma. Na tuto adresu pak můžete objednávat zboží z různých obchodů.
Založení adresy vysvětlujeme na řádcích níže a také v našem video návodu. Na domovské stránce Planet Express klikněte na NOVÝ ÚČET (NEW ACCOUNT).
Budete přesměrováni na registrační formulář, kde vyplníte vaše jméno, zemi, odkud pocházíte, emailová adresa a heslo. Pro vygenerování a následné uložení silného hesla doporučujeme nástroje jako je LastPass nebo 1Password.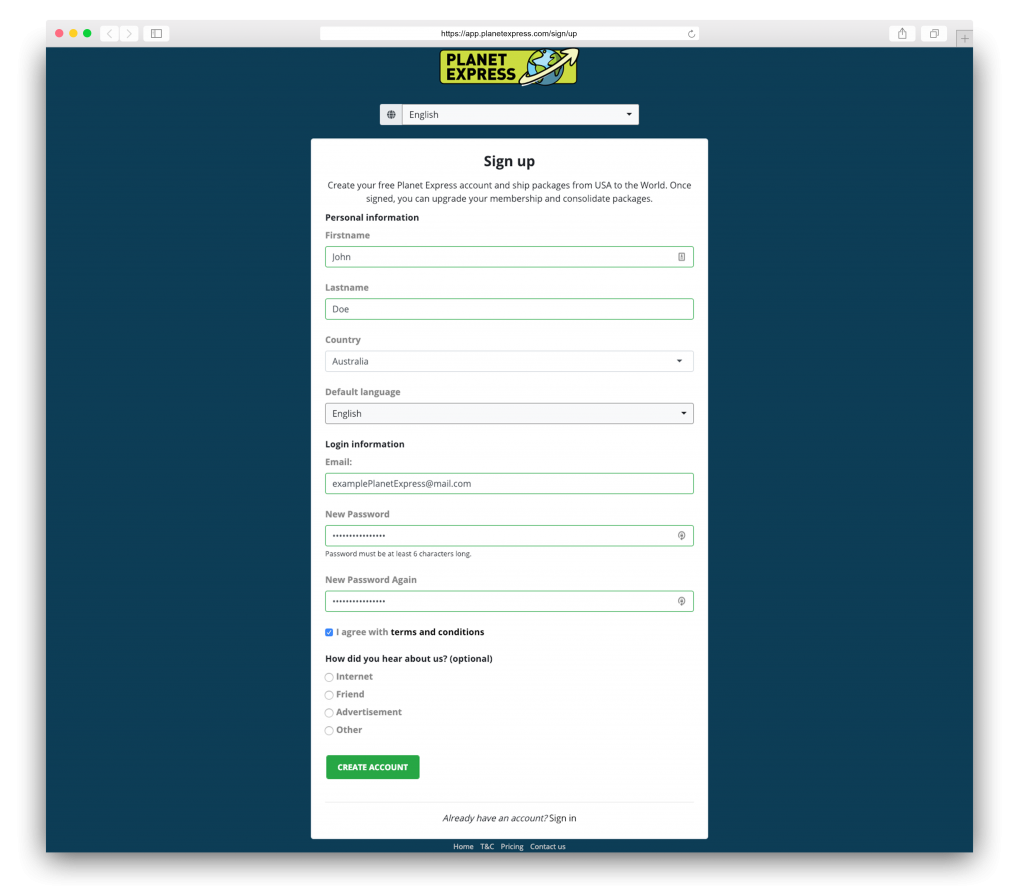 Potvrzení emailové adresy
Jakmile odešlete registraci, musíte potvrdit váš email. Budeme vám tam totiž posílat informace o příchozích balících atp. Nepotvrdíte-li email, nebudete moci pokračovat v dokončení registrace. Zároveň, pokud vám od nás email dlouho nepřichází, zkontrolujte složky spam nebo reklama.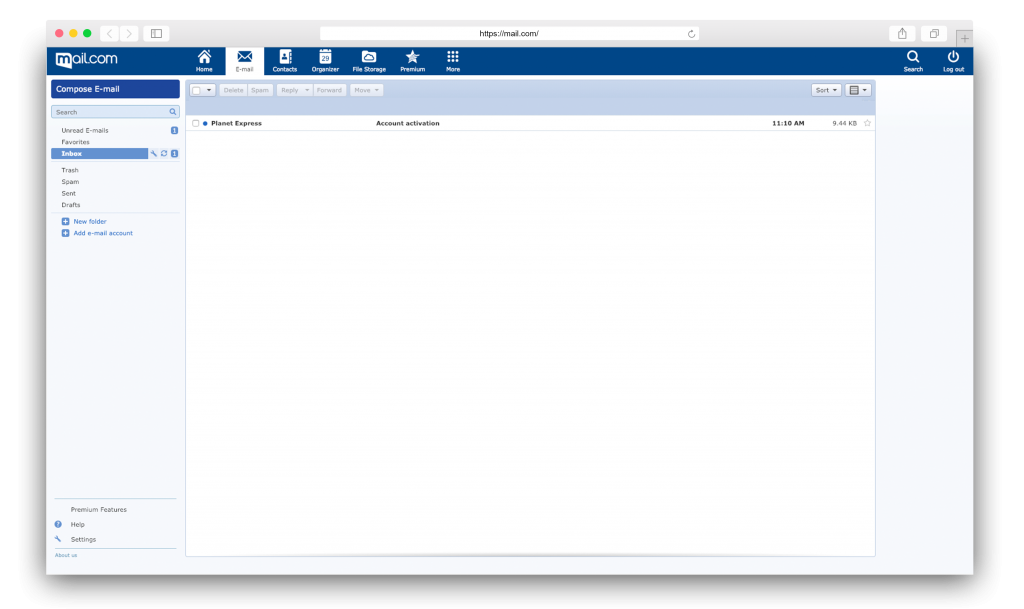 Potvrďte email kliknutím na tlačítko v emailu.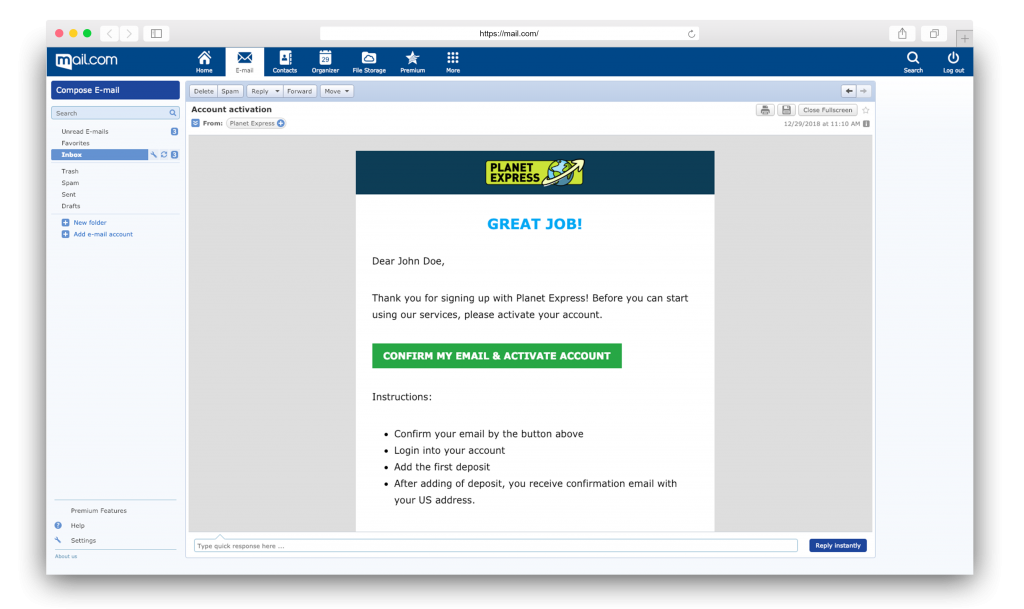 Vyplňte vaši doručovací adresu
Touto doručovací adresou je myšlena vaše domácí adresa, ne americká adresa (tu vám přidělíme později). Na doručovací adresu vám budeme posílat balíky z USA. Doručovacích adres si můžete přidat hned několik, pokud chcete zaslat balík kamarádovi, případně zákazníkovi, máte možnost.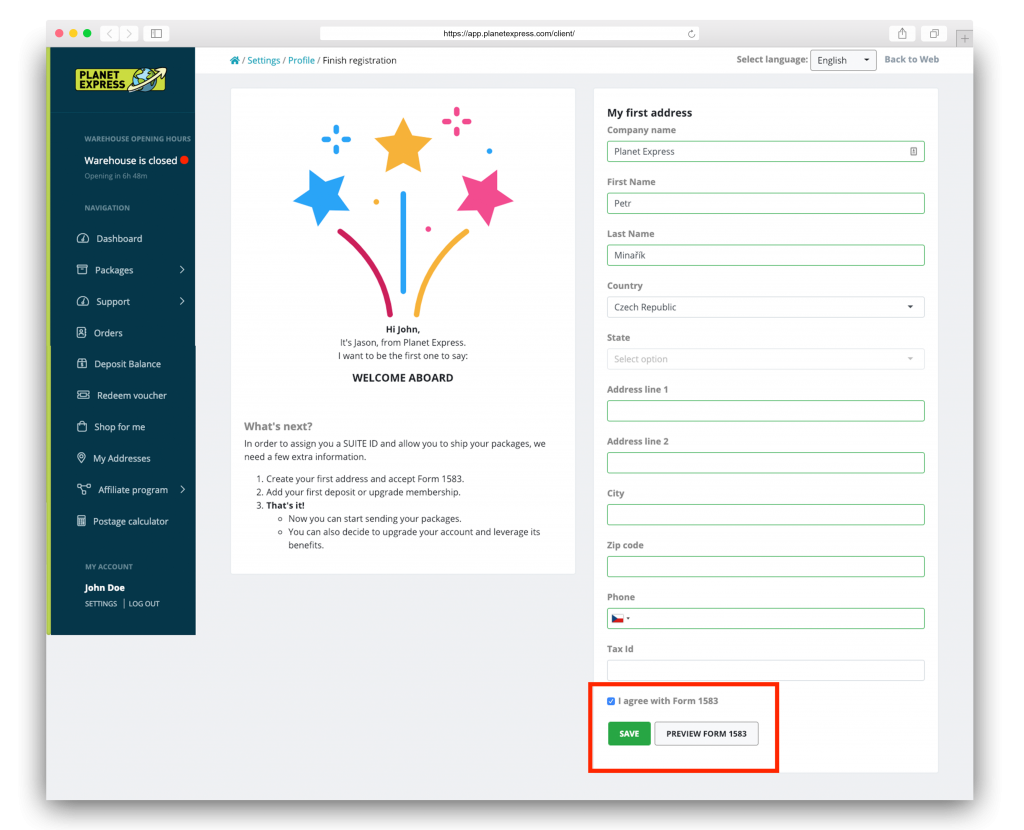 Aktivujte vaši adresu
Americkou adresu je nyní nutné aktivovat. To provedete tak, že přidáte zálohu $5. Před chvíli jsme však říkali, že je adresa zdarma. Ano, je, protože tuto zálohu vám ihned připíšeme na účet. Jedná se pouze o preventivní opatření proti podvodníkům.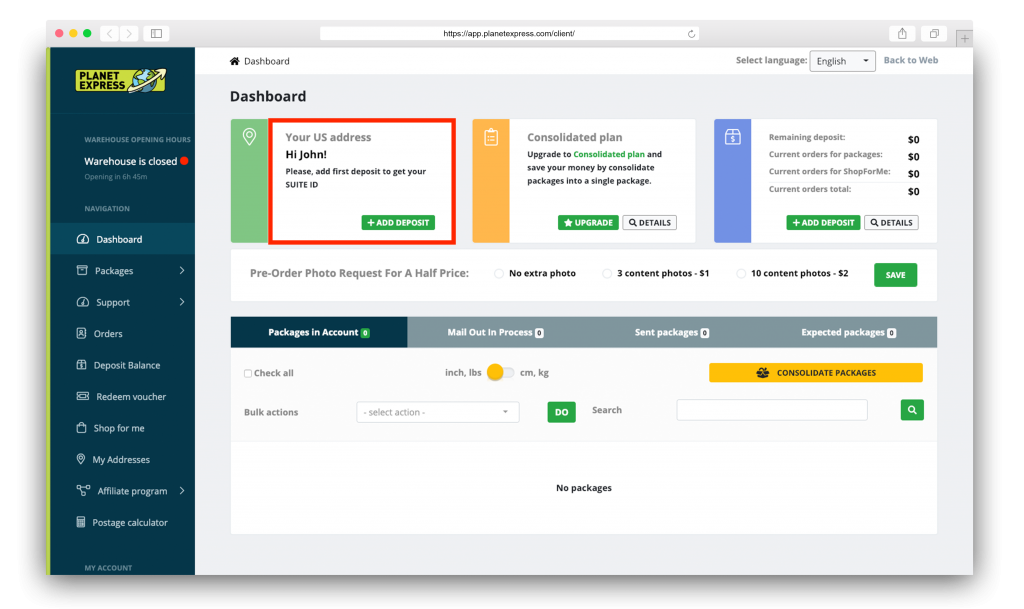 Pro platbu je k dispozici hned několik platebních metod – platba bankovním převodem, PayPal, platební kartou, Amazon Pay nebo Bitcoinem.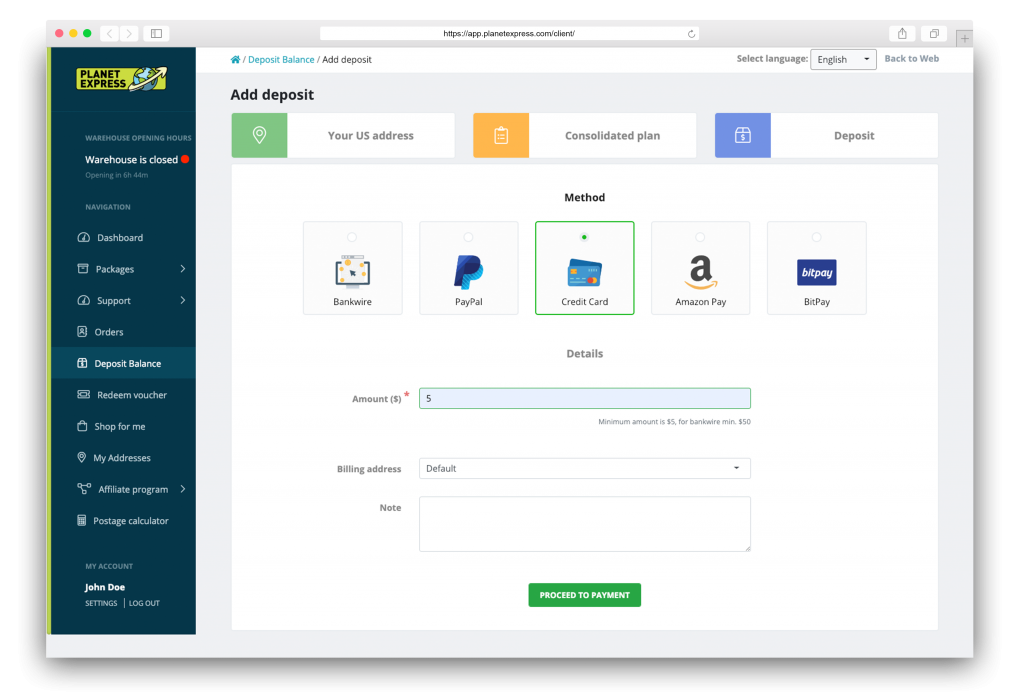 Máte-li s platbou jakékoliv problémy, ozvěte se nám.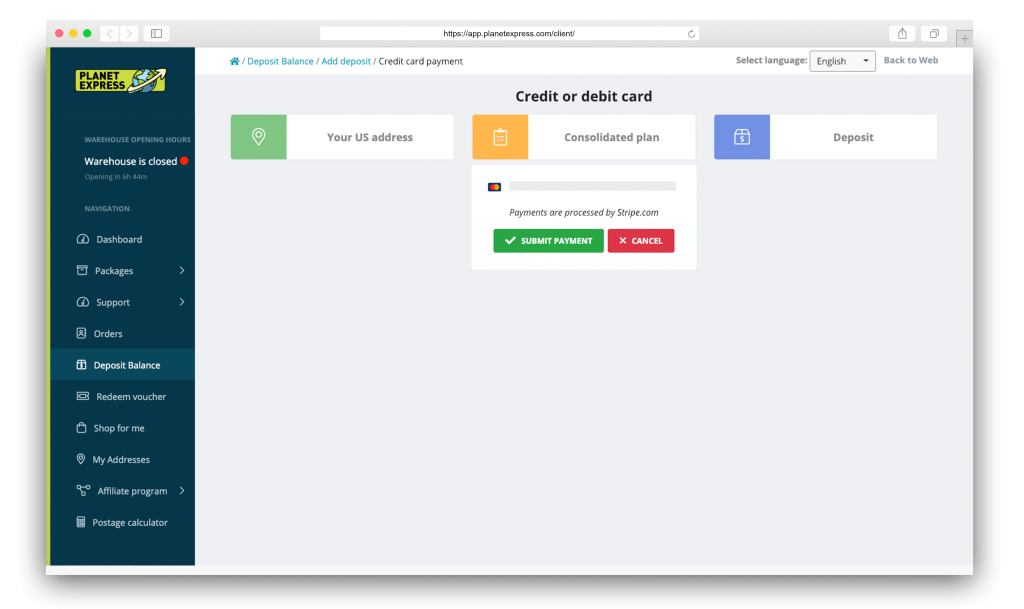 Úspěšnou platbu poznáte pomocí statusu "CONFIRMED" v přehledu plateb a také tak, že se vám navýší zůstatek (Planet Express kredit).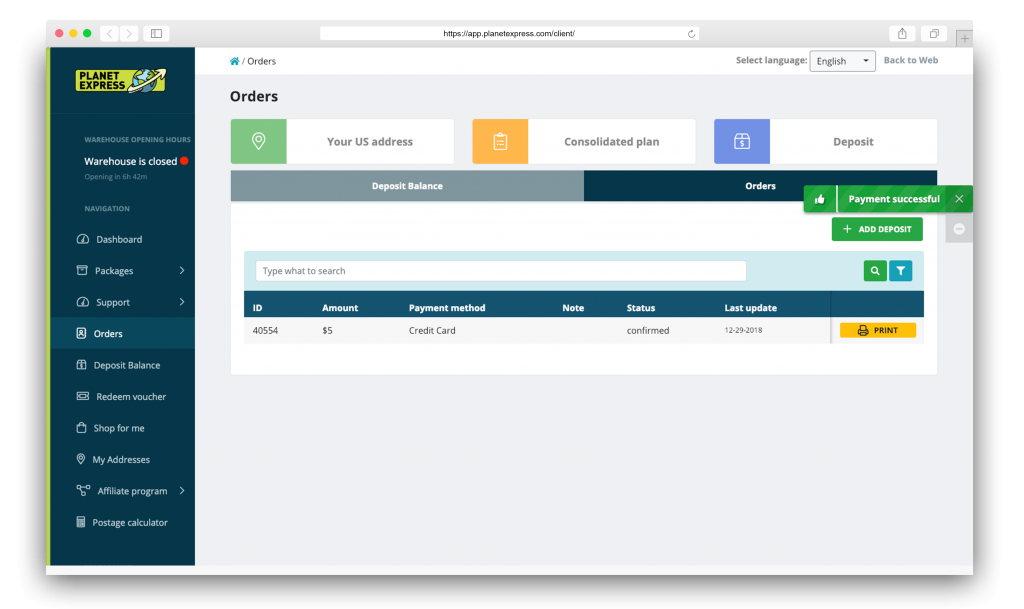 Proběhne-li vše v pořádku, uvidíte na nástěnce vaši americkou adresu s unikátním SUITE ID. Podle tohoto čísla propojujeme příchozí balíčky s vaším účtem. Můžete si také všimnout, že zbývající deposit/kredit je $5 (je tedy roven přidané záloze).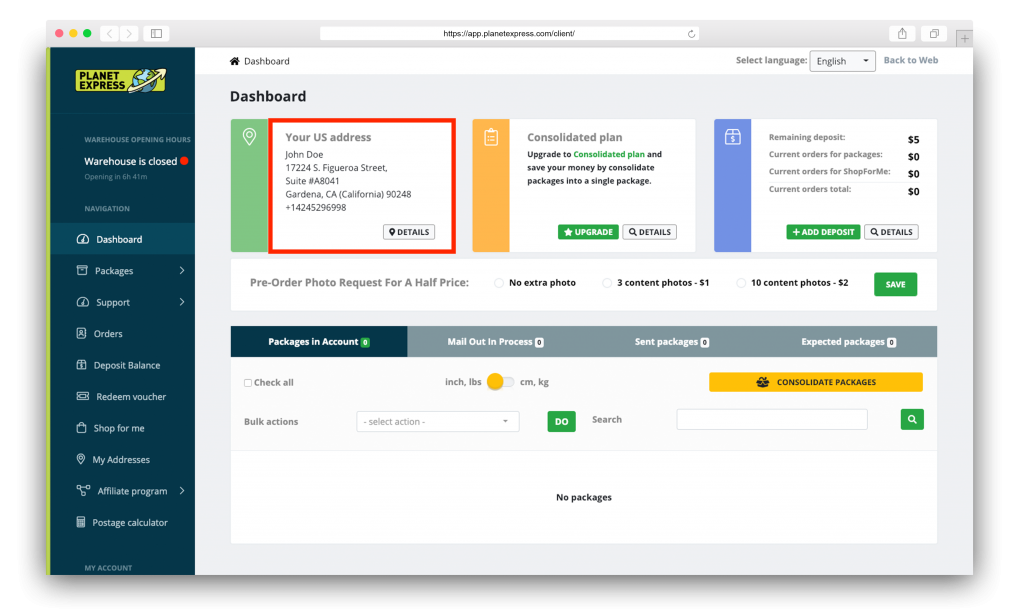 Americká adresa poskytnutá od nás vypadá následovně:
Jméno Příjmení
17224 S. Figueroa Street, Suite #B1234
Gardena, CA (California) 90248
+14245296998
Dříve zmíněné SUITE ID je potřeba vyplnit při objednávce ze Sephora.com (viz dále).
Na vaši novou adresu si můžete objednávat zboží z Amazon, eBay, Walmartu a dalších populárních obchodů nejen z USA, ale i ze zahraničí.
2. KROK: Objednání zboží ze Sephora.com
O stránkách, kde nakupovat kosmetiku, už jsme sepsali i článek. Nyní se však podrobně zaměříme právě na Sephoru. Návod bude podrobný, takže nákup zvládnete i bez angličtiny.
Jakmile si vyberete zboží, vložte jej do košíku pomocí ADD TO BASKET.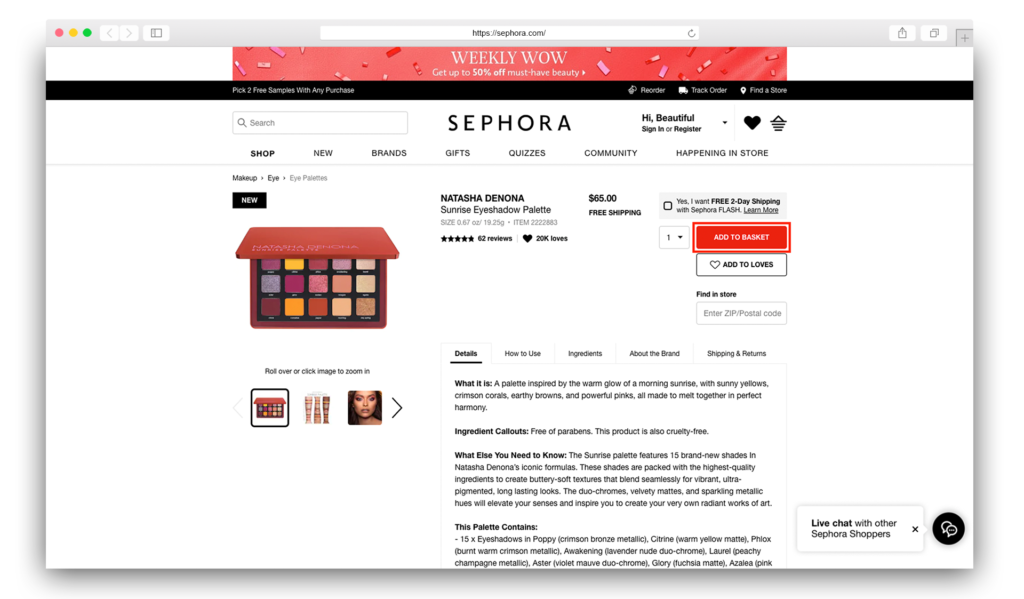 Nyní můžete přejít k zaplacení, nebo pokračovat v nákupu.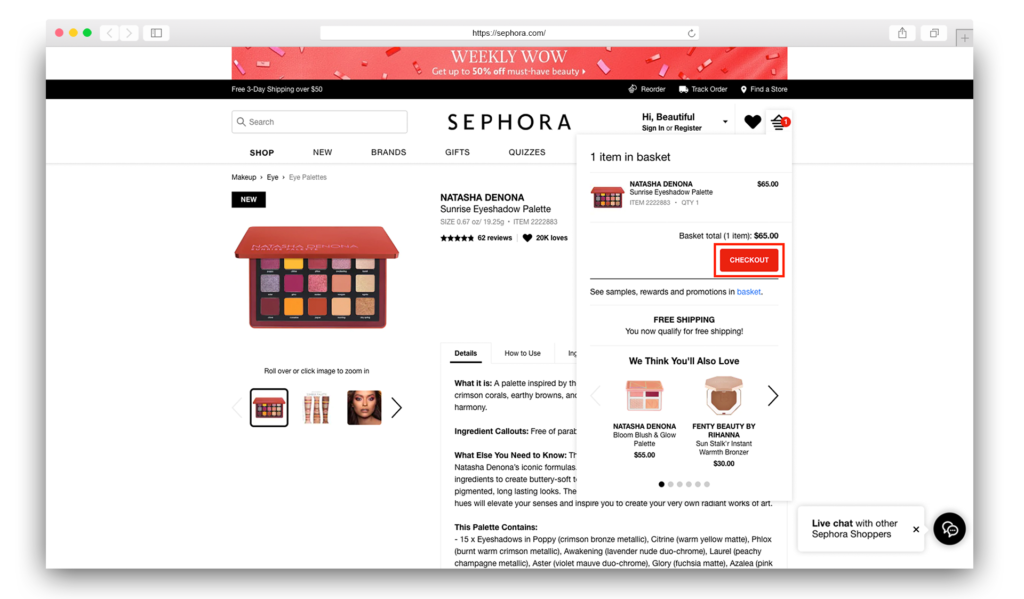 Nyní uvidíte shrnutí položek v nákupním košíku a můžete přejít k platbě kliknutím na CHECKOUT.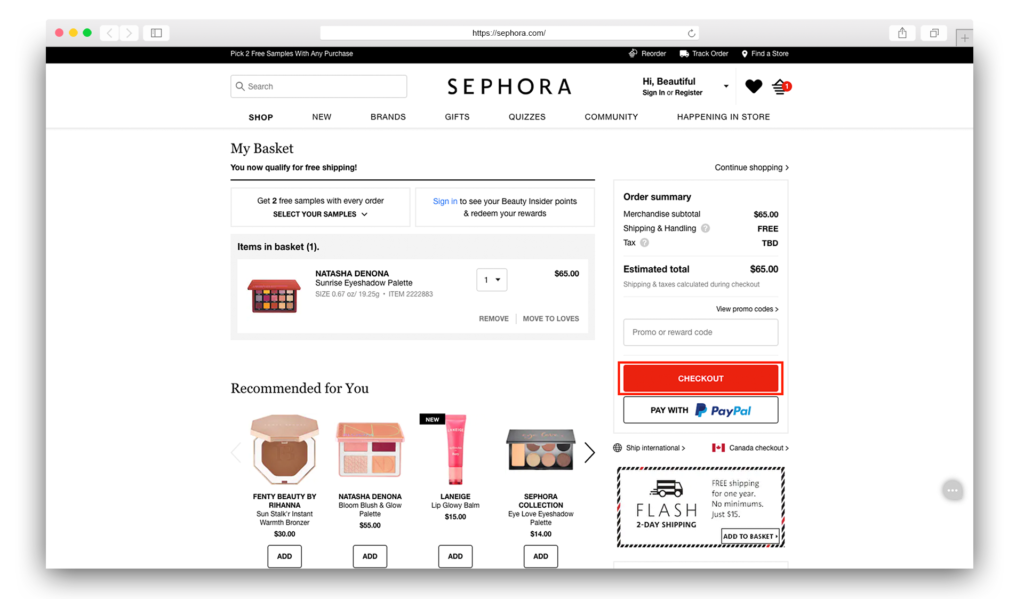 Zadejte emailovou adresu, případně se přihlašte k sephora.com účtu (pokud jej máte). Pokračujte přes CONTINUE.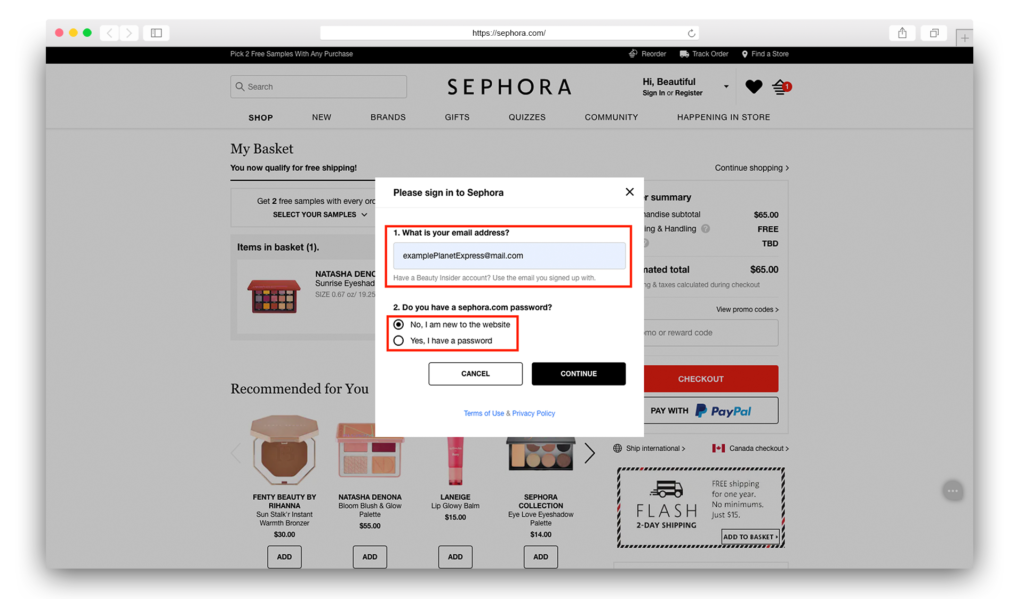 Vyplňte detaily vaší americké adresy a klikněte pro přidání políčka pro vyplnění SUITE ID. Údaje uložte (SAVE & CONTINUE).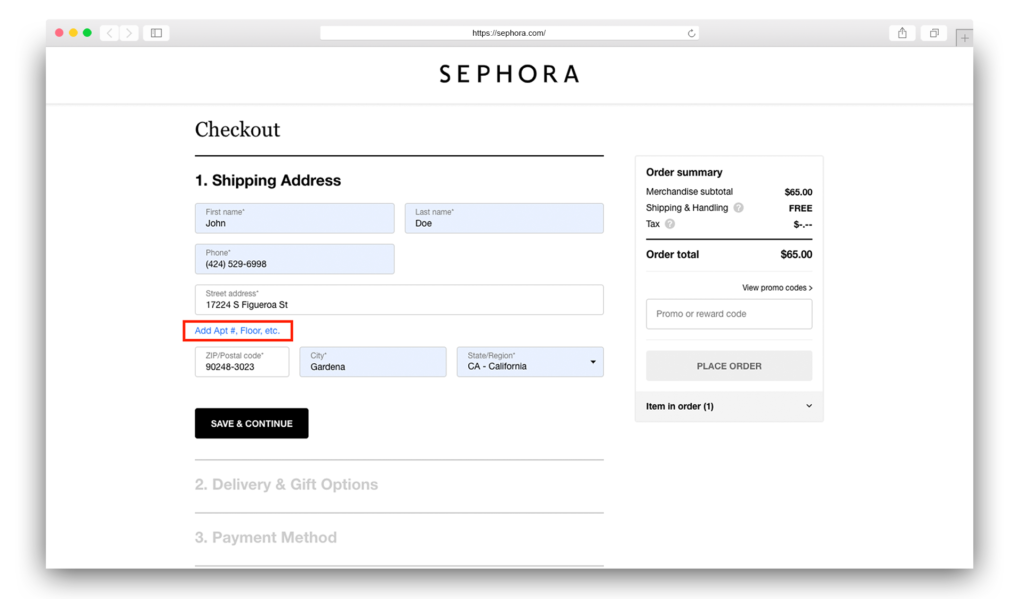 V přidaném políčku vyplníte vaše SUITE ID a uložíte.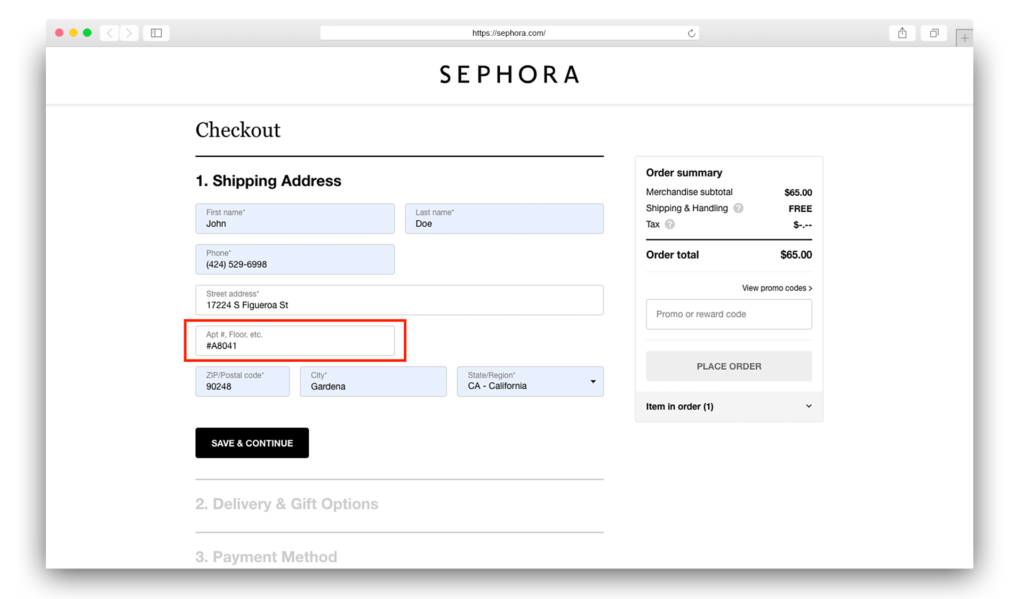 Zvolte doručovací metodu, v popisu lze vidět také předpokládanou dobu doručení. U poštovného zdarma je to cca týden.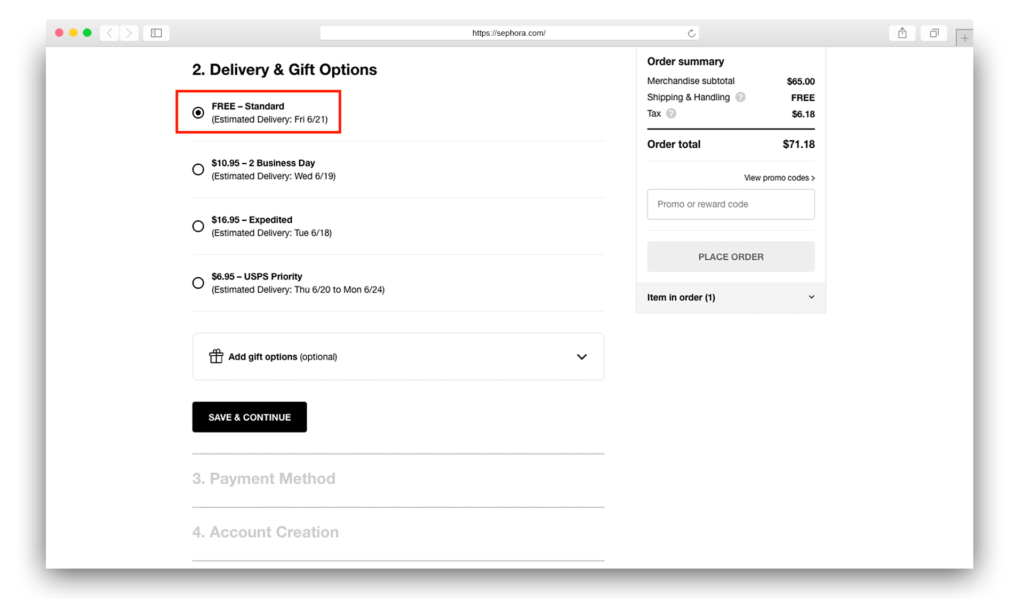 Zaplatit za objednávku lze přes Paypal nebo platební kartou.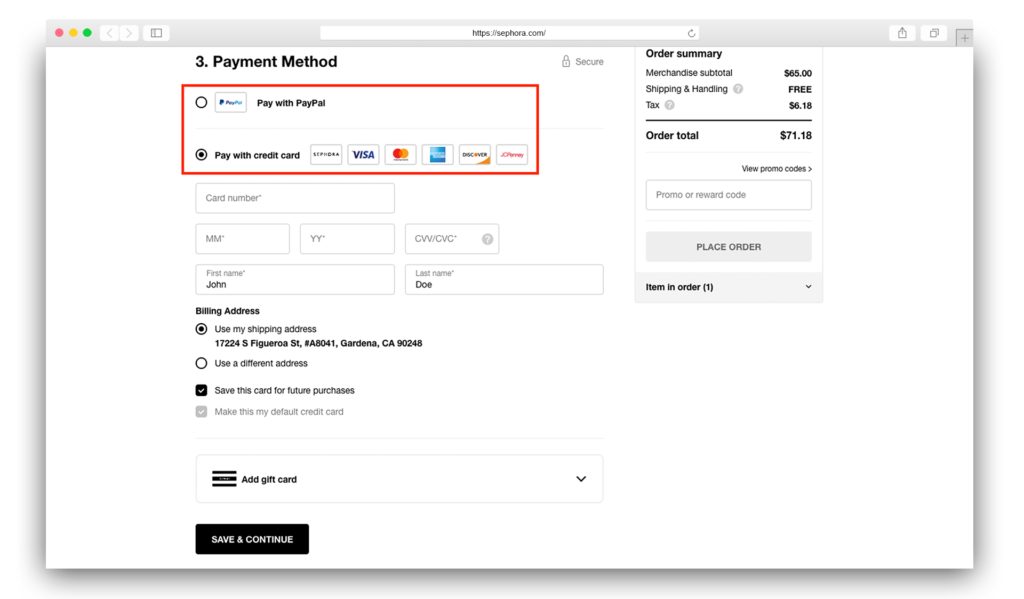 Objednávku v dalších krocích už pouze potvrdíte, stejně jako vytvoření účtu.
Většina dopravců v dnešní době nabízí sledovací čísla zásilek, tzn. můžete z pohodlí domova sledovat, kde se balík právě nachází. Pokud se balík delší dobu (více než 2 týdny po objednávce) nezobrazí ve vašem Planet Express účtu, může to znamenat:
1. Email vám přišel (tzn. balík byl doručen), ale byl označen jako spam. Prozkoumejte proto složky spam, reklama atd.
2. Balík ještě nebyl doručen
a) Je stále na cestě – vyčkejte ještě nekolik dní.
b) Prodejce vás podvedl (pokud nenakupujete např. na eBay zboží z druhé ruky, nebo od drobných prodejců, je tato možnost velmi nepravděpodobná).
3. Balík byl doručen do našeho skladu, avšak na balíku nebylo uvedeno vaše unikátní číslo (SUITE ID). Nevíme tedy, ke kterému účtu balík přiřadit a máme jej zařazen ve složce NEZNÁMÉ BALÍKY. Kontaktujte nás a zašlete nám důkaz (např. fakturu, screenshot objednávky nebo potvrzovací email) o tom, že je balík opravdu váš. Balík následně přidáme do vašeho účtu.
3. KROK: Odešlete balík k vám domů
Závěrečnou částí tohoto návodu je samotné odeslání balíku z našeho skladu k vám domů. Jedním z předpokladů pro úspěšné odeslání balíku je, aby vám od nás přišel email s oznámením, že vám balík dorazil do našeho skladu.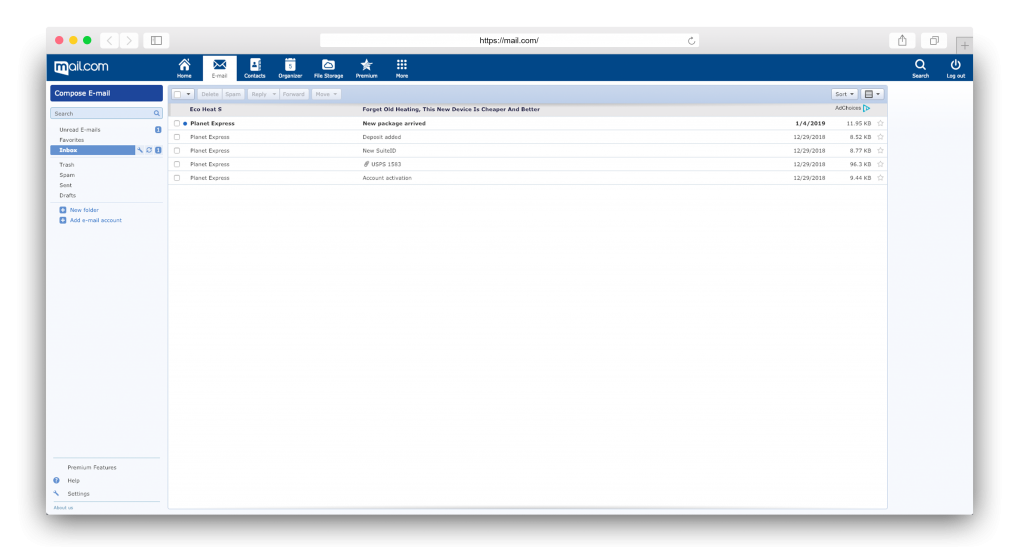 Email informuje o hlavních parametrech balíku, jako je jeho hmotnost, rozměry a sledovací číslo.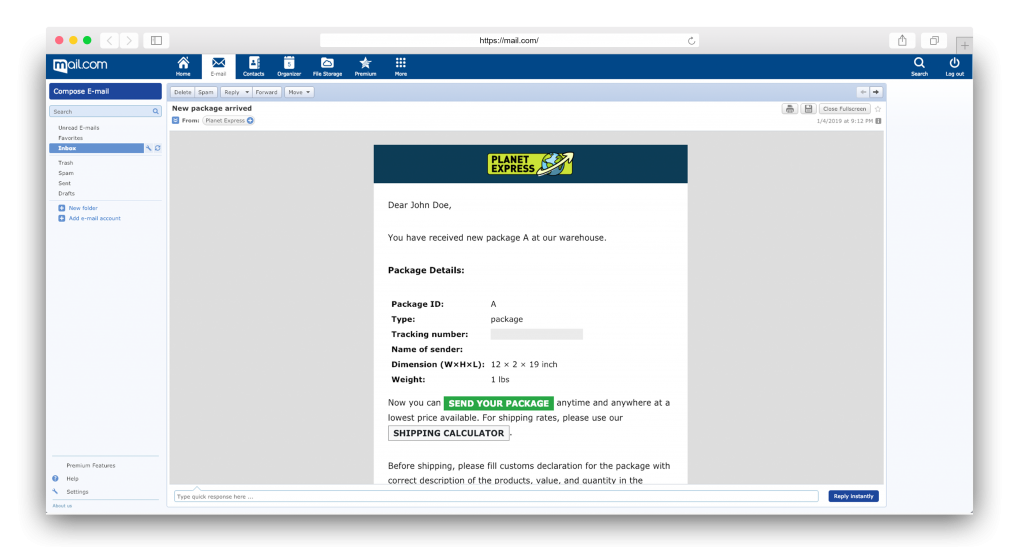 Než budeme moci balík odeslat, bude potřeba splnit ještě jednu formalitu. Tou je vyplnění celní deklarace. Přihlašte se do vašeho Planet Express účtu a vyplňte ji podle instrukcí níže, nebo podle videa Jak vyplnit celní deklaraci.
Celní deklarace – Co to je a proč ji vyplnit?
Celní deklarace je dokument, který slouží k ověření obsahu balíku během celní kontroly. Celníci tak mají lepší přehled o pohybu zboží do konkrétní země. Deklarace musí být vyplněna (stačí online), bez jejího vyplnění nemůže být balík odeslán. Pokud zboží přesahuje limity pro CLO, je nutné odvést také daň z přidané hodnoty (angl. VAT). Pro výpočet výše této daně doporučujeme nástroj SimplyDuty.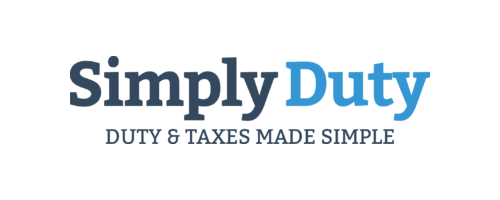 Druhým důvodem, proč se vyplatí zodpovědně vyplnit celní deklaraci, jsou náhrady případných škod (viz naše Obchodní podmínky). Částka v celní deklaraci je totiž částka, která je navrácena, pokud je balík při přepravě poškozen, nebo dokonce ztracen. Balík však musí být pojištěn. Prakticky to znamená, že pokud je reálná hodnota zboží $100, avšak do deklarace vyplníte pouze $10 a balík se ztratí, bude vám vráceno $10 + cena poštovného.
Jak vyplnit celní deklaraci?
Nyní už víte, k čemu celní deklarace slouží. A co znamenají jednotlivá políčka?
Product description – co posíláte? Vyplňujte v angličtině.
Quantity – kolik toho je?
Value – jakou hodnotu má 1 kus v amerických dolarech (USD)?
Origin – odkud to pochází? Zpravidla z USA.
Batteries – obsahuje balík baterie, a pokud ano, jaký typ?
Gift nebo Merchandise?
Zboží uvnitř balíku se dá označit jako dárek (gift) nebo zboží (merchandise). Co tedy zvolit? Jako "GIFT" by měly být označeny všechny balíky, které jsou opravdovým dárkem. "MERCHANDISE" by měly být balíky, jejichž obsah je určen pro další přeprodej.
Označení zásilky jako GIFT ještě neznamená, že ze zboží nebudete muset odvádět CLO.
VIDEONÁVOD: Jak vyplnit celní deklaraci.
Správné vyplnění celní deklarace např. pro knihu This is Marketing od Seth Godina vypadá následovně: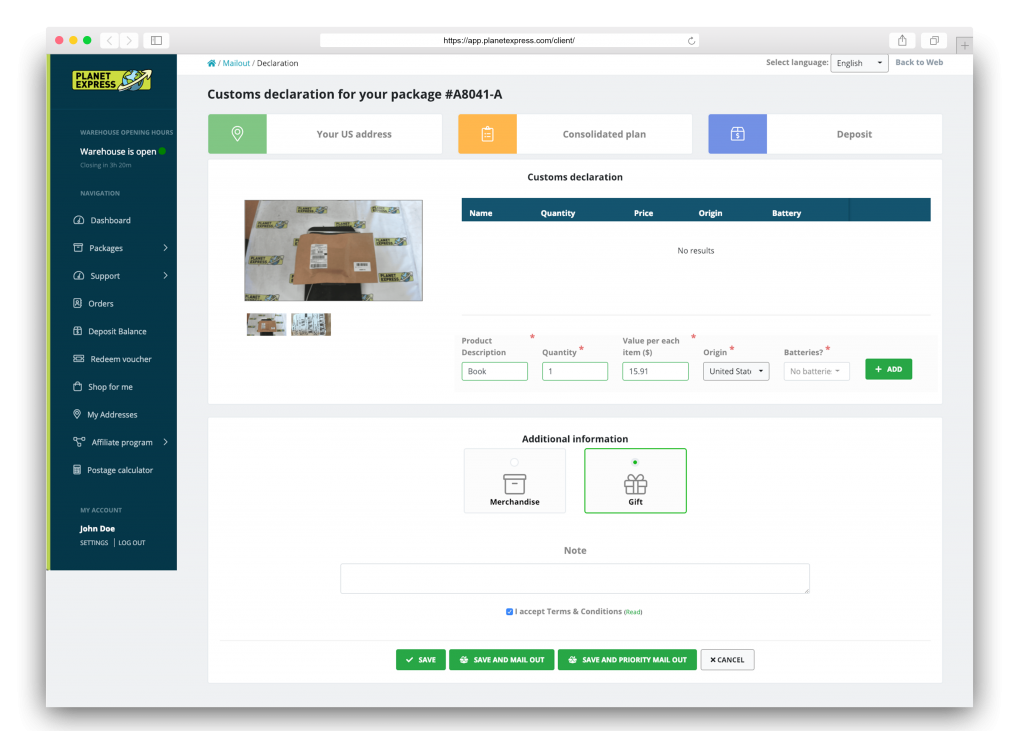 Při vyplňování jednotlivých položek si dejte pozor zejména na to, zda zadáte správné hodnoty QUANTITY a VALUE. Tato dvě políčka se totiž násobí. Pokud tedy balík obsahuje 2 stejné předměty, uveďte hodnotu pouze za 1 kus a počet kusů 2.
Deklaraci uložte tlačítkem SAVE. Pro odeslání balíku využijte tlačítko SAVE AND MAIL OUT.
Nabízíme možnost také přednostního odeslání (PRIORITY MAIL OUT). Balík přesuneme na začátek fronty, tudíž bude odeslán přednostně.
Zadejte požadavek pro odeslání balíku
Vyplnili jste deklaraci? Výborně. Nyní si můžete vybrat některou z doručovacích metod na vaši adresu. Metody Planet Mail a USPS podléhají váhovým omezením.
Pokud se vám po kliknutí na doručovací adresu (viz následující obrázek) nezobrazí žádná doručovací metoda, zkontrolujte, že máte správně vyplněnou doručovací adresu (přejděte do NASTAVENÍ a ADRESY).
Dalším problémem může být špatně vyplněná celní deklarace (text musí být anglicky a hodnota balíku by neměla překročit $2500 pro USPS, $6000 pro FedEx a pro $8000 DHL). Pokud balík obsahuje baterie typu PI965, nelze využít žádnou z metod, protože tyto baterie jsou zakázány pro leteckou přepravu.
VIDEONÁVOD: Jak odeslat balík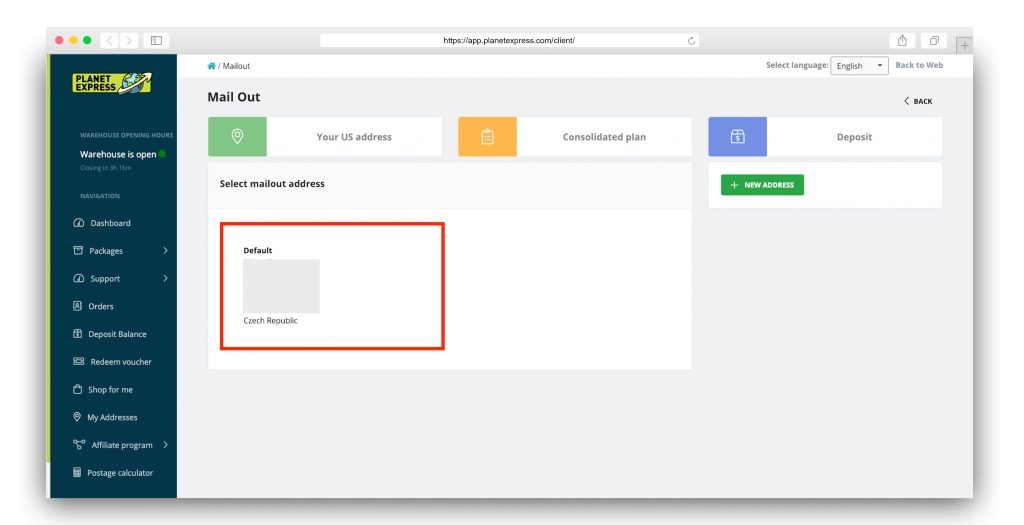 Cenu za poštovné si můžete spočítat předem pomocí naší kalkulačky.
Zasíláte-li zboží vyšší hodnoty, případně křehké zboží (elektronika, keramika, alkohol atp.), doporučujeme zasílat přes DHL a FedEx. V ceně těchto přepravních metod je totiž i pojištění balíku. Zároveň informace o poloze jsou rychleji a podrobněji aktualizovány.
Levnější a měkčí (tzv. "měkouše") zboží (oblečení, knihy, kosmetiku…) zasílejte např. přes Planet Mail Express nebo USPS Economy / Priority, popřípadě Aramex. Jedná se o cenově velmi dostupné přepravní metody.
Před chvílí byla řeč o pojištění. To sice nenípovinné ale vřele jej doporučujeme. Někteří zaměstnanci přepravních společností se k balíkům nechovají zrovna s opatrností. V krajních případech se i stává, že je balík dokonce ztracen, nebo zkonfiskován lokálními úřady. Tyto okolnosti bohužel nemůžeme ovlivnit. Díky pojištění vám bude navrácena částka, kterou jste uvedli v celní deklaraci spolu s cenou poštovného.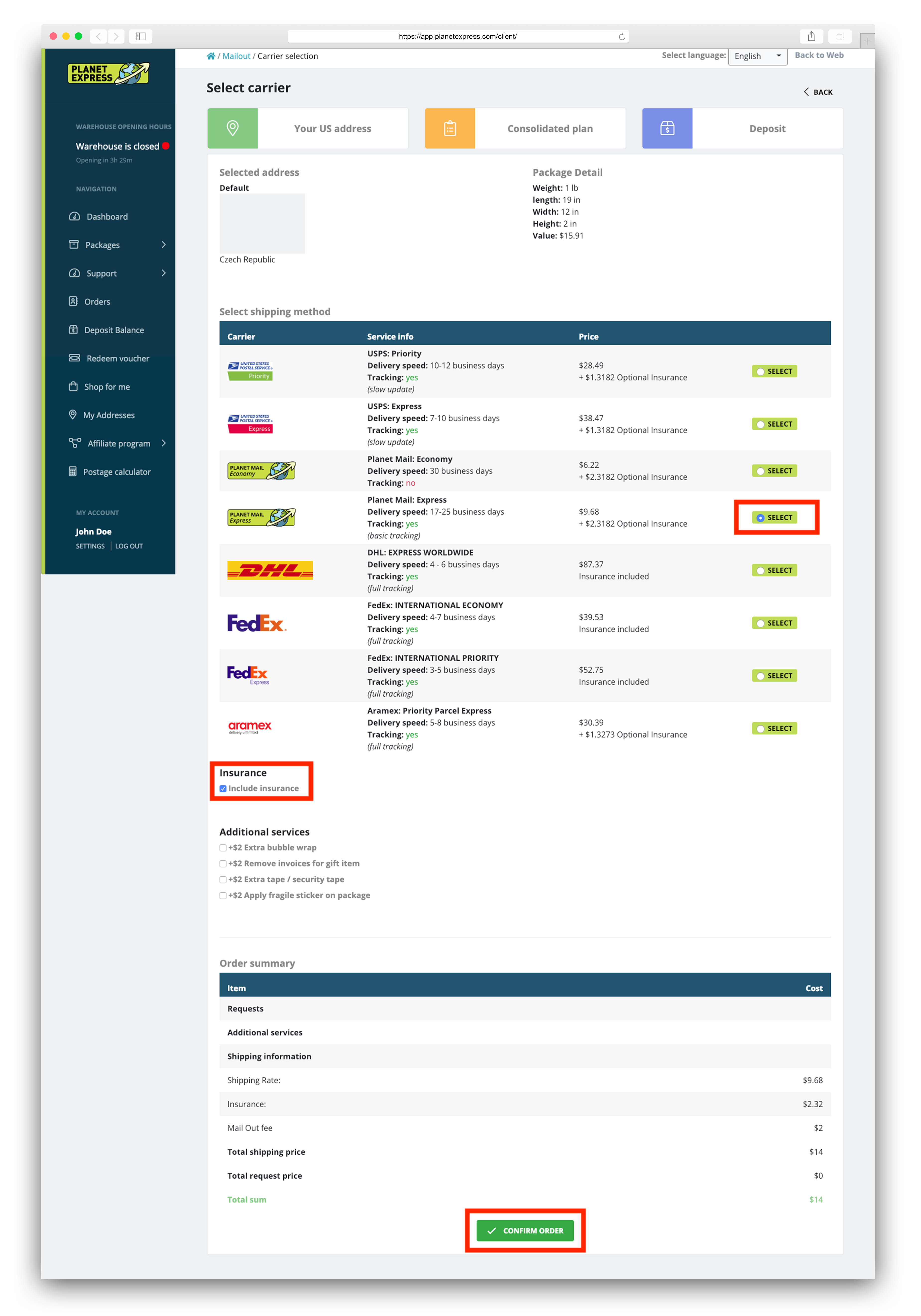 Přijali jste balík od přepravce? Zkontrolujte si jej.
Díky sledovacímu číslu můžete sledovat polohu balíku. Existuje řada webových stránek, aplikací a nástrojů nabízejích sledování balíku. Na našich stránkách jsme pro vás vybrali ty nejlepší.
Sledování balíku nabízíme u všech metod. Balíky zasílané pomocí USPS jsou sledovány pouze do země doručení.
Po přijetí balíku zkontrolujte jeho stav, pokud se vám zdá, že není v pořádku, nafoťte jej. Důležité však je, aby bylo v pořádku zboží uvnitř. Pokud není, zašlete nám fotografie na náš email.
Pro ilustraci jsme natočili krátké video unboxing balíku z USA zaslaný metodou USPS Priority.
Proč při nákupu na Sephora.com využít Planet Express?
Našim zákazníkům poskytujeme prvotřídní služby, a přitom si zachováváme přátelskou tvář. V případě jakýchkoliv potíží se na nás můžete obrátit a my vám pomůžeme. Kromě výborné zákaznické podpory však nabízíme i další užitečné služby:

Spočítejte si poštovné předem
Cenu za poštovné si můžete jednoduše spočítat předem. Využít k tomu můžete naši poštovní kalkulačku. Stačí vyplnit pár údajů a dostanete odhad ceny a doby doručení.

Nechte si nakoupit za vás
Nemáte čas nakupovat, případně obchod nepřijímá vámi preferovanou platební metodu? Řekněte nám, co a kde chcete koupit a my provedeme nákup za vás.

Ušetřete díky konsolidaci
Ušetřete na poštovném až 80 % díky konsolidaci. Z více balíčků vám uděláme jeden. Služba je užitečná zejména ve chvíli, kdy objednáváte z více obchodů zároveň.

Máte jiné přání? Splníme ho
Potřebujete naskenovat dokumenty, odstranit faktury z balíku, prohlédnout stav zboží, vyplnit celní deklaraci případně něco jiného? Zadejte speciální požadavek.
Proč jsou ceny poštovného z USA nižší, než při objednání kurýra?
Celý princip přeposílání balíků z USA je postaven na tom, že shromažďujeme velké množství zásilek na jednom místě. Díky tomu můžeme u našich partnerů (DHL, FedEx, USPS, Aramex a dalších) vyjednat několikanásobně nižší ceny, než kdybyste si kosmetiku ze Sephora.com chtěli přepravit pomocí kurýra.
Zákaznické recenze Planet Express
Přečtěte si recenze našich zákazníků na některém z následujících webů.