---
STEP #1: Get the free US Address
Glossier belongs to one of the most popular beauty brands. To order products from their website and getting them to Australia and the rest of the world, you need the US address*.
*Unless your country is on the Glossier list of supported countries.
You can get a free US address from Planet Express within a few minutes. Follow the instructions in our video or read the instructions on our tutorial page. If you have an account with us, go to STEP #2.
Your US address will have the following format:
John Doe
17224 S. Figueroa Street, Suite #B1234
Gardena, CA (California) 90248
+14245296998
Your personal SUITE ID is very important. Thanks to this number we will be able to link your package from Glossier to your account. Please, make sure you fill it in during the order (see the next step)!
---
STEP #2: Shop your Favorite Products at Glossier
Finally, you can shop for your favorite products at Glossier.com. Simply shop as usual – add the products into the shopping cart (ADD ITEMS TO BAG).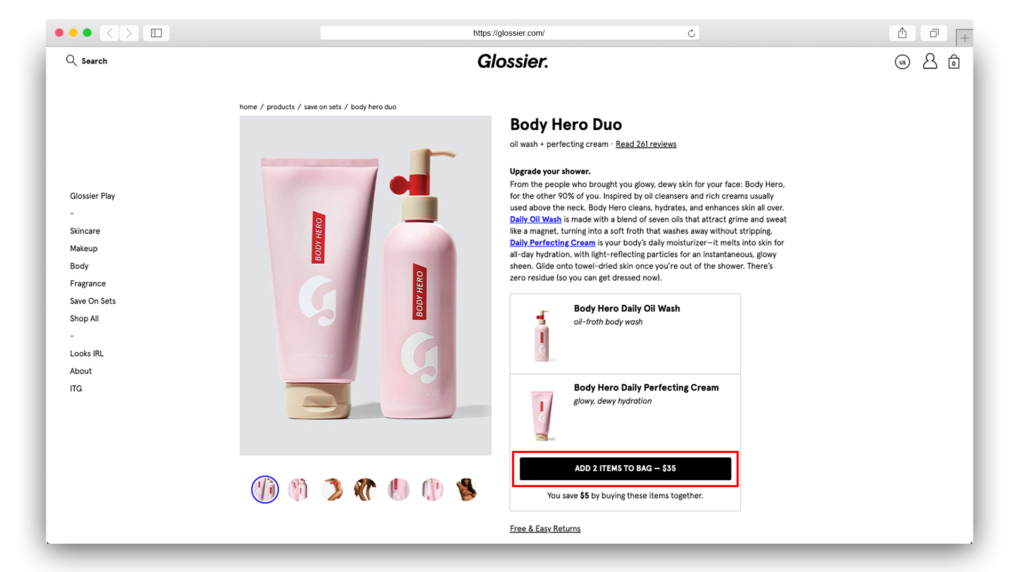 Once you are done with shopping, go to CHECKOUT.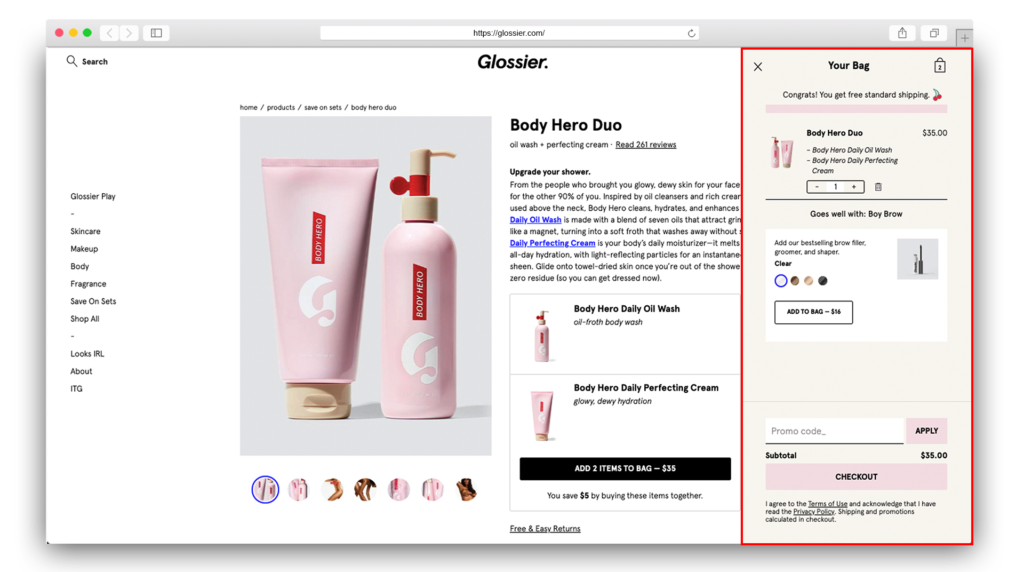 Confirm that you are not a robot (check-in the CAPTCHA). This is Glossier's security feature.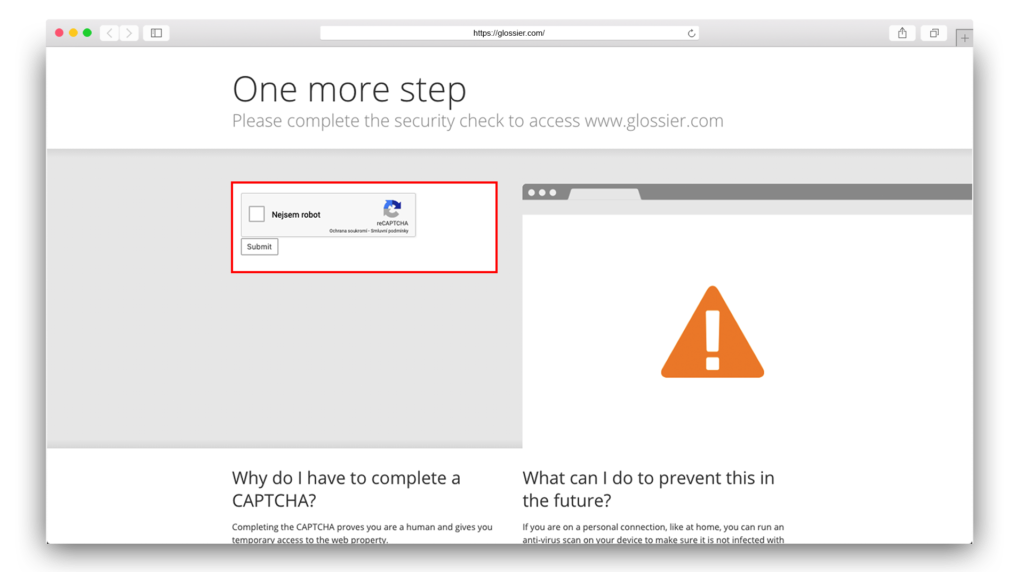 Now log into your Glossier account (if you have one) or CONTINUE AS A GUEST.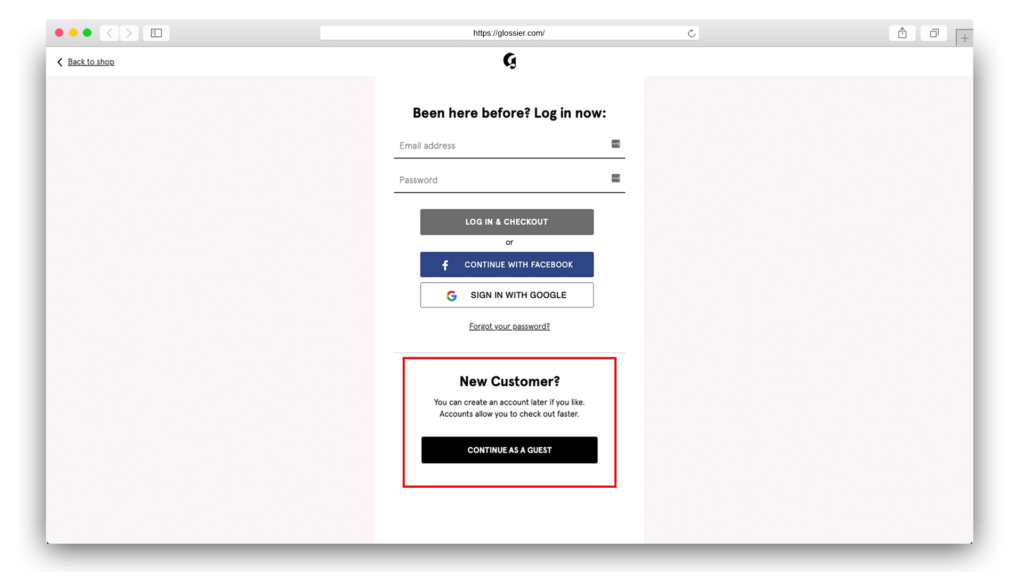 Fill in the delivery details – now fill in the delivery address we provided you with. Make sure you include the suite ID.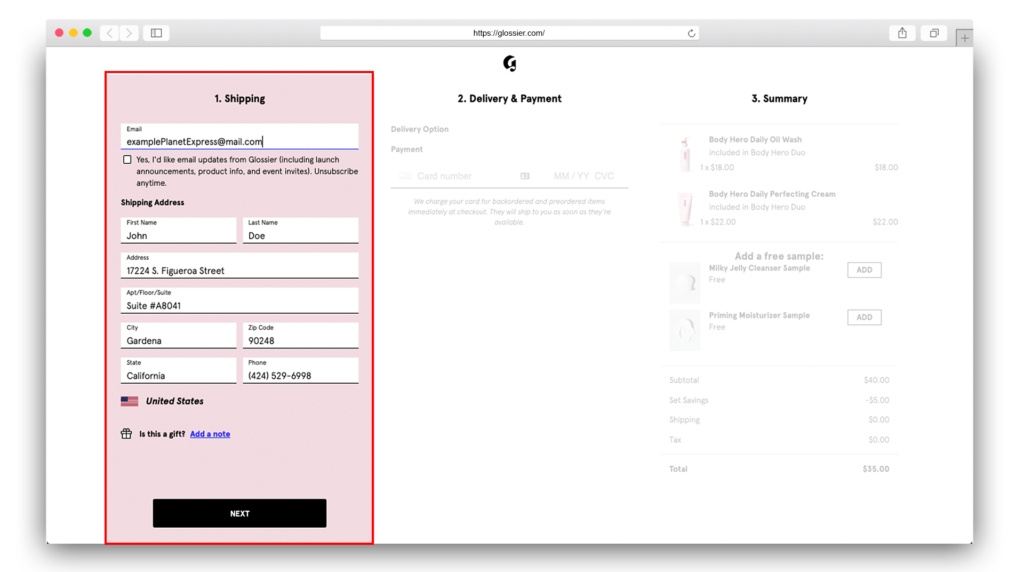 Select the delivery method (if you don't care how long does it take to deliver the package, select the free shipping option), and pay for the order. In the final step, you just review the order or add the free samples of Glossier's products.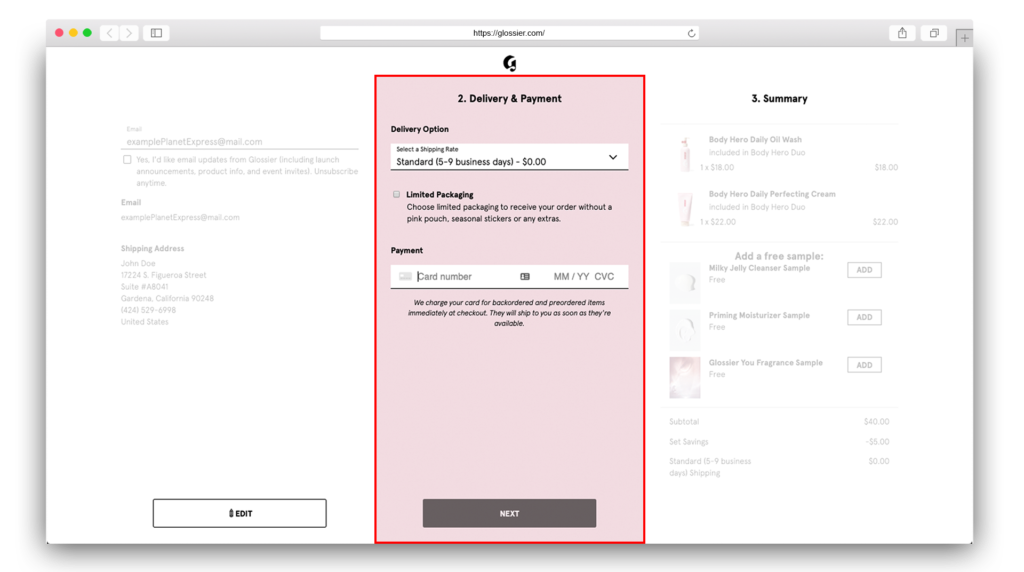 Tip: How to Track Packages more Effectively? [GUIDE]
The delivery from the Glossier to our warehouses in California and Oregon takes between 5 to 9 business days. Once we get the package we will send you the notification email. If you don't get any email from us for more than 2 weeks it can mean the following:
1. You received the email (the package has been delivered) but it has been marked as spam. Go through your spam and promo folders in your inbox.
2. The package has not been delivered yet.
a) It is still on its way – wait a few more days.
b) The seller cheated you (this is possible if you order from 3rd party sellers).
3. The package has been delivered to our warehouse but there is no SUITE ID. We marked the package as UNKNOWN PACKAGES. Feel free to contact us and send us proof (screen of the order, invoice…) that the package is yours. Then we will link it to your account.
---
STEP #3: Shiping the Package from Glossier to Australia (or Your Country)
We send you a notification email once we get your order from Glossier. The email informs you that the package is in our warehouse already. It also includes the most important information about your package like weight, dimensions, etc.
Now, almost everything is prepared for shipping the package from the USA to Australia or any other country you come from. Log in to your Planet Express account and fill in the customs declaration. If you want to find out more about the customs declaration, visit our How to fill the customs declaration page.
Select the Delivery Method from the US to Your Country
When you complete your customs declaration form, you will be able to select the delivery method from the US to Australia or your country. Some methods (Planet Mail Express and USPS Priority / Express) fall under the size & weight limits so these methods don't have to be available all the time.
Watch our video tutorial on How to send a package from the US.
Use DHL Worldwide Express and FedEx Priority / Economy if you ship valuable or fragile goods, or if you need the package soon. The delivery costs are higher but the tracking info is updated faster and package insurance is included.
Tip: Calculate the price of the shipping in advance (even before you receive the package) with our postage calculator.
Enjoy your Package from Glossier!
Once you receive the package from the carrier, make sure you double-check its content. If there is some damage, take pictures of it and send them to us so we can review them and refund you.
---
Glossier FAQ
---
Planet Express Should be your Next Choice – Here is Why
We provide a first-class service to our customers while maintaining a friendly face. In case of any problems you can contact us and we will help you. In addition to excellent customer support, we also offer other useful services:
Why are the Planet Express Rates Lower Than Using a Courier?
The whole principle of forwarding packages from the US is really simple. We collect a large number of packages in one place. As a result, we can negotiate prices with our partners (DHL, FedEx, USPS, and others) that are several times lower than if you would transport the cosmetics and beauty products from Glossier by courier.
Read Reviews of our Customers
Read thousands of reviews of our satisfied customers on the following websites.